This list of 25 Artists You Should Know could have easily kept going until we reached 100. There is a density of creative brilliance that New Orleans encourages and attracts.
25 Nola Artists You Should Know
1. Ceaux
Even if you don't know that you know Ceaux, you do. Courtney "Ceaux" Buckley's work is bright, brilliant, and omnipresent throughout New Orleans. You may have seen it on Mardi Gras posters, tattoos, album covers, NBA backboards, in galleries, or sprawled across the beams of the I-10. His art is at the heart of our city.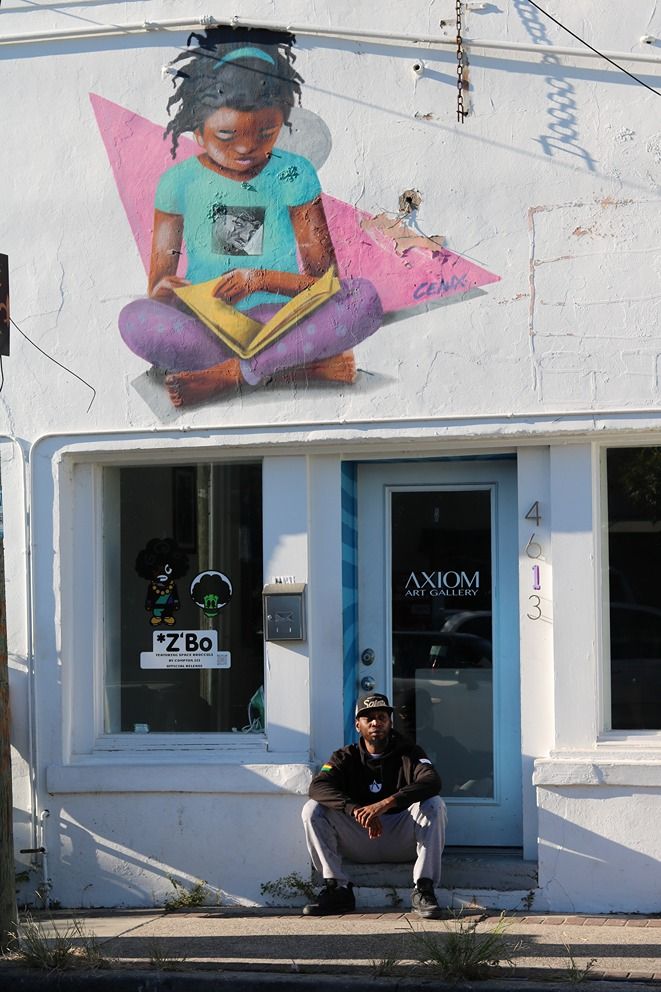 2.
Joey Hartmann-Dow
Through the platforms of Us+We Art and the Badass Women Project, Hartmann-Dow creates "art for humans." Meticulously detailed hands-span maps sprawl over every surface, portraits of powerful, world-changing women stare out from calendars and postcards, illustrated like they've been minted onto currency, flora and fauna creep along massive mural walls, and weird little creatures feel their feelings, all in a pastel palette.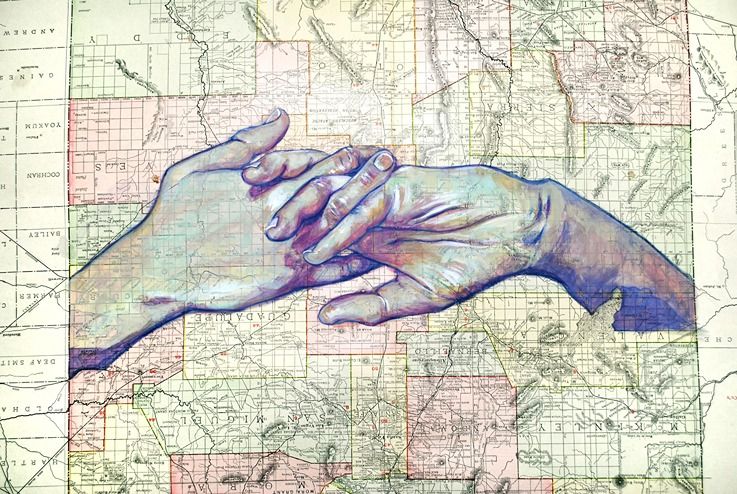 3.
Remy Diamond
The proprietress of C'Mere, the cutest shop on Esplanade, Remy Diamond sits in her store, greeting customers and making perfectly miniature, wearable food art. *Bonus points to artists who support other artists in welcoming spaces.
4. Frank Relle
Rarely does a nature photographer elicit such consistent emotions of pure awe and eeriness. Often lit by night, taken by boat, out in the swamps, his cathedrals of cypress trees are intense and breathtakingly beautiful.
5. Polo Silk Sthaddeus
"Polo Silk" Terrell has been taking Polaroid portraits of Black New Orleanians since 1987, documenting eras of style and expression. Five years ago, Pop That Thing, a great retrospective book of his work, was published and just last year, the New Orleans Museum of Art (NOMA) featured him in an exhibit called Picture Man: Portraits by Polo Silk.

6. Caroline Thomas
Thomas is responsible for quite a bit of your Mardi Gras joy. As a float designer for the Krewe of Proteus and the Krewe of Rex, and a float and prop painter for many other parades, with work featured at Fifi Mahony's and Miette, you've at least seen her enormous house flowers blooming around town, if not some of her massive, fanciful, 3D Creations.
7. Lillian Aguinaga
Aguinaga is a gorgeous woman who paints gorgeous women, Aguinaga's work explores themes of pain, love, fear, perseverance, and rebellion.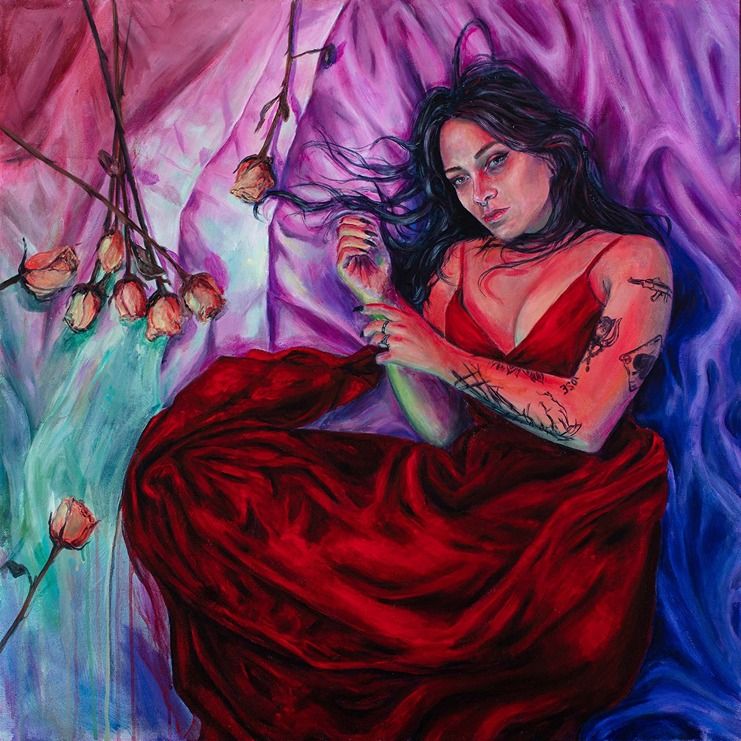 8. Jay Mckay
When you enter the CAC, you're greeted by a wall of a piece by Jay Mckay. His masterful book mural at Baldwin & Co anchors the whole shop. With a solo exhibit this year at Mortal Machine Gallery and one last year at International House hotel, we're going to be seeing more of Jay. He paints on canvas, bicycle wheels, skateboards, community fridges, fences, he's even featured as part of Lil' Wayne's 15th anniversary album release.
9. Magda Boreysza
Magda's magical world of "Fox & Comet" explores fairytale and folkloric themes. Her illustrations of whimsical creatures in quiet forests, houses on abandoned streets, and botanicals taking over are equally at home in gift shops, museums, and apothecaries.
10. Kevin Comarda
Comarda is a self-proclaimed "paper addict," Comarda's art is as rock n' roll as his music. Gracing the album covers and posters of many bands, as well as his own (the Self-Help Tapes and Community), his mixed media collages provide a dark, anarchist brand of whimsy.
11. Anna "Banana" Schnitzler
The creator of Sassy Banana Design Co. brings colorful (often pun-y) humor to her locally-themed greeting cards, stationery, and gifts. With super cute illustrations and captions such as "I'll stand bayou," "shrimply in love," "to the Moon Pie and back," and "there's NOLA place like home," she's sure to charm her way into your view.
12. Tim Neil
Neil deifies our local legends in his portraits. His work has graced many an OffBeat Jazz Fest Bible, and he recently turned his home into an interactive gallery called the Last Gallery on Magazine, where he displays his own art and the work of local artists he admires.
13. Lionel Milton
Milton is another one of those artists who is so enmeshed with New Orleans that the moment you start looking for his art, you'll see it everywhere, and realize that you've been seeing it everywhere. The man is prolific and distinctive and his work is self-realized enough to wink at you from the many walls it adorns.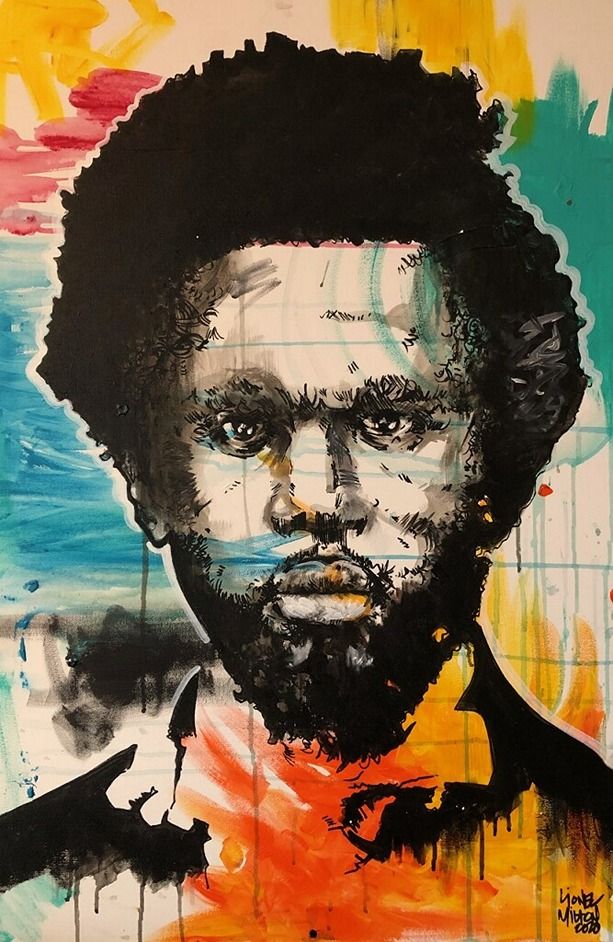 14. Aura Jane
Jane practices body positivity modification and tattoo art, as well as performance art, illustration, and she creates sculptural pieces, all in brilliant hues.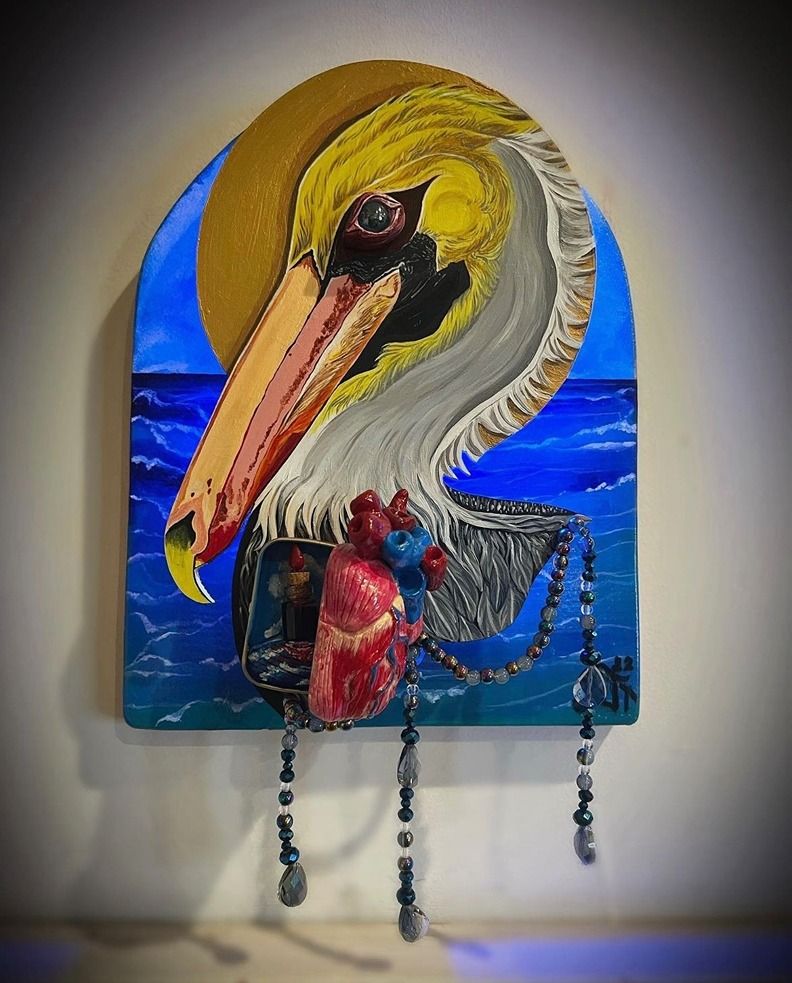 15. Brent Houzenga
Houzenga's rainbow-colored pop art has taken over the city. His hand-printed almost digital-looking pixelated art is in galleries, on beer cans, comic book covers, cars, and campaigns for change. He even paints on old records and mannequins and leaves them around the city for art lovers to find and take home, like the best kind of scavenger hunt.
16. Robert Tannen
If you've ever jogged or driven down Esplanade and found yourself staring at the oversized fireman's red sculptures in front of the columned house with the enormous golden marlin, you've seen Robert Tannen's plein air exhibit "REDART" that begs you to stop, look, and think about what we manufacture and consume.
17. Carrie Beene
From NYC to Haiti to New Orleans, Beene brings decades and worlds of experience and feeling to her work, viewable at Second Story and Sullivan Galleries.
18. Maren Antee
Antee created some of my favorite pieces at the CAC's Teen Open Call Exhibitions during the pandemic, an ongoing series where it's easy finding future artists to watch. Antee graduated from Lusher Charter School only last year.
19. Ken Schexnayder
Schexnayder's multimedia art is so visceral and masterfully done. "Don't Bite the Hand that Feed You" featured at Mr. Wolf Espresso in the CAC is the sort of piece that isn't easily forgotten.
20. Brandy Hirsch
Primarily a painter of acrylic on wood, Hirsch's fluid, layered art often comes to life at festivals and concerts where she live-paints. The flow of the music she works by is visually apparent in all of her pieces.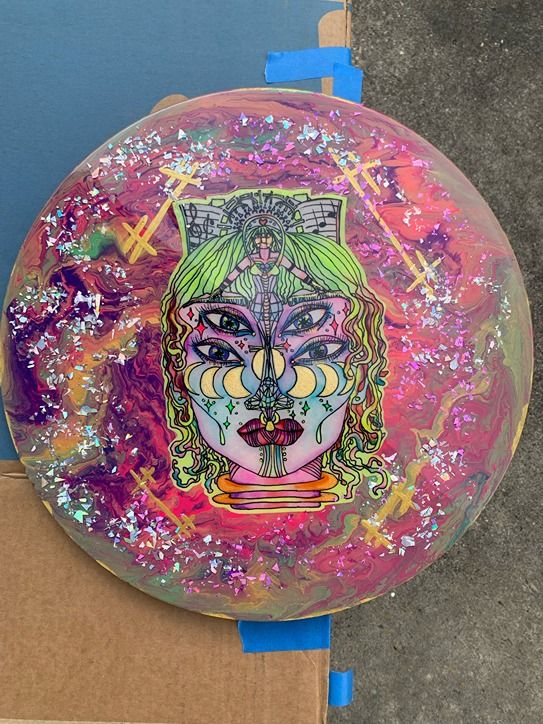 21. Kenneth Scott
Jr
.
Kenneth Scott Jr.'s art uplifts. It is a celebration of local culture and even when houses are being swept to sea, there is positivity and resilience. His Zulu coconuts are pure joy.
22. Hannah Chalew
An environmentalist artist, Chalew's paper art is hand-milled from recycled materials. Even her inks are ethically collected from natural resources. As well as making thoughtful, patient art, she runs sustainability-focused workshops.
23. Luis Cruz Azaceta
Azaceta is a Cuban-New Orleans painter with some really spectacular pieces featured at the Ogden Museum of Southern Art.
24. Emilie Rhys
Daughter of acclaimed artist Noel Rockmore and beloved painter in her own right, Rhys's portraits of local musicians sing with light and color.
25.Vitus Shell
Fresh off a solo exhibit at IBIS contemporary art gallery on Julia street, Shell has been quietly building an enormous resumé from his home in Monroe, LA. Combining classical techniques with modern fashion and newspaper with gold leafing, his subjects leap off the canvas. He represents a scope of contemporary black culture by highlighting the strong personalities of each individual model.

New Orleans Artists
Spanning dozens of mediums and six decades in age, there's someone, or maybe many someones, on this list we can each relate to. Who are you just now discovering? Who did you already know? Who is your favorite? Who are you inspired by?