Things Many Fans [Pr'bly] Don't Know to be

Thankful for About the Thanksgiving Classic
As soon as the gates open on Thanksgiving morning, a sea of bold suits, colorful dresses, and many whimsical hats fill the apron and grandstands of the Fair Grounds Race Course & Slots. These November spectators are not in attendance to cheer on a Triple Crown contest, but rather to be thankful—at the Thanksgiving Classic in New Orleans.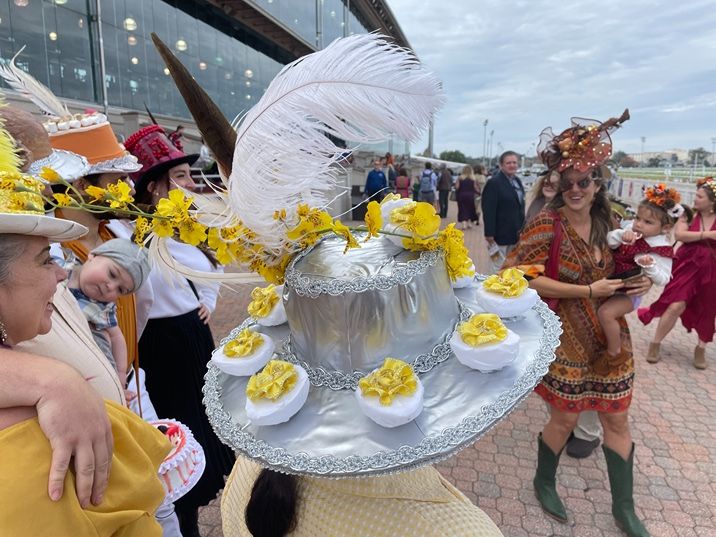 The event is more than horse racing. It's a return to a more elegant era, a time to be in the moment again, and a time to reconnect in person and in the moment.
Unofficial Winner
The Fair Grounds is recognized as opening for its first race in 1872 under the auspices of the Louisiana Jockey Club, making it the nation's third-oldest racetrack behind Saratoga (1864) and Pimlico (1870)—officially, that is.
However, horse racing at the former Louisiana Race Course began as early as 1838. It became the Union Race Course in 1852. It became the Creole Race Course in 1859 and then the Fair Grounds four years later. The track conducted races throughout the Civil War, but closed shortly after due to competition from the now-defunct Metairie Course. It reopened again in 1872, which is now the officially recognized date. If not for the closure, the Fair Grounds may be considered the winner.
Classic New Orleans for a New Orleans Classic
Running for the 99th time in 2023, this mainstay event attracts a buoyant crowd of 10,000 people who want to share this annual tradition with friends and family on Thanksgiving Day. New Orleanians attending the Thanksgiving Classic are there to "see and be seen," not by paparazzi, but by neighbors, former classmates, work associates, and snowbirds returning for the winter.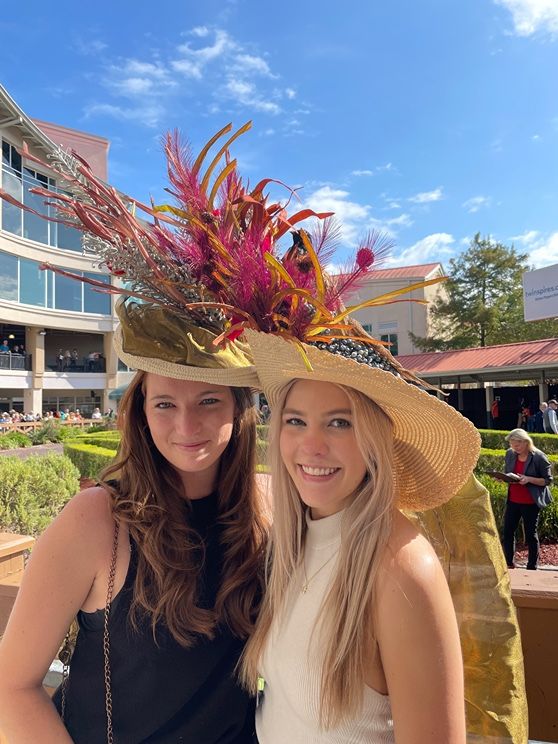 Fair Grounds' president Doug Shipley, racing director Jason Boulet, and marketing director Jamie Garrett share similar sentiments, offering, "There's something especially touching when we get calls from people who have moved away, and are 'finally coming home to spend Thanksgiving at the races.'" They agree, "It's lovely to be part of people's family and holiday traditions and even lovelier to be considered a vital part of their homecoming."
Family Affair
New Orleanians have made this racing event part of their family tradition for almost a century, with some coming from many states away to gather before the meal and some all dressed in a shared theme. They come wearing outfits—subtle and outlandish—to raise the stakes. While their love and laughter is evident, it's even more special for those who work the day.
Shipley, Boulet, and Garrett collectively observe, "If you work here long enough, you could very well see a child grow up and bring their own children," and note, "Some of us grew up coming to Thanksgiving every year" and enjoy that "some of our patrons who bring their grandchildren say the same thing."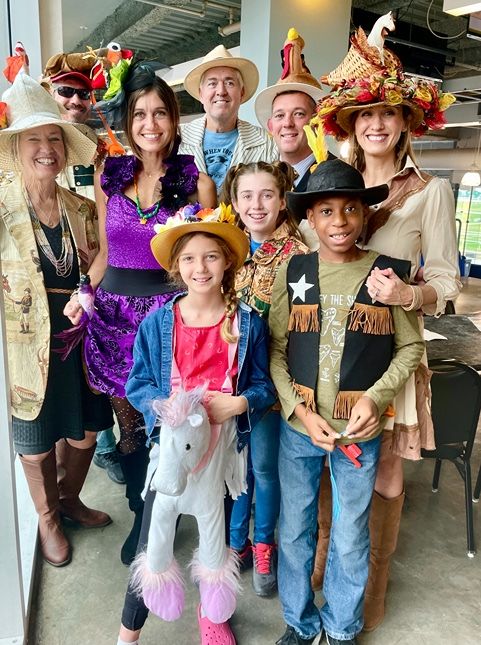 Dressing for the Occasion
Fans are dressed to impress when arriving on Thanksgiving Day, embracing the pomp, pageantry, and whimsy the preeminent "Sport of Kings" commands in New Orleans. Colorful jackets, paint-splattered sport coats, natty vets, and full-blown equine costumes pair nicely with flowing gowns, cocktail dresses, pant suits, and parasols.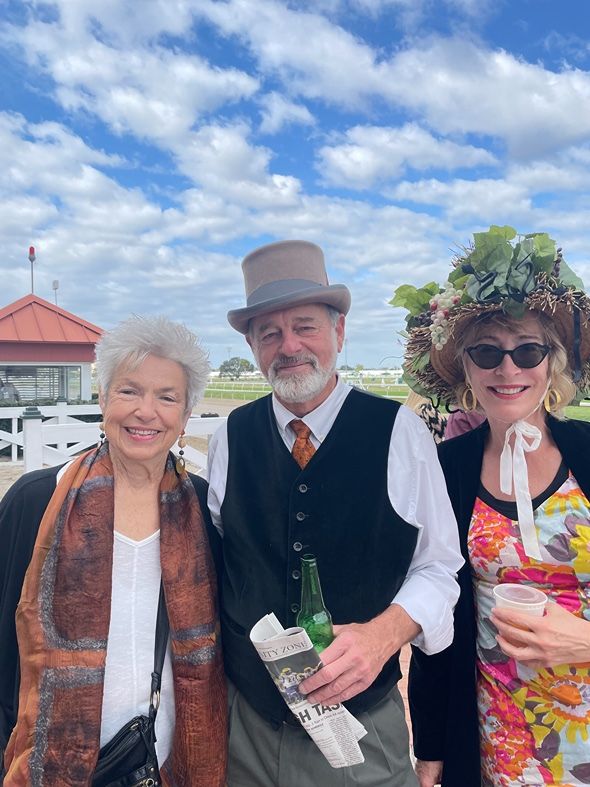 But in horse racing, it's often all about the hat. Wide-brimmed hats, bonnets, and fascinators are enhanced with elaborate accents to stand apart, or higher up. Hats represent anything from a full multi-course Thanksgiving feast while others include miniature horses racing around the brim.
"We are expecting Chapeaux Party to be selling hats and fascinators," says Fair Grounds marketing supervisor Ashley Cabeceiras. A relief for anyone feeling underdressed, knowing they can top off properly on the spot.
While patrons rave about the race course's corned beef and cabbage on normal race days, the Fair Grounds Race Course & Slots offers a Thanksgiving Day buffet also dressed in its holiday best.
"Messina's will be catering it this year. The meal is a blend of New Orleans-centric food and traditional Thanksgiving fare, including their muffuletta Italian pasta salad, truffle mac 'n' cheese, garlic-studded prime rib with demi glace, and turkey with gilblet gravy, all served with an andouille cornbread dressing," promises Cabeceiras. "There will also offer a Southern Comfort pecan pie
for dessert."
But bourbon's not just for dessert anymore. The Mint Julep and Old Fashions are popular cocktails of choice for any horse race, and it's easy to find Fair Grounds fans imbibing while toasting their blessings—or a winning bet.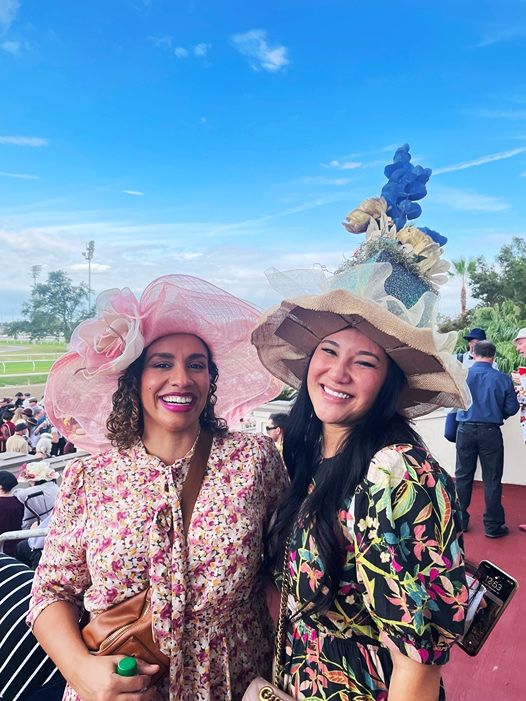 Round 'n' Round They Go
Although patrons enjoy day-long revelry, the Thanksgiving Classic is only a single race. The $200,000 purse is open to 3-year-old fillies and mares. It is on a weather-dependent dirt track with conditions that change dramatically with rain or cold; however, all races are not the same.
Although the Fair Grounds track consists of a one-mile (1.6 km) dirt track, the Thanksgiving Classic is only six furlongs (3/4 of a mile). Thus, the Classic is a sprint compared to the longer endurance Triple Crown races well over a mile. Racing Secretary Scott Jones confirms because of the distance disparity, the horses in the Classic would not compete in the three springtime races.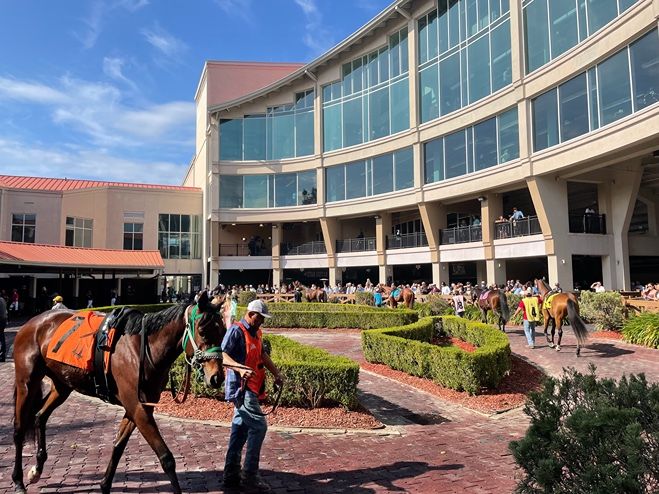 Prior to each race worldwide, a bugler plays the well-known "First Call," also known as "Assembly of the Buglers," tune. The Fair Grounds' bugler, however, tags on a surprise ending, making it clear to all that this is the birthplace of jazz.
"It's usually an off-the-cuff jazz riff," Cabeceiras confirms. "But the tune at the end is the bugler's choice."
Tropical climates allow winter racing at The Fair Grounds through March—finishing the season just in time for Jazz Fest.
From National Velvet to Secretariat, many are aware of horse racing's lure. But the excitement of horses triumphantly thundering across the finish line live, feeling the vibrations of the ground shaking while surrounded by your nearest and dearest, is truly something for which to be thankful.