The legacy of New Orleans' historic Irish community can be seen and experienced in multiple ways around the city. The Irish have been in the Crescent City since the 1700s and at first faced deplorable living conditions, as well as dangerous work while digging the New Basin Canal. Now, the community is well integrated into New Orleans' culture and is reflected in landmarks like the city's Irish Channel neighborhood and the beautiful St. Patrick's Church on Camp Street. St. Paddy's Day is a big deal in the Big Easy, so celebrate NOLA's Irish community by taking part in any of these events or activities.
Celebrate St. Paddy's Day in NOLA
Dat Dog
Multiple Locations
datdog.com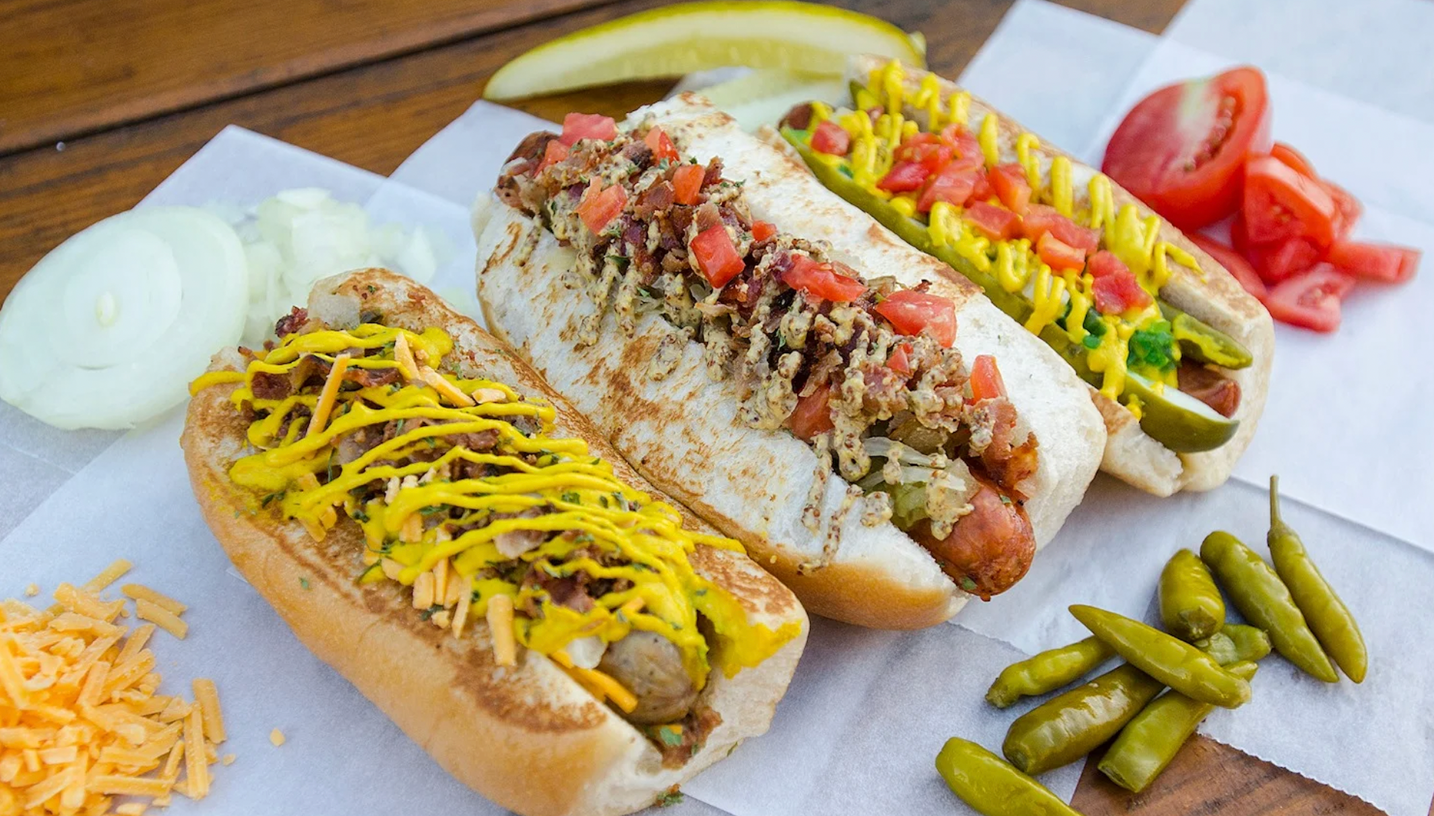 You can drink a Guinness to celebrate St. Patrick's Day, but have you ever though about eating Guinness? Dat Dog's got you covered with their Irish Channel 'Dog. This special hot dog is a Guinness infused sausage topped with andouille sauce, onions, cheddar, and bacon.
You can also build your own hot dog at Dat Dog's three locations, so order a Guinness dog and get creative with all of the different toppings that are on offer. Maybe you'd like one with sauerkraut, grilled onions, and Chicago-style sweet relish?
Irish Cultural Museum of New Orleans
933 Conti St.
504-272-0083
facebook.com/IrishCulturalMuseumOfNewOrleans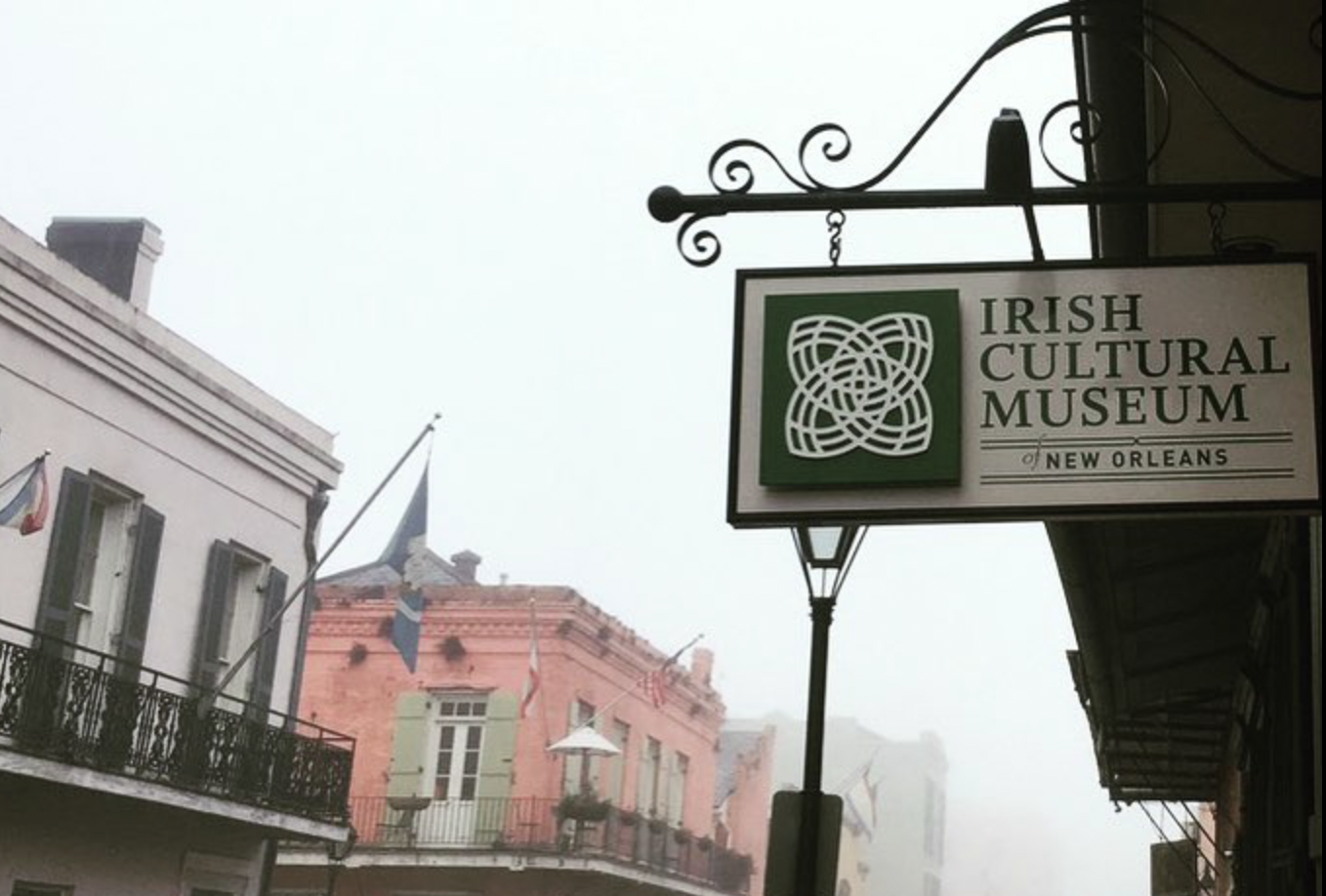 Anyone interested in learning more about the history of the Irish in New Orleans should definitely go visit the Irish Cultural Museum of New Orleans. Located in a charming little space in the French Quarter, the museum has exhibits that tell the story of how this new immigrant-community helped to build the Crescent City.
Visitors can also find St. Pat's Irish Coffeehouse, which is in the same location as the museum. In addition to coffee, this traditional coffeehouse also offers different Irish whiskies, beer, and cocktails like St. Pat's homemade Irish coffee.
The Vintage
3121 Magazine St.
504-324-7144
thevintagenola.com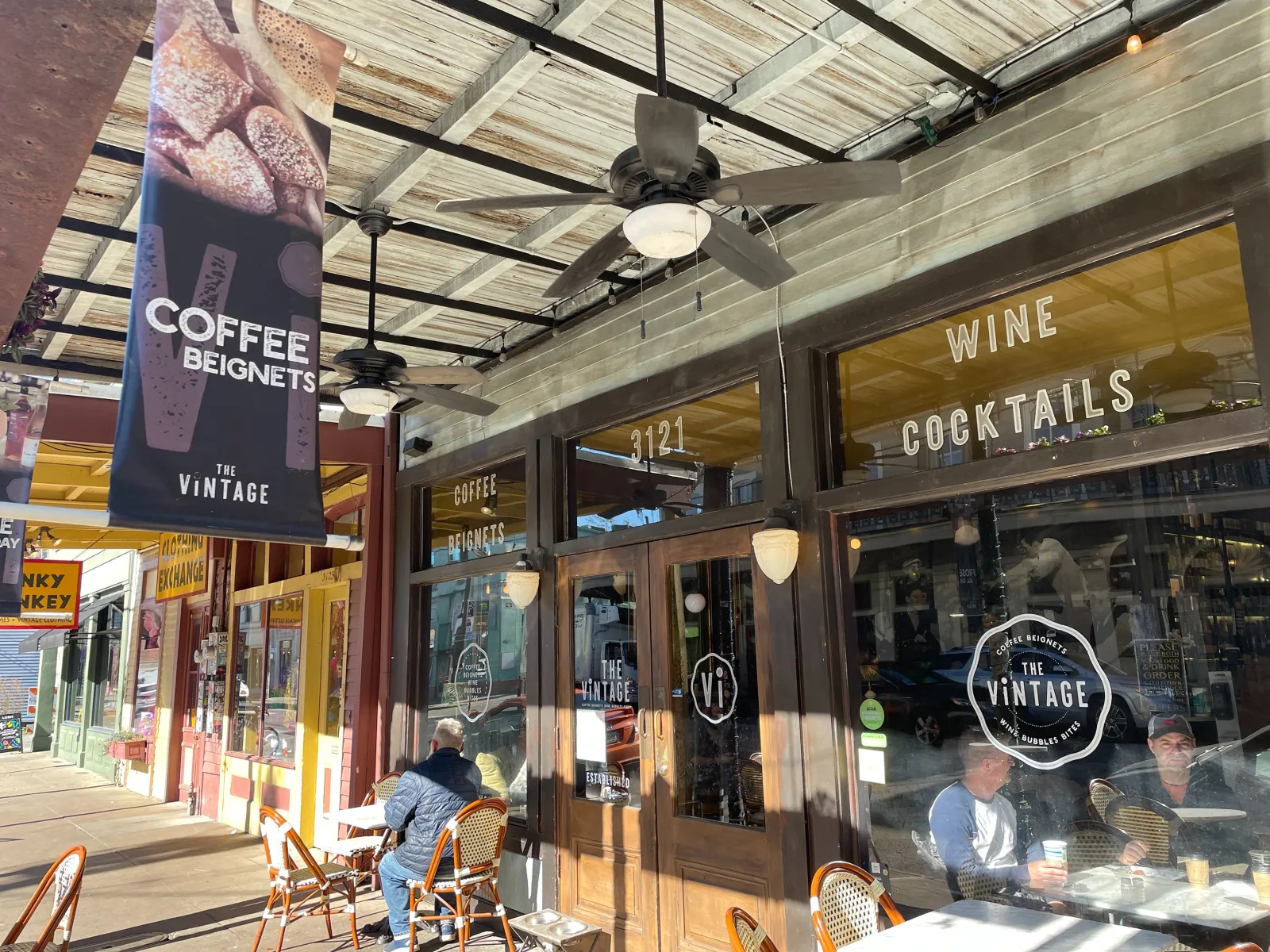 Sipping on an Irish Coffee is a great way to enjoy St. Patrick's Day, so make sure to stop by The Vintage in the Irish Channel. Wear some green and enjoy the restaurant's special clover-shaped beignets that the restaurant always rolls out for the holiday.
For more tasty treats, The Vitange's charcuterie board and apple brie flatbread sandwich are both very good selections. Order some of the restaurant's champagne and give a toast or two for St. Paddy's Day.
NOLA Brewing Company
3001 Tchoupitoulas St.
504-896-9996
nolabrewing.com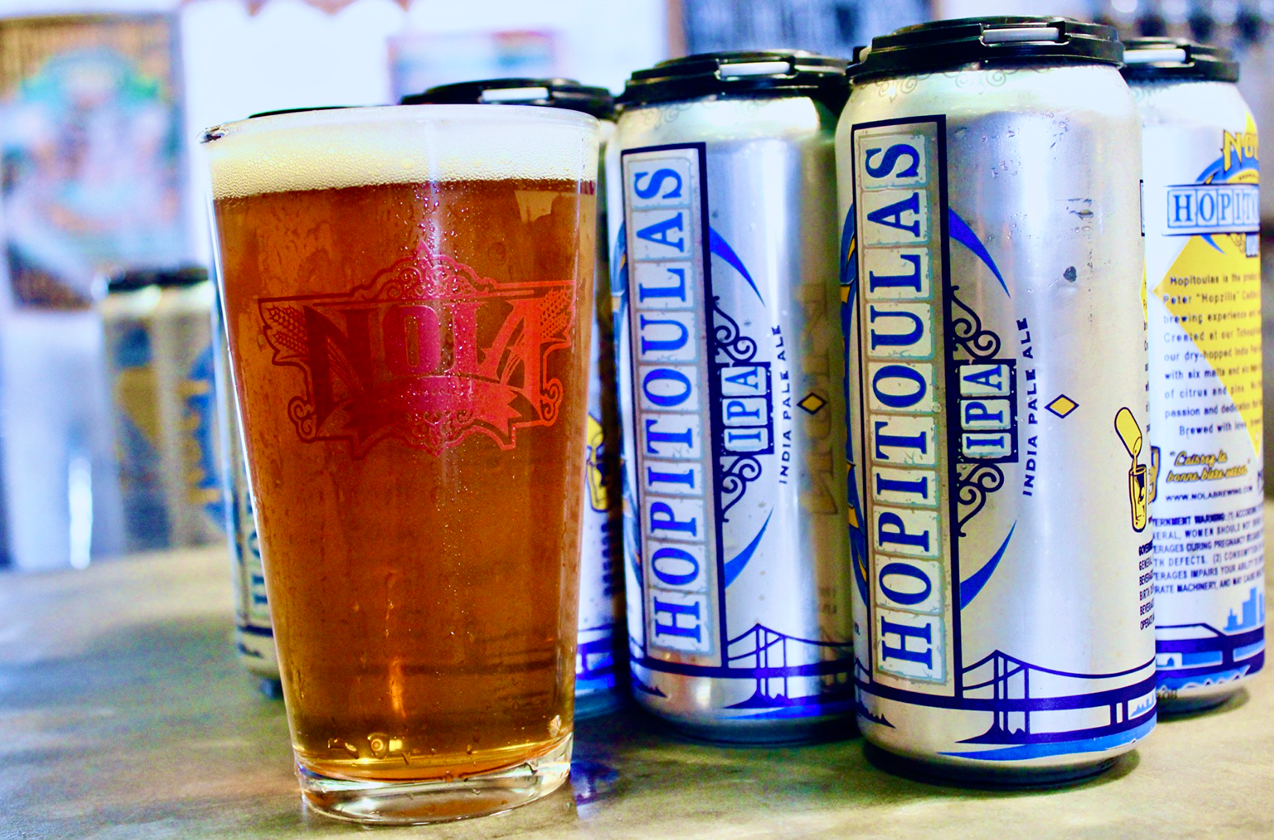 Speaking of the Irish Channel, celebrate with NOLA Brewing Company's award-winning Irish Channel Stout. Found at its brewery on Tchoupitoulas, as well as in grocery stores and supermarkets around the city, this American-style stout has sweet malt flavors of caramel and chocolate, making for a dark and delicious beer.
Nothing tastes better with beer than pizza, so make sure to order a pie from NOLA Pizza Co. while at the brewery. This joint specializes in New York-style pizza and offers different red, white, and square pizzas to enjoy.
8th Annual Shamrock Sprint
kellykickingcancer.org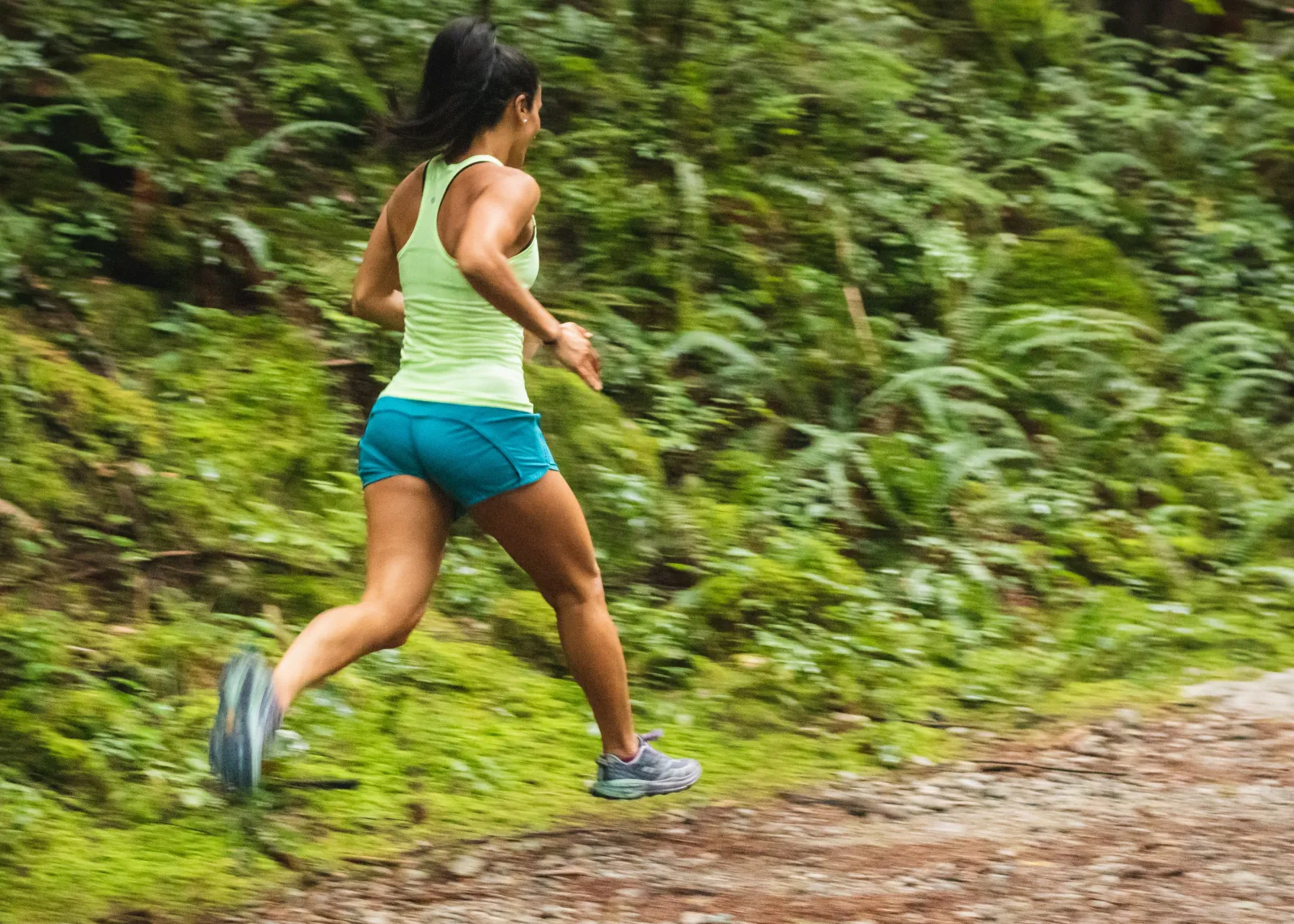 Work off that Irish stew and soda bread by participating in the 8th Annual Shamrock Sprint. This 5K race, which is put on by the Kelly Kicking Cancer organization, will take place at the Covington Trailhead in Downtown Covington.
The race will be on March 25 at 8:30 a.m. Registration starts at 7 a.m., is $35 per person, and funds raised will go towards advancing brain cancer research. There will also be a post race party that is $20 and free for children 12 and under.
St. Alphonsus Church
2025 Constance St.
504-524-8116
friendsofstalphonsus.org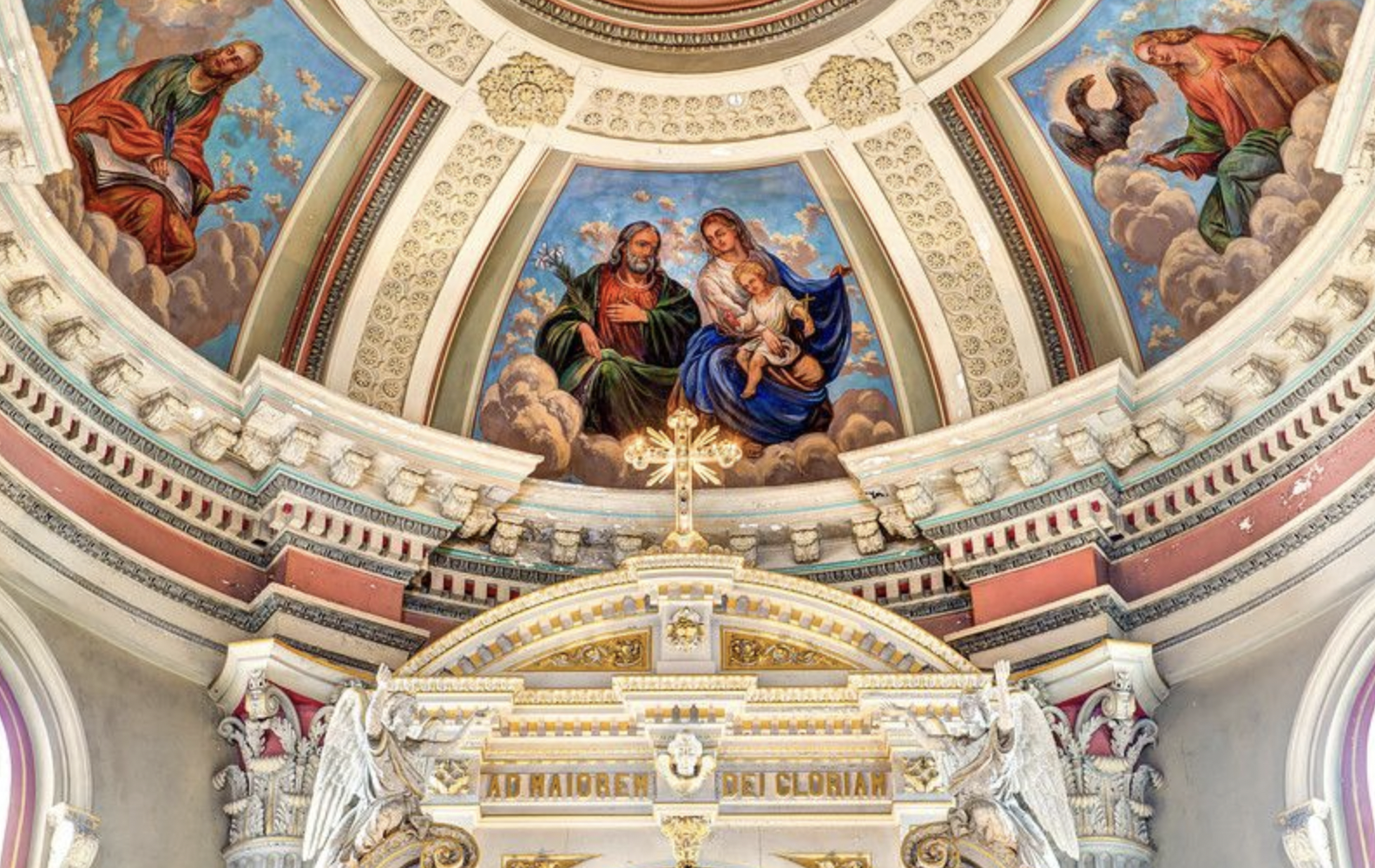 Whether you are religious or not, a visit to the former St. Alphonsus Church is a must to appreciate New Orleans' Irish history. Completed in 1857, the church was built to serve Irish Catholics in the Lower Garden District until it was closed down in 1979 and then declared a National Historic Landmark in 1996.
Now housing the St. Alphonsus Art & Cultural Center, the building's beautiful frescos, stained glass, and architectural facade are sights to behold. Anyone interested in helping with up keeping and preserving the building can make a donation to the Friends of Saint Alphonsus.
New Orleans Downtown Irish Club Parade
downtownirishclub.com/home.html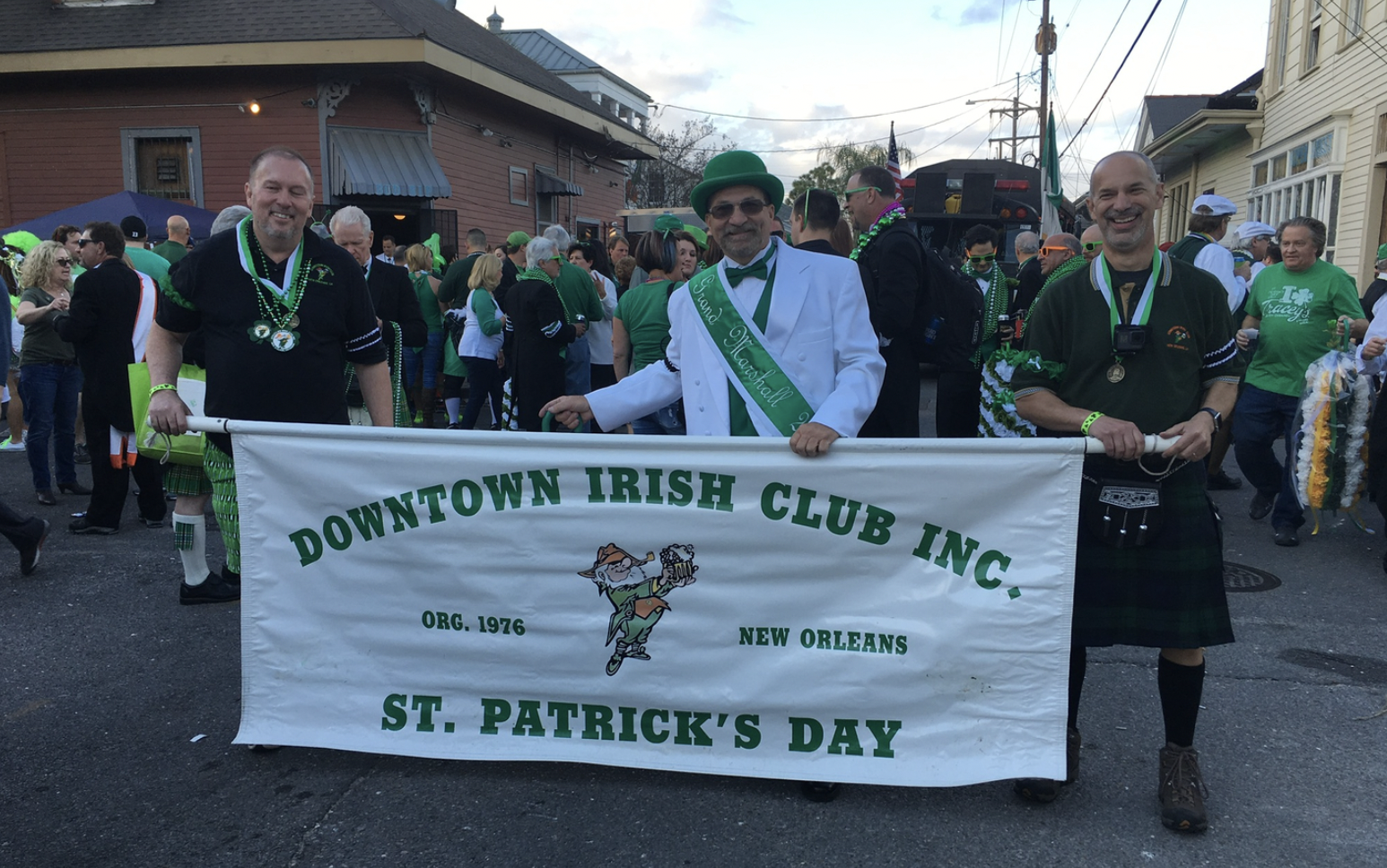 Join the Downtown Irish Club, Inc. in celebrating St. Patrick's Day by going out and seeing their annual parade. The club is a social organization that has been dedicated to preserving the Irish identity within the Big Easy since 1976.
The parade will kick off from Washington Park and will end at the Ugly Dog Saloon on Tchoupitoulas Street. The festivities will take place on March 17 from 6:30 to 10:30 p.m. and there will be an after party to follow.
Erin Rose
811 Conti St.
504-522-3573
erinrosebar.com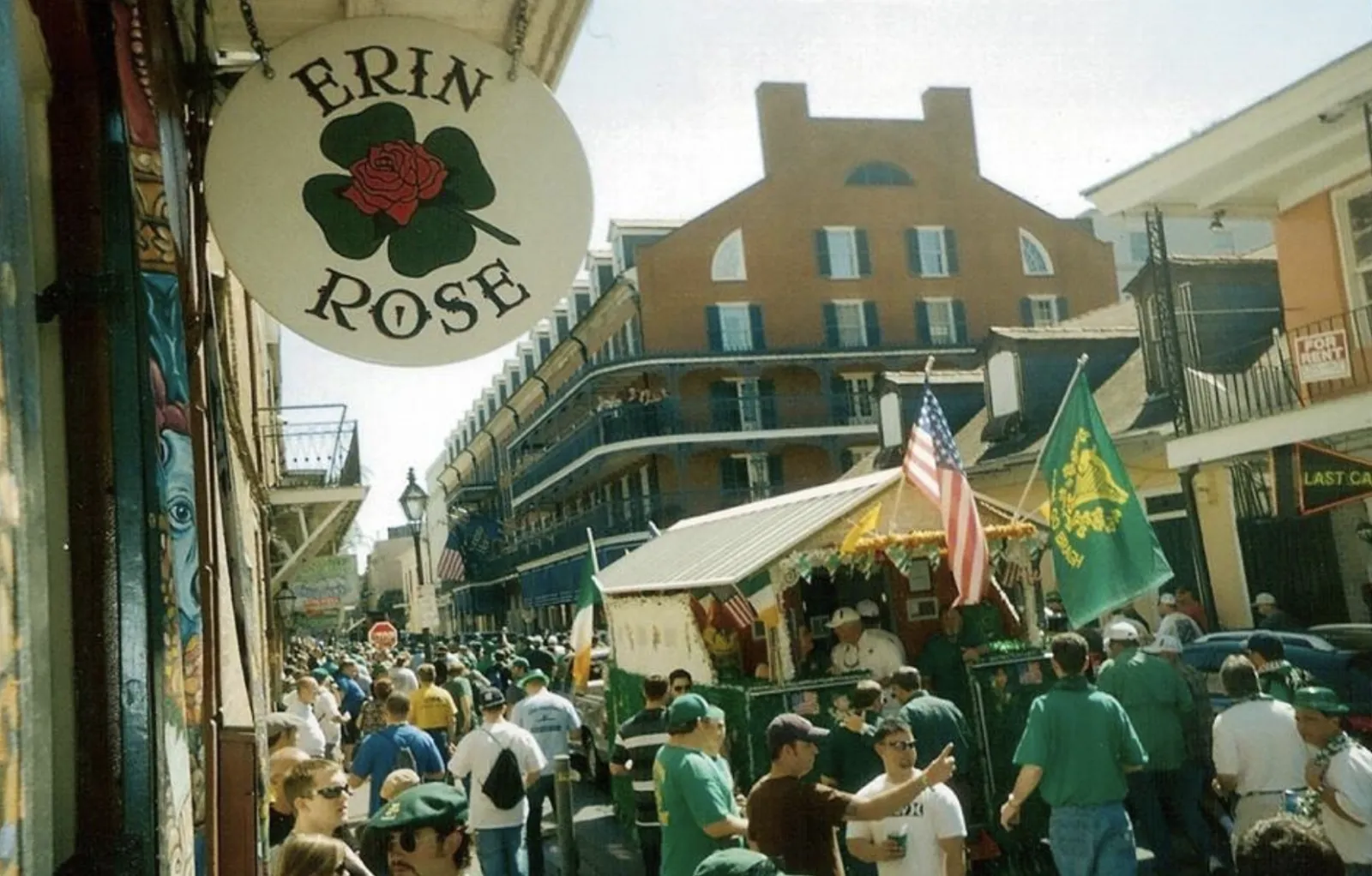 Just steps off of Bourbon Street, Erin Rose is an Irish pub that serves as a friendly neighborhood bar for both locals and tourists. Make sure to order the bar's famous Frozen Irish Coffee drink, which is even served with extra ground coffee on top.
The bar also offers Irish whiskies, Guinness on tap, Bloody Marys, and Louisiana beer. Killer PoBoys is also located inside of the pub, so consider ordering a Black Beer Beef Debris po-boy, a "Dark & Stormy" Pork Belly po-boy, or even a Roasted Sweet Potato po-boy.
Tracey's St. Patrick's Day Block Party
2604 Magazine St.
504-897-5413
traceysnola.com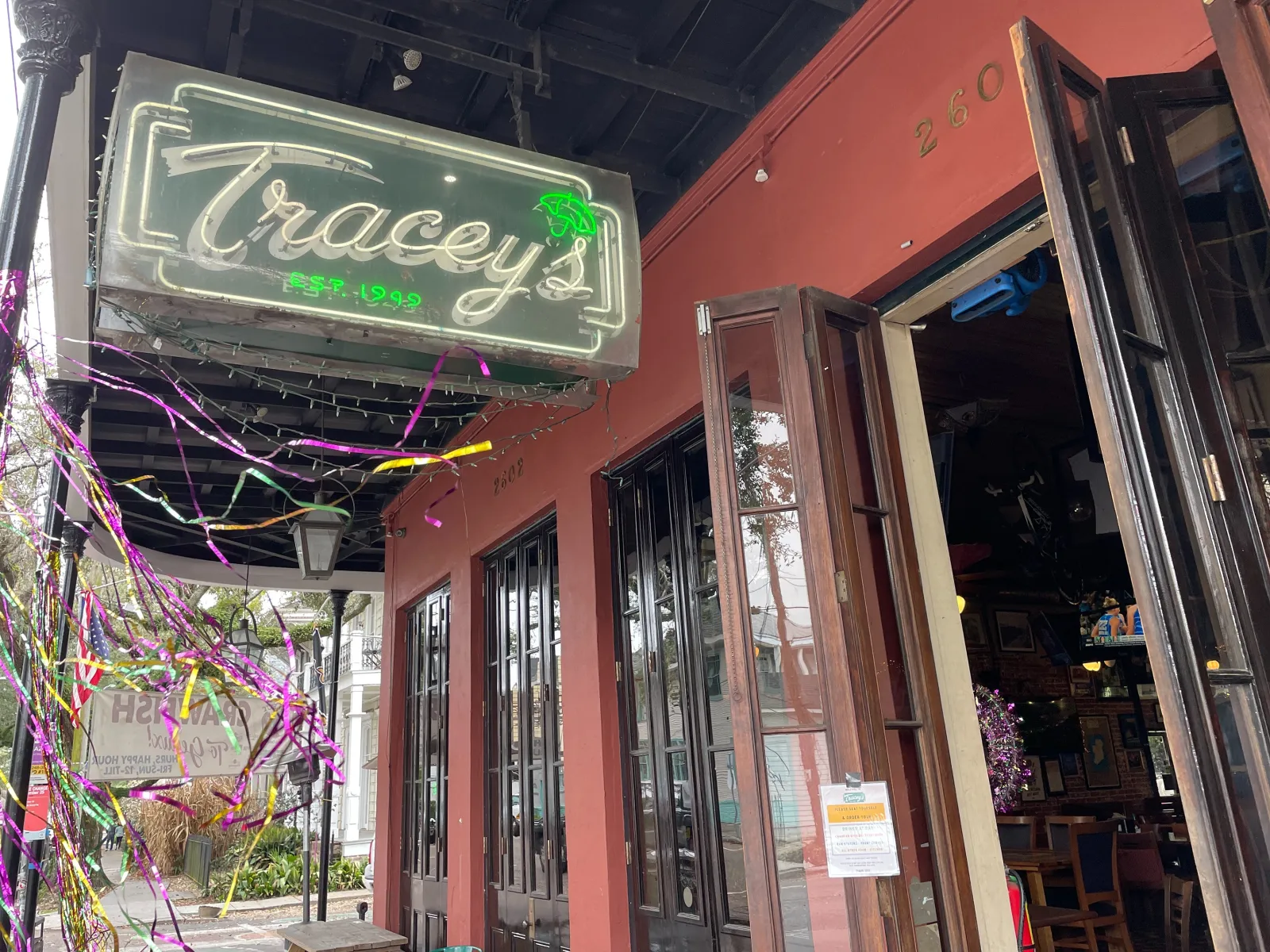 Tracey's Original Irish Channel Bar is the place to be when St. Patrick's Day arrives in New Orleans. The bar, which has been a staple in the city since 1949, will be holding its annual St. Paddy's Day block party on March 17 from 11 a.m. to 8 p.m.
It's also crawfish season, so Tracey's will be able to provide visitors pounds of delicious boiled crawfish seven days a week. The restaurant/bar also has a really great tasting roast beef po-boy, so grab a glass or two of Guinness and have a great time while at Tracey's.
Pat O'Briens' St. Patrick's Day Party
718 St Peter St.

504-525-4823
patobriens.com

What better way to celebrate St. Patrick's Day than at one of New Orleans' most famous bars? First starting as a speakeasy during Prohibition, Pat O'Briens' has been satisfying locals and visitors since the early 1900s.
Come in anytime from 3 to 8 p.m. on March 17 and enjoy live music by DJ Mig. While Pat O'Briens' Hurricane is an absolute, make sure to also sample other cocktails the bar offers like Pat O's Lemonade, The Rainstorm, and The Rainbow.
Give a Toast to NOLA's Irish Community
While the Irish have faced many, many hardships throughout history, they have persevered and managed to preserve their unique traditions and identity within strong-knitted communities all over the world. The best way the Crescent City honors people is through joyful celebrations, and there are plenty of ways to celebrate St. Patrick's Day in NOLA. So no matter if it's going to the Irish Channel parade or having a pint of Guinness, go out and celebrate the unique culture and wonderful people who came from the Emerald Isle. Erin go brah, y'all!