To quote my friend Gallivan, "We are not letting a little thing like no Jazz Fest get in the way of us celebrating Jazz Fest." Well, no truer words express the abilities of New Orleanians and Jazz Fest loyalists from around the world to carry on and fest.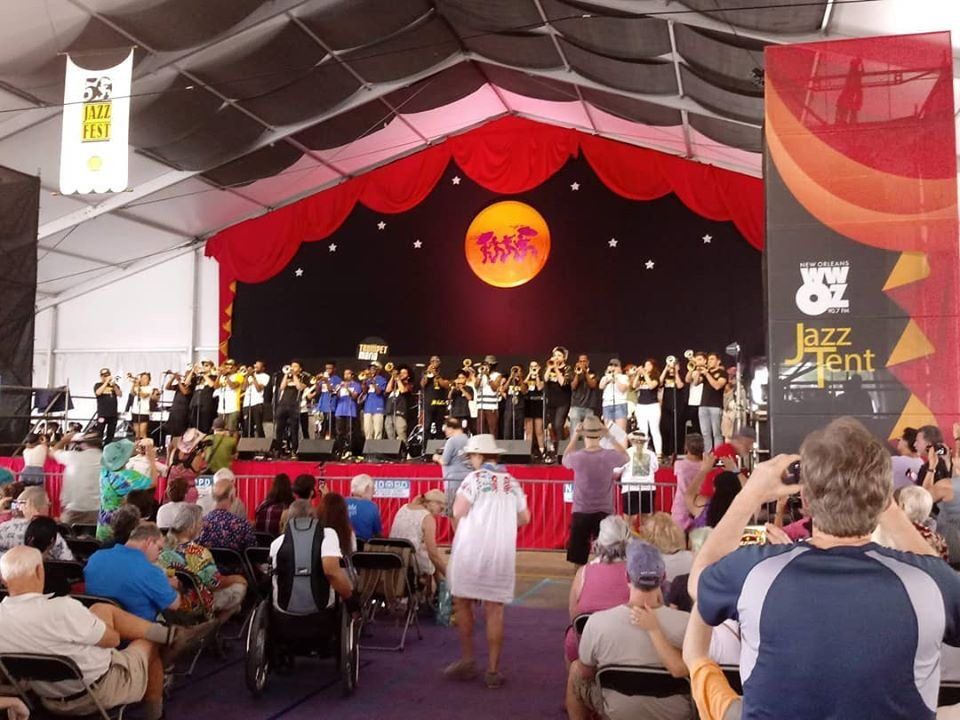 I am so lucky to reside in a neighborhood that is ground zero for Jazz Fest. As I am fond of saying when asked where I live, "We live between Liuzza's By The Track and the Holy Land."Of course, this sanctified acreage is where Jazz Fest memories live and grow each spring. This year, however, we must grow today's memories from outside the gates and relive the magic via the archived recordings of 50 years worth of live performances at Jazz Fest. This is made possible by WWOZ, our jazz and heritage radio that celebrates the glory and talent of voice and instrumentation to produce the magic of music. Music allows you to transcend, to fly, to elevate yourself from the mundane—and now, from the horrors of this epidemic.
When Jazz Fest was first postponed, then cancelled, I feared that the shot in the arm that this festival delivers to my well-being would be gone for a year, and that my attitude would not get the much-needed spiritual lift that my New Orleans psyche craves. I need it to replenish my love for this town. As most of you know already: New Orleans, she ain't no Big Easy. She can wear you down, break you, smash your heart—but, almost simultaneously, touch your soul and fill you with a sense of wonder and make ya proud that the people, culture, history, creativity, and just about every damn thing are weirder than dirt. And that dirt will mimic clay and transform itself into sculptured magic. But, again, she is difficult, and the in-between times of struggle leave me in desperate need of Jazz Fest. It is my annual vaccine against the mundane.
I guess I should have known that folks here would not allow the cancelling (albeit necessary) of this festival to cancel the spirit of Jazz Fest. The New Orleans Jazz & Heritage's official flags and banners remain in place, with some folks declaring that they will not take them down until next year. Make-shift pennants, streamers, and signs add to the festive flair, and WWOZ's flags brighten many a pole and flap in the wind. We'll let those freak flags fly! Decorations—some elaborate, some tacky (mine!)—and flower gardens tend to show themselves off in celebration. And I believe that our beloved WWOZ radio is the band leader, the conductor, of this year's Jazz Fest.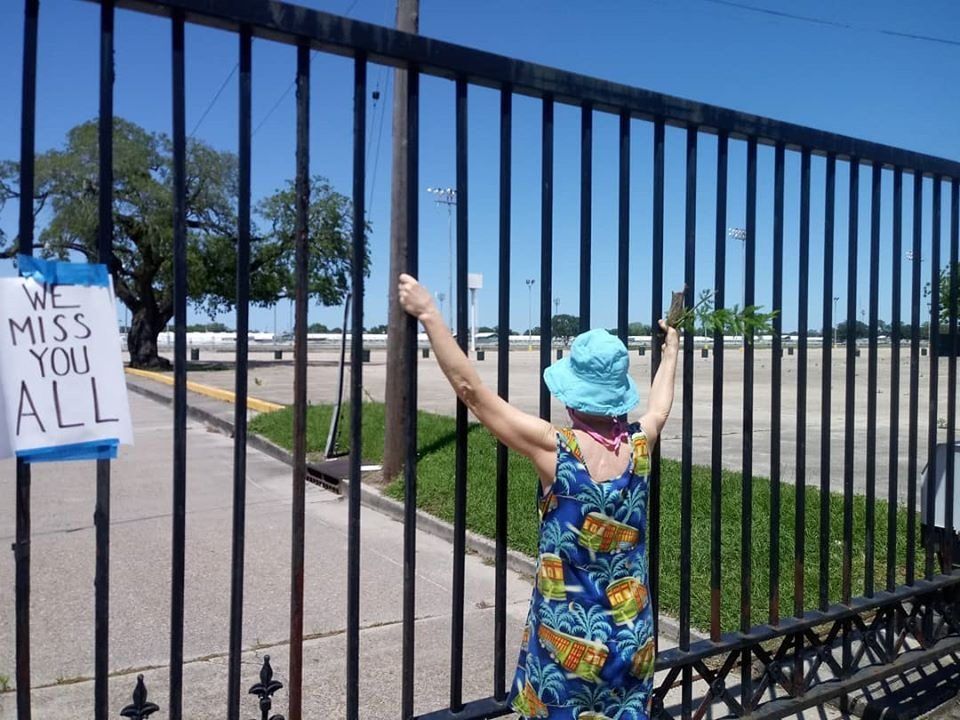 Sure, folks would share Facebook posts of festival memories, and our porches would signify, but without the music—the music of Jazz Fest—it would be like a birthday without cake, a keg without beer. I know where some of my stimulus check is going—to fund WWOZ. The minute I tuned in on Day One, what would have been Local's Thursday, I was there! I could feel the excitement and not only relive it, I was living it. Eight days of archived "live" Jazz Fest performances playing in virtual time, 11 a.m. to 7 p.m. every fest day, has been provided by our uniquely New Orleans radio station. They have given us Jazz Fest this year, and no damn virus can take that away. Thank you, New Orleans, for festing in place, for celebrating, for being strong.And thank you to all our festers from around the world. I will miss your faces this year, but I know we are listening in unison to the sounds of magic.