As the city enters phase one of its reopening, many restaurants which remained closed since mid-March are taking their first steps forward with to-go friendly take out menus and to once again open their doors, though at a quarter of their pre-pandemic occupancy. Uncertainty looms in many restaurant-owners' minds from seating arrangements and safety protocols to protecting the health of both customers and employees. While restaurants are doing everything they can to offer a safe, clean environment, we can certainly do our part to be patient, kind, appreciative and generous, after all, they're trying to provide something all of us so desperately need right now -- a tasty bite of normalcy.
Here's a few restaurants we've missed over the past months that plan to open over the next week:


Gris-Gris - 1800 Magazine Street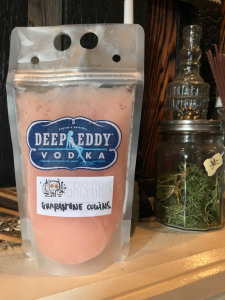 For those missing Chef Eric Cook's cuisine, Lower Garden District restaurant Gris-Gris is inching forward in phase one by re-introducing a new take-out menu. Hungry patrons can go online to grisgrisnola.com and order everything from a bowl of his Paroisse de Vermillion-inspired gumbo (also available by the gallon!) and crispy Gulf oyster po-boy to chicken and dumplings, or sticky bun bread pudding with salted caramel.
The neighborhood joint is also offering to-go frozen cocktail options including Fresh Peach Frosé by the gallon, a 50-oz White Sangria, and a 16-oz Quarantine Collins. Beers by-the-can and wines by-the-bottle are also available, along with several non-alcoholic options including a Strawberry Kiwi Dream and Peach Lemonade Sorbet Slush, perfect for cooling off on a warm, New Orleans evening.

While Gris-Gris does not yet offer dine-in, they do plan to re-evaluate when the city is cleared to enter phase two.


Link Restaurant Group: Cochon, Pêche, Cochon Butcher, La Boulangerie,and Herbsaint

Next week on Wednesday, May 20th, the Link Restaurant Group will be expanding its services at Cochon Butcher and La Boulangerie (currently open for take-out) with seated dining, while also reopening their James Beard award-winning restaurants Pêche, Cochon and Herbsaint. As per Governor Edwards' orders, the restaurants will all open at only 25% capacity and are adding to their already-employed practices for food safety, cleaning, employee health and wellness, and social distancing. "I believe it's time to come together as a community and begin to brave the waters," said Donald Link, executive chef and owner of Link Restaurant Group. "We are ready for you, and we will do this in a way where people can dine around a table again - going above and beyond safety practices yet still having fun."

Cochon Butcher and La Boulangerie will continue to serve to-go meals while adding limited seated service. Until phase two, Pêche and Cochon will be taking reservations for limited seating. With tables spread out according to social distancing guidelines, they will seat a maximum of approximately 40 people at a time and reservations will rotate on the half-hour from 11:00am to 9:00pm. To start Pêche and Cochon will be open Wednesday through Sunday for lunch and dinner. In an abundance of caution, each table will have a single server and continual sanitation will take place throughout the meal. "We are happy to be reopening to serve our community, and excited to bring our staff back into the restaurants," said Stephen Stryjewski, chef and partner Link Restaurant Group. "They are a part of our family, so it's important to have everyone back together." The Link Restaurant Group has also updated its policies and operating procedures and has made them available to the general public. While each restaurant achieves standards above and beyond those dictated by the CDC, they are asking guests to also follow the same guidelines.

Reservations are highly recommended, and each restaurant will begin taking reservations through Resy on May 14th for the May 20th opening.
Please visit each website for specific details and menu information:

Herbsaint: 701 St. Charles Ave., (504) 524-4114
Cochon: 930 Tchoupitoulas St., (504) 588-2123
Pêche: 800 Magazine St., (504) 522-1744
Cochon Butcher: 930 Tchoupitoulas St., (504) 588-7675
La Boulangerie: 4600 Magazine St., (504) 269-3777
Avo - 5908 Magazine Street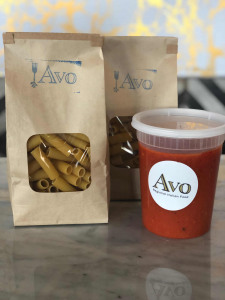 Patrons eager for their pasta fix can feel free to squeal with glee because Uptown Italian restaurant Avo is set to reopen next week on Tuesday, May 19th for both dine-in and takeout! As mandated, the neighborhood gem will be offering dine-in (reservations required) at only 25% capacity, following all social distancing, health and safety guidelines. Both takeout and dine-in operating hours will be Tuesday through Saturday, 5:00pm to 8:00pm.

Whether you are taking it home or reserving a table, Avo's menu features many favorites from the grilled octopus with chili glaze and portabello ravioli with arugula pesto to Shortrib Masala and Chicken Parmesan. Add a dessert to your order like "Coppetta" - also known as an "Italian ice cream sundae" with fudge, caramel and Pizzelle cookie, or an affogato with vanilla gelato.

Avo has also added a selection of dried, house-made pastas and fresh sauces to the menu so you can create your own, spectacular Italian dishes at home.