Indisputably, New Orleans has a long-established international reputation for culinary arts, with our signature Creole and Southern flavors owing themselves to the strong influence of African culture and cuisine. The indispensable contribution of the black community to our food culture still holds strong today. With this in mind, we would like to take a moment to celebrate black-owned restaurants in New Orleans that are keeping our traditions and reputation for some of the best food on the planet alive.
If your day starts with breakfast (or brunch), a local favorite is Twisted Waffles (1420 Annunciation St.). Their plates are overflowing with sweet and savory classics, including lots of vegetarian, vegan, and gluten-free options, such as their Twisted Spinach and Berries Salad (twist it up with a protein, if you like), a portobello mushroom or veggie burger, and caprese waffle sandwich. Order classic New Orleans and Southern dishes, such as Creole grits (with shrimp), chicken and waffles, or biscuits and gravy, or dive into their extensive offering of waffle-based plates, including waffle bowls, waffled French toast, and specialty waffles. The maple cream bacon waffle is the stuff of dreams. You can call ahead or order online for pick-up, between 7:30 a.m. and 3 p.m., Friday through Sunday. Twisted Waffles can also host your special event.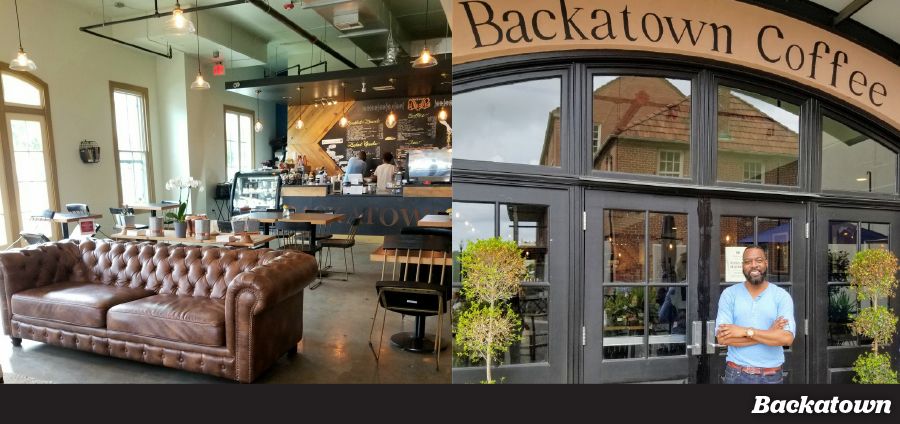 Backatown (301 Basin St.) is a coffee parlor offering pastries, soups and sandwiches, and—you guessed it—specialty coffee and tea beverages, such as Vietnamese coffee (with condensed milk) and golden lattes. Backatown is spacious and airy, with seating arranged for social distancing, as well as outdoors, making it the perfect spot to spend the morning reading and working, solo, or to gather with a small group of friends or for business. Folks rave about their sweet potato pie, quiches (crawfish or spinach), paninis, and BBQ crawfish and grits. They also cater to vegetarians and vegans, with items like an egg, avocado, and tomato English muffin; blueberry chia pudding; and an entire shelf of pastries, including a heavenly rose pistachio donut.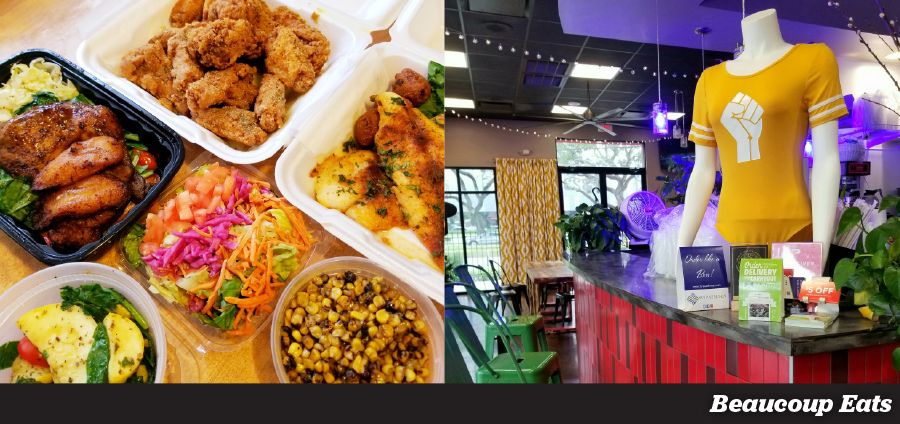 A number of black-owned restaurants around town aim to please everyone by offering menus rich with flavor and options for even the most restricted diets. Beaucoup Eats (2323 Canal St.) has a menu full of classic Creole and American (and health-conscious) items, including an entire section of vegan/vegetarian meals. Side items range from fries and crawfish mac-n-cheese to brown rice, cauliflower rice, and dirty rice. Want a burger? You can get it deep-fried or made with turkey. Get a jambalaya pasta salad in alfredo, or a salmon-topped garden salad. Their crawfish bread is wildly popular, and their chicken wings are a sight to behold, perfectly battered and golden. Honestly, it's worth driving out of your way for their coconut rice bowls. You can order by phone or online for takeout, drive-through, or delivery through Uber Eats or Waitr. They also cater and offer meal-prepping services.
Vegans and vegetarians have other delicious options for supporting black-owned restaurants in the city. Vegan Wit' a Twist (514 S. Rampart St.) is available for pick-up or delivery through Waitr. As their name suggests, this restaurant has become famous for serving up burgers, tacos, and burritos composed of completely vegan ingredients. If you've been wanting to try jackfruit, we recommend starting here. There are rice bowls available for a gluten-free meal as well. Their vegan fried and chargrilled "oysters," BBQ cauliflower box, and "hot sausage" topped with spinach, tomato, and spicy mayo will please even the most devout meat-eater.
Looking for something a little more upscale? Soule' Café (2549 Banks St.) has a "Vegan & Friends" menu, as well as tantalizing daily specials. Your Monday serving of red or white beans may come with sausage or a meat substitute, or simply with cornbread and salad. Your tacos might be stuffed with chicken or shrimp, or they could be stuffed with tofu or cauliflower. Even their Kids' menu offers a variety of vegan treats. The vegan plate allows you to pick out three different vegan sides as a meal, such as collard greens, brown rice, and vegan nuggets or Brussels sprouts, sweet potato fries, and mac and cheese. Soule' Café also continues to offer an occasional Drag Brunch. Follow them on Facebook to find out when. Order online for takeout or delivery through Uber Eats.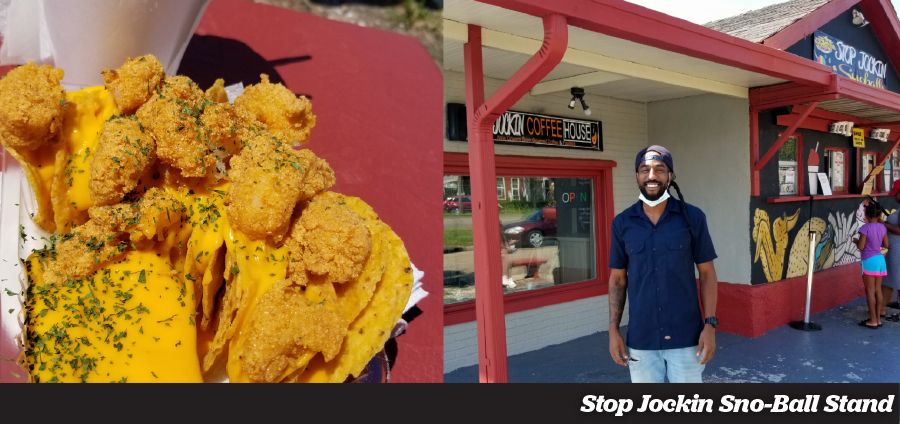 At the opposite end of upscale, we have Stop Jockin Sno-Ball Stand (3600 St. Bernard Ave.). Their ice is the softest, smoothest, snowiest you'll ever get. Stop Jockin also serves traditional snack-shack items—think hot dogs, hamburgers, and po-boys. The seafood-stuffed nachos and fries will have you waiting in line again soon. Expect a line at Stop Jockin, but don't expect to wait long. However, be forewarned: They will run out of crawfish for nachos and fries if you arrive too late in the day. No worries, though, because the shrimp is fresh and crispy and equally delicious.
Tantalized? Good. These are just a few favorites among the vast number of black-owned restaurants in New Orleans that make our city one of the most exciting and diverse destinations in the world for foodies. Be sure to join the Facebook group "Where Black NOLA Eats" to discover even more black-owned restaurants in the area to enjoy and support.