When Sailor Jerry Rum reached out to Sam Kiley to ask about making a version of a Hurricane cocktail with their spiced rum, they couldn't have selected a better suited mixologist for the challenge. As bar manager at Cane & Table—the French Quarter rum bar and Caribbean restaurant that has been a Lower Decatur staple since opening seven years ago—Kiley was uniquely prepared. You see, the owners of Cane & Table had already set out on a journey into the history of the Hurricane. In doing so, they got swept up in a cyclone of mystery.
"They were trying to crack the code and figure out what is in Fassionola syrup," Kiley explained. "Other than rum, Fassionola is really the star of the Hurricane." But Fassionola syrup, invented by Don the Beachcomber in the 1930s, was a secret that died with its creator. "It took Cane & Table's owners about a year to dig up history through old photos, advertisements, any newspaper clippings they could find to try and figure out what was in this Fassionola syrup that was so key to the Hurricane," Kiley said.
Through all their research, two things were made clear:
There was a great deal of wanting to keep the Fassionola recipe secret.
Everyone generally agrees that Fassionla definitely contains passionfruit ... sort of. When it comes to history and lost recipes, a complete consensus of the truth is apparently impossible.
Informed by their deep dive, Cane & Table's Fassionola recipe served in-house is fairly complex. For this project with Sailor Jerry's Rum, Kiley set out to create a cocktail that was "bar quality, but easier to make at home." To create the elixir, Kiley tapped into her knowledge of history and mixology. Before designing the drink, Kiley said she knew it would be "definitely passionfruit heavy and trying to get those bright colors. For us, we believe in a good amount of acidity in the cocktail. That's the lemon vs lime argument. Either one is totally fine, it works great," Kiley assured us, but she ultimately chose lime to cut through the sweetness. "If you use lemon, you get a little more of that fruity flavor coming through," she added.
Kiley told us that lime goes particularly well with Sailor Jerry Spiced Rum since the spirit has "good spice, a bit of vanilla coming through, and a little bit of those caramel flavors." As a Navy Rum (a term for a blended rum from different islands in the Caribbean), it's a vibrant choice for a cocktail because "rums come alive when you blend them together. You have two rums next to each other. They're both pretty good, but they're definitely always greater than the sum of their parts," Kiley said.
By making her cocktail recipe available to everyone, Kiley hopes to add another dimension of creativity to this year's drastically different Mardi Gras. "Mardi Gras is about the feeling. It's about trying to cultivate community. It's about figuring out ways to be artistic that we maybe never thought about before—you know, all these house floats coming about, tutorials for making a wing, a lot of people have started beading for the first time. I think we're figuring out many ways to be creative this past year, and I've seen a great bit of Mardi Gras spirit still happening this year. I think it's all about trying to take care of each other and trying to have fun even in the face of adversity." A similar ethos of balanced opposites also exists in the Hurricane. In Kiley's words, "You have this really fun, tasty drink, but it's a Hurricane and hurricanes are destructive."
Even without traditional celebrations, Kiley believes in keeping the spirit of Mardi Gras going. When she thinks about past Mardi Gras, the first thing that comes to mind is the moment of finally turning on the lights after everyone has left the room—just seeing how much glitter and feathers were left on the floor. But more resonant than that unforgettable imagery, Kiley thinks of the generosity and attitude that is specific to Carnival.
On Fat Tuesday, when the city becomes one big party, that atmosphere seeps into everyone's approach to life. "People are more generous, kinder, more willing to wait. They're tipping extra. You get more people buying drinks for random people. Overall, even though there's the chaos that happens during Mardi Gras, people are really good-willed," Kiley said. This year, with big parties out of the picture, a piece of that laid back Mardi Gras energy can be achieved at home by way of creative ventures, like an expedition into the eye of this Spiced Hurricane.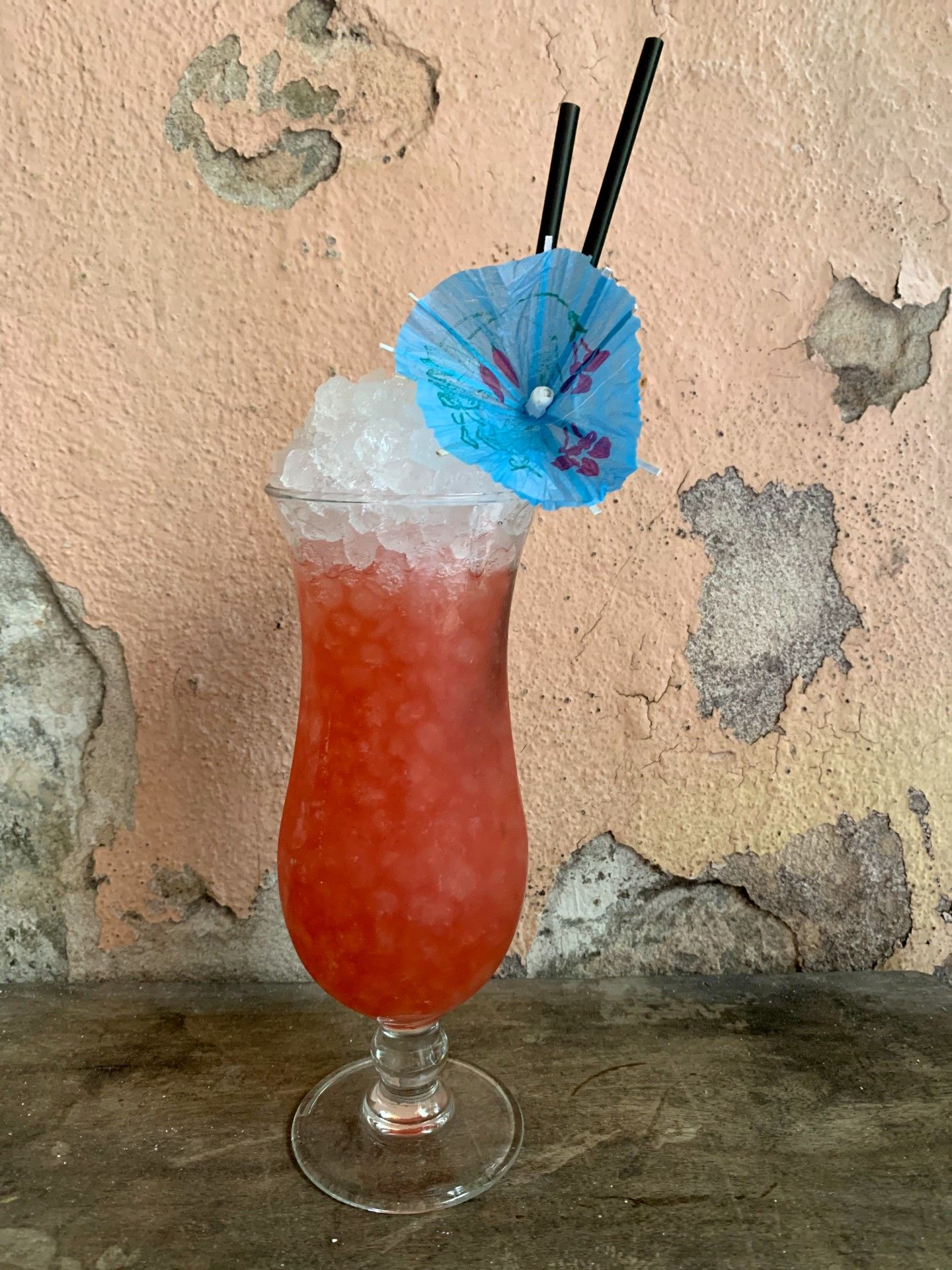 SPICED HURRICANE RECIPE
Created by Sam Kiley
Ingredients:
● 2 parts Sailor Jerry Spiced Rum infused with hibiscus*
● .75 part fresh lime juice
● .75 part Fassionola**
Method: Stir ingredients with crushed ice for 60 seconds and pour in a tall glass over fresh crushed ice. Garnish with an inverted parasol and enjoy!
*For Sailor Jerry infusion—infuse 8 parts of Sailor Jerry Spiced Rum with 2 parts of dried hibiscus flowers for 15 mins.
**For Fassionola—Add together 4 parts of passion fruit juice, 2 parts of pomegranate juice, and up to 2 parts of white sugar. The Fassionola can either be stirred and cooked on low, or processed in a blender to be fully incorporated.