Chickpeas, garlic, tahini, lemon juice, and salt; five ingredients whirred together in a blender or food processor and, voila, you have hummus. This simple, Middle Eastern dish has easily become one of the most common dips in the United States since its popularity exploded in the mid-80s. These days, it can be found in any supermarket, that is, if you're not already whipping it up at home. Even tahini, which once seemed like a rare, exotic ingredient, has lost its mystery, though its creamy, mouth-watering allure has remained firmly intact.
Typically, hummus is served in a thick swirl with a glistening pool of olive oil in the center and lots of warm pita bread for dipping. But it has also evolved into a canvas of sorts, inviting a palette of almost limitless flavor combinations.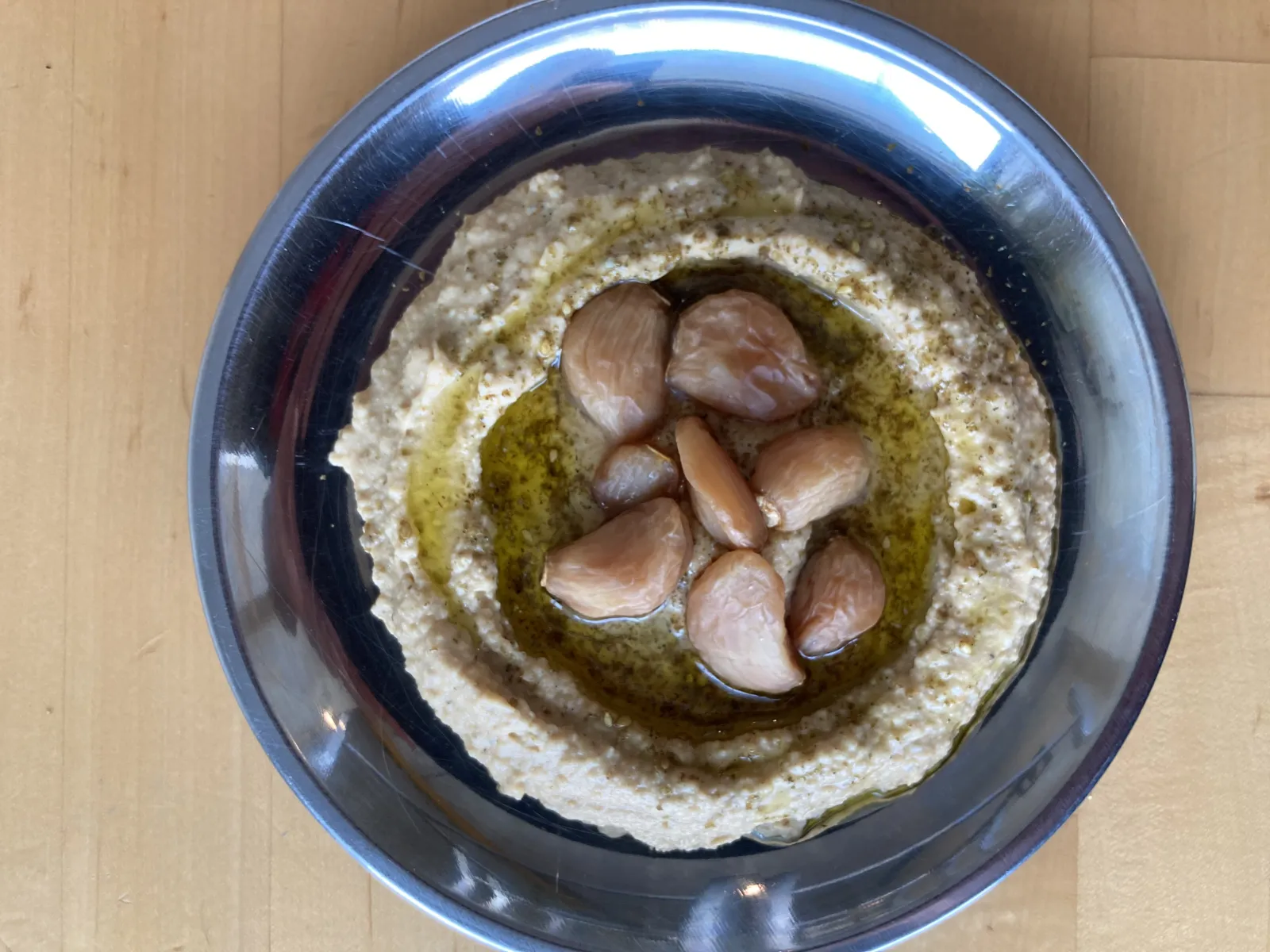 Just take the intriguing hummus varieties that can be found at Saba, James Beard Award-winning chef Alon Shaya's restaurant. Featuring Israeli-inspired cuisine, this Uptown hot spot offers several different and exciting variations of hummus such as the "Jerusalem breakfast" with harissa, pickled veggies, and a soft cooked egg, or Brussels sprouts with black garlic and pickled jalapeno. But there's one which really speaks to the local frame of mind, a hummus topped with blue crab, roasted corn, and soft butter. Who wouldn't want to dip their house-made, fresh-out-of-a-wood-fired-oven pita bread into that?
Specializing in doner and gyro kebab sandwiches, Kebab is the creation of chef/owner Walker Reisman, who found himself inspired by Mediterranean and Dutch campo cooking. His stone-baked bread filled with chicken thighs or pork gyro (not to mention the Belgian fries) are more than worth the trip to the Marigny, but he also offers a memorable hummus. A bit chunkier in texture than the norm, Kebab's hummus regularly features a confit garlic or chili chutney topping, but it rotates regularly so that you may walk in one day to discover beguiling alternatives like preserved lemon, Szechuan chili oil, or the Indian achar hot pickled mango.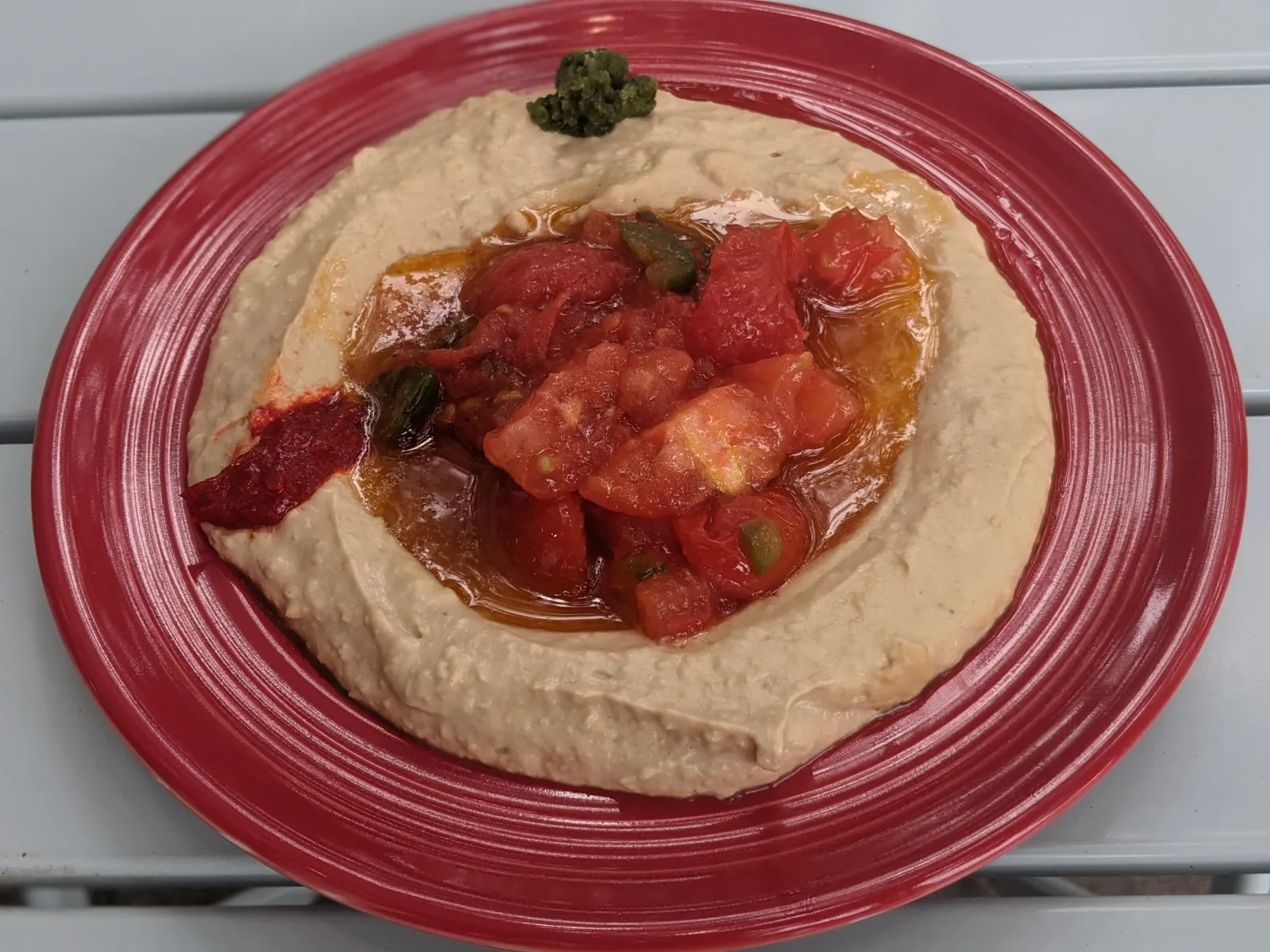 Over on the corner of Magazine and 8th Streets, neighborhood restaurant Anatolia features Mediterranean cuisine with a Turkish bent seen in dishes like iskender and that sweet cheese dessert kunefe. In addition to other dips such as labneh and acili ezme (a Turkish salsa made with tomatoes, garlic, and pomegranate molasses), Anatolia also offers a grand plate of hummus laden with well-seasoned lamb and lots of soft roasted garlic.
Launched almost five years ago, Tal's Hummus has quickly become a regular stop for Uptown lunch-goers, offering quick and delicious Israeli street food. Owner Tal Sharon wanted to offer modern, grab-and-go sandwiches such as the sabich, a pita stuffed with fried eggplant, hard-boiled egg, and tahini, or a schnitzel with deep fried chicken, s'rug, and pickles. Considering the name, it would be silly if Tal's didn't offer at least a few different hummus toppings, such as crushed fava beans and hard-boiled eggs, sauteed mushrooms, or assorted grilled vegetables. A couple of iterations that particularly stand out are Tal's spicy tomato with chili peppers, as well as the "Hummus Shakshuka"—eggs poached in tomato sauce and topped with crunchy falafel, tangy feta, and served atop a bed of Tal's signature, creamy hummus.
Whether you're visiting the Metairie location on Veterans Memorial Boulevard or the Uptown version on Freret Street, Acropolis is a beloved local restaurant which leans towards Greek-style cuisine, specializing in dishes like a puff pastry-wrapped spanikopita, fried calamari, and moussaka. But both locations offer what they dub a Mediterranean hummus topped with sun-dried tomatoes, kalamata olives, and feta cheese. It makes the perfect lunch and leaves plenty of room for a hot cup of Greek coffee and a square of flaky, pistachio-filled baklava.
Known as the hidden gem of the French Quarter, Green Goddess is revered for its eclectic eats and vegetable-laden menu. Located on Exchange Place, a two-block alleyway running between Royal and Chartres Streets, this tiny restaurant spilling out into the alley offers a dining experience unlike any other. Owned and operated by Chef Paul Artigues, Green Goddess's menu is globally-inspired, from Spanish patatas bravas and burrata panini to crimini mushroom "escargot" and uttapam (a type of dosa from South India). Among starters such as mimosa honey biscuits and a pecan orange mushroom paté, the Goddess features a beet-infused hummus served with fresh vegetables and warm bread.
If you go all the way Uptown, past the Riverbend and into the Carrollton neighborhood, you'll discover a longtime restaurant beloved by residents and college students alike, Lebanon's Cafe. Along with their signature Lebanese Iced Tea with rose water and pine nuts, this corner cafe is known for huge shawarma plates and juicy shish kebab, as well a few unique hummus dishes that are both highly affordable and delicious. Get ready to dip with plates like hummus with crispy-fried cauliflower and tart pomegranate sauce, or a "Hummus Musabaha" blended with jalapeno peppers.
Last, but most certainly not least, BRG Hospitality's Shaya Restaurant is blowing people away with their creative, Middle-Eastern-inspired cuisine and the hummus dishes are no exception. Along with toppings such as lamb ragú with crispy chickpeas, sugar snap peas with saffron vinaigrette, and blackened shrimp, Shaya has a stand out hummus dish of fried chicken and date salsa verde that'll have you begging for more…and more warm pita to go with it.
Hummus selection at Saba in Uptown