While fried chicken may not be the go-to dish that comes to mind in New Orleans, many restaurants do it to perfection. These breakfast and brunch options are just the meals to start a lovely day.
Breakfast Of Indulgent Champions
As Oscar Wilde once said, "Everything in moderation, even moderation." This is the sort of mindset that comes with a breakfast meal featuring fried chicken as the star. When paired with nourishing sides, or other lighter meals throughout the day, it offers the perspective that life is all about balance. And when budgets are tight, a meal needs to provide strength throughout the workday, and all while still being delicious. Thus, the humble fried chicken is a saving grace. Whether looking for a weekday treat to get you through the workday, or a lazy weekend meal with loved ones, New Orleans offers a multitude of options.
1. Molly's Rise and Shine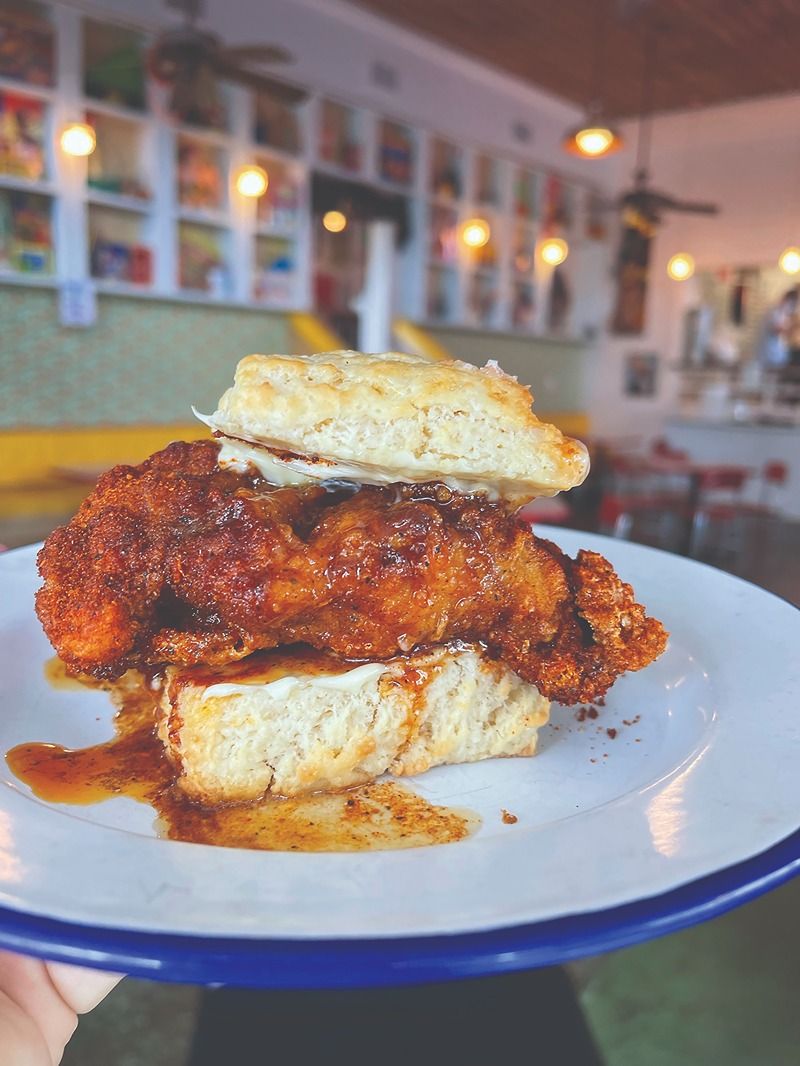 Who said breakfast had to be boring? Molly's Rise and Shine has the same revitalized off-the-wall Americana energy as Turkey and the Wolf, and showcase founder, Mason Hereford's and his team's take on a go to counter service breakfast spot. Gone are the days of bland chicken and biscuits. Here, find their fried chicken biscuit well-spiced and crispy, and on a biscuit fresh from the ovens. Take in the fun and uplifting restaurant decor, and stroll down Magazine Street with enough energy to take on the day.
2. Biscuits and Buns
Nestled in a classic shotgun, Biscuits and Buns on Banks offers familiar, yet elevated, breakfast and brunching options. Their fried chicken on a brioche bun features a piece fried to perfection, with a golden crust and well-fluffed bite on the bun. Accompanied by bacon, mushrooms, and Swiss cheese, and served with the options of creamy grits, breakfast potatoes, or Zapp's chips, this meal takes the thought out of deciding on a brunch option.
3. Los Catrachos
In alignment with their mission statement, at Los Catrachos, flavor meets tradition. Honoring Honduran classics and authenticity, the owners are eager to share the dishes from their upbringing. They open at 6 a.m., so wake up before the roosters to grab their fried chicken options. Order classic fried chicken served alongside green banana slices, or a baleada (a thick wheat flour tortilla) with fried beans, cheese, and butter to accompany the fried chicken. Stellar sides and affordable prices round out the reasons for starting your day with a meal here.
4. Chubbies Fried Chicken
Sometimes a good meal involves a bit of DIY. Do just that at Chubbies Fried Chicken. It opens at 11 a.m., so whether you're running late with no breakfast or looking for a lazier routine for a brunch, this spot is ideal, whether you're alone or with a group. A side biscuit (or a half dozen, appetite and crowd depending) pairs perfectly with a range of chicken options, from strips to wings, and a variety of combo options.
5. Broussard's
Those who said salads are no fun have yet to try a fried chicken wedge salad at Broussard's for their jazz brunch. This dish's Southern take on a classic wedge salad features crispy glazed chicken, bacon lardons, cherry tomatoes, and bibb lettuce, served with a creamy Roquefort dressing. Choose this for a refreshing pairing for fried chicken and delight in the cocktail menu that reflects their full century of serving in an elevated ambiance.
6. Elizabeth's
While wings or breast meat often steals the show, other sections still offer a palatable and rich meal. At Elizabeth's restaurant, delight in their appetizer of fried chicken livers, with a homemade pepper jelly. Coast on the appetizer route with fried green tomatoes, and fried grit cakes, or delight in their numerous entree options with filling egg, meat, and seafood combinations and options.
7. Please-U-Restaurant
This Louisiana-style diner has stood the test of time and still offers patrons great dishes to this day. Please-U-Restaurant is a spot where quality ingredients meet great value. Their classic chicken and waffles is a dish that showcases why they've kept doors open since 1946 and host a number of repeat customers.
8. Daisy Mae's Southern Fried Chicken and Breakfast
Daisy Mae's Southern Fried Chicken and Breakfast has perfected the dishes they're known for, and offer unique takes on what one thinks they know for these recipes. Their breakfast sandwich of a fried chicken breast, bacon, with scrambled eggs with a side of country gravy is enough to satisfy the hungriest visitor, but placing it on a waffle bun is a standout way they perfect the order.
9. Flamingo A-Go-Go
At Flamingo A-Go-Go, a great meal idea for brunching it up is their crispy chicken BLT. Served with applewood bacon, avocado ranch, Go-Go sauce, and pepperjack cheese, the blend of creaminess offers a nice contrast to the crispiness of the chicken. The funky decor, great patio seating, and fun "flocktails" along with options for the pooch with "puppy plates" keep the vibes going all brunch long.

Fried Chicken Delights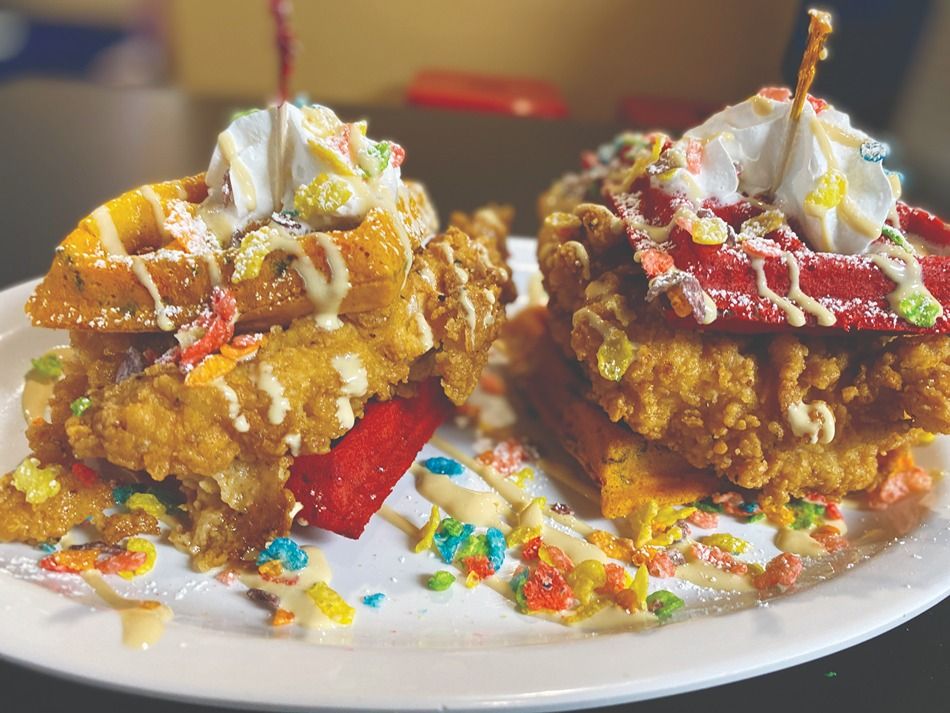 True to the origins of the city, these meals are for many budgets, and represent an evolving New Orleans and larger South. Whether savory or sweet, Twisted Waffles offers imaginative takes on classic waffle preparations, such as their chicken and waffles. While creativity is in play, so is the well thought out preparation, where the chicken here is marinated for at least twenty-four hours, so it is juicy and tender after fried. Homemade sauces such as ranch kickin' dippin', spicy jalapeño, smokey honey mustard, or chipotle chili, Twisted sauce offer a savory way to twist it up. If you're looking for a sweeter option, you can find fruit and other dessert-inspired inclusions at play such as: it's peachy, strawberry shortcake, Fruity Pebbles, or Cookie Monster. The only limit at this spot is how hungry you show up at their doors.