10 NOLA Restaurants for Great Fried Chicken
The moment when you bite into a crunchy, freshly-made piece of fried chicken is one of the most satisfying experiences in life. Whether it be a wing, breast, leg, or thigh, nothing quite beats a perfectly seasoned chicken surrounded by crunchy, deep fried, batter. Fried chicken is a staple dish of the American South, and some of the places to get said chicken is in New Orleans. Check out these 10 local Crescent City restaurants that serve some fantastic fried chicken.
1. Willie Mae's Scotch House
2401 St. Ann St.
504-822-9503
williemaesscotchhouse.com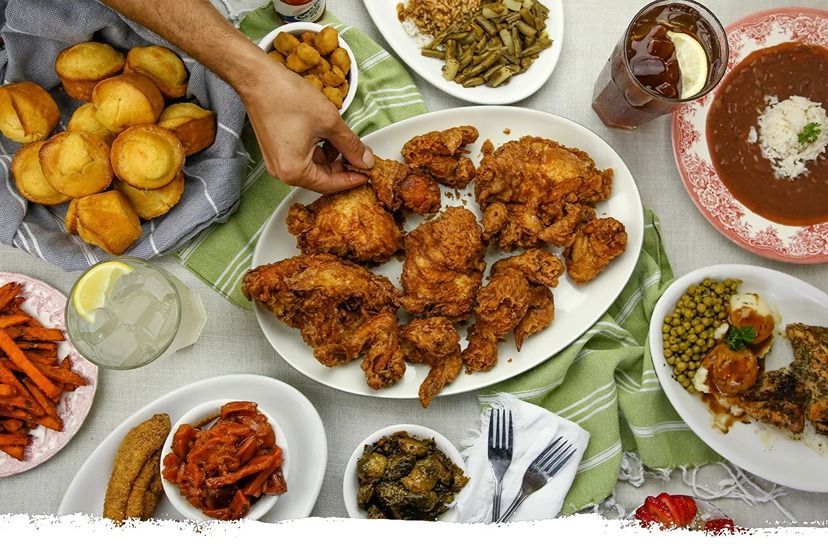 Willie Mae's is a great local establishment that found its start in 1957 in the historic Treme neighborhood. The restaurant is so good, it even won the James Beard Award for "America's Classic Restaurant for the Southern Region".
Choose from the standard fried chicken platter, the Willie Mae chicken sandwich, or the fried chicken breast tenders. The restaurant offers plenty of different sides to go with its chicken such as candied yams, cornbread muffins, and three kinds of beans. Willie Mae's is currently closed due to fire, but be sure to visit them when they reopen!
2. Dooky Chase's Restaurant
2301 Orleans Ave.
504-821-0600 or 504-821-0535
dookychaserestaurants.com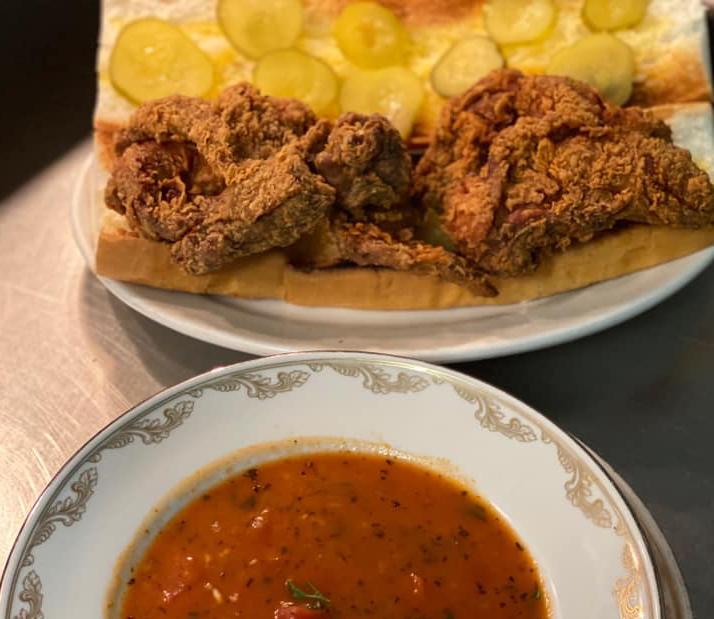 Dooky Chase's is not only locally famous, it's also one of the most well-known Creole restaurants in the entire United States. Despite the legendary Chef Leah Chase no longer being with us, the restaurant is still able to regularly draw in large amounts of people.
Whether you go to the lunch buffet during the week or to the sit-down weekend dinners, you have to be sure and order Dooky Chase's Southern fried chicken. You will get three pieces of Creole seasoned chicken with a choice of one side like French-style green beans, mustard greens, stewed okra, and more.
3. Gus's World Famous Fried Chicken
Multiple Locations
gusfriedchicken.com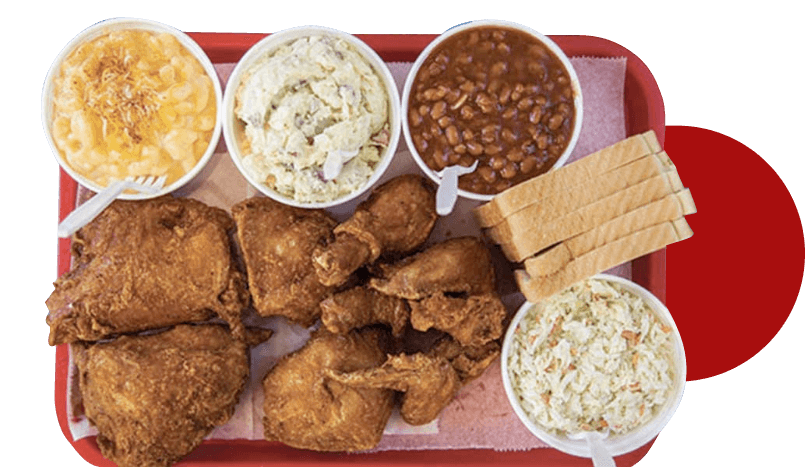 Originally starting in Mason, Tennessee, residents and tourists can experience Gus's World Famous Fried Chicken in both New Orleans and Metairie. Come hungry because the restaurants offer lots of different white and dark-meat chicken plates, which all come with slaw, baked beans, and white bread.

Customers can also order different fried chicken parts like breasts and thighs

a la carte, as well as multi-piece chicken snacks. Additional sides on offer included fried okra, greens, and mac and cheese.



4. The Original Fiorella's Café
5325 Franklin Ave.
504-309-0352
originalfiorellas.com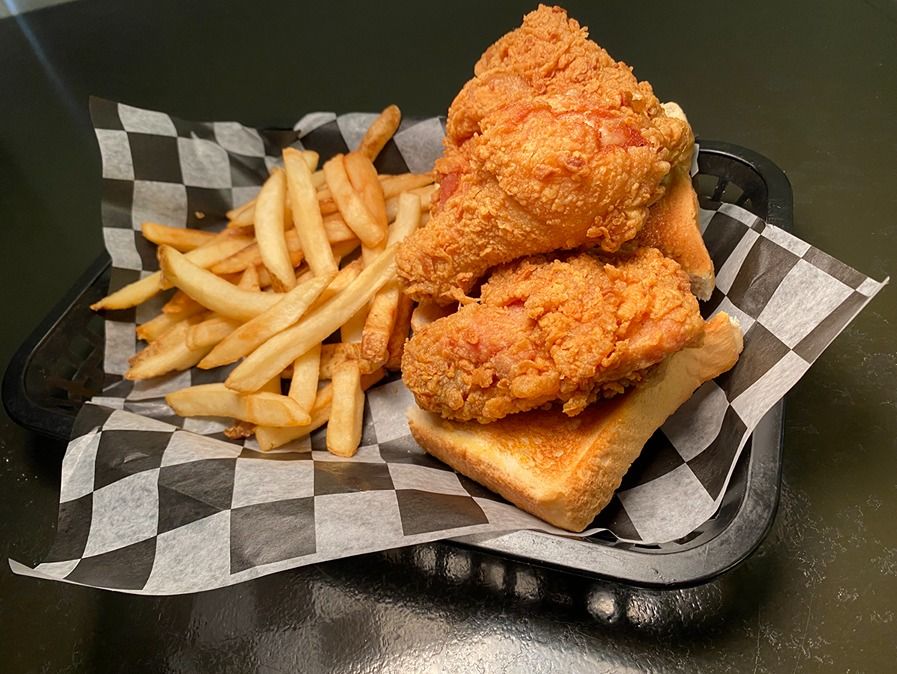 Situated in the Gentilly neighborhood, The Original Fiorella's Cafe offers great tasting Italian, Southern, and New Orleans cuisine. The restaurant was actually named the Best Fried Chicken winner at the Fried Chicken Festival for two years in a row, so you know you'll be in good hands ordering their chicken entree.
Choose from two pieces of white or dark meat, three pieces, or four pieces, which include a leg, thigh, wing, and breast. Sides include the vegetable of the day, salads, mashed potatoes, fires, and potato salad.
5. Café 615 (Home of Da Wabbitt)
615 Kepler St., Gretna
504-365-1225
cafe615.com
Café 615 is one of the most popular restaurants on the Westbank and is a great place to stop by for lunch if you find yourself in Gretna. Opened in 1948, the restaurant is most famous for its authentic Creole dishes, seafood, and Da Wabbit burger.
Café 615's fried chicken entree is absolutely amazing, is served atop hot buttered toast, and comes with your choice of two sides like fries, coleslaw, and potato salad. Make sure to save room for the restaurant's homemade bread pudding or tasty turtle cheesecake.
6. Jacques-Imo's Café
8324 Oak St.
504-861-0886
jacques-imos.com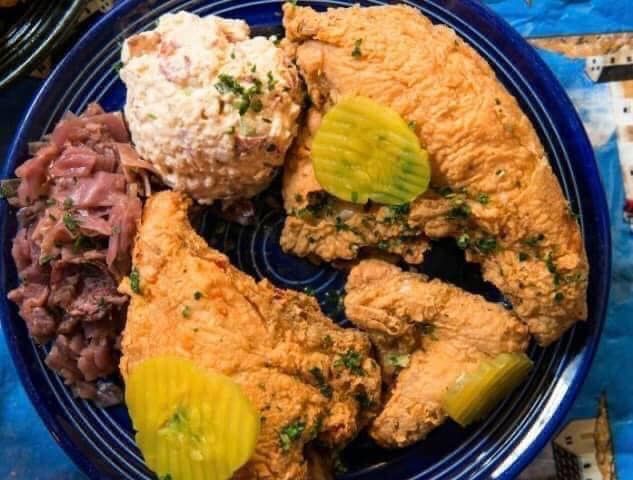 Helmed by K-Paul's alum Jacques Leonardi, Jacques-Imo's Café is a very trendy restaurant that has been serving real "Nawlins" food since 1996. If you're able to get in, definitely don't miss out on Austin Leslie's Fried Chicken.
The entree is available with your choice of dark meat, white meat, or a mix and is served with a spinach salad and two sides. Some of said sides include mashed sweet potatoes, maque choux, butter beans and rice, and shoestring French fires.
7. Daisy Mae's Southern Fried Chicken & Breakfast
920 Poydras St.
504-218-5031
daisydukesrestaurant.com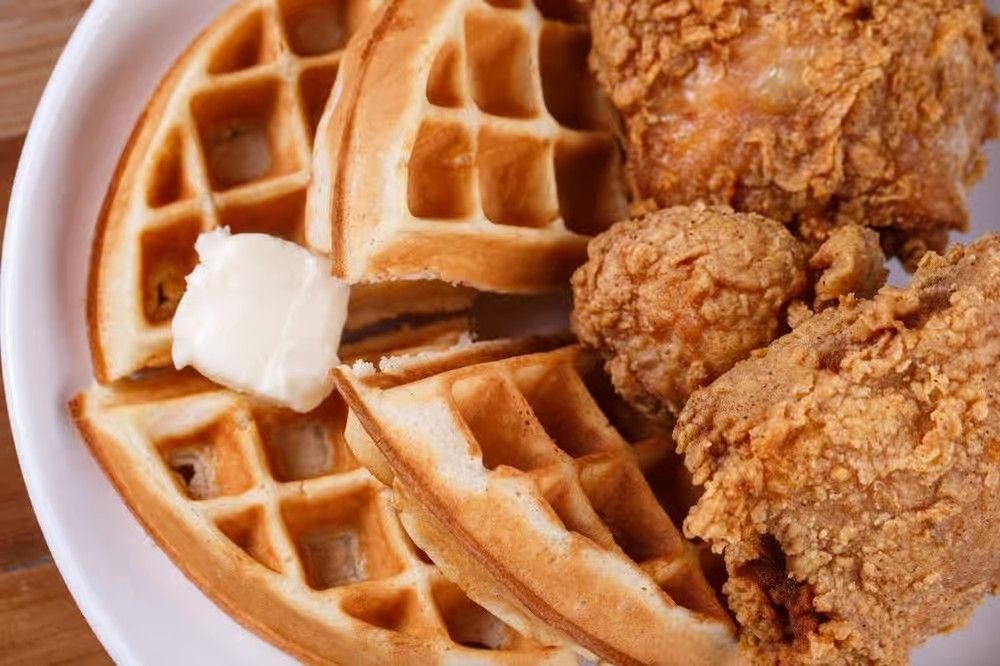 Daisy Mae's is the perfect place to visit in the Central Business District for breakfast, lunch, and dinner. The restaurant's menu is extensive and contains classic breakfast, Southern, and Cajun dishes.
Make sure to order Daisy Mae's signature Southern Fried Chicken, which comes with a biscut and your choice of potato salad, fries, or onion rings. Other chicken dishes to check out include the buffalo wings, crispy chicken sandwich, and the very popular chicken and waffles plate.
8. Picnic Provisions & Whiskey
741 State St.
504-266-2810
nolapicnic.com
Everybody loves a good a good picnic from time to time and, lucky, Picnic Provisions & Whisky strives to provide just that kind of experience. Get some close friends together and enjoy the restaurant's famous hot fried chicken thighs with mirliton pickles, buttermilk biscuits, and your choice of different sides.

Some of the other chicken dishes

Picnic Provisions & Whisky offers include the hot fried chicken sandwich, the mild white meat tenders, and the hot chicken biscuit. Be sure to pair your chicken with the a craft cocktail like Picnic's Old Fashioned or the Whisky Ginger.



9. Coop's Place
1109 Decatur St.
504-525-9053
coopsplace.net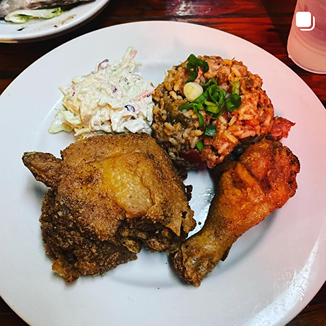 Just a short walk from the French Market is Coop's Place, an unassuming spot that serves quality Creole dishes at affordable prices. The restaurant's Cajun Fried Chicken, which can be ordered as two or three pieces, is deliciously season with Coop's Bayou Spice Blend and served with coleslaw and rabbit and sausage jambalaya.
Coop's Place's fried chicken can also come atop the restaurant's red beans and rice entree, as well as the Coop's Taste Place, which also comes with red beans, jambalaya, shrimp creole, and seafood gumbo. For a unique appetizer, definitely order the smoked duck quesadilla.
10. Chubbie's Fried Chicken
4850 General Meyer Ave., Algiers
504-392-2377
facebook.com/chubbiesnola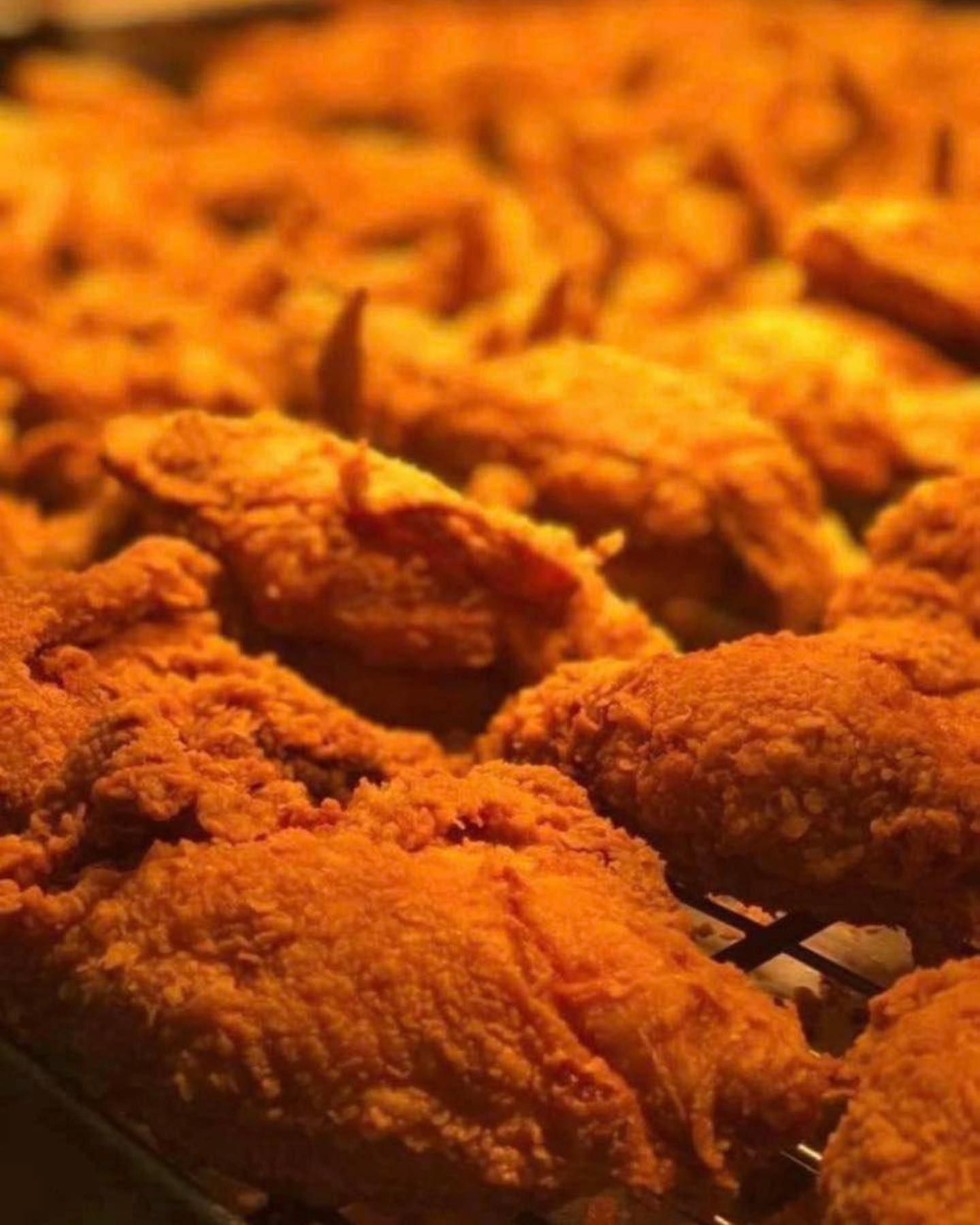 Another delicious Westbank establishment is Chubbie's Fried Chicken in Algiers. Given its name, Chubbie's is best known for its many different fried chicken dinners, chicken strips, chicken wings, and even chicken liver and gizzard dinners.
While Chubbie's chicken is its main draw, the restaurant offers plenty of other selections like seafood platters and a long list of po-boy sandwiches. Consider one of the mouthwatering extras on offer like red beans and rice, corn on the cob, and onion rings.
Great NOLA Fried Chicken to Bite Into
New Orleans is one of the top food cities in the world, so you know you'll get some great pieces of fried chicken at any one of these 10 local restaurants. If the annual Fried Chicken Festival is any indication, then New Orleanians absolutely love biting and tearing into juicy chicken legs and sandwiches. So eat up and explore the chicken the city has on offer. Your cholesterol might go out of wack, but your stomach will thank you.