At long last …Ever since I tasted their talent at an Old Portage pop-up inside The Tap Room at NOLA Brewing Company, I have been waiting for Amarys and Jordan Herndon to open their own digs, and it finally happened. On the edge of the French Quarter, near the corner of Rampart and Bienville, the dynamic duo has opened Palm & Pine featuring "cuisines of The South, and South of that" (i.e. the Southern United States, Mexico, the Caribbean and Central America). Palm & Pine is open every evening except Tuesdays when they're closed for "adventures."
308 N. Rampart, (504) 814-6200, palmandpinenola.com/
Just keep baking … Popular Dryades Street pop-up Levee Baking Co. recently opened its own digs just off Magazine in the building that was briefly occupied by Cloud 9 Bistro. Owner/baker Christina Balzebre's creations were already a huge hit by the time her storefront opened in early April with lines forming all the way down the street filled with anxious diners sweating just to get their foot in the door. Along with naturally leavened loaves of country bread and rosemary-studded focaccia, Levee Baking also offers plenty of pastries, from chocolate chunk cookies and vegan snicker doodles, to kouign amann, scones, and gallettes. You can also place advanced orders for whole cakes, quiches, and seasonal pies and gallettes. The bakery is open Wednesday through Saturday from 9am-3pm and Sunday from 10am to 3pm, and close Monday and Tuesday.
3138 Magazine St., Ste. D, (504) 354-8707, leveebakingco.com/
We're rollin' it it! … Speaking of new bakeries, artisan baker Graison Gill who has been supplying the city's farmer's markets and restaurants with gorgeous, crusty loaves for over seven years, has just opened his first retail operation of Bellegarde Bakery. Located in the Hollygrove neighborhood on Apple Street, Gill is now serving his beautiful baguettes and lovely loaves (made from their own, stone-milled flour) to the general public directly. Stop in and grab your bread for
the day while enjoying a cup of
Congregation coffee.
8300 Apple St., (504) 827-0008, bellegardebakery.com/
Chicken competition … Willie Mae's and Fiorella's may have their work cut out for them with the recent opening of Gus' World Famous Fried Chicken in the Warehouse District. From a highly-perfected recipe born in Mason, Tennessee to a country-wide franchise, this wet-batter chicken could now compete with all of our local favorites. Keepin' it simple, Gus's menu offers fried chicken (with white bread) and sides like baked beans, fried okra, greens and cole slaw. For Southern dessert lovers, the restaurant also offers quite a few pies, whole or by the slice, including favorites like pecan, sweet potato and "old-fashioned coconut." Don't forget to wash everything down a root beer float, of both the adult and child variety. Gus's is open daily. 308 S. Diamond St., (504) 252-4870, gusfriedchicken.com
Sweet! … The magic-makers behind Bacchanal and The Elysian Bar have added more incredible talent to their culinary team with the addition of Pastry Chef Bronwen Wyatt. Known for her work at James Beard-award winning restaurants like Willa Jean and La Petite Grocery, and her own acclaim from the Times Picayune and Food & Wine Magazine, Wyatt loves featuring local (and sometimes unusual) ingredients including staples from local artisans like Bellegarde's fresh milled, whole grain flours. Thanks to Wyatt, The Elysian Bar's breakfast and pastry creations have expanded to include items like chocolate and rye cookies, vegan focaccia, and blueberry rose muffins. 2317 Burgundy St., (504) 356-6769, theelysianbar.com
600 Poland Ave., (504) 948-9111, bacchanalwine.com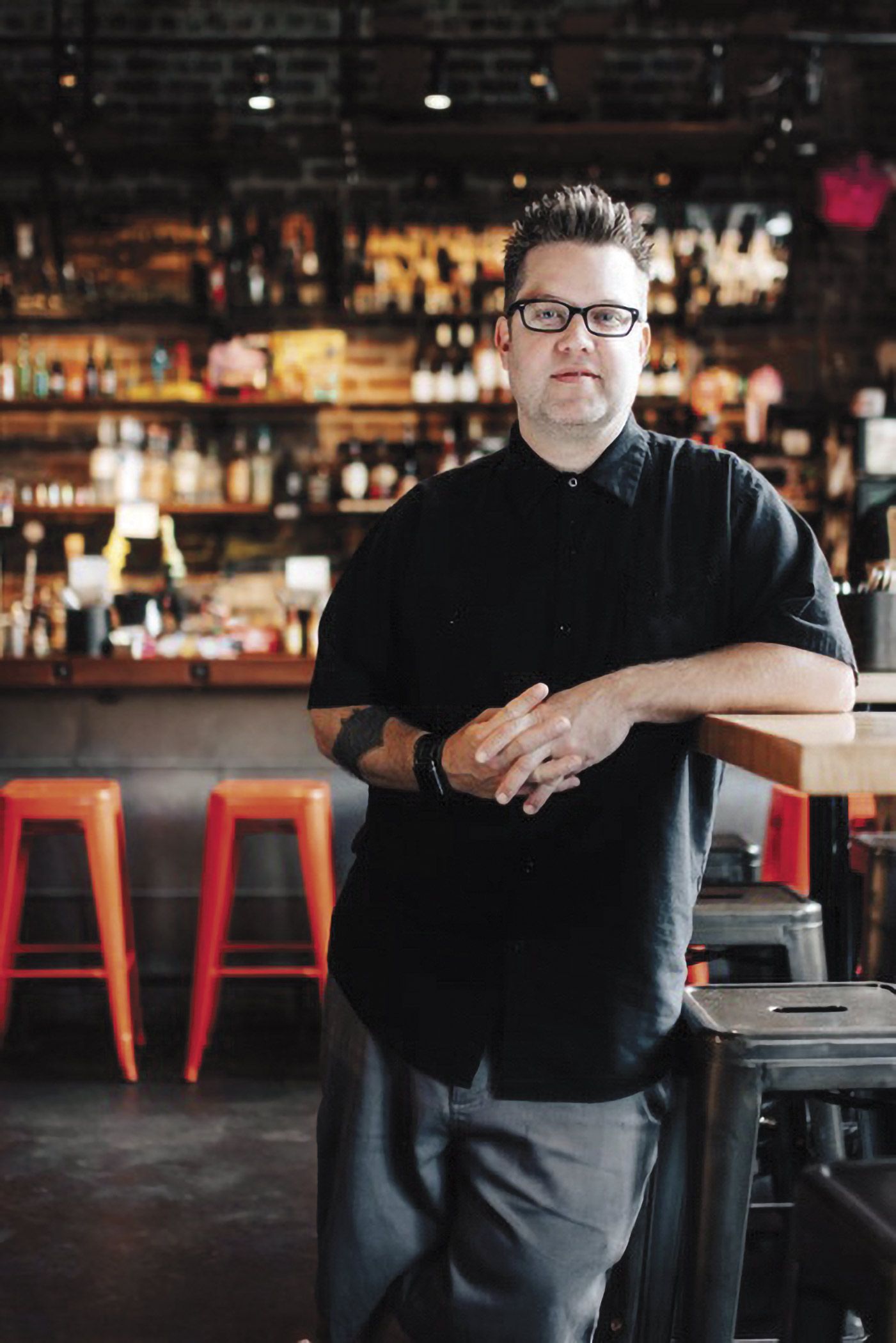 New blood … sort of … Link Restaurant Group has announced the promotion of Bret Macris to Chef de Cuisine at Cochon. "He has proven himself in a short amount of time and earned this position with diligence and technique. We are excited to have him as part of our leadership team," says Chef Donald Link. A Southern California native, Macris started cooking at the famed Campanile Restaurant right out of college and attended Le Cordon Bleu in Pasadena while still working full time. After four years as Chef de Cuisine, he moved on to the Happy Gnome brew-pub in St. Paul, was Executive Chef at Rosewater Restaurant in Brooklyn and opened the Syndicated Bar Theater Kitchen in New York. Macris has been with the Link Restaurant Group since January of 2016 at Butcher. "Bret has embraced the traditional methods we use to craft our authentic Cajun flavors and he continues the culinary culture in the kitchen," states Chef Stephen Stryjewski. 930 Tchoupitoulas St., (504) 588-2123, cochonrestaurant.com
Sweet sidekick … The new Haydel's Bake Shop on Magazine Street just got a whole lot sweeter with the addition of artisnal gelato from Freret Street's Piccola Gelateria. Just in time for the sweaty, summertime season, the Garden District neighborhood can now indulge in six daily flavors of gelato and sorbetto along with their red velvet cake or key lime tart. Hooray for great combos!
3117 Magazine St., (504) 267-3165, facebook.com/haydelsbakeshop
New growth … At the end of August, New Orleans City Park visitors will be treated to a restaurant. Smack dab on Henry Thomas Drive and dubbed Acorn, this Dickie Brennan & Co. Cafe is at the new Louisiana Children's Museum. According to Keith Marzalek he new restaurant will serve "fresh, family-friendly cuisine utilizing local ingredients," with some sourced from the nearby Edible Garden at the museum. Diners can enjoy their meals al fresco with lots of outdoor seating and a beautiful view of Little Lake in City Park.
15 Henry Thomas Dr., facebook.com/acornnola
Sounds good … Lamara Coffee & Kitchen is yet another new restaurant in town, blossoming next to Esplanade Studios on North Broad. The "ever-evolving" menu featuring a smoothie bar with flavors like "The Basic" with hemp milk, spinach, banana and almond butter; "The Noir" with plant protein, cocao powder and espresso grinds; and "The Beach" with coconut water, macadamia milk, pineapple and coconut manna. They also offer breakfast and lunch with healthy, vegan and gluten-free options like a coconut yogurt parfait, high protein waffles, an assortment of West Coast Toast and a spring roll bowl with sprouted tofu and peanut ginger dressing. Lamara's coffee offering are made from beans roasted at Hey! Cafe and Detroit-based Great Lakes Coffee.
1300 N. Broad St., (504) 920-9991, lamaracoffeeandkitchen.com
So sad to see you go …
Places are coming in a dizzying blur, but it seems we always have to let a few go. Warehouse District restaurant Balise that opened four years ago has shuttered. Owners Justin and Mia Devillier plan to focus on their new French Quarter restaurant Justine that opened earlier this year, and of course everyone's Uptown favorite La Petite Grocery. Bye-bye Balise!
The old-school, Pepto-pink Gene's Po-Boys on the corner of Elysian and St. Claude has closed after nearly a half-century of service. The listing agent told the Times-Picayune that owner Eugene "Gene" Raymond Theriot "likes the business-he's just tired. He's been working at it since he was in his teens." The closing of this New Orleans landmark will forever change the face of the city.
Finally, what came as a jolt to everyone (including its employees), local dessert chain Sucre closed all of its locations on the morning of June 17, 2019. The mass closure occurred six months after a NOLA.com report revealed sexual harassment allegations against Sucre's co-founder Tariq Hanna.