In the past when I was taking my weekly Wednesday jog in the neighborhood, I recalled a memory of a Sunday morning jog where I had caught a glimpse of a wonderful sight that always brings a beaming smile on my face! This certainly helped to detract me from the never ending, discordant, and polarizing news.
In the distance, as I was taking my routine elder (now that I'm 62+ y/o!) running promenade—usually in prep for one of the many great local runs like the upcoming Alzheimer's Memory Walk/Run races, I started to see a plethora of colors emanating and making a somewhat circular motion.
Also, you never know what you may encounter on a neighborhood outing, and once I was treated to another cool sight…an opossum slowing crossing the street with her obvious offspring hanging onto her for their own jog; certainly took a pic, although a selfie didn't pan out (lol)!
Since it had just sprinkled a little before I took my jog then—and I assured my better-half that I hadn't heard any lightening, and she knows that I love to run in the rain when it is safe and not cold—I was then blessed with a real rainbow being revealed through the beautiful oak tree in front of our home.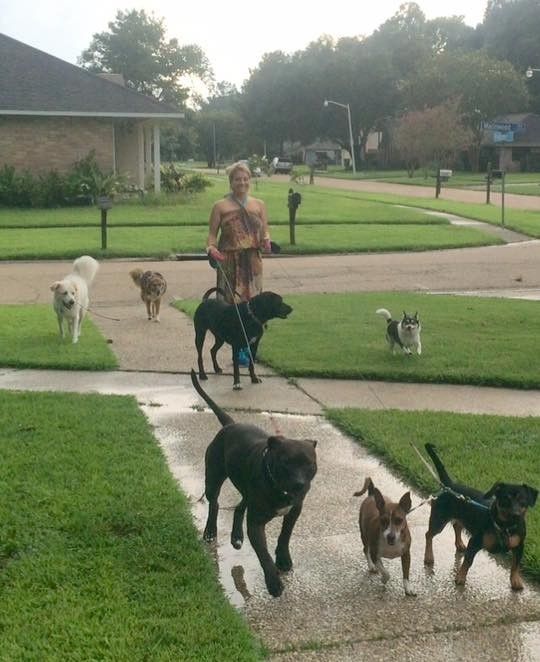 As I passed another one of my neighbor's houses, his dogs and others adjacent to them started a cacophony of barking to warn others of someone with a hat on jogging in the hood.
Next, as I got closer to this almost epiphany-like view coming more into focus for me in my strides, I started to see what looked like many (7+) beautifully colored dogs taking their daily synchronized walk with our dear neighbor, Elena, who always shares a cheerful smile to blest neighbors like myself in Brookhollow Glen Subdivision—with a pet cat ta boot trailing along also!
Taking a dog for a daily promenade or jog is such a joy—to be out in the neighborhood, visiting with neighbors, and even providing a type of neighborhood watch. After a hard day's work with all the stresses that may come, it is helpful and healthy to take such walks with our canines that can even be seen as a form of prayer.
And, of course, there are times that a prudent neighbor like Elena has to be sure to take care of picking up what canines are known to do in designating their domain throughout the neighborhood. You can imagine what an elegant sight it is to see Elena synchronizing all the dogs in their strides and keeping them from getting tangled up…and all the while being sure to respect her neighbor's properties!
Thanks, Elena, for giving all of us a great lesson in following the golden rule of doing unto others as you would have done to you…and learning so well the answer to that famous question: "And who is my neighbor"? (Luke 10:29)