To commemorate Juneteenth, The Juneteenth New Orleans Celebration & Market will be held on June 19 from 3 p.m. to 8 p.m. The event will take place at Vybes Nation on 1681 Religious St., which is a venue that regularly hosts food trucks, artisans, and concerts. Their outdoor space and fully stocked bar bring all the right vibes to any event.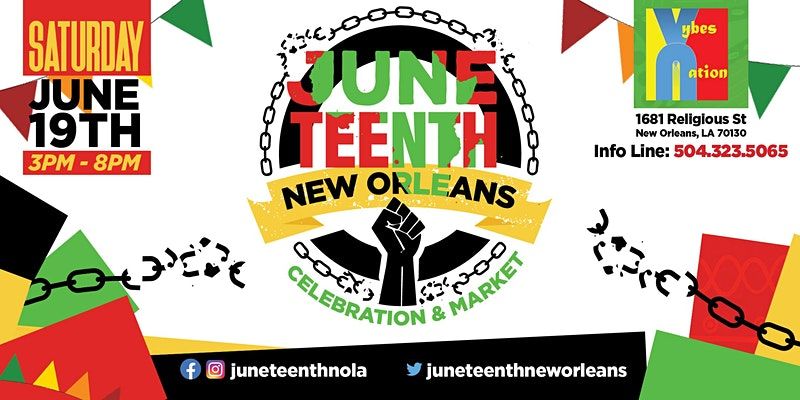 Organized by Geaux Hard Entertainment, First Class Entertainment, and Good Look Creative, as well as hosted by Tonya Boyd-Cannon, this will be a memorable occasion with an assortment of activities planned. The festivities will include music from many talented artists, including DJ Raj Smoove, DJ Captain Charles, the Sporty's Brass Band, and The Congo Nation with special guest Big Chief Donald Harrison. Spoken word artists, such as Nique'o and Poetic Shortee, will also be performing. While listening to the performances, people will be able to sing along and dance.
Guests can also shop from the market, which will contain Black-owned food and product vendors.
Be sure to check the weather before attending since this is a rain or shine event. General Admission tickets are $10, and VIP Tickets are $25. VIP tickets include access to an elevated seating area, as well as complimentary bottled water.
For more information and to purchase tickets, please visit nolajuneteenth.com.
A separate, book-centered event by RE(ad) TREAT, A Nomadic Library will be hosted at the Beauregard-Keyes House on June 19 from 11:30 a.m. to 1:30 p.m. RE(ad) TREAT will be doing a book give away and a group read-along with youth books focusing on Black-identity. Also known as the BK House, the Beauregard-Keyes House is a National Historic Landmark found in the French Quarter. Built in 1826, this house contains lots of New Orleans history that is shared through the tours and events hosted at the house. At the reading pop-up, participants will discover new books, read them with friends, and earn rewards. To find out more about that event, please visit bkhouse.org.