Charcuterie and cheese boards are no longer an unattainable social media trend.
Read on for tips to help when ordering them as well as creating your own. Bon appétit!
The explosion in popularity of charcuterie boards seems to have come out of thin air. The concept even seems too simplistic to be taken seriously. Some have passed it off as an Instagram trend that is sure to lie in the past fads graveyard. In contrast, charcuterie and cheese boards have staked their claim in the artisanal food movement.
Consumers' growing interest in craft foods has transformed how we view the ingredients we consume. Pair this with the do-it-yourself nature of creating charcuterie boards and the ability to add your own unique flair, and we do not see them going anywhere. With this in mind, it's time to know more about creating them yourself. The concern should be focused on quality ingredients and authenticity when it comes to charcuterie boards. This focus will lead to a unique fusion of textures and flavors.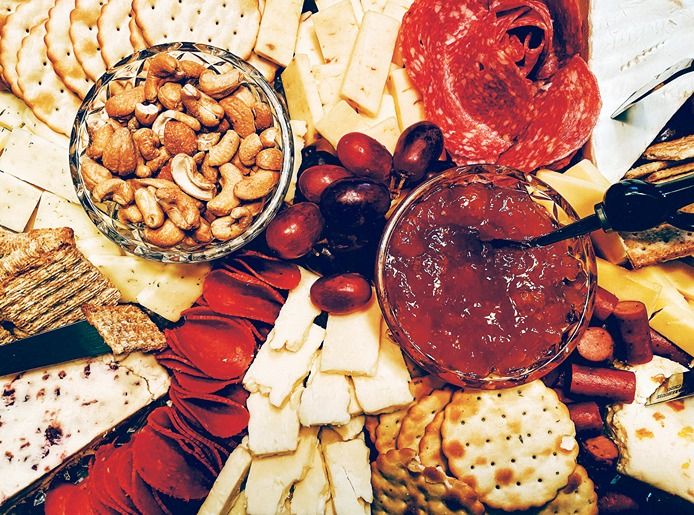 When it comes to the in-town experts on pulling together charcuterie boards, we turned to St. James Cheese Company, whose mission since 2006 has been to pioneer bringing artisanal and farmhouse cheeses to the area. They now have two locations, one Uptown and one in the Warehouse District, that feature an exceptional array of high-quality products. While they have a dining experience that provides salads and sandwiches, offerings also include creating your own charcuterie boards. At the Uptown location, they host classes to learn how to create your own boards and have an exciting lineup for the month of October. Cheese classes include:
October 12

Prost: Celebrating Oktoberfest with German cheeses and beer, featuring special guests from Columbia cheese and kaeskuche.
October 19
Spooky Cheese Night: Fun seasonal cheeses for Halloween.
October 26
Nightmare Cheeses: Fools rush in where mongers fear to tread.
While their classes are not to be missed, St. James Cheese Company provided us with some insider information on creating charcuterie boards via the Director of Cheese Education, Molly Bourg. Despite Molly's title, they acknowledged that it can seem intimidating at first to make them but emphasized it doesn't need to be. Some great tips they shared include the following:
Variety is key. You should incorporate a hard cheese, a soft cheese, and a wild card. Also including different milk types can really add another dimension.
While a minimalist board can be done, it is more difficult, and overall more is more. Don't be afraid to bump it up.
Themes to your board can be great, and you can incorporate it into your evening (for instance, if you are going for a movie night with a British film and want to do a cheddar, brie, and blue)
Accompaniments are great and add elements like a good crunch. Great examples are fresh and dried fruit, relish, jams, honey, and even things you wouldn't expect such as caramel popcorn
While prosciutto is the most popular meat to include, other great options include bresaola, duck, and paté
Molly also shared some helpful pairing strategies. The concept of terroir, which is often associated with wine, also applies to cheese. It means what grows together, goes together. They also offered three ideas of compliment, contrast, or medium. While the first two are self explanatory, the medium strategy is meant for items to not overshadow one another. To help you experiment with these new found tips, in the month of October, St. James Cheese Company will feature some unique offerings, including projects in collaboration with local breweries. One of these is Tulip Tree, washed with schwarzbier from Miel Brewing, and a triple cream washed rind—stinky and strong.
A final fun misnomer Molly shared with us from the industry is that charcuterie does not actually mean the inclusion of cheese. The French origins of charcuterie translate to cooked (cuit) flesh (chair) According to corkdining.com, charcuterie became more popularized in the 15th century France which described shops selling meat products so the offal parts of the pig did not go to waste. Despite how far this concept has come, the roots of this can still apply, and really, it is about your creating a personal mix. For more information on how St. James Cheese Company can help you choose what should land on your board visit stjamescheese.com.
Living up to its status as a foodie city, there are plenty of other great restaurants to grab charcuterie boards.
Toup's Meatery: While they feature a board with three cheeses, fruits, and nuts, they also serve "the Meatery Board,'' which includes house-made fresh and cured meats with condiments. There's nothing wrong with ordering both to indulge yourself.
Bayou Wine Garden: Served with baguette, chutney, roasted pecans, mustards, and house pickles this is enough to draw you in, but the option to customize your numbers of meats and cheeses seals the deal.
The Vintage: Just one of the many delectable bites they have to offer, but it's an impressive board at a reasonable price with three cheeses, meats, and accouterments, with both crackers and bread.
Vessel NOLA: Their board features a seasonal rotation of cheeses and jams, with candied pecans, fresh berries, and focaccia crostini to keep things interesting.