NOLA's Best Brass Bands
New Orleans is known for the sound of its brass bands, and 2023's Jazz & Heritage Festival makes sure you can catch a few great ones every single day of the festivities.
Since the late 1800s, brass bands have been performing at weddings, funerals, parties, and every type of outdoor celebration, all over New Orleans. Mixing elements of marching bands, military bands, jazz, blues, funk, popular American songs, and African traditional genres: brass bands are our musical gumbo. The air here is filled with the sounds they make and the dancing they inspire.
There will be over two dozen local brass bands performing at this year's Jazz & Heritage Festival. You really can't go wrong seeing any of them-it was hard to pick-but here are eight of our favorites and why we love them so much.
The Dirty Dozen Brass Band
The OG brass band-Dirty Dozen was established in 1977 by a well-known name in jazz history, Benny Jones Sr. Cycling through some of the greatest players in the city over their 4+ decades in existence, the current lineup includes a baritone saxophone, a tenor saxophone, trumpet, trombone, sousaphone, drums, and guitar.
They've toured every continent, released a dozen albums, and this year, they finally won their first Grammy.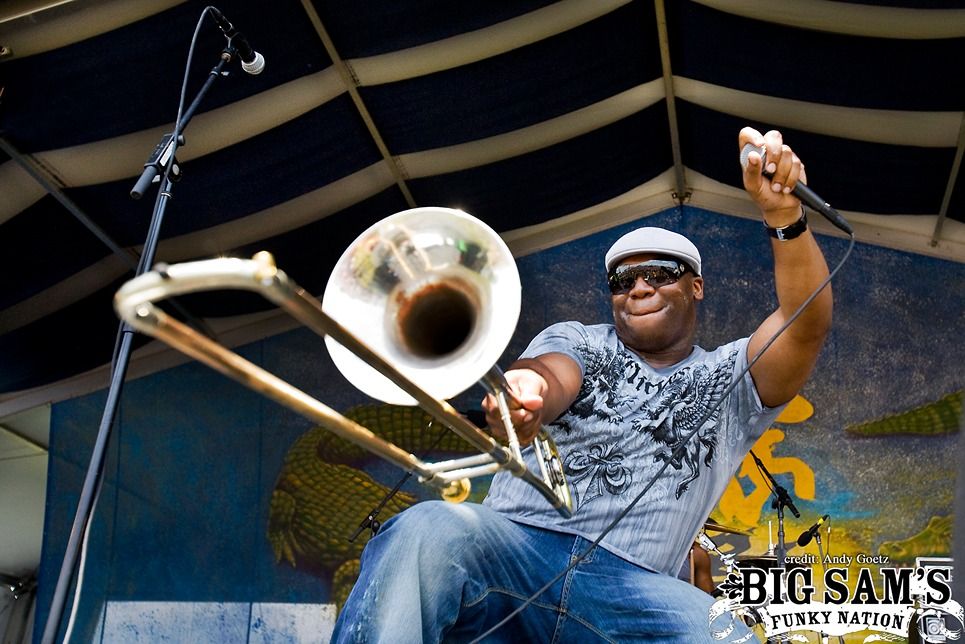 Big Sam's Funky Nation
Once a member of the Dirty Dozen Brass Band, founding member of the Stooges Brass Band, NOCCA-graduate Sammie "Big Sam" Williams has put in the work and the time.
His presence is as enormous as he is. The personification of funk, his high-energy band, the Funky Nation, brings it.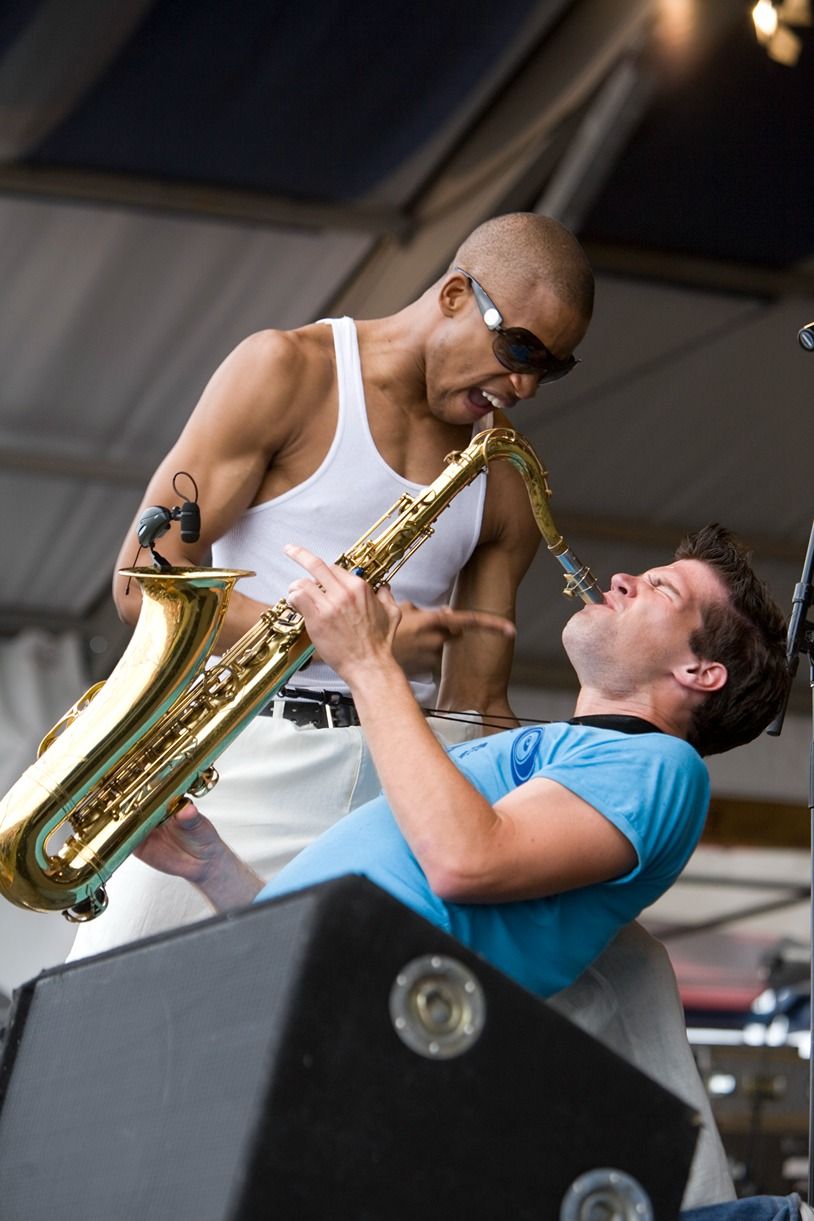 Trombone Shorty & Orleans Ave
Troy "Trombone Shorty" Andrews has been playing his horn since the age of four. He performed at his first Jazz & Heritage Festival while he was still in the single digits. No matter how old Shorty gets, he will always be the golden child.
He's performed at the Grammys, at the White House, been in films, tv shows, documentaries, opened for everyone you can imagine, and created the Trombone Shorty Foundation, with the purpose of bringing music education and access to future generations. Also, his music is great.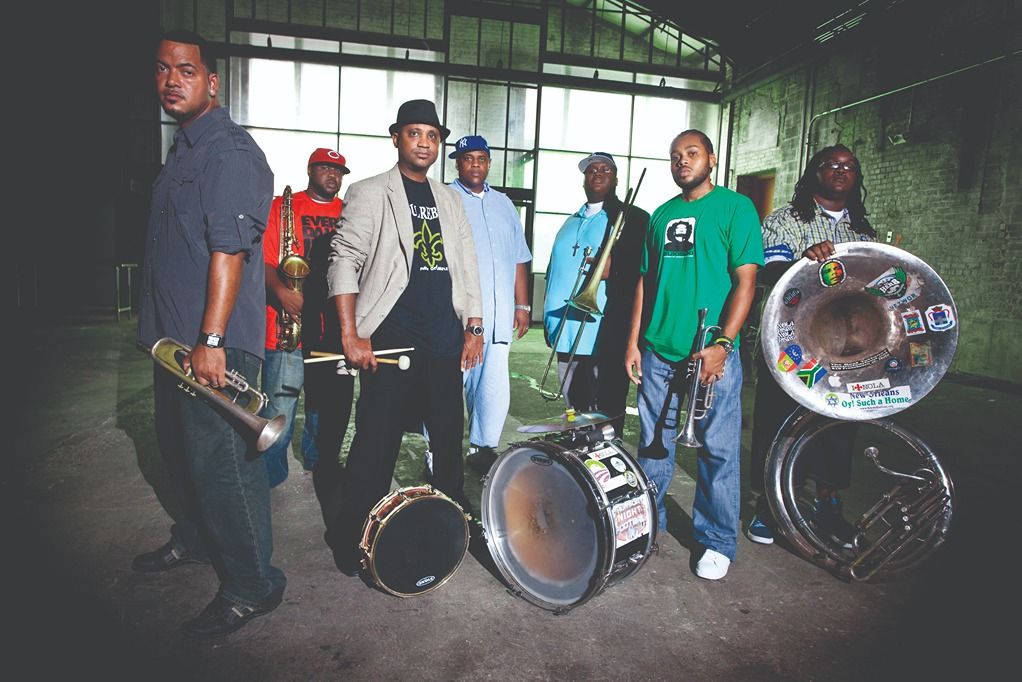 The Soul Rebels
Incorporating a lot of original hip hop and pop-melodic sensibilities into their sound, the Soul Rebels released Poetry in Motion in 2019, a local favorite of original, non-traditional albums from a brass band.
They're worth catching, any day, on their own, but on the Jazz Fest stage this year, they'll be performing with the Wu-Tang Clan, so that show is sure to be packed.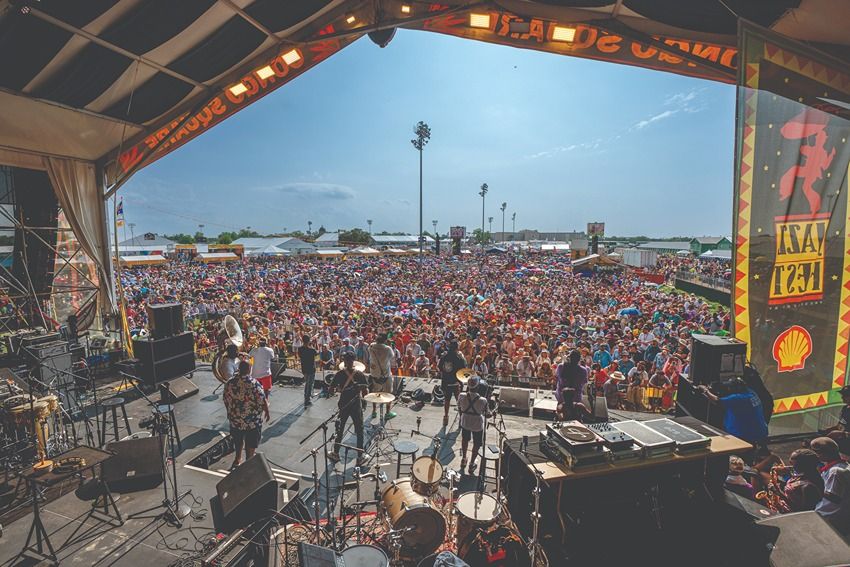 Rebirth Brass Band
Two of the most famous Mardi Gras singalongs / philosophies in this city were penned by the Rebirth Brass Band: "Do What'cha Wanna" and "Feel Like Funkin' It Up." No wonder. Rebirth, founded by brothers Phillip and Keith Frazier, has had an influence on New Orleans since 1983.
The Roots of Music, another incredible youth music initiative, was co-created by Derrick Tabb, Rebirth Brass Band's snare drummer.


The Original Pinettes Brass Band
The Original Pinettes is an all-female brass band and they play as hard as any of the men.Founded over 30 years ago, their sound is defined by love, community, friendship, and tons of raw brass power.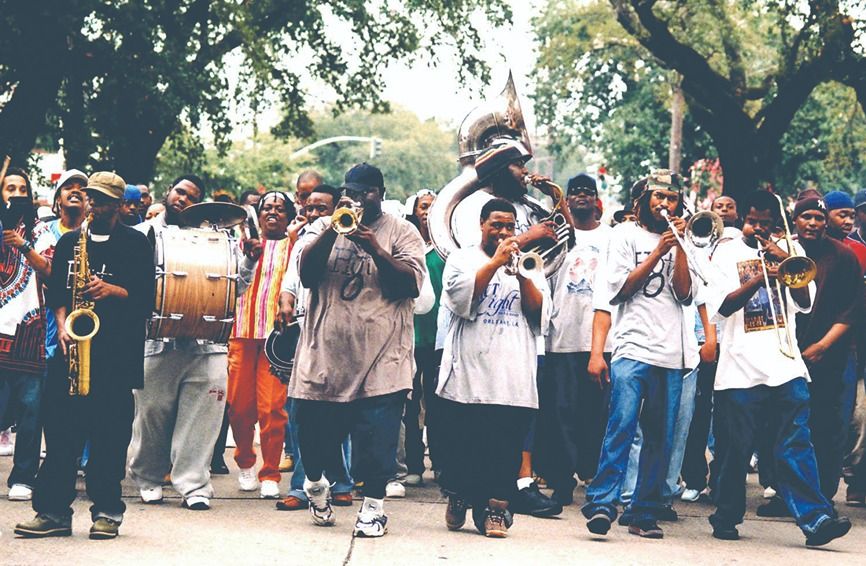 Hot 8 Brass Band
Hot 8 will be kicking off a 19-show tour with their Jazz & Heritage festival performance this year, honoring their late and great beloved bandleader Bennie Pete. The Hot 8 story is one of immense tragedy and massive success.
The pain and the joy is present in their sound. If you can't catch them at Jazz Fest or on their European tour, swing by the Den at Howlin' Wolf for their Sunday parties (#WeBrassHard).


Trumpet Mafia
Founded by Ashlin Parker, this group is about to celebrate its 10-year-anniversary.
A fluid collective of high energy performers, and no stranger to performing at Jazz Fest, what's unique about Trumpet Mafia is that they regularly welcome guest brass players of all ages, from all continents to sit in on their sets.
Even More NOLA Brass Bands
It's difficult to pick just a few bands to feature—This genre is exploding with talent, and if you can't catch one mentioned, please enjoy…
• Storyville Stompers Brass Band
• Stooges Brass Band
• Big 6 Brass Band
• Soul Brass Band
• Preservation Hall Brass Band
• Panorama Jazz Band
• Herbert McCarver & The Pin Stripe Brass Band
• Da Truth Brass Band
• Kinfolk Brass Band
• Treme Brass Band
• New Breed Brass Band
• Sons of Jazz Brass Band
• One Mind Brass Band
• New Birth Brass Band
• Free Agents Brass Band
• Where Y'at Brass Band
• One Shot Brass Band
• Real Untouchable Brass Band
• New Orleans Nightcrawlers