In the great debate about what kind of poboy is the best, shrimp often comes in first. The Shrimp PoBoy is beloved because the crispy fried shrimp or juicy grilled shrimp can be locally sourced from the Gulf of Mexico which makes for one fresh, delicious poboy. Bonus points if the Shrimp PoBoy comes on Leidenheimer or Gendusa bread that just got delivered. Whether you get it dressed or not, the official Shrimp PoBoy is one of the most ordered poboys in the city.
Though people have their favorite spot for getting a shrimp poboy, these are the top places that make their lists. Maybe you can get out of your comfort zone and try a new place next time you go out for a shrimp poboy.
The Best Shrimp PoBoys In New Orleans Restaurants


1. Parkway Bakery & Tavern
538 Hagan Ave. (504) 482-3047, parkwaypoorboys.com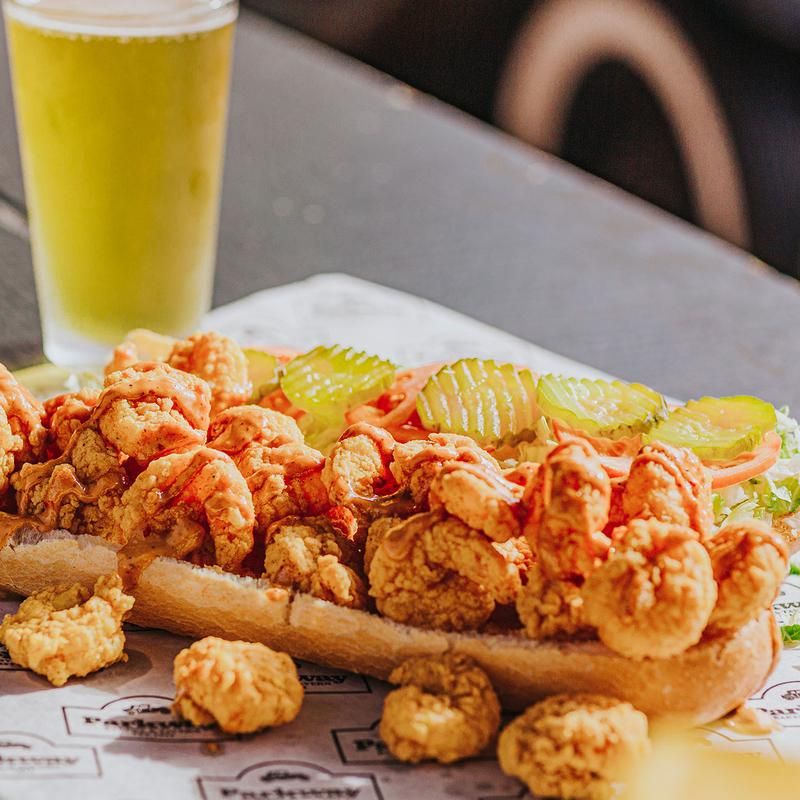 Parkway Bakery is synonymous with poboys; Parkway Bakery began serving poboys in 1929 to help feed striking union workers in the area. It wasn't the main feature of the iconic restaurant until Jay Nix purchased Parkway in 1995. Now it's one of the most renowned spots for poboys even garnering international attention.
The Wild Caught Gulf Shrimp PoBoy is heaped with flash-fried Louisiana shrimp. The more adventurous eater will want to try the Deep Fried Creole BBQ Shrimp PoBoy with shrimp coated in a buttery Creole barbecue sauce. And then there's the Surf and Turf with shrimp and roast beef.
2. Mahoney's
3454 Magazine St. (504) 899-3374, https://mahonyspoboys.com/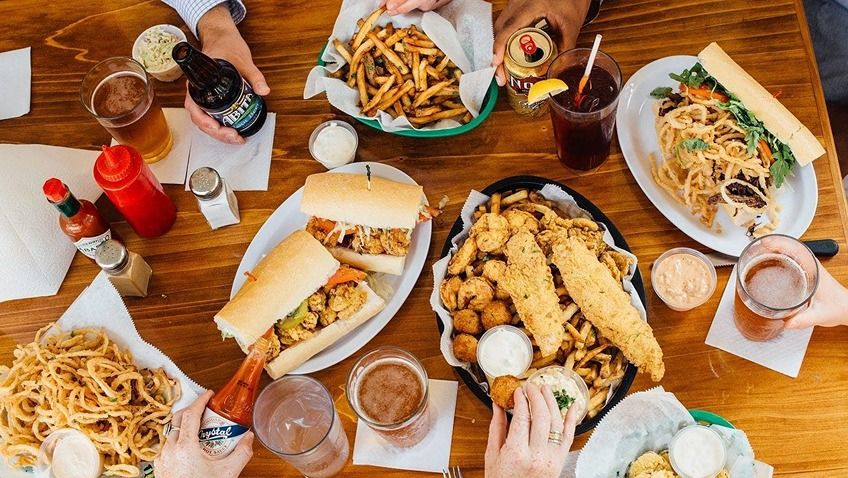 Whether you prefer your poboy filled to the brim with toppings or plain and simple, Mahoney's is the place for you. This classic New Orleans poboy shop separates their menu by dressed and not dressed poboys. Here you can get unique takes on classics such as the Grilled Shrimp Remi or the Alligator Sausage poboy, but today, we're spotlighting the classic Fried Shrimp poboy.
Crystal marinated and cornmeal fried, the juicy shrimp on this poboy will have your mouth watering for more. Mahoney's delicious poboys have brought Guy Fieri as well as thousands of locals and visitors to its quaint shop on Magazine St.
3.

Guy's PoBoys
5259 Magazine St. (504) 891-5025, facebook.com/guyspoboysnola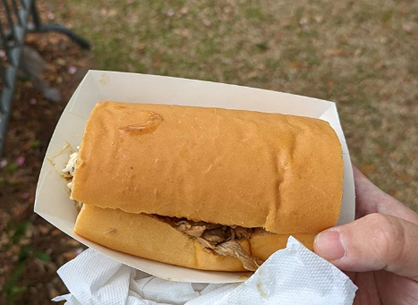 Just look for the striking blue building on the corner of Magazine and Valmont St. That's Guy's PoBoys, and they're ready to serve you from 11 a.m. to 4 p.m. every day of the week (except Sunday). Guy's is well known for traditional poboys as well as some signature items. The Bomb is great for shrimp fans; it's got grilled shrimp and catfish with melted cheddar and Swiss cheese.
On Fridays, you can get a plate of fried shrimp and catfish with two sides for a low price. Don't forget your side of Gravy Cheese Fries! They may not be healthy, but they are truly unforgettable.
4. Short Stop PoBoys
119 Transcontinental Dr. (504) 885-4572, shortstoppoboysno.com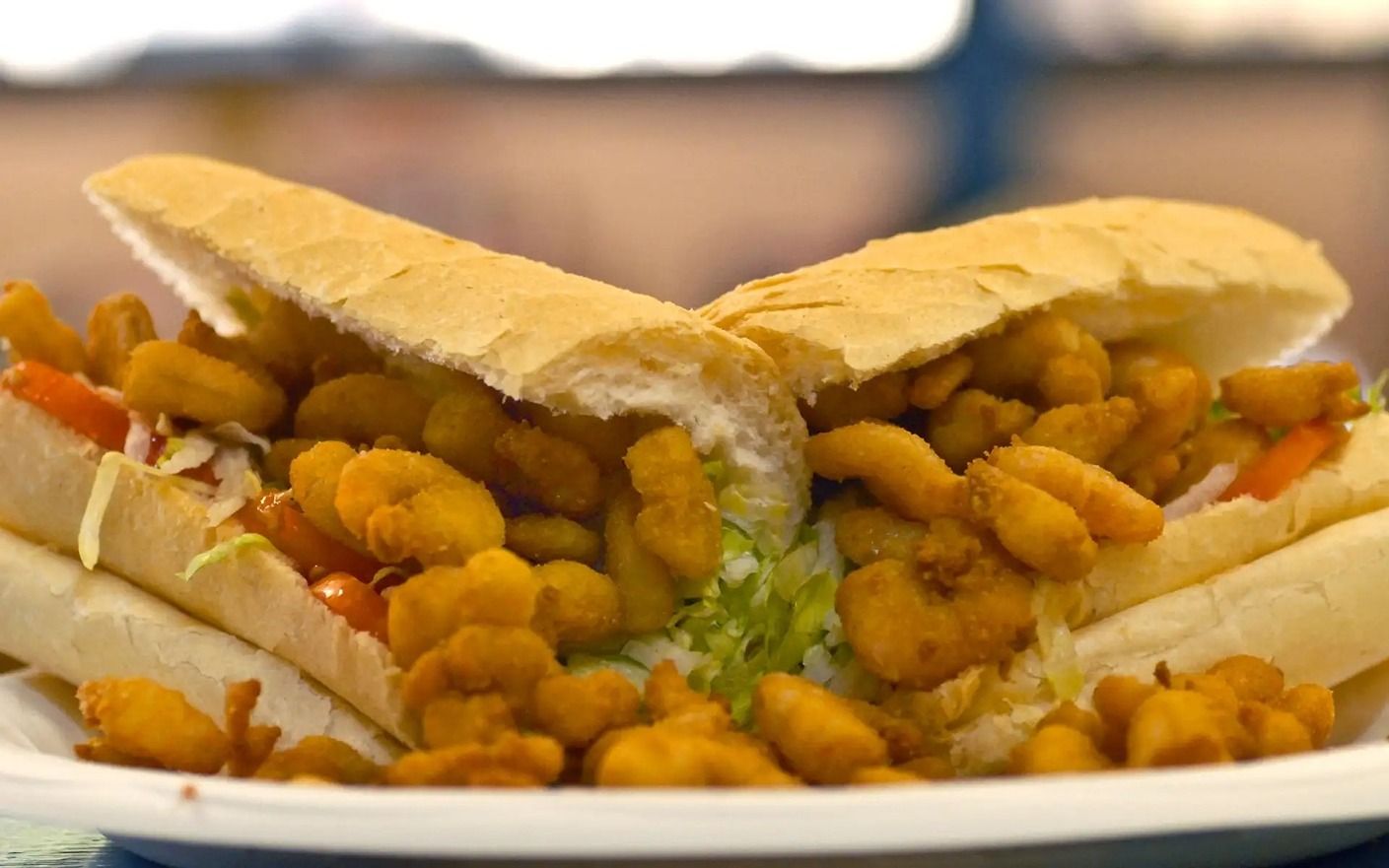 Head out to Metairie for this amazing shrimp poboy. Located in an unassuming suburban neighborhood, this little poboy shop gets packed for lunchtime. Luckily, Short Stop opens at 10:30 a.m. to accommodate more guests, and they close at 6 p.m. on the weekdays.
You could literally get your poboy hundreds of ways because of the variety of bread types and sizes, dressings, condiments, hot sauces, and cheese. The Shrimp PoBoy is overflowing with medium-sized Gulf shrimp freshly breaded and fried. The locals say that it's best dressed with a dash of hot sauce. You may want to get it King Size (14 inches) if you have a big appetite.
5. Melba's PoBoys
1525 Elysian Fields Ave. (504) 267-7765, melbas.com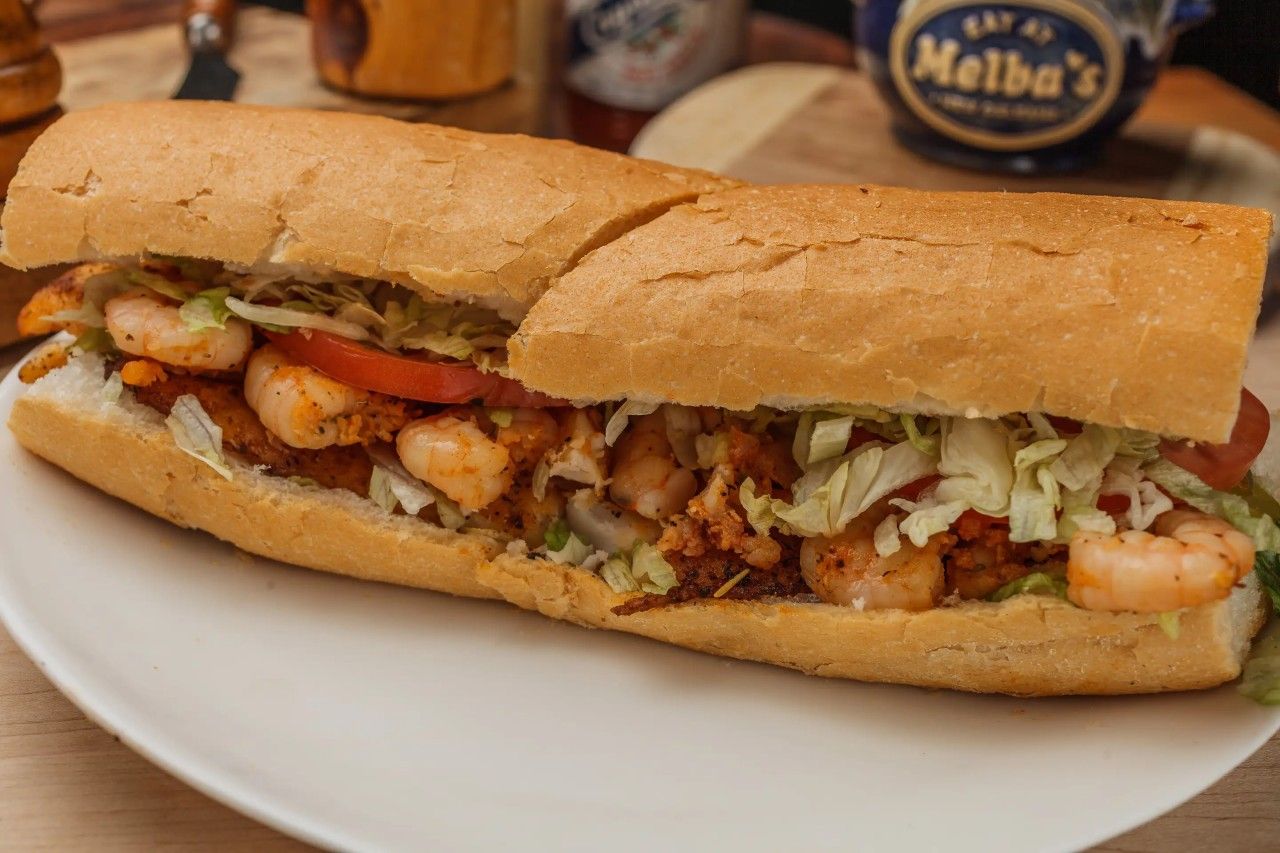 You can get a good meal at Melba's at any time of the day or night. It's open 24 hours for your convenience. While they serve traditional breakfast items, you can also order a breakfast poboy like the Bacon & Egg PoBoy. When lunch and dinner roll around, you'll want one of Melba's traditional or innovative poboys.
This is one of the only places where you can get a Fish & Shrimp PoBoy, Hamburger PoBoy, Philly Voodoo PoBoy, and Veggie PoBoy. Melba's opened a second location at 3219 Tulane Avenue. This new restaurant has an outdoor patio that is above street level, and it is also open 24 hours.
6.

Domilise's PoBoy & Bar
5240 Annunciation St. (504) 899-9126, domilisespoboys.com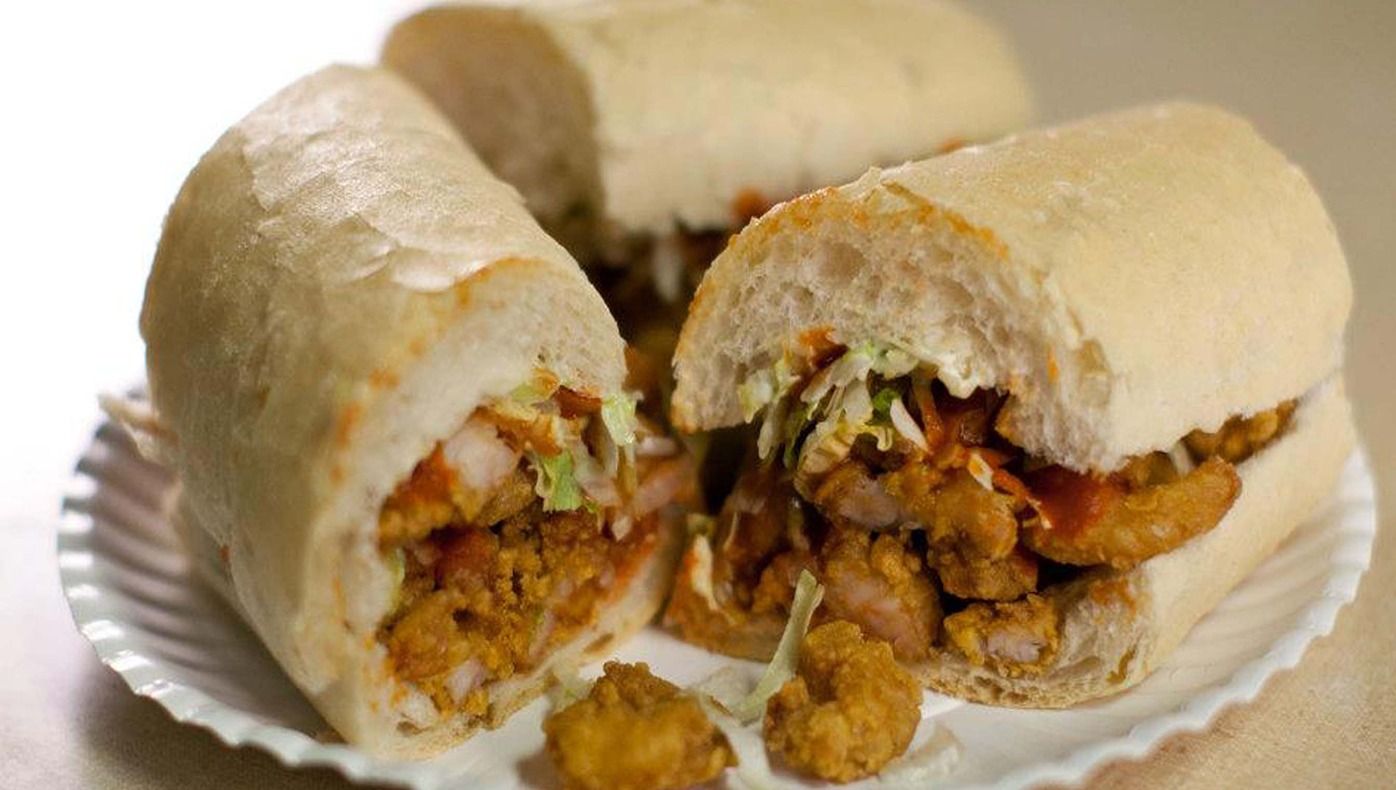 Domilise's may look like a humble, old-school eatery, but this joint stays very busy starting at 11 a.m. every day (closed Sundays). People will happily line up around the corner to order their favorite poboy, even if they can't get a spot to eat it inside. There's a reason why this sandwich shop has drawn crowds since the early 1900s; it's simply the best you can get.
You can get your shrimp a few ways. The Shrimp PoBoy is a classic. The Half and Half Seafood can include shrimp, catfish, or oyster. The Surf & Turf has roast beef that is topped with shrimp. Your only other difficult decision is whether or not to get it dressed.
7.

Acme Oyster House
Multiple Locations, acmeoyster.com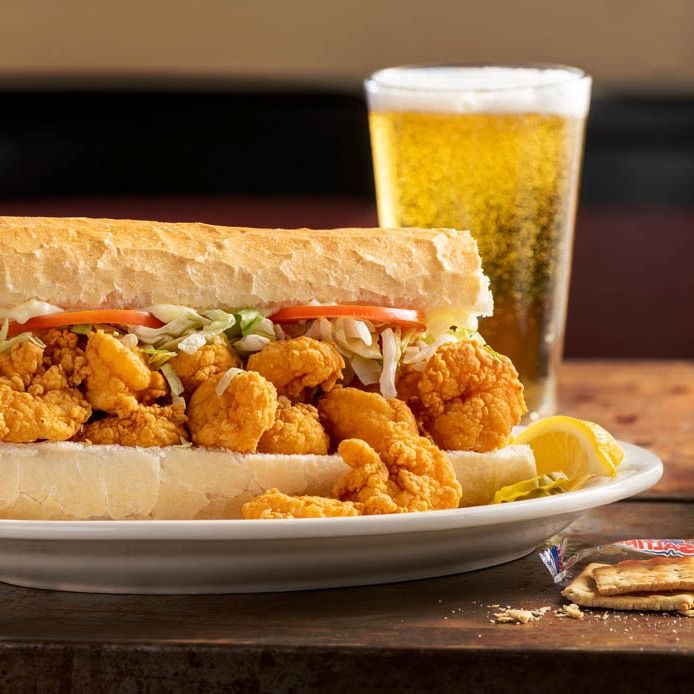 Acme Oyster House may be known for chargrilled oysters, but they take their shrimp very seriously too. You can visit Acme Oyster House in the French Quarter (724 Iberville St.) or in Metairie (3000 Veterans Blvd.) to get a big, satisfying shrimp poboy.
The Fried Peacemaker PoBoy is fried oysters and shrimp with Tabasco mayo. There's also the traditional Fried Shrimp PoBoy and the Half & Half PoBoy that can have shrimp. Regulars love the Grilled Marinated Shrimp PoBoy that gets even more flavorful with the addition of grilled mushrooms and onions.
8.

Mother's Restaurant
401 Poydras St. (504) 523-9656, mothersrestaurant.net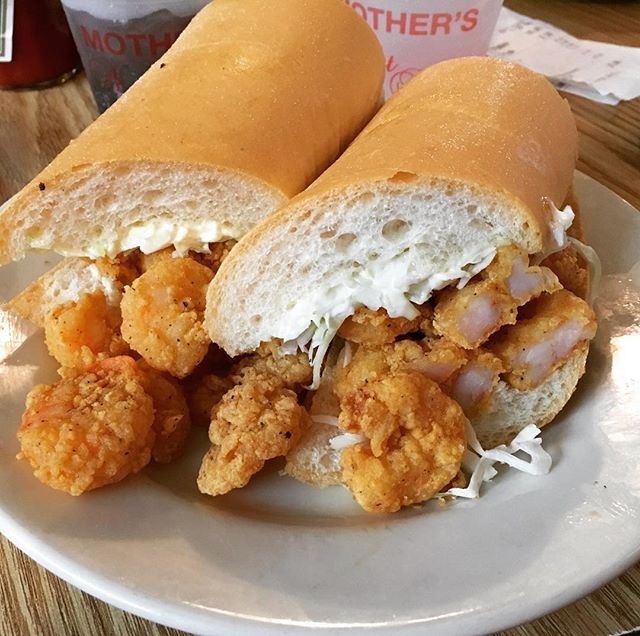 It's pretty easy to spot Mother's when you're walking or driving down Poydras Street. There's usually a long line of people waiting to get in. Mother's immense popularity is certainly due to its downhome comfort food, and the fact that breakfast dishes are served all day, every day. In fact, Mother's is open every day of the week from 7 a.m. to 10 p.m. just to serve all of those people who wait in line for them.
The Gulf Shrimp PoBoy can either have fried or grilled shrimp. If you get the Combo Shrimp & Oyster PoBoy, it will be fried only. If you want the flavor of the Shrimp PoBoy, but you're watching your carb intake, the Gulf Shrimp Salad is an excellent choice, especially if you get the shrimp grilled.
9.

Johnny's PoBoys
511 St Louis St. (504) 524-8129, facebook.com/johnnyspoboys
This is one of the best spots to get a poboy when you're at the pubs down in the French Quarter. It's fast, it's inexpensive, and it is great quality meat. Johnny's has many poboys for you to choose from including some that you can't get elsewhere. The Chicken Club has bacon, American cheese, and Swiss cheese, and the Crab Cake PoBoy is out of this world.
But for the traditionalists, the Shrimp PoBoy is a solid option. You can also get the Surf & Turf with roast beef debris and fried shrimp. Johnny's also serves a Seafood Muffaletta that may make you think twice about ordering a poboy at all.
10.

Frankie & Johnny's
321 Arabella St. (504) 243-1234, frankieandjohnnys.net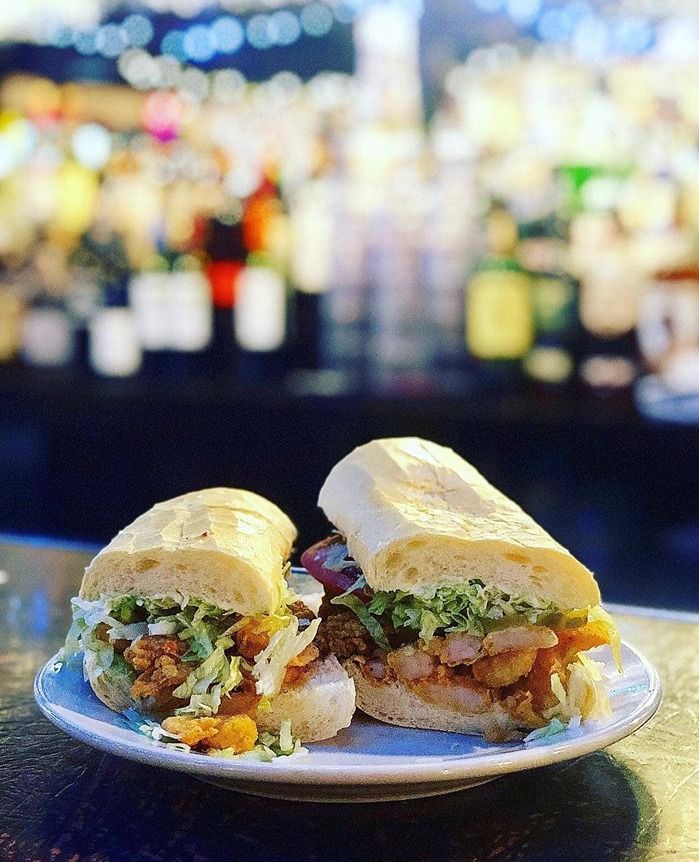 This little old Uptown eatery gets packed full of people on a daily basis; it's really one of the best kept secrets in town because the native New Orleanians want to shield it from too many tourists. If you can get through the wait, you'll be presented with a menu that features lots of hearty Italian food as well as local favorite like poboys and boiled seafood.
There is a pretty big selection of poboys here. The Shrimp PoBoy can either be fried or grilled. You can get a half sandwich and a steaming cup of gumbo which makes for a perfect lunch. If you can't make up your mind about seafood, get the Seafood Combo Platter with four types of seafood.
Where to Get Shrimp PoBoys in New Orleans
Crispy shrimp fried to golden perfection, flavor-popping grilled shrimp, or even barbecued, these Shrimp PoBoys are impossible to pass up. If you're new to New Orleans, getting one (or more) of these iconic poboys will make you feel a little more like a local because you're biting into some New Orleans history. They like it dressed and with a couple dashes of a locally-made hot sauce.
Did we miss the best traditional Shrimp PoBoy spot in town? Let us know where you like to get yours!