With its distinctive bread and multitude of delicious fillings, the humble po-boy sandwich is a New Orleans classic that locals go absolutely wild for. So it should come as no surprise that when a similar sandwich of Vietnamese origins got introduced to NOLA after the 1970s, locals welcomed it wholeheartedly.
A bánh mì, just like a po-boy, is a baguette-style sandwich and is considered to be a staple food in Vietnam. Relatively unknown in the Western world until the Fall of Saigon in 1975, bánh mìs have become increasingly popular in the United States, especially in the Greater New Orleans area thanks to the large Vietnamese communities in both Orleans and Jefferson Parishes. While almost always filled with pickled carrots and daikon, cucumber, cilantro, and jalapenos, bánh mìs can be just as creative and adaptable as NOLA's favorite sandwich. In celebration of the "Vietnamese po-boy," here are some of the best places in New Orleans to grab a bánh mì.
Banh Mi Boys
Multiple Locations, bmbsandwiches.com
Established in 2015, Banh Mi Boys is a popular local establishment that has locations in both Uptown and Metairie. The restaurant's bread and butter are bánh mìs, obviously, but their sandwiches are actually quite a bit diverse in terms of the fillings customers can choose from. Some of the more creatively inspired bánh mìs on offer include honey sriracha shrimp, smoked duck sausage, and chicken katsu, which is panko fried chicken topped with furikake seasoning, Japanese mayo, and tonkatsu sauce. Banh Mi Boys also has plenty of options for vegetarians, including tofu and portobello mushroom bánh mìs.
Café Minh
4139 Canal St., 504-482-6266, cafeminh.com
Founded by talented chefs Cynthia VuTran and Minh Bui, Café Minh is an incredible establishment that mixes flavors and influences from Saigon, France, and the United States. Located in Mid-City, some of the restaurant's stand out dishes include the jumbo diver scallops and the red curry shrimp pasta. While Café Minh's bánh mìs are only available during lunch from 11:30 a.m. to 2:30 p.m., they are definitely worth taking a lunch break for. The bánh mìs on offer, all of which are served with French fries, include charcoal pork, garlic beef, and either grilled or tempura fried, five-spiced chicken.
Dong Phuong Restaurant & Bakery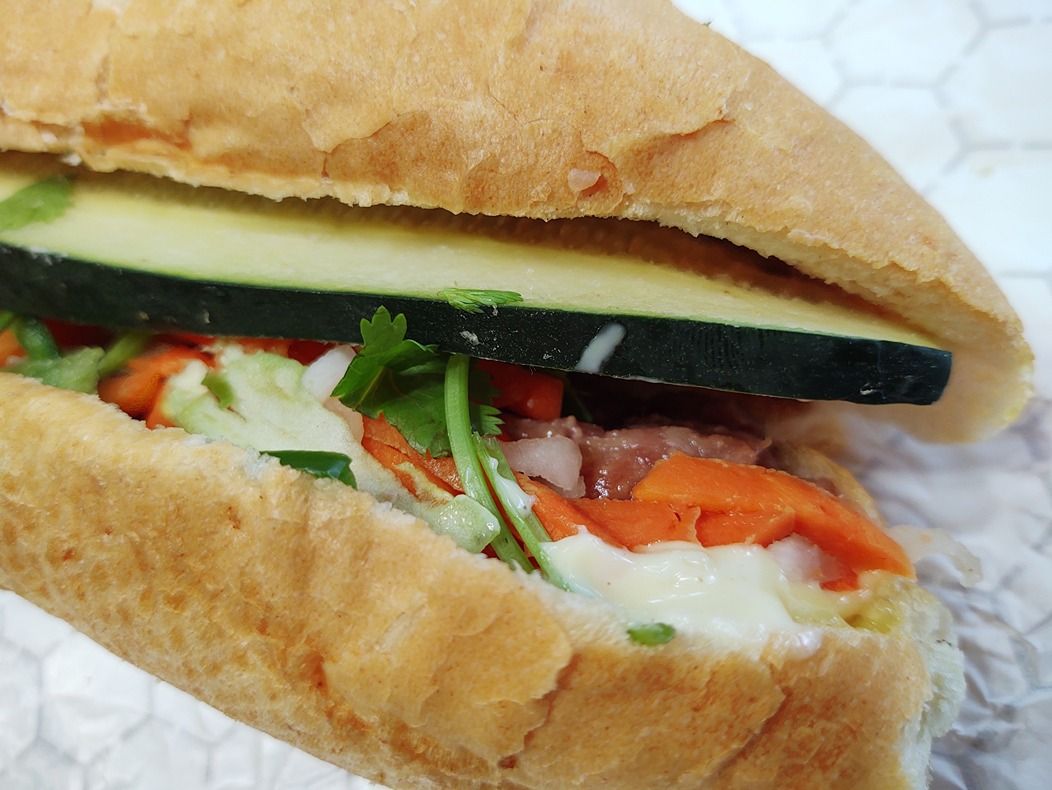 14207 Chef Menteur Hwy., 504-882-9878, dpbakery.com
A true New Orleans classic, Dong Phuong is not only one of the most famous Vietnamese establishments in the Big Easy, but also the entire country. Located in New Orleans East, the James Beard Award-winning bakery and restaurant is known best for its unique king cakes, incredible French bread, and large assortment of traditional Vietnamese dishes and baked goods. Dong Phuong's selection of bánh mìs range from the traditional like Vietnamese ham and French cold cuts to more experimental like Impossible bulgogi and toasted shrimp patty. Dong Phuong is easily worth a car ride to the East for its amazing food.
Jazmine Café
614 S. Carrollton Ave., 504-866-9301, jazminecafe.com
Right near the Mississippi River in Uptown, Jazmine Café is a cozy place that specializes in a large variety of Vietnamese and other Asian flavored dishes. In addition to vermicelli salad bowls, rice plates, and Vietnamese crepes, the restaurant also has an extensive spring roll menu, as well as customizable poke bowls. Jazmine Café's bánh mìs are straight forward, but delicious, with choices of grilled lemongrass pork, shrimp in a teriyaki sauce, lemongrass chicken, and tofu with soy sauce. For an upcharge of just $2.75, customers can even add scrambled eggs to any of their bánh mìs.
Le's Baguette Banh Mi Cafe
4607 Dryades St., 504-895-2620, facebook.com/lesbaguettenola
Located not too far from both French Truck Coffee and Pascal's Manale, Le's Baguette Banh Mi Café is a quaint spot in Uptown that serves typical Vietnamese fare such as phở and jasmine rice. Along with standard bánh mì selections including pork, chicken, and tofu, the restaurant also has a few specialty sandwiches. These include the oyster bánh mì with coleslaw and house made remoulade, as well as the five spice BBQ pork belly bánh mì with sriracha aioli. Patrons can also enjoy different coffees, wines, beer, and bubble teas while sitting at one of Le's Baguette's outdoor tables.
Mr. Bubbles Café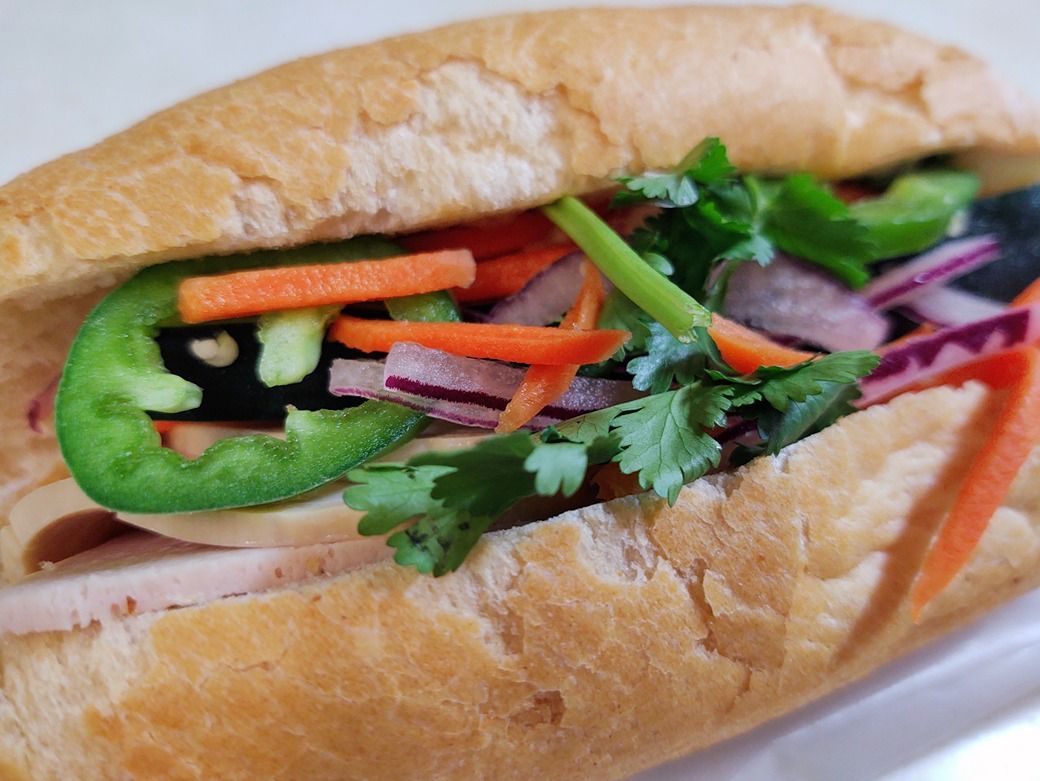 Multiple Locations, facebook.com/MrBubblesCafe
With one location on Canal Street and another in the Hong Kong Food Market in Gretna, people on both sides of the river can enjoy Mr. Bubbles Café's delicious bánh mìs and refreshing boba teas. The café offers pork in multiple different ways (grilled, BBQ, and roasted) and they are all tasty. There are also some vegetarian options as well: lemongrass tofu bánh mì at the Canal Street location and the avocado bánh mì at both sites. Make sure not to pass up on Mr. Bubbles' wide selection of bubble teas such as the iced Vietnamese coffee, strawberry & mango, and Thai milk tea.
Phở Tâù Bay
1565 Tulane Ave., 504-368-9846, photaubayrestaurant.com
Originally a very popular Vietnamese spot on the Westbank, Phở Tâù Bay eventually moved to Tulane Avenue and has been flourishing there ever since. The restaurant is known best for its wide array of traditional soups like phở, spicy marinated beef stew with carrots, veggie soup with deep-fried tofu, and more. Customers who are in the mood for a bánh mì will have 12 different ones to choose from and all are served with shrimp chips. Some of the selections include bánh mì pâte thịt (homemade rolled ham with chicken liver sausage), bánh mì thịt nướng (sliced chargrilled pork), and bánh mì gà (stir-fried marinated chicken).