Mid-City is such a fun area of New Orleans to dine, drink, and be merry. The area is mostly residential with pockets of cool establishments, some of which have been around longer than most of us have been alive. Mid-City is unfettered by tourism, so the natives and locals can truly let their creativity fly when it comes to creating menu items. And that can lead to some fantastic food that you can't enjoy anywhere else.
From a century old to ultra-modern, from decadent dining rooms to wide-open patios, these Mid-City New Orleans neighborhood restaurants are the best for your next meal. Check them out and see why the regulars can't get enough of their food.
The Best Places To Eat In Mid-City New Orleans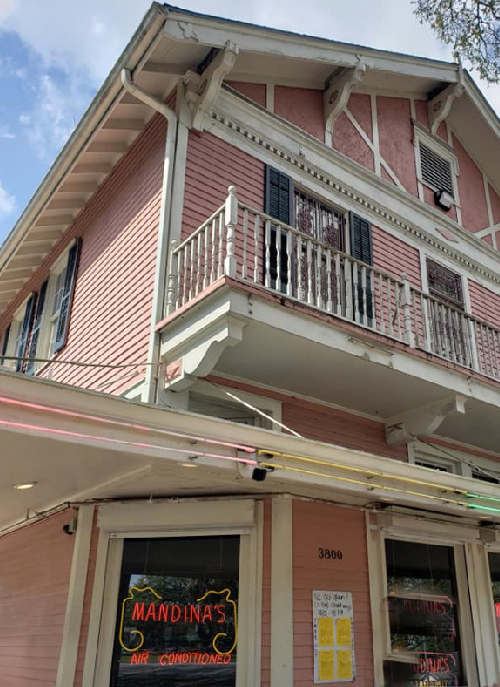 1.

Mandina's Restaurant
3800 Canal St. (504) 482-9179, mandinasrestaurant.com
You can't miss this beautiful, big, pink building on a tree-lined corner of Canal Street. Mandina's is a New Orleans classic that has been serving Italian dishes with New Orleans twists since 1932. The grocery-turned-pool hall-turned restaurant has been owned and operated by the Mandina family for several generations, and that wonderful history can be tasted in every bite.
The steaks and chops are always a favorite with the regular diners. The house specials are seafood-heavy: Gulf Fish Meuniere, Grilled Shrimp Over Pasta Bordelaise, and Grilled Gulf Fish With Broiled Potatoes. There's also a plethora of poboys and sandwiches to choose from for your big meal.
2.

Katie's Restaurant & Bar
3701 Iberville St. (504) 488-6582, katiesinmidcity.com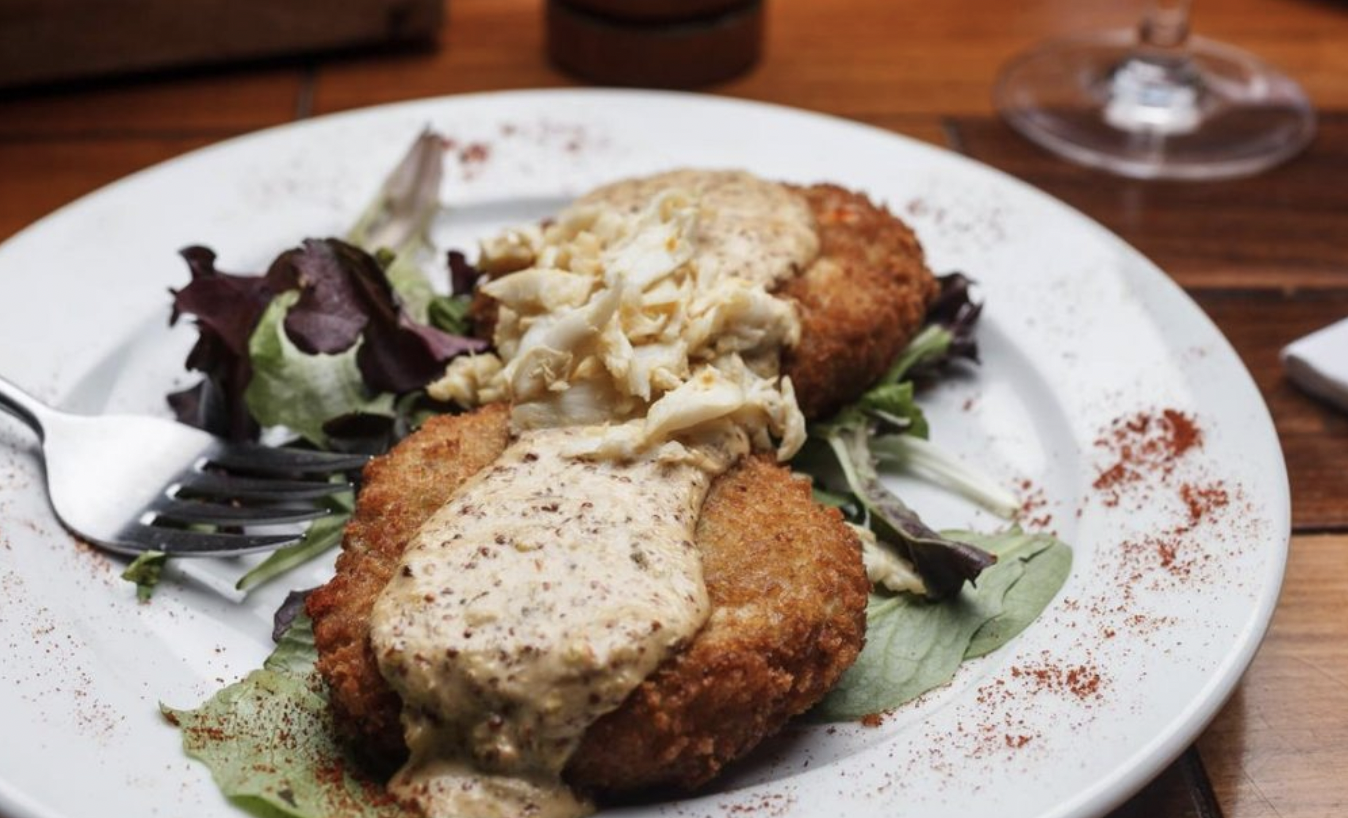 Katie's is a cute neighborhood joint serving lunch and dinner from an American favorites with New Orleans flair menu. The Classic Lasagna and Rosemary Chicken Breast taste just like your family's recipes. The Blackberry & Jalapeno Ribs are slow cooked and smothered in spicy blackberry jalapeno barbecue sauce.
Brunch is big at Katie's. Brunch takes place on Sundays from 9 a.m. to 3 p.m. You can peruse the special brunch menu to find delicacies such as Breakfast Pizza with scrambled eggs, bacon, Italian sausage, hash browns, scallions, and garlic butter sauce and Crawfish Beignets topped with jalapeno aioli.
3.

Venezia
134 N Carrollton Ave. (504) 488-7991, venezianeworleans.com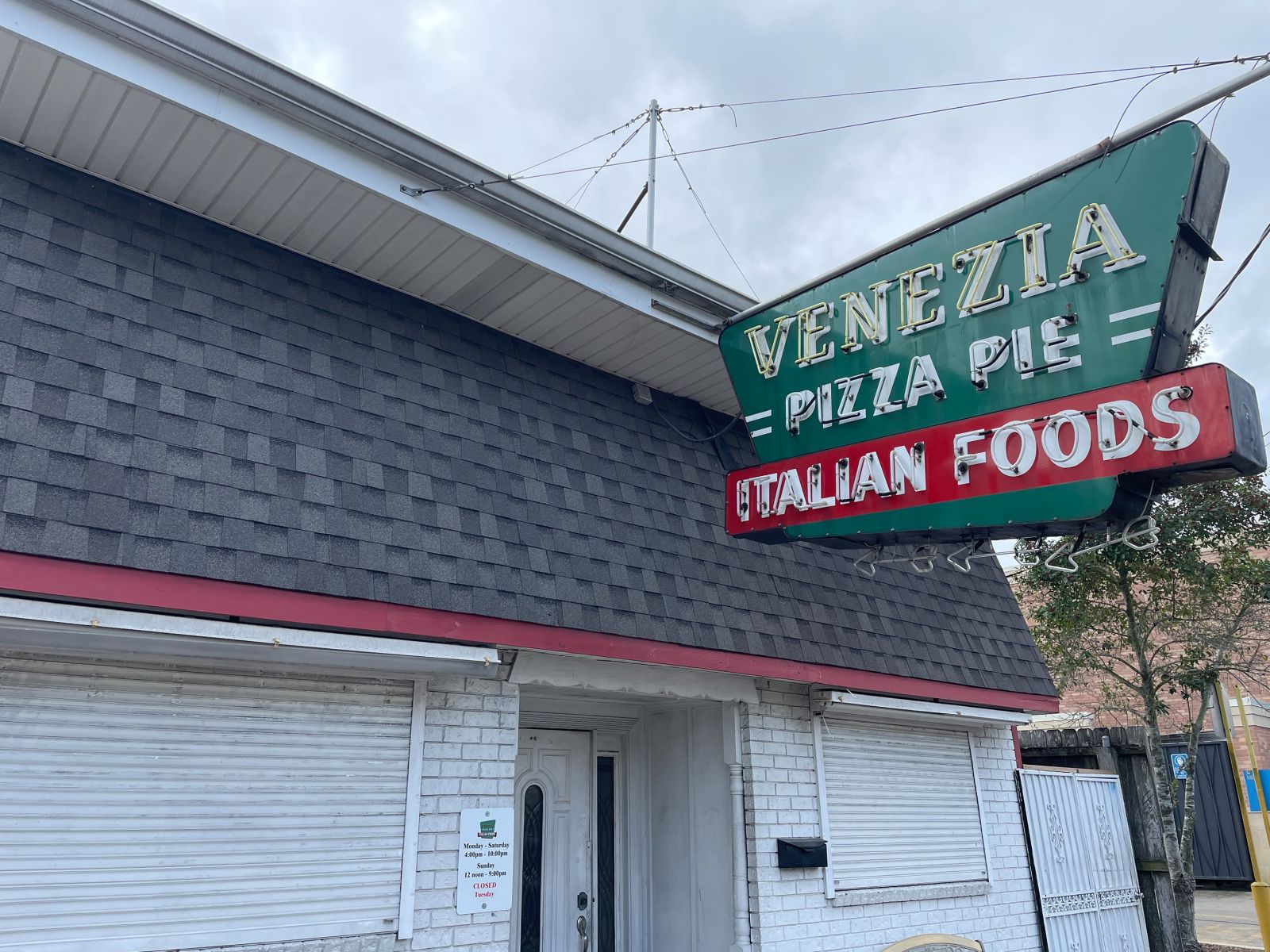 Venezia is one of the oldest pizza joints in New Orleans; it's been making pies since the 1950s. That longevity is due to the authentic style of making the pizzas as well as having a huge menu of pastas, steaks, and seafood at excellent prices. This is truly a neighborhood eatery that caters to the palette of New Orleans natives, but everyone is welcome to make Venezia their new favorite.
Beyond the House Special Pizza, you can enjoy a hearty plate of Baked Ziti, Cannelloni, or Lasagna. Venezia's dinner plates are quite the deal: most of them are under $20. You may be enticed to order the Chicken Marsala, Eggplant Vatican, Veal Pontchartrain, or Shrimp Parmigiana.
4.

Café Degas
3127 Esplanade Ave. (504) 945-5635, cafedegas.com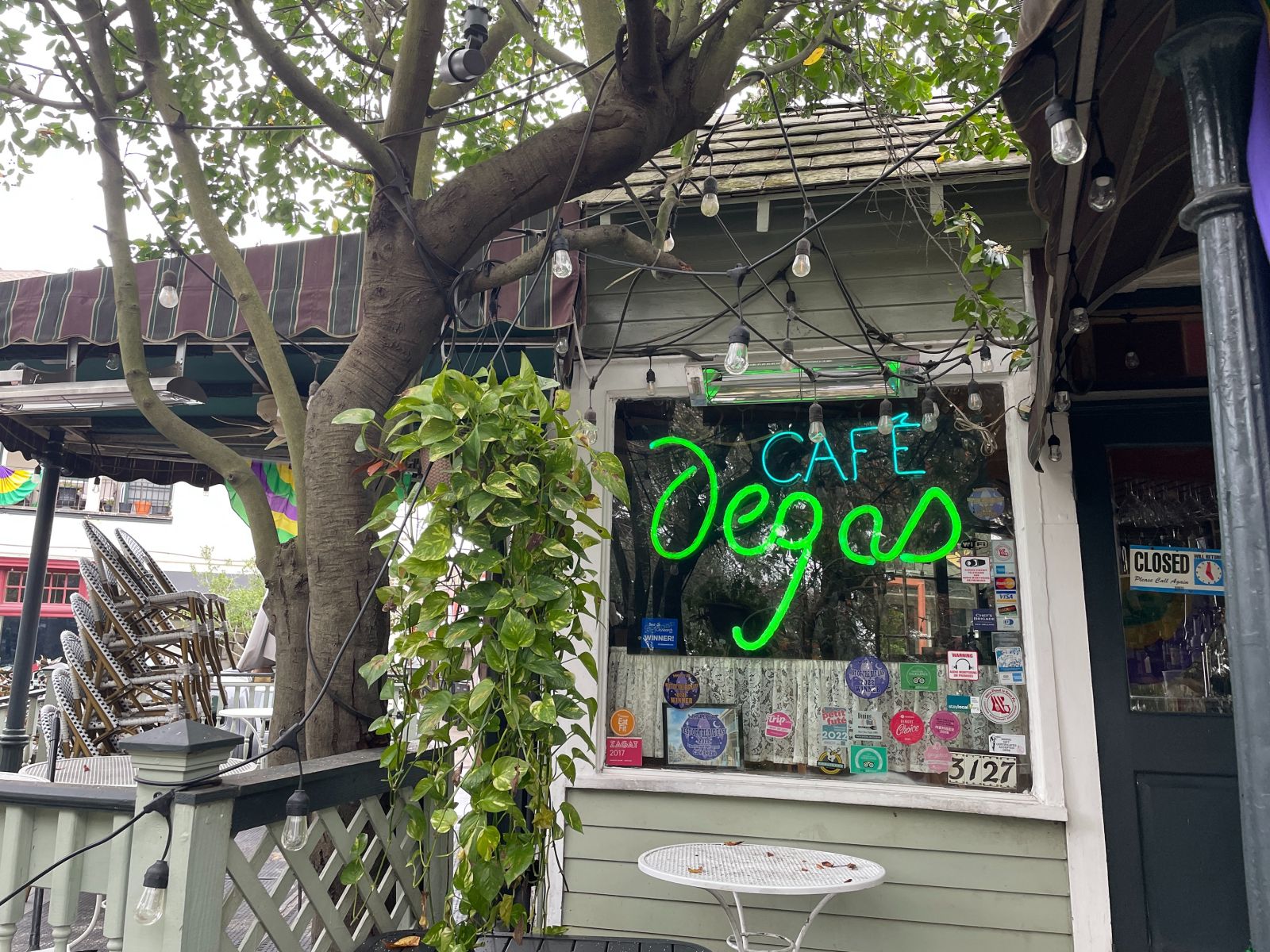 It almost feels like entering a tree house when you visit Café Degas. The gorgeous restaurant on Esplanade Avenue in the Fairgrounds neighborhood is surrounded by greenery, and there's a tree right in the middle of the patio! This little bistro has been serving French favorites for lunch, brunch, and dinner for decades.
Dinner is a wonderful service to experience because the dining room is so romantically-lit. Start off with Les Moules au Fenouil: Prince Edward Island mussels steamed in fennel and leak white wine broth. Then order the L'onglet de Boeuf for dinner: seared hangar steak with pommes frites.
5.

Crescent City Steaks
1001 N Broad St. (504) 821-3271, crescentcitysteaks.com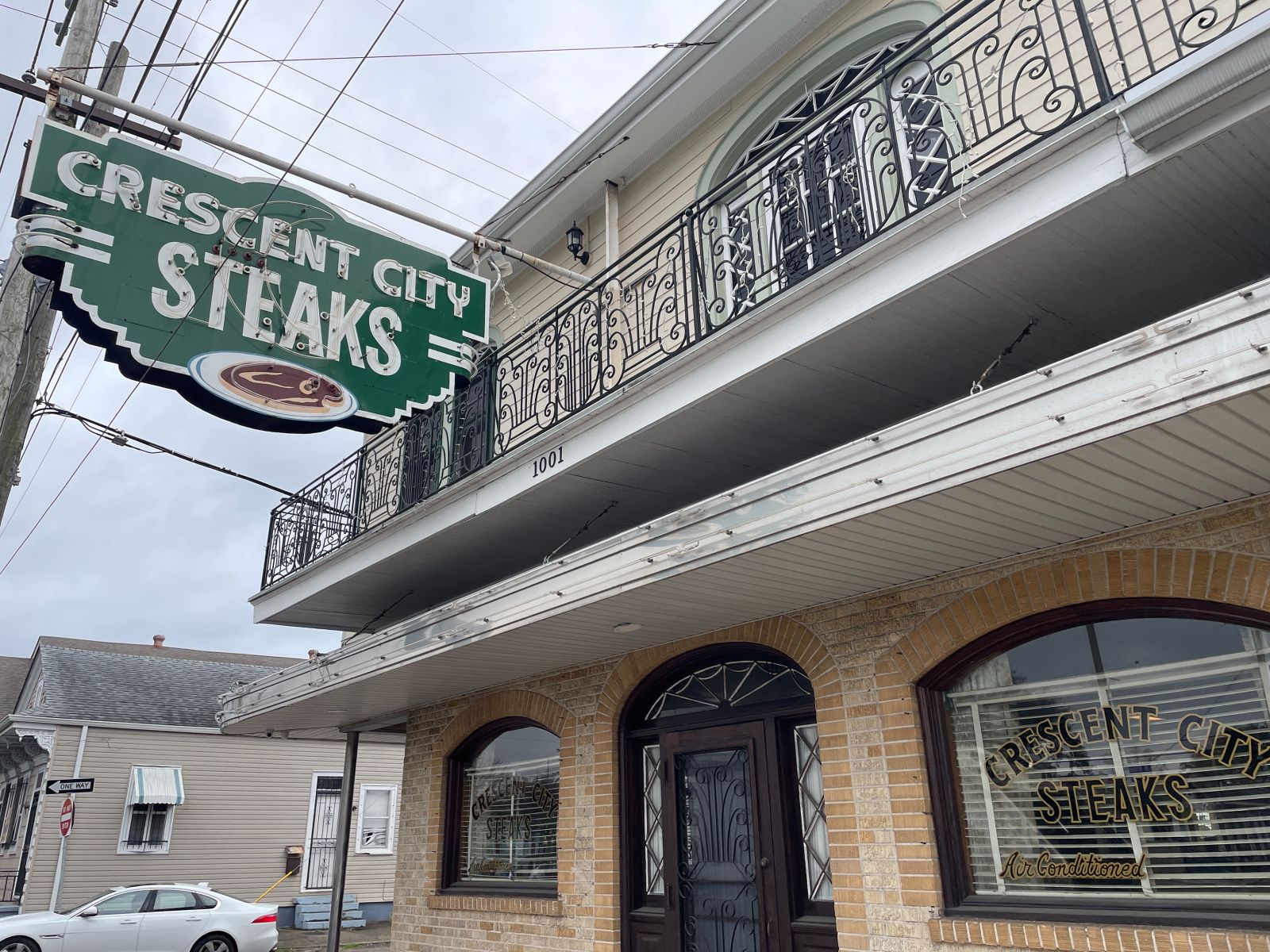 The iconic neon sign outside of Crescent City Steaks beckons you to come in and enjoy some satisfying cuts of meat. For nearly one hundred years, this steakhouse has garnered a reputation for serving perfectly-cooked USDA prime aged beef shipped from Chicago. These steaks arrive at your table sizzling in butter, something that Crescent City Steaks pioneered.
Select from cuts including, but not limited to, Rib Eye, Strip Sirloin, T-Bone, and Porterhouse for Two. The Chateaubriand Dinner For Two includes one 22 oz filet with steamed broccoli, sauteed asparagus, and Brabant potatoes. If you want a little less red meat, opt for the Surf And Turf: a bacon-wrapped 8 oz filet and a lobster tail.
6.

Mikimoto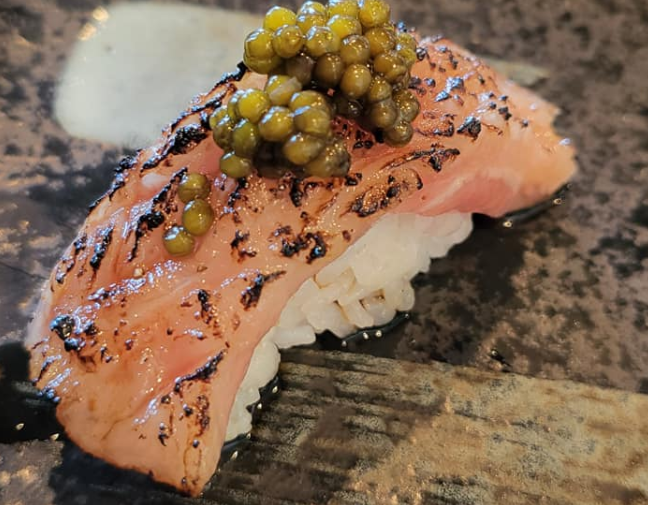 3301 S Carrollton Ave. (504) 488-1881, mikimotosushi.com
It may not have a huge dining room, but Mikimoto is often packed with diners who swear that this is the best sushi in the entire city. The sushi and sashimi offerings are the popular items, but the appetizers, soups, rice dishes, and even desserts all have excellent qualities.
If you want to have the best of everything, go for the Two-Course Dinner Combo. It starts off with soup, house salad, and fried or white rice. Then you can choose one of 10 combinations that can include chicken teriyaki, sushi, sashimi, beef teriyaki, and tempura. Save room for some Red Bean Ice Cream; it's totally worth it.
7.

Neyow's Creole Cafe
3332 Bienville St. (504)-827-5474, neworleans.neyows.com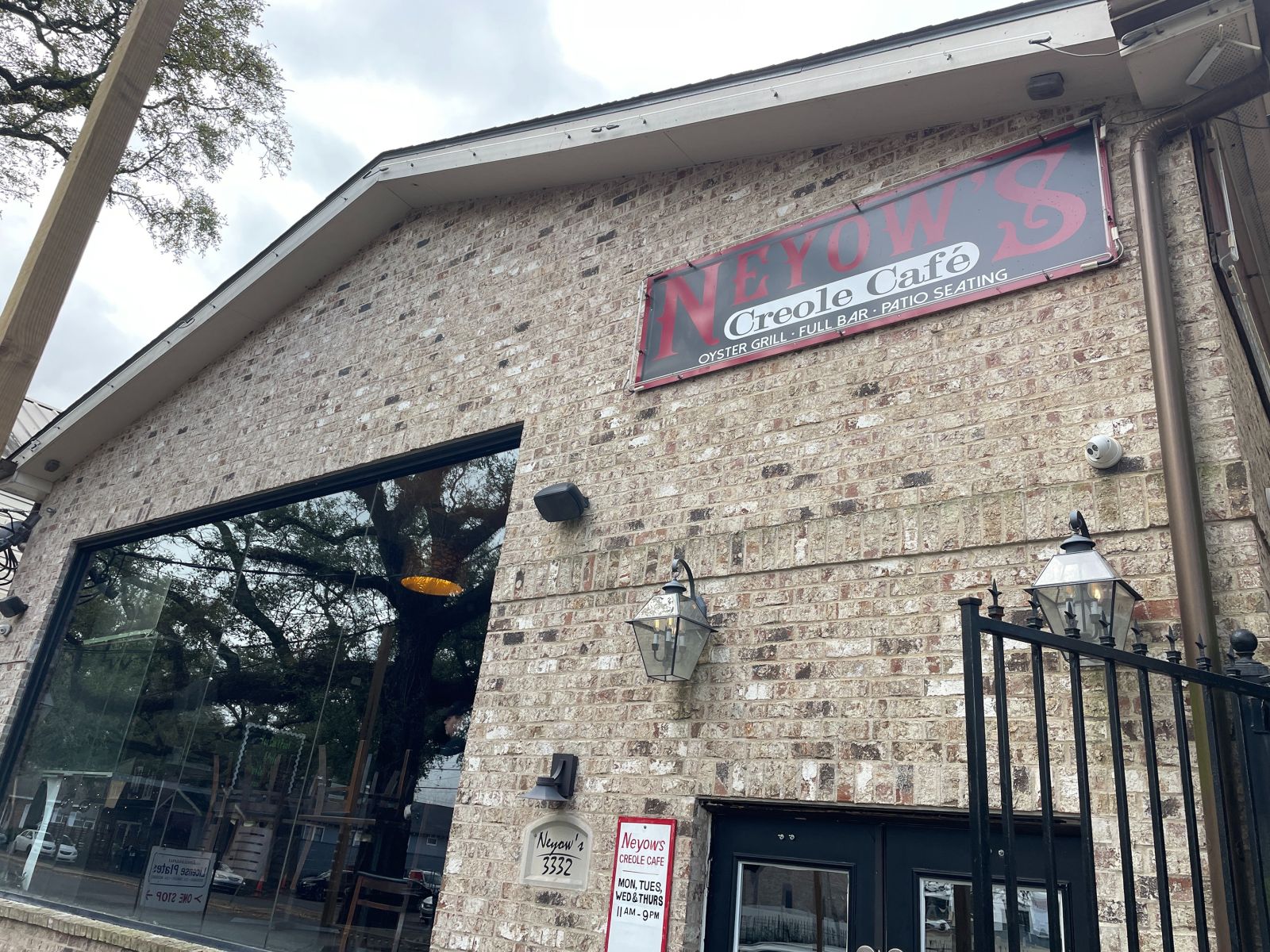 It says it right in the name; Neyow's focuses on fine Creole cuisine in a casual atmosphere. These New Orleans favorite dishes will keep your stomach satisfied for hours, and the bill won't break your budget. The Pork Chop Plate, Pasta Bienville, Fried Gulf Oysters, and Roast Beef PoBoy are just some of the great meals that you can order here.
If you want a real treat, get the Neyow's Extravaganza Dinner For Two. It comes with two cups of gumbo, two house salads, fish, shrimp, oysters, stuffed crab, stuffed shrimp, one steak, two sides, and two desserts. You can't argue with that!
8.

Nice Guys Bar & Grill
7910 Earhart Blvd. (504) 302-2404, niceguysnola.com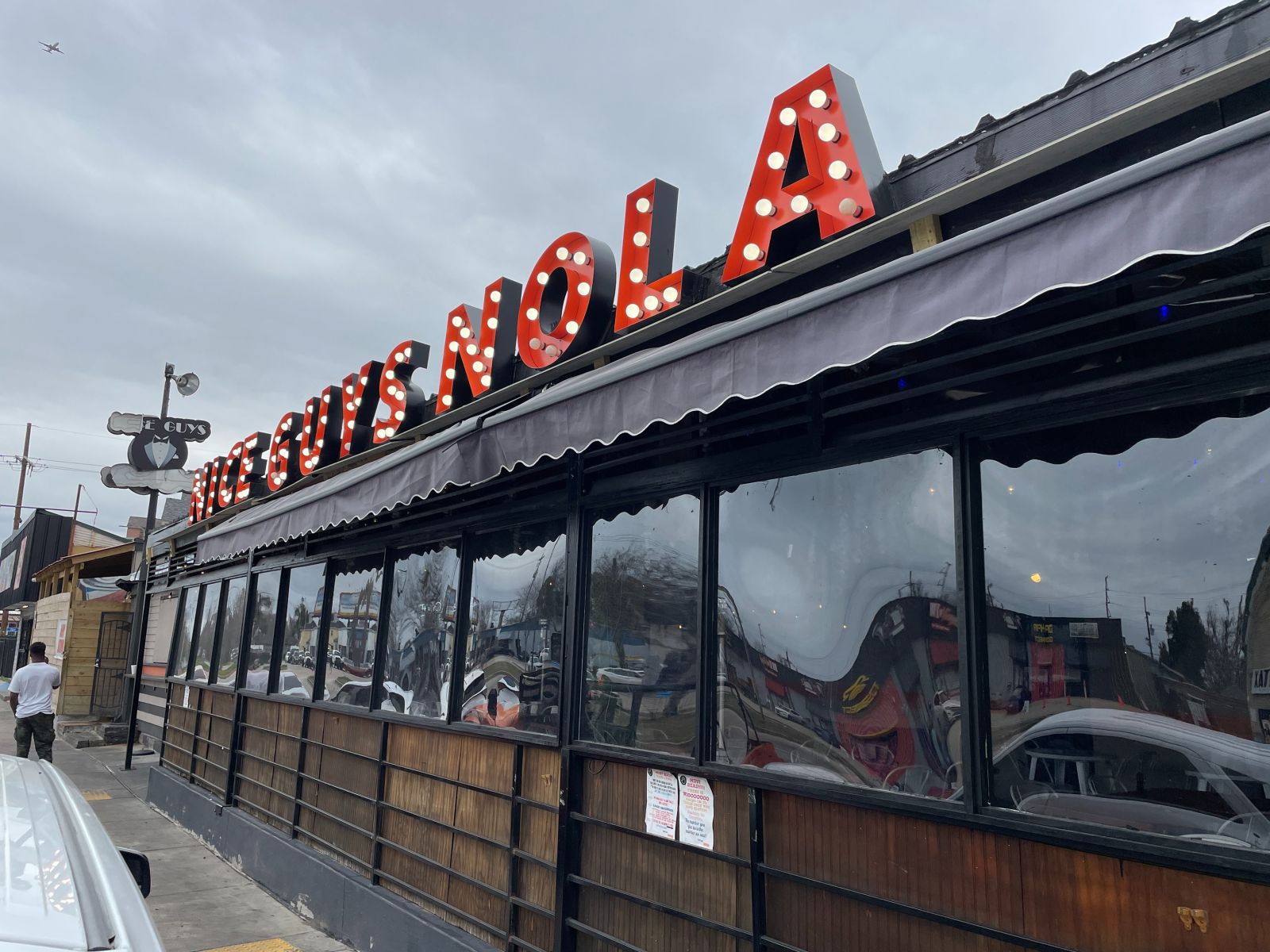 Nice Guys is a nice place to visit if you're in the mood for oysters, wings, burgers, and tacos. Nice Guys' big menu has a little bit of everything so that you and your dining mates can find something that you'll fall in love with. Bonus: you can enjoy your multi-continent-inspired meals on the covered patio which is especially good if you order an icy cold daiquiri.
For the adventurous, try the Earhart Attack Fries: a big plate of seasoned fries is drenched in crawfish cheese sauce, marinated chicken, hot sausage, smoked sausage, bacon, jalapenos, and a fried egg. You're going to need a whole team to take that on!
9.

Liuzza's By The Track
1518 N Lopez St. (504) 218-7888, liuzzasbtt.com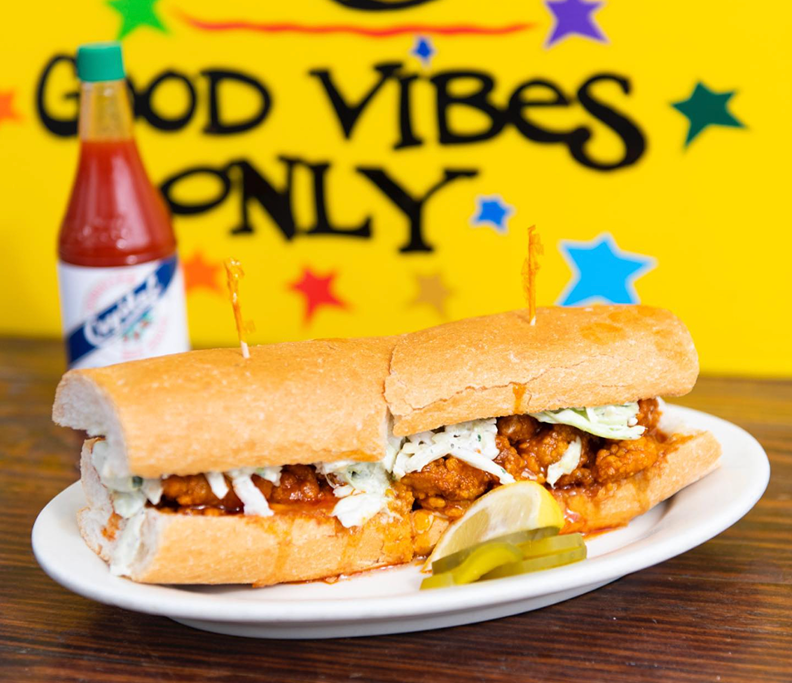 You'll come across Liuzza's adjacent to The New Orleans Fairgrounds. During the big horse races and the New Orleans Jazz & Heritage Festival, Liuzza's will be full to the rafters of people who make coming here a habit. The popularity stems from the strong sense of community and, of course, the great food and drinks.
The BBQ Shrimp PoBoy is the utmost signature dish here. You may also want to try out the Breathtaking Beef PoBoy, Liuzza's House Burger, or the Garlic Oyster PoBoy. Complete your meal with a cup of Creole Gumbo and a big Bloody Mary.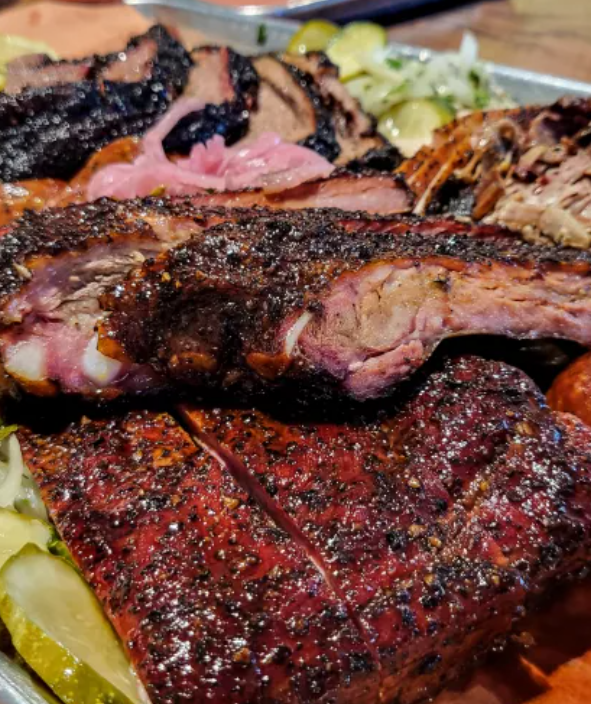 10.

Blue Oak BBQ
900 N Carrollton Ave. (504) 822-2583, blueoakbbq.com
New Orleans is usually not talked about in terms of barbecue, but that just means it's our best kept secret. New Orleans has a long history with barbecue that continues to this day through our smoking hot barbecue restaurants. Blue Oak BBQ sits on Carrollton Avenue not far from City Park, and you'll often see patrons happily dining out on the pretty patio.
The Plates are the main attraction. There's plenty to choose from: beef brisket, St. Louis spare ribs, spicy green onion sausage, smoked turkey, and pulled pork. You can get your food family style that includes all the meats and all the sides for 3 or 4 people. Burgers and sandwiches are available for those who prefer their meat in a bun.
Where To Eat In Mid-City New Orleans
These Mid-City eateries represent so much of the flavor that makes New Orleans cuisine world famous. Check them out as your weekend night entertainment, or make the Mid-City stalwart restaurants a part of your big night at the local bars. Be sure to bring your appetite because these places will fill you up.
What's your favorite restaurant in the Mid-City neighborhood? Tell us what we're missing, and we'll check it out.