New Orleans Donut Shops Making Tasty Donuts
A long time ago, in a far-off land, a homely baker dusted some flour on their countertop and whipped up an ingenious idea for a tasty treat: deep fried dough, rolled around in a bowl of powdered sugar, cinnamon sugar, sweet, runny glaze, or whatever else you might like. Over the years, this simple recipe has been passed from baker to baker and continent to continent, with each culture and country taking on their own version of what we now call donuts.
Today, these hole-in-the-center, sweet treats have become enough of a staple to necessitate a National Donut Day on June 3, and here, in New Orleans, we're always ready to celebrate. While our city is typically known for the donut's powdery, pillowy cousin, the beignet, Where Y'at has never failed to share the Crescent City's best purely donut joints and most creative spins on the classic treat. Thankfully, this year isn't any different. Here are our top 10 picks for where to get the classic doughy treat for this National Donut Day.
Daddy's Donuts
2051 Caton St.
504-283-3388
https://www.facebook.com/DaddysDonut/?ref=page_internal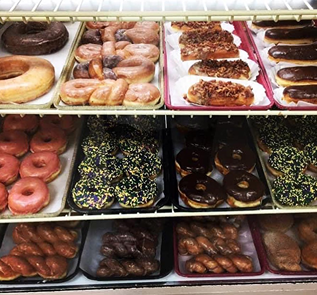 If you're looking to start your National Donut Day off bright and early, Daddy's Donuts just might be the place for you. Just around the corner from where Elysian Fields Avenue meets Gentilly Boulevard, this donut shop is open from 6:00 a.m. till 11:00 a.m., and their best donuts go fast. The case is filled each morning with everything from classic strawberry and chocolate donuts to elaborate fresh, glazed twists, and with a mixed dozen going for only $8.00, Daddy's Donuts is hard to beat.
The Buttermilk Drop
1781 N. Dorgenois St.
504-252-4538
http://www.buttermilkdrop.com/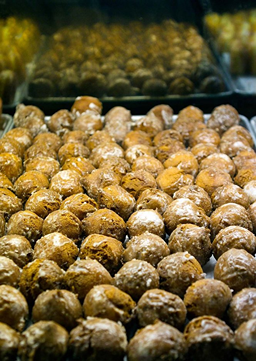 Located just a short drive from New Orleans' City Park, this mom-and-pop shop specializes in delicious, glazed donuts that are to die for, and, of course, their classic namesake: the buttermilk drop. This take on the sweet treat showcases round balls of fried buttermilk dough that are glazed to absolute perfection. While this is definitely a more simplistic option for this National Donut Day, there's no denying The Buttermilk Drop's sweet, sweet right to be on this list.
District Donuts
5637 Magazine St.
504-313-1316
https://www.districtdonuts.com/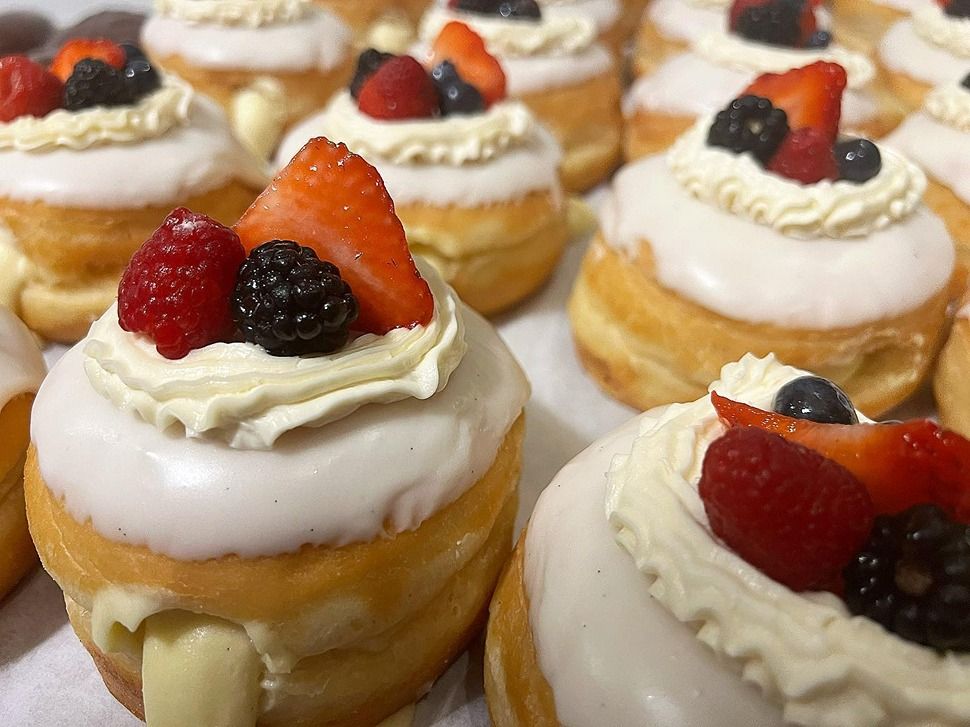 District Donuts offers a more modern twist to the classic sweet treat. With a main location on the bustling magazine street, this donut shop not only freshly makes the staple glazed, cinnamon and sugar, and chocolate-glazed donut options, but they also get creative with six rotating donut flavors each week. With elaborate fillings and crunchy toppings on these creative masterpieces, District Donuts is a great New Orleans' spot to indulge your cravings on National Donut Day.
Blue Dot Donuts
4301 Canal St.
504-218-4866
https://www.facebook.com/bluedotdonuts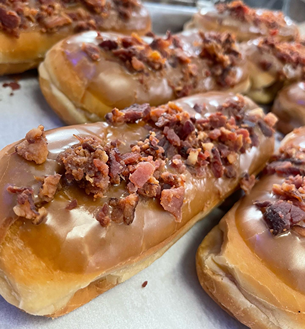 Open 6:00 a.m. till noon only five days a week, Blue Dot Donuts sells out fast for a reason. This little blue house posted up on Canal Street is an absolute must for National Donut Day, but you'll have to be quick if you want a taste of these sugary delights. Blue Dot has all the classic staple donut flavors and a few creative concoctions, like the banana-cream donut filled with decadent Nutella. Set your alarms early! You won't want to miss Blue Dot's Donuts.
Gerald's Donuts
Multiple Locations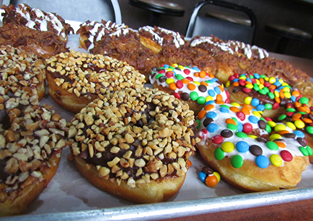 Just outside of the city of New Orleans, this combination diner and donut shop is known for its colorful, fresh donuts that are available around the clock. Open 24 hours a day, this is a great option to get your late-night fix on National Donut Day. Frosted to your liking, the melt in your mouth doughy treats really can't be missed, especially on June 3.
Tastee Donuts
Multiple locations
https://www.facebook.com/TasteeRestaurant/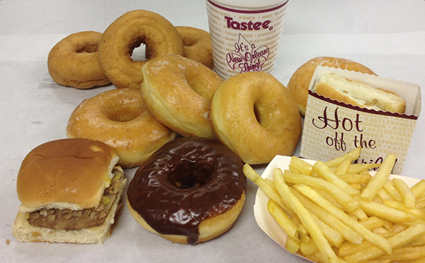 Home of beloved McKenzie's recipes from the signature buttermilk drop to the traditional jelly roll, Tastee Donuts keeps New Orleans sweet treat tradition alive. At Tastee Donuts, customers can stop by for an early breakfast or enjoy their classic Kastleburger alongside their many options of delectable donuts. Enjoy New Orleans tradition that is just as tasty as the restaurant's name promises.
Baker's Dozen
3305 Jefferson Hwy
504-828-2811
https://www.lovebakersdozen.com/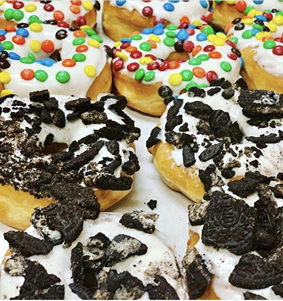 Looking to celebrate National Donut Day outside of Orleans Parish? Baker's Dozen's got you covered. Celebrating 30 years of business in 2023, Baker's Dozen serves hot, fresh donuts to Jefferson Parish. From seasonal dozens to even Sponge Bob donuts, Baker's Dozen has fried goodness for all to enjoy. If you crave more of the bakery after National Donut day, check out their traditional king cakes during Mardi Gras season.
Gracious Bakery + Café
Multiple locations
https://www.graciousbakery.com/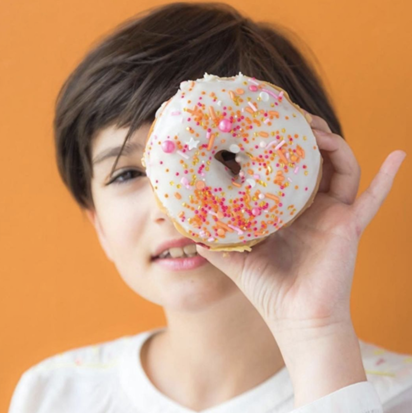 Serving cakes and coffee, breakfast and lunch, Gracious Bakery and Café provides a pleasant experience for a morning, afternoon, or celebratory treat. But on June 3, indulge in their sweet array of donuts. Beyond their decadent cakes and pies made for pre-order, Gracious' gourmet donuts are sure to please. Co-owners/husband-and-wife team Megan and Jay Forman have expanded their bakery to national acclaim since its founding in 2012, and upon installing a donut fryer in 2019, their influence in the dessert world has only grown sweeter.
HiVolt Coffee
1829 Sophie Wright Pl.
504-324-8818
https://www.hivoltcoffeepickup.com/

This quaint coffee shop and café ensures that everyone can enjoy National Donut Day. With gluten-free and vegan donut options in their bakery case, HiVolt proves that donuts know no dietary restrictions. Grab a coffee, enjoy a hearty, healthy meal, and end on a sweet note with a fruity or classic glazed donut at Hivolt Coffee.
Shipley Do-Nuts
2561 Metairie Rd.
504-264-7351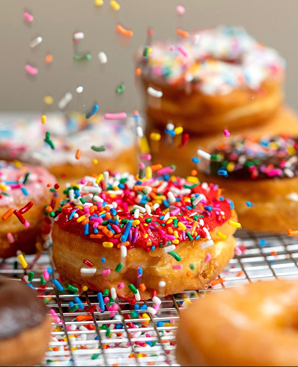 It may be a chain, but "do-nut" miss out on Shipley's delightful fried and cake donuts. With locations spanning the South, Shipley Do-Nuts features a wide variety of classic and unique flavors, from maple iced to devil's food filled. Hungry for more? Shipley is also known for their savory kolaches and traditional baked goods. If you find yourself in Old Metairie this National Donut Day, treat yourself to a sugary, fresh Shipley Do-Nut.
Best Donut Shops in the Big Easy
From classic glazed to cake, chocolate-covered to buttermilk drops, New Orleans has many delectable donut options to satisfy your sweet tooth this National Donut Day. Although beignets may come to mind as New Orleans' signature treat, the delicious menus at these donut shops prove that the classic, nationally-acclaimed donut is popular for a reason. These rings of fried, airy goodness are a perfect treat to celebrate the national holiday, and, of course, New Orleans offers some of the best donuts in the "hole" world.