Did you know that the "poor boy" sandwich was created by Bennie and Clovis Martin, streetcar conductors turned owners of Martin Brother Coffee Stand and Restaurant? The poboy history goes, in 1929, over a thousand streetcar drivers went on strike. The Martin Brothers made cheap sandwiches with fried potatoes, gravy, and small bits of roast on French bread to give away to the unemployed workers who were the "poor boys." Then the Great Depression hit leaving even more people destitute. These inexpensive and generously-filled sandwiches helped feed the hungry people of New Orleans during lean times.
The official Oyster PoBoy is one of the most beloved styles of poboy. These local restaurants make the best of them because they either specialize in poboys or in fresh seafood.
Where to Get Oyster PoBoys in New Orleans


1.

Parkway Bakery & Tavern
538 Hagan Ave. (504) 482-3047, parkwaypoorboys.com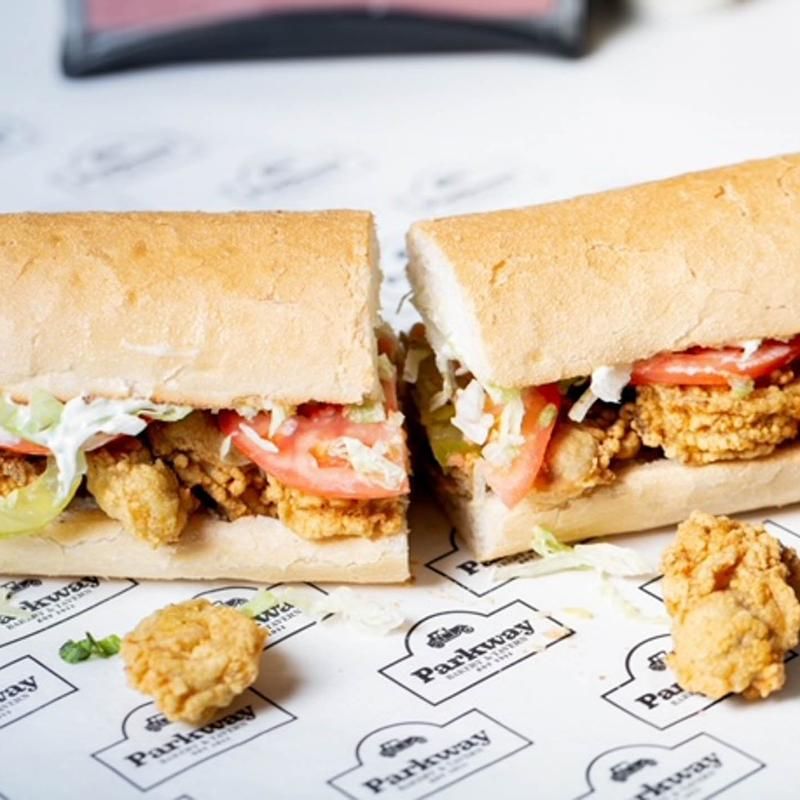 Parkway Bakery is synonymous with poboys; Parkway Bakery began serving poboys in 1929 to help feed striking union workers in the area. It wasn't the main feature of the iconic restaurant until Jay Nix purchased Parkway in 1995. Now it's one of the most renowned spots for poboys even garnering international attention.
You should know that Parkway Bakery only serves their delicious Golden Fried Gulf Oyster PoBoy on Wednesday and Thursday. That's because Parkway will only take the freshest Louisiana oysters available. Also on those days, you can mix it up with a Half and Half PoBoy: fried shrimp and oysters.
2.

Domilise's PoBoy & Bar
5240 Annunciation St. (504) 899-9126, domilisespoboys.com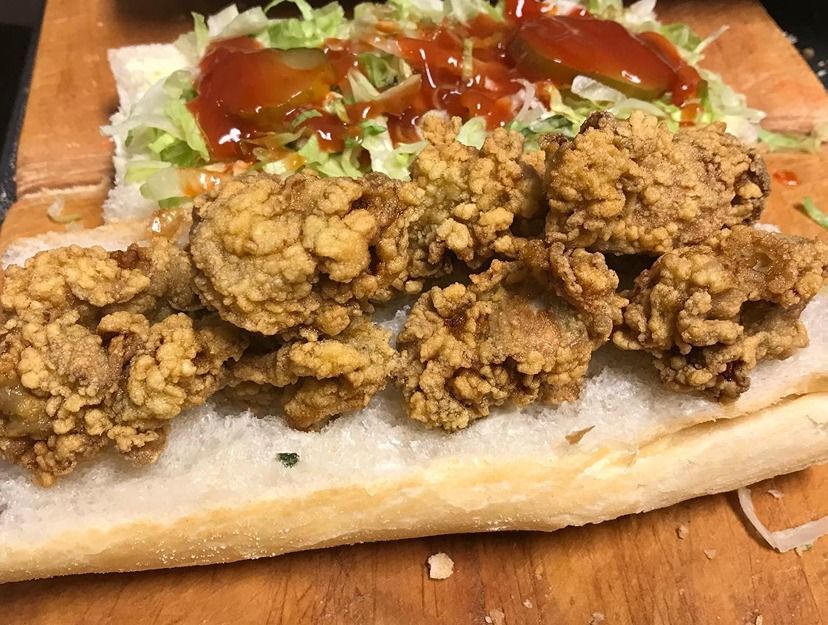 Domilise's may look like a humble, old-school eatery, but this joint stays very busy starting at 11 a.m. every day (closed Sundays). People will happily line up around the corner to order their favorite poboy, even if they can't get a spot to eat it inside. There's a reason why this sandwich shop has drawn crowds since the early 1900s; it's simply the best you can get.
You can get your shrimp a few ways. The Oyster PoBoy is a classic. The Half and Half Seafood can include shrimp, catfish, or oyster. There's no shame, however, in being pulled in an entirely different direction once you get there. The Meatball PoBoy is a one-of-a-kind sandwich that can't be replicated.
3.

NOLA PoBoys
908 Bourbon St. (504) 522-2639, facebook.com/NolaPoboys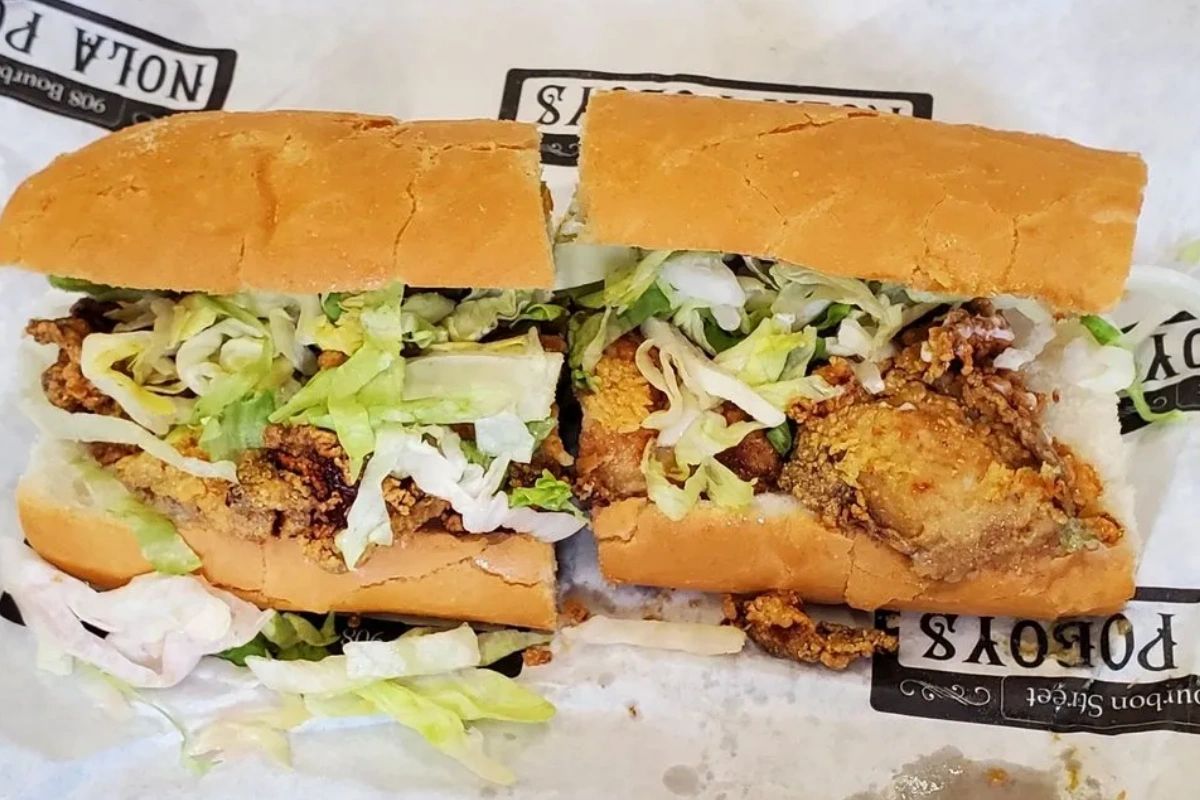 NOLA PoBoys is a place to get some filling poboys while you're hanging out in the pubs on Bourbon Street or if you are in the service industry and need a bite before or after work. There are cold poboys, hot poboys, and specialty poboys, but they all come dressed with mayo, lettuce, tomato, and pickles.
In the oyster category, you can get that traditional Fried Oyster PoBoy you've been dreaming about, or you may want to try Da Yat. It has fried shrimp or fried oysters smothered in steaming hot gumbo. The Surf and Turf with roast beef debris also gives you the option of fried oysters. You can also get a Fried Oyster basket if you want to skip the bread and go straight for the seafood.
4.

Frankie & Johnny's
321 Arabella St. (504) 243-1234, frankieandjohnnys.net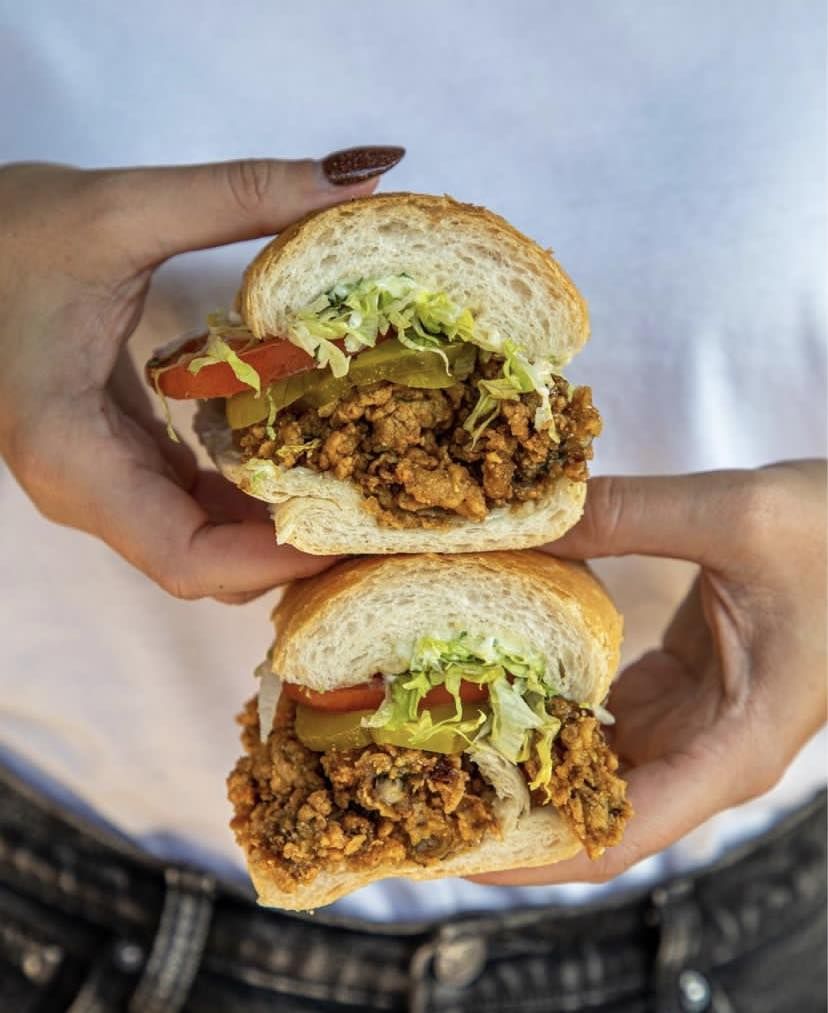 This little old Uptown eatery gets packed full of people on a daily basis; it's really one of the best kept secrets in town because the native New Orleanians want to shield it from too many tourists. If you can get through the wait, you'll be presented with a menu that features lots of hearty Italian food as well as local favorite like poboys and boiled seafood.
There is a pretty big selection of poboys here. The Oyster PoBoy is at the top of the poboy menu because it gets ordered a lot. You can get a half oyster sandwich and a steaming cup of gumbo which makes for a perfect lunch. If you can't make up your mind about seafood, get the Seafood Combo Platter with four types of seafood including oysters.
5.

Bevi Seafood
236 N Carrollton Ave. (504) 488-7503, beviseafoodco.com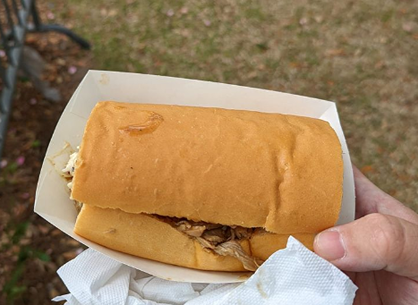 Bevi Seafood serves freshly-caught seafood year-round, but they feature fare by the season: crawfish, crab, shrimp, and oyster. When oysters are on the menu, you can have some in a delicious poboy like the Combo PoBoy which gives you the choice of catfish, oyster, and/or shrimp. The Fried Oyster PoBoy is just as nice on its own.
For a real treat, get the Oyster & Pork Belly PoBoy. This sandwich features fried oysters and one-of-a-kind pepper-glazed pork belly. If you are still unsure about those offerings, maybe the BLT + O is what you want. It's a bacon, lettuce, and tomato sandwich with the addition of oysters and a fried egg.
6.

Creole House
509 Canal St. (504) 323-2109, creolehouserestaurant.com
Creole House serves Creole and Cajun classics and contemporary dishes for breakfast, lunch, and dinner. When it comes to the modest Louisiana oyster, Creole House likes to serve them raw, chargrilled and with garlic butter and smoked bacon. But the Oyster PoBoy is a fine way to enjoy your oysters not from the grill.
The Oyster PoBoy has lightly-fried Gulf oysters that are seasoned with a house blend, then dressed and placed on fresh Leidenheimer bread and served with French fries. This sandwich is perfectly complemented with a hot cup of French Onion Soup.
7.

Liuzza's By The Track
1518 N Lopez St. (504) 218-7888, liuzzasbtt.com
You'll come across Liuzza's adjacent to The New Orleans Fairgrounds. During the big horse races and the New Orleans Jazz & Heritage Festival, Liuzza's will be full to the rafters of people who make coming here a habit. The popularity stems from the strong sense of community and, of course, the great food and drinks.
The BBQ Shrimp PoBoy is the utmost signature dish here, but the Garlic Oyster PoBoy is nothing to sneeze at. This sandwich has deep fried oysters served on roasted garlic butter bread. You can get a traditional Oyster PoBoy as well or half of an Oyster PoBoy served with a cup of gumbo.
8.

Royal House Oyster Bar
441 Royal St. (504) 528-2601, royalhouserestaurant.com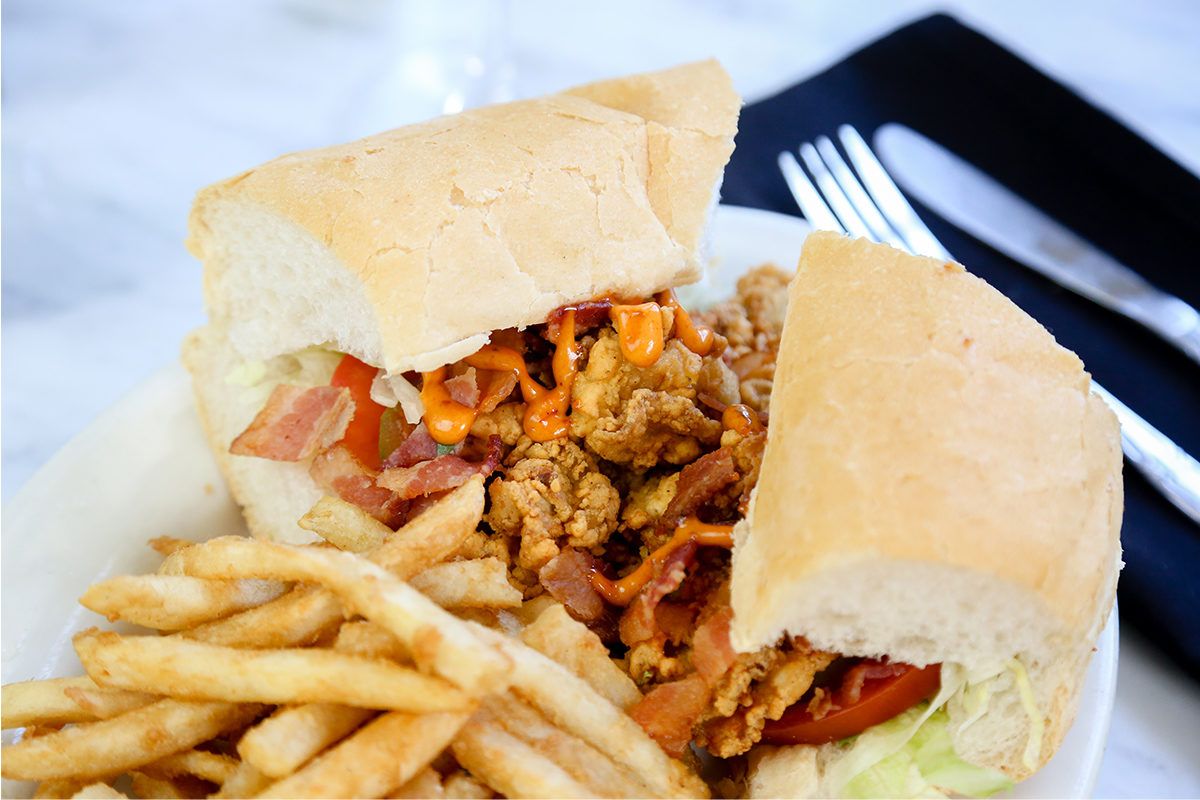 Royal House clearly loves oysters; it's right in the name. You can get your oysters in so many ways here, and they're all good choices. You can get a dozen raw or chargrilled. You can get the Oyster Rockefeller Bombolone: fried oysters, creamed spinach, bacon, parmesan, and anisette in a puff pastry. And then come the poboys…
The Oyster PoBoy has lightly-seasoned and fried Louisiana oysters, but the Crispy Fried Oyster BLT PoBoy is just too much goodness to pass up. This sandwich has fried Louisiana Gulf oysters, crispy applewood-smoked bacon, tomato, and lettuce on French bread with Remoulade sauce.
9.

Felix's Restaurant
Multiple Locations, felixs.com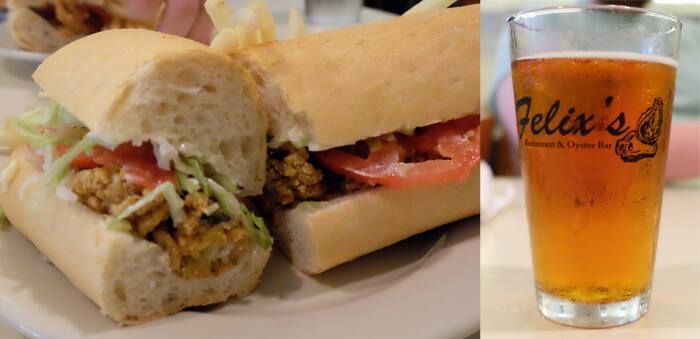 Just across the street from Acme Oyster House in the French, you'll find one of Felix's busy locations (739 Iberville St.). This restaurant is popular with tourists who love to see the oysters getting chargrilled through the window. Locals, however, love the waterfront restaurant in the Lakeview neighborhood (7400 Lakeshore Dr.) which is a perfect spot for a sunset dinner or sun-soaked lunch.
Skip right ahead to the PoBoy & Sandwiches section of the menu. The Felix Special comes with both shrimp and oyster, but you can also get the traditional Oyster PoBoy. The Half PoBoy & Side gives you the option of a seafood poboy, including oyster, and a side of either etouffee, jambalaya, gumbo, or red beans.
10.

Acme Oyster House
Multiple Locations, acmeoyster.com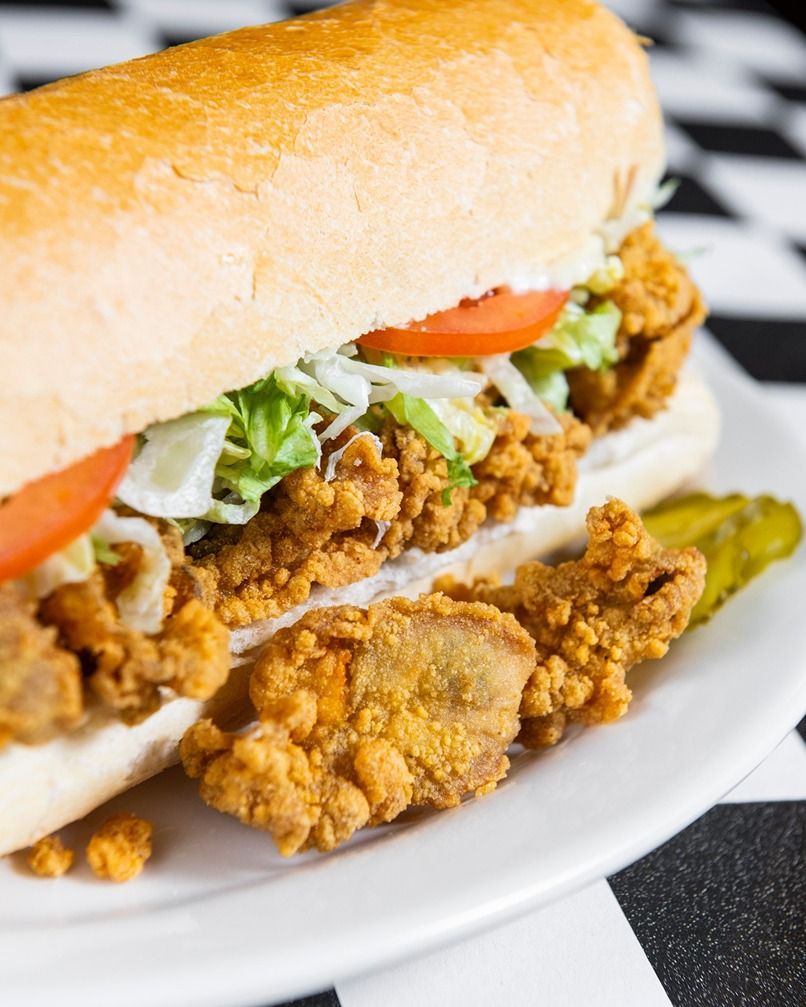 If you've ever walked past Acme Oyster House in the French Quarter, you've noticed that long line outside the door. Acme is famous for oysters as well as other seafood plates at all of their locations throughout the southern U.S. Locally, you can visit Acme Oyster House in the French Quarter (724 Iberville St.) or in Metairie (3000 Veterans Blvd.). You can smell the oysters chargrilling from a mile away!
When you reach the PoBoy section of the menu, you'll several oyster-forward poboys. The Fried Peacemaker PoBoy is fried oysters and shrimp with Tabasco mayo. There's also the traditional Fried Oyster PoBoy and the Half & Half PoBoy that can have oysters.
Top Rated Oyster PoBoys in New Orleans
Oysters have been a staple of the New Orleans diet for centuries. Oysters are easy to source, plentiful, and full of nutritious vitamins. The Oyster PoBoy is a New Orleans tradition that only locals can enjoy authentically, even though its predecessor the Oyster Loaf is enjoyed in other cities like San Francisco.
Did we forget to add the best Oyster PoBoy in New Orleans? Let us know where we can find it!