The diner is an iconic American eating establishment that evokes images of friendly counter service, strong morning coffee, and after-party meals. Though New Orleans is famous for fine dining and world-class service, the humble diner has a place of its own in the annals of local cuisine. For the early birds to the night owls, diners may be more popular than ever.
For this rundown, diners need to be explained and defined. Diners as we know them today began life as a single repurposed horse-pulled wagon designed by Rhode Islander and entrepreneur Walter Scott in 1872. This quaint eatery served coffee, sandwiches, and eggs to late-night customers, particularly employees of The Providence Journal newspaper. In 1887, businessman Thomas Buckley opened The Worcester Lunch Car Company in Worcester, Massachusetts. Another businessman named Charles Palmer received the first diner patent in 1893, which was for his "Night-Lunch Wagons." Over the next few years, other players in the diner game began pre-fabricating diners that were shipped to towns all over the country. Jerry O'Mahoney and his company The O'Mahoney Diner Company made thousands of pre-fab diners from the 1910s to the 1950s, about 20 of which still stand today.
There was a surge in diners after WWII as they moved into the suburbs along with a new generation of young families. During this time, the look of the diner transformed from train cars to streamlined modern restaurants with white Formica counters, steel exteriors, and neon lights. A typical diner these days boasts a large, wide-ranging menu, counter seating and a dining area, and a casual atmosphere.
Please-U-Restaurant has been serving hungry people at 1751 St. Charles Ave. since 1946. The hotcakes are always a hot menu item, but many swear by the omelets and plate specials. What you'll find at this diner that many diners elsewhere don't offer is a range of po-boys, seafood platters, and pasta dishes. Don't forget the milkshake!
Tic-Toc Café opened in 1999 at the crux of I-10 and Causeway Boulevard. The reference to time in the diner's name comes from the fact that they're open 24 hours. You will always see a joke on their roadside sign that pulls you in just as much as the food. Tic Toc Café has classic diner favorites, including omelets, corned beef hash, and liver and onions, all of which you can get with two eggs, girts or hash browns, and toast or a biscuit. The fried cheese curds with marinara sauce and Kitchen Sink Hash Browns (ham, onions, tomatoes, jalapeños, mushrooms, green peppers, gravy, and cheese) are a hit with the 2 a.m. crowd.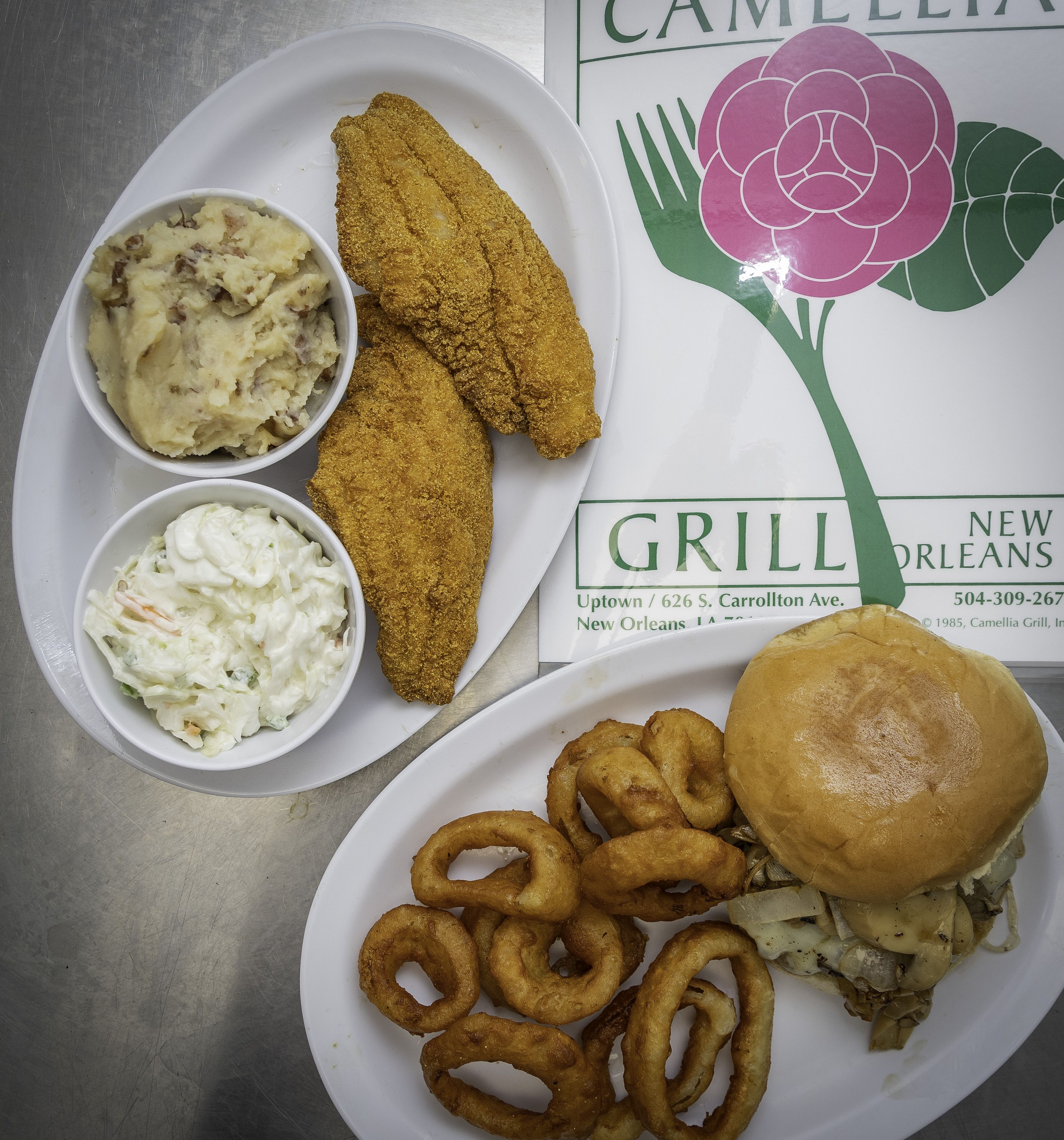 No article about diners would be complete without Camellia Grill, still serving since 1946 at 626 South Carrollton Ave. The picturesque diner was recently renovated during the pandemic closure, but it retains all of its charm. Part of that charm comes from the happy, endearing staff; several employees have spent decades working behind the counter from which they serve you. Harry Tervalon worked from opening day on December 19, 1946, until his retirement in 1995, and Wildred Batiste worked at Camellia Grill for 50 years. You can get a taste of history with the Word Special, named for beloved late employee Marvin "Word" Day. His sandwich is double hot sausage on a special roll with lettuce, tomato, and mayonnaise, served with fries. You can also try out the Whole Meal Sandwiches like the Doc Brinker's Special (double-meat cheeseburger with melted American and Swiss cheese and grilled onions on toasted rye, with coleslaw and chili). Don't forget the grill-warmed pecan pie at the end of your meal.
Clover Grill at 900 Bourbon St. is where you go when you've had too much fun and need to sober up. The small diner opened in 1939 and sits just between the bars and the residential area, serving residents and revelers alike. The Clover Weenie has a quarter pound of "pure beef pleasure," but you can build your own burgers and omelets if you want something custom. They just ask that you don't sleep at the counter.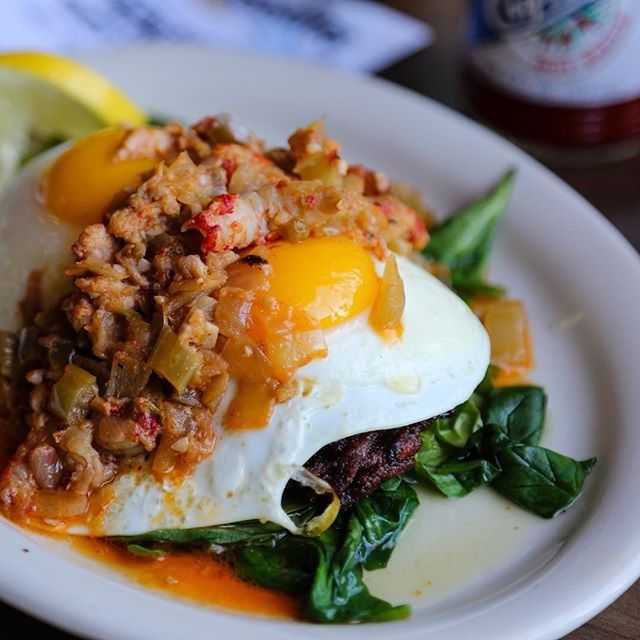 Slim Goodies is a hip diner that opened in 2002 at 3322 Magazine St. This diner is only open until 3 p.m., but you can get breakfast up until closing time. The first thing that you'll notice about the menu is the interesting names for the dishes. For example, The Contractor's Combo comes with two eggs, hash browns, grits, bacon, sausage, and a pancake, piled high on the plate. Slim Goodies's Slammers are a mishmash of your favorite breakfast foods. The Orleans Slammer (not OPP) is "a hurricane of hash browns, Slimchili, bacon, eggs, and cheese, with toast or a biscuit." The Jewish Coonass is a mashup of New York and New Orleans (two potato latkes over grilled spinach, eggs, and crawfish etouffée).
A neon-lit overfilled mug of root beer greets customers at Ted's Frostop on South Claiborne Avenue and Calhoun Street. The original owner of this long-standing diner, Ted Sternberg, owned 15 Frostop franchises in this area and some in other states in his day. Ted's Frostop still serves root beer in frosted mugs to go along with your Lot-O-Burger served dressed on po-boy bread. This location is open seven days a week, but they close in the afternoon. There's also a Frostop on Clearview Parkway in Metairie that stays open for dinner hours.
If you've been here for a while, you've probably heard the line "I'm not your mama, but you're always at home at Dot's Diner" at least a few times. Dot's Diner has several locations in Jefferson Parish, most of which are open from 6 a.m. to 10 p.m. The kitschy kitchen cranks out oversized breakfast combos, pancakes available in a wide variety of flavors (banana nut!), and hot plate specials. The Crawfish Creole Queen Breakfast Platter has an open-face grilled biscuit covered in eggs, Crawfish Julie sauce, and melty Swiss cheese, with hash browns and toast. They also have burgers, loaded salads, and around-the-clock specials, including country fried steak and pork chops.
Pick your spot at the counter and saddle up for a great meal.
[Camellia Grill photos: Kevin Barraco, Smart Media - @kevinbarraco / Courtesy Camellia Grill ; Slim Goodies Diner photos: Where Y'at staff, Slim Goody's Diner]