The locally made craft beer scene is booming these days, but there's nothing like a frosty, filling Guinness when St. Patrick's Day rolls around to herald the warm days of springtime. Being a city with a notable Irish heritage, New Orleans has many drinking holes that are proud to serve Guinness Draught throughout the year. The sales of Guinness always skyrocket around St. Paddy's, however. Here's where to find a perfect Guinness pour around town.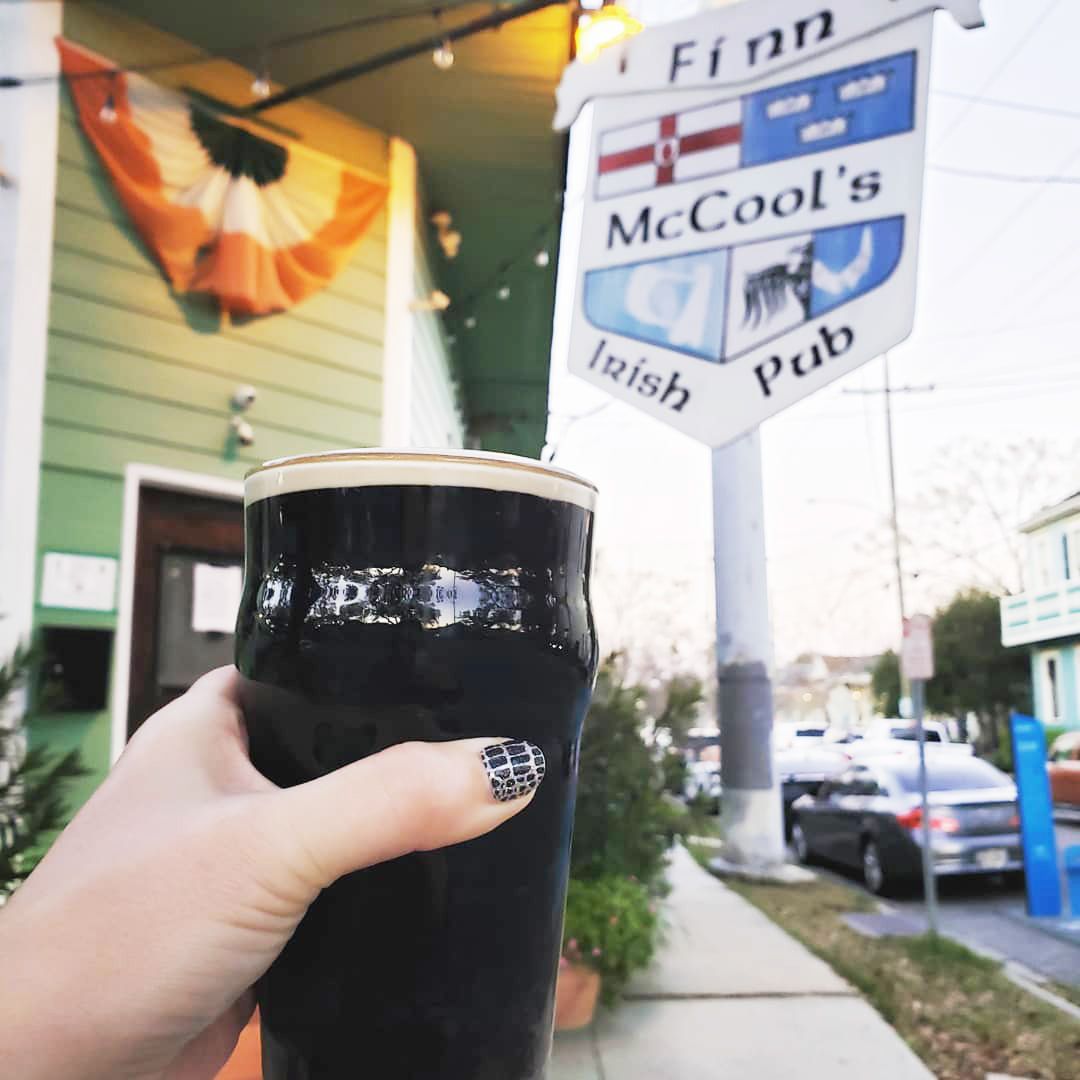 And, yes, there is a right way and a wrong way to pour it.
Arthur Guinness signed a 9,000-year lease on a four-acre piece of land in Dublin that included the shuttered St. James's Gate Brewery on December 31, 1759, and thus began the story of Guinness beer. Currently, over three million pints of Guinness are brewed daily. From its humble home in Ireland, Guinness has traveled to every corner of the globe, becoming a fixture in many foreign lands. Did you know that three of the six Guinness-owned breweries in the world are on the continent of Africa? There's also a brand-new Guinness brewery in Baltimore, Maryland, dubbed the Open Gate Brewery, which opened its doors in early 2019.
Guinness can often be found here with its own dedicated spot behind the bar. You can be confident that the following bars will give you the best Guinness pour—which is not something to be taken lightly. Using a branded gravity glass or regular pint glass, pour the Guinness into the glass, which should be at a 45-degree angle. Fill to about 2.5 inches from the top. The Guinness should then be set aside and must rest for 119 seconds (about one second shy of two minutes). The Guinness is now ready to be filled to the top. Do not angle the glass for the final pour. When served, the Guinness's nitrogen bubbles will gorgeously rise to the top of the glass and form a thick, rich foam; this is called the "surge and settle."
The most obvious choice of bar in which to enjoy a Guinness is an Irish pub. Finn McCool's, located at 3701 Banks St., is heavily decked out in iconic Guinness artwork, so you know that they take their perfect pours seriously. Guinness is the usual choice here, and you also find some of Guinness's other options, such as Guinness Foreign Extra Stout. Also in Mid-City, you can grab a Guinness at Mick's Irish Pub (4801 Bienville St.) and The Holy Ground Irish Pub (3340 Canal St.). You can also slowly enjoy your Guinness Draught with the addition of food at each of these bars. Fish and chips were made for Guinness.
Located just over the water from Ireland is the United Kingdom, where Guinness is also a popular fixture. For the British pubs of New Orleans, Guinness is a stalwart beverage option. Winston's in Old Metairie (531 Metairie Rd.) has a lounge-like interior and a wide, inviting patio for you to enjoy your Guinness along with elevated pub grub. Take a trip over the bridge to Crown & Anchor at Algiers Point (200 Pelican Ave.) for a pint. Just enter through the TARDIS on the corner.
The French Quarter is home to a couple of pubs as well, although they are more tourist-oriented than the city's other pubs. Boondock Saint at 731 St. Peter St. lies just off of Bourbon Street. At this quirky little place, you will always find Guinness on tap, along with The Boondock Saints playing on the TV on a loop. Kerry Irish Pub and Ryan's Irish Pub are both on upper Decatur Street at 331 and 241, respectively. For those who aren't imbibing, ask for a Kaliber at Kerry Irish Pub. That's Guinness's non-alcoholic beer. Fahy's Irish Pub has always been more of a service industry bar for Quarter workers, with its location at 540 Burgundy St. and its low-key, friendly atmosphere. If you need a walking Guinness for your daytime activities, head to St. Pat's Irish Coffeehouse at the Irish Cultural Heritage Museum at 933 Conti St.
Bars that have built their base upon beer almost always serve Guinness Draught. Both Bulldogs (Uptown at 3236 Magazine St. and Mid-City at 5135 Canal Blvd.) keep Guinness on tap as other beers are rotated in and out. Cooter Brown's (509 S. Carrollton Ave.) serves Guinness on draft at the front bar, while Bayou Beer Garden (326 N. Norman C. Francis Pkwy.) serves it on the patio taps. 45 Tchoup (4529 Tchoupitoulas St.) has a large liquor selection, yet Guinness is one of the more popular items among the regulars. Guinness is always on tap at Wrong Iron on the Greenway (3532 Toulouse St.).
This St. Patrick's Day, celebrate in proper fashion by ordering a nice, cold Guinness. You can taste the centuries of tradition in every single sip!