Summers can be scorching in Southern Louisiana, but with the right amount of shade, breeze, and icy drinks, outdoor dining can actually be delightful on even the muggiest days. These eateries feature wide-open spaces for dining outside.
Just enter through the gates at 617 Piety St. between Pizza Delicious and Euclid Records to find the charming biergarten that is Bratz Y'all. The festival favorite vendor-turned-Bywater institution has a full menu of authentic German dishes, such as bratwurst, schnitzel, and sausage, but also more contemporary fare, including a vegan sausage and grilled veggie pita. Everyone loves a big salty pretzel, which is particularly tasty with one of Bratz Y'all's many imported beers.
Another meat-centric restaurant and Bratz Y'all's sister location features large, open patios perfect for outdoor dining, and your furry friends are invited to join you. Dat Dog's two Uptown locations at 3336 Magazine St. and 5030 Freret St. have a menu that includes more exotic meats, including alligator sausage and crawfish sausage, and even some innovative meats like vegan sausages. Choose your wiener, then choose from a variety of toppings to make it your perfect dog.
Further up the river, French-inspired restaurant Chais Delachaise at 7708 Maple St. invites diners to eat under the stars, with favorites like charcuterie plates, moules frites, Chicken Toulouse, and fish 'n' chips. They also offer vegan fare, including aloo gobi and cauliflower hot wings.
It may be on one of New Oreleans's busiest streets, but it feels like a world away. Poydras Street is home to Copper Vine, which sports a sunny, plant-draped patio and is the place to be seen and to eat some of the most talked-about cuisine in the entire city. Boozy brunches are particularly memorable when you're sitting in this urban oasis, located at 1001 Poydras St. You can choose to dine on something simple yet bold, such as the Chef's Charcuterie and Cheese Board, or something totally Instagram-worthy, like the 8-ounce Wagyu beef burger and the Smothered Rabbit and Mushroom Fricassee. Did I mention the complimentary popcorn with a variety of flavorings?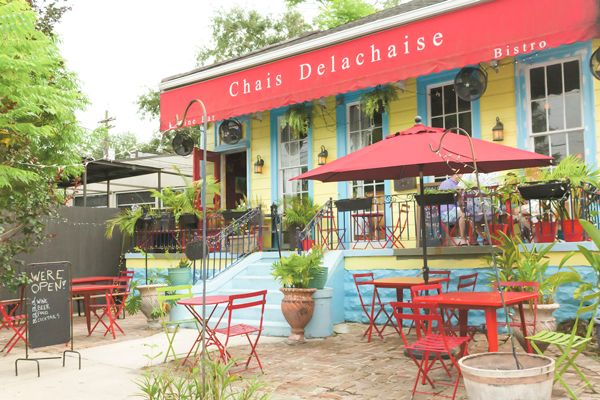 Green Goddess is nestled in a picturesque French Quarter alleyway at 307 Exchange Pl. and is a favorite for locals wanting to escape the more tourist-inclined eateries nearby. The tiny restaurant features a variety of dishes for every taste and diet preference, such as the flawless Local Sausage Plate and Italian meatloaf or plant-based favorites like the rolled uttapam.
Café Amelie, on the other side of the French Quarter at 912 Royal St., is tucked away in a vine-lined, spacious courtyard. The menu is known to rotate, but you can find such locally loved items as chicken and andouille jambalaya pasta and Plaquemines citrus roasted organic chicken, and continental dishes like seared rare ahi tuna with honey soy ginger sauce.
Underneath a veil of trees on Harrison Avenue, you'll discover Velvet Cactus at 6300 Argonne St., where you can sit outside on the patio or inside, where the garage door walls may be up anyway. Start off with the Get Your Freak On Queso or cauliflower nachos. The combination plates are quite popular for the entrée course, especially the Rico Sauve. As you can imagine, there's a long margarita menu, but the Mojitorita rocks margarita is the best.
Back Uptown, Barracuda Tacos & Tortillas at 3984 Tchoupitoulas St. is situated right in the brewery corridor. You can have a seat at one of the several picnic tables in the backyard to enjoy your fare. They have a small but innovative menu of tacos, any of which can be made into a bowl. Don't forget to add on some chips and salsa.
We would be remiss not to mention Porch & Patio, located at 512 Williams Blvd. in Kenner, which, as the name suggests, features a large inviting porch for dining and drinking. The Cajun burger is seasoned with crab boil, and The Allie Cat has a patty mixed with jalapenos and bacon.
Right on the parish line and downriver from Porch & Patio, Cowbell at 8801 Oak St. serves upgraded comfort food in a fun and casual setting. Try the Adult Grilled Cheese, made with grilled asparagus, goat cheese, and house tomato jam; the Midnight Skirt Steak with roasted plantains, mango salsa, and house black sauce; or the Locally World-Famous Cowbell Burger. Consider getting the Riverbend Fries and Fanny & Earl's Back Porch Ice Cream with every order.
The lakefront area has particularly perfect patios for outdoor dining during the day and night. You've also got the added benefit of the lake breeze to keep you cool. The Blue Crab, Felix's Restaurant & Oyster Bar, and Landry's Seafood House along Lakeshore Drive are always popular choices for long, lazy lunches.
Just beyond Lakeshore Drive, you'll find Sala at 124 Lake Marina Ave., a loungey restaurant with shareable small plates, to-die-for entrees, and perfectly paired cocktails and wine to go with all of it. You'll love the Golden Fried Fish Almondine with lemon butter sauce and Brabant potatoes with a side of herb truffle fries, but the panéed veal with crawfish sauté over angel hair pasta is a showstopper.
Take it outside and stay a while at these patio restaurants this weekend.