Dinner is the show. But what is art without an audience?
What would a book be without a reader, a movie without viewers, a song without a listener? What would a carefully-crafted, expertly-cooked gourmet meal be without someone to eat it? For many chefs, seeing people taste and savor the food they make is the reason that they do what they do. And that's difficult to do behind a wall.
Some restaurants in New Orleans have taken that wall separating the kitchen and dining room down for the amusement of the diners and for the delight of the staff. The chefs of these open-kitchen restaurants enjoy watching you enjoy their food in a fascinating cyclical conversation that does not require words.
Gris Gris & Saint John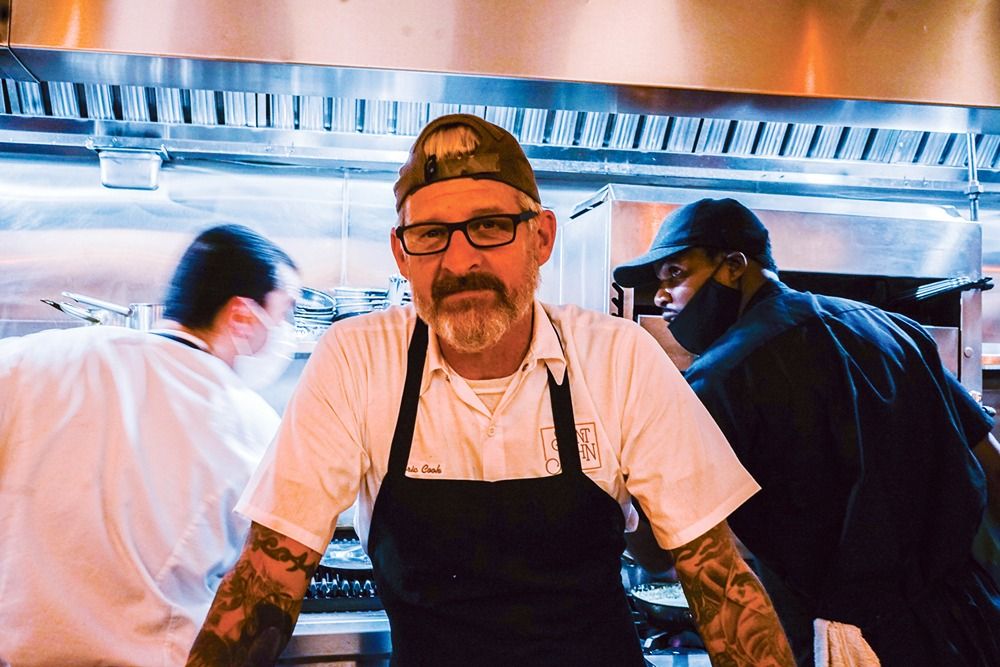 Chef Eric Cook currently operates two restaurants with the kitchens right in the middle of the dining area. With both table and counter dining, Gris Gris on Magazine Street and Saint John on Decatur Street are designed to create a conversation between the staff and the diners. "My favorite thing that I love about the industry is the interaction. It's the hospitality. It's the conversation. It's the ability to connect with your guest on a level that's very intimate. There's nothing more intimate than feeding people, but cooking things in front of people and having an interaction with them, it's very similar to my home life. That's how the menu was designed and how the concept of the restaurant was designed because my home has a big kitchen, and it's the heart of the house," said Chef Eric.
To bring people into your kitchen is to tell them who you are, to allow them to see your being. It can be a form of self-expression like any other art. "We call the line at Saint John, Broadway. No matter what's going on, when you step onto that stage, you have to be in character. It's an expectation. It's a preconceived notion that we have to tell a story just through our movements and our actions about what kind of restaurant we are," he stated. "If it was a silent movie, and you watch that line and watch us work together and see the way things flow, you would know right away those guys are professionals. They know what they're doing. You're creating a memory."
Chef Eric is not content with just two stage-like restaurants, he will be opening a third restaurant soon, and he is feverishly prepping it to open. He divulged, "We partnered with the Arrive NOLA hotel down in the Bywater to open Restaurant Julia Brown and Bar 1915. Julia Brown was a very powerful Voodoo priestess in the late 1800s/early 1900s. Legend has it that as she was getting older, and she wasn't getting along with the townsfolk. On her deathbed, the town leaders came out and asked what they could do for her. She said 'I told y'all when I die, I'm gonna take the whole town with me.' She passed away. At her funeral in 1915, the first recorded Category 4 storm hit southern Louisiana, and the eyewall went through Freniere, taking out the whole town. With New Orleans culture, our restaurants, our food, our history, it's fun for us to research and learn and then share those stories with the guests in our food. It's another way to bring that level of hospitality and connection to our guests."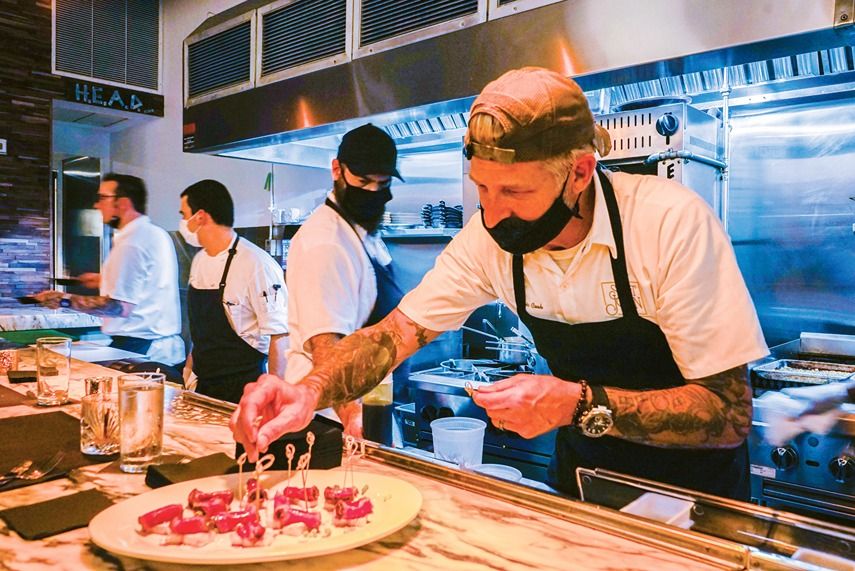 Josephine Estelle
Ace Hotel's Josephine Estelle may have one of the tallest ceilings of any restaurant in New Orleans, but they make it feel more like home with a kitchen that has open windows in the room. Chef-Partners Michael Hudman and Andy Ticer enjoy bringing the kitchen into the dining space to achieve a family feel. "We never really thought about the open kitchen being like one of our grandmas' houses, but it actually does make sense. Our grandmas would always invite people into their kitchens while they cooked," they said. "The best stories and gossip were always shared there. Our style of hospitality was shaped by big Sunday dinners with our families. Growing up, it was about making sure any guests were greeted warmly, treated like they were one of our own and, of course, that they were fed really well. It's that spirit of generosity and genuine welcome that we try to replicate in all of our restaurants."
Chef-Partners Michael and Andy agree with Chef Eric that they enjoy watching the diners just as much as diners enjoy watching the action of the kitchen. Seeing a negative reaction to a dish right away can help them rectify an issue. They continued, "The fun and funny thing about an open kitchen is that it's really a two-way experience. As a guest, you can peer in and watch us doing our thing, giving you this 'behind the scenes' or 'backstage' access. But y'all know we can see you too, right? We keep an eye on those good first dates, and, unfortunately, those bad, awkward ones too."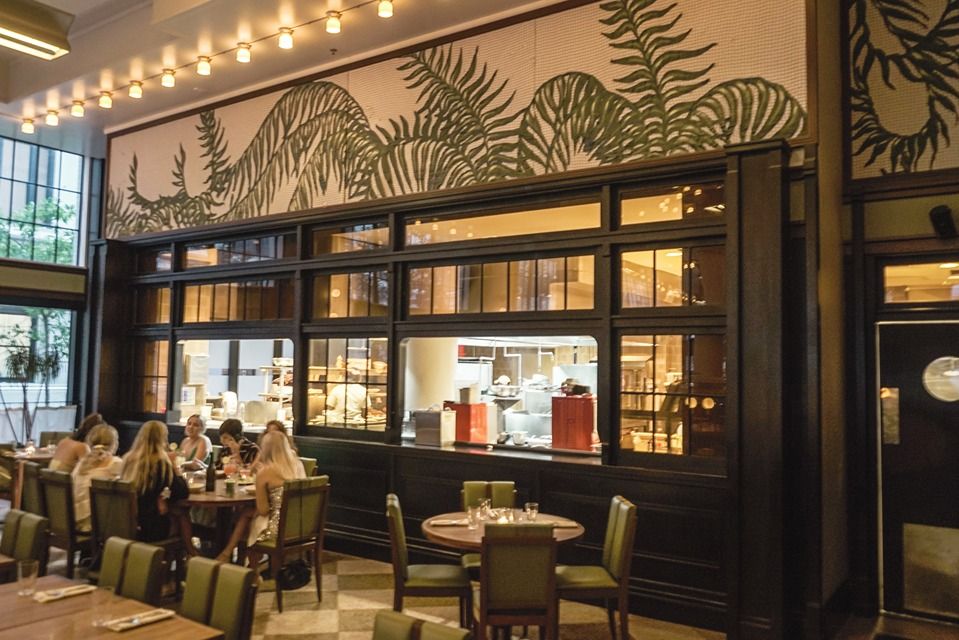 Josephine Estelle is named after Chef-Partners Michael and Andy's daughters, and their other restaurants also bear family names. A view into the dining room allows them to enjoy their patrons' wonderful family moments which is what it's really all about. "We love seeing you blow out your candles when your birthday dessert hits the table. We can hear you laughing and see you smiling when you're enjoying the company of a table full of people you love. To be honest, there is no better feeling for us than seeing the eyes light up, a big happy smile, and the head shake that happens when someone truly enjoys our cooking. Food, especially good food, is so powerful. It stirs your emotions, it creates memories and it brings such joy to all those involved - whether you're the one looking into the kitchen, or you're the one looking out. We're all sharing that moment, and that's amazing when you really think about it."