The inviting aroma and familiar shape can evoke happy memories, and the warmth of a freshly-baked cookie can radiate throughout your body.
While chocolate chip is the standard, cookies can be made from almost any ingredient to please every whim and dietary restriction. If you're not content to bake your own, here's a list of places who are ready to provide you with that cookie you crave.
Stop by one of Gracious Bakeries locations to see what they've got stocked in the pastry counter. In between the petit-fours, baguettes, and bagels, you'll find irresistible cookies perfect for an after-lunch snack or for bringing to the holiday party. The offerings change with the seasons, but they will never disappoint. Currently, I see gingersnaps, pumpkin and black cocoa swirls, and gluten-free sandwich cookies. You can't leave without having at least one gorgeous Whoopie Pie. Gracious Bakery has three locations: Uptown (4930 Prytania St.), Garden District (2854 St. Charles Ave.), and Mid-City (1000 S. Norman C. Francis Parkway).
NoLa Cookie Co., operating in Harahan, has a full menu of classic cookies like peanut butter, sugar, and chocolate chip and deluxe varieties such as triple chocolate chunk, butter pecan, and red velvet. They offer a Fat Tuesday cookie with sprinkles, chocolate bits, and toffee crumbles. Though cookie is in the name, this family-owned bakery also offers pralines, cupcakes, brownies, and then some. They also offer vegan cookies. NoLa Cookie Co. is happy to cater your event, or you can order your treats online for pick up from the quaint bakery located at 420 Hickory Ave.
You're going to have to get in line for Crumbl Cookies. Crumbl Cookies, located at 2701 Airline Dr., is also a chain brand, but the open kitchen design and ever-changing menu of gourmet cookies are a big hit with locals looking for a cookie fix. Crumbl Cookies was founded in Logan, Utah by cousins Jason McGowan and Sawyer Hemsley in 2017. In just a handful of years, Crumbl grew to have hundreds of stores nationwide. Hardcore fans come back every week to try out the latest flavors. As I'm looking at it, the menu consists of Pink Velvet Cake, Raspberry Lemonade, and Cake Batter Blondie, but these flavors will be replaced in just a few days. Milk Chocolate Chip, however, is always on the menu.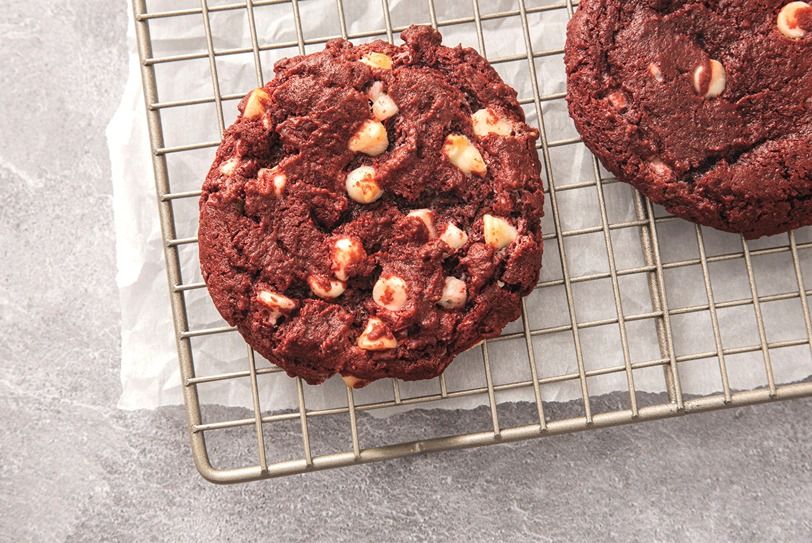 Insomnia Cookies, located at 7527 Maple St., is specifically positioned to serve warm cookies to college students late at night, perhaps while they're studying for a big test the next day or just getting home from a party. The nationwide chain strives to put all of their locations near college campuses because the founder, Seth Berkowitz, began making and selling cookies to his fellow students at the University of Pennsylvania in 2003. Seth's first Insomnia Cookie store opened in 2004 in Syracuse, New York, and there are currently 200 stores. New Orleans' Insomnia Cookies opened in March of 2019, which followed the 2018 opening of the Baton Rouge location. Until midnight on weekdays and 1 a.m. on weekends, you can get cookies like a Sour Patch Kids candy-filled cookie, Vegan Birthday Cake Cookie, or classic chocolate Chunk cookie delivered right to your door.
Offering breakfast and lunch at 611 O'Keefe Ave. in the heart of the CBD, Willa Jean is a modern bakery that serves very popular chocolate chip cookies with a glass of milk for dessert. The cookies were lovingly crafted by Chef Kelly Fields, who likes these heartwarming cookies so much that the recipe is in Chef Kelly's Good Book of Southern Baking. So much work went into perfecting this recipe. One half of the battle was figuring out the cookie itself, and the other half was getting the chocolate chips just right. Chef Kelly explained, "I spent every day for two and a half years figuring out what I thought it should be. Some cookies were just too thin, some were too cakey, and others were just, well, not good enough. For me, the best cookie is chewy, crispy, and crunchy, with ample chocolate in every bite. I start with two kinds of flour: low-protein pastry flour, which makes the cookie tender, and bread flour, which gives the cookie structure." She goes on, "I use a triple hit of Valrhona chocolate here: Guanaja (70% cacao), Caramélia (36%), and Dulcey (32%). Caramélia and Dulcey have pre-caramelized sugars that mimic the flavor of that brown sugar crust you get on a good cookie. Mass-produced chocolate chips are made to hold their shape (not melt) in the oven. That processing directly changes the flavor and mouthfeel of the chocolate. Valrhona isn't processed that way, so the chocolate melts into doughs and batters just the right way, causing a caramelizing effect that is 100 percent irresistible."
Though I will delight in any cookie that's put in front of me, I think that a warm sugar cookie with colorful sugar crystal sprinkles is probably my favorite. What's your favorite cookie?