Bywater
Kebab
offers an authentic take on Mediterranean and Dutch campo-style cooking, to the New Orleans' area. From soft stone-baked bread to tangy herb-spiced sauces, every dish is freshly made from scratch in the Kebab kitchen. The menu includes traditional dishes, such as tzatziki, mezze platters, and Döner Kebabs, that pair incredibly with refreshing drinks and sweet or tangy cocktails.
2315 St. Claude Ave., 504-383-4328, www.kebabnola.com
Melba's Poboys
is a major attraction for those looking to get plate lunches or a classic New Orleans po-boy. Also featured are a number of seafood plates to choose from such as shrimp and grits, catfish, and gumbo with traditional sides like macaroni and greens. Do your laundry next door at Wash World while you eat! They also serve daiquiris and are open 24/7.
1525 Elysian Fields Ave., 504-267-7765, melbas.com


Nonno's
open for breakfast, lunch, and dinner, serves up home cooked, traditional Cajun cuisine and pastries. With breakfast items on the menu 24/7 and classic po-boys to satiate your cravings, Nonno's has a little something for everybody. Fresh baked goods are made and served daily to finish your meal off sweet.
1940 Dauphine St., 504-354-1364, nonnoscajuncuisineandpastries.com


CBD/Warehouse District
Alto Rooftop Bar at Ace Hotel
is a great location to vibe poolside with drinks and food in the heart of downtown New Orleans. The bar offers a selection of canned alcoholic beverages, draughts, and classic signature cocktails. They also serve bar bites like pizzas and wings to pair with whatever beverage you choose.
600 Carondelet St., 504-900-1180, acehotel.com


Bar Marilou
is a classic French-style locale befitting the New Orleans bar scene. They offer a wide selection of delicious cocktails, wines, and small plates to pair them with, including sumptuous seared scallops and foie gras. The restaurant is tucked secretively along the side of the new Maison de la Luz hotel.
544 Carondelet St., 504-814-7711, barmarilou.com
Briquette
is known for providing delicious seafood and creole food fare, just blocks from Harrah's Casino. The restaurant's main attraction is their 18-foot display of fresh fish. They offer a wide selection of seafood dishes such as the caramelized scallops. Briquette also features an extensive wine list and beautifully crafted cocktails.
701 S. Peters St., 504-302-7496, briquette-nola.com
Café Normandie
at the Higgins Hotel is open for breakfast, lunch, and dinner and is right next door to the National World War II Museum. The newly opened restaurant features French-influenced dishes, including signature cuisine, such as crab beignets and snapper almondine, among many other delicious options.
1000 Magazine St., 504-528-1941, higginshotelnola.com
Carmo
is a unique café and bar that blends flavors from the Caribbean, Southeast Asia, and beyond. They cater to vegan customers and anyone who loves global cuisine, offering selections like vegan ceviche and Burmese tea leaf salad. Try one of their innovative cocktails to beat the heat. Carmo also has delicious bread baked fresh every day.
527 Julia St., 504-875-4132, cafecarmo.com


Common Interest
is a hidden gem found in the vibrant Hotel Indigo. Enjoy classics including shrimp & grits, gumbo, and jambalaya, or try unique fare such as jazzy cinnamon rolls, shrimp remoulade cobb salad, or Cajun queso. Make sure to check their website for happy hour times.
705 Common St., 504-595-5605, ihg.com/hotelindigo/hotels/us/en/reservation


Domenica
located in the Roosevelt Hotel, is an eatery firmly rooted in Italian traditions. They have amazing handmade pastas and Napolitano style pizzas which are complemented well by their Italian wine and seasonal craft cocktail selections. They also offer a wide range of house-cured salumi, all served after months of aging.
123 Baronne St., 504-648-6020, domenicarestaurant.com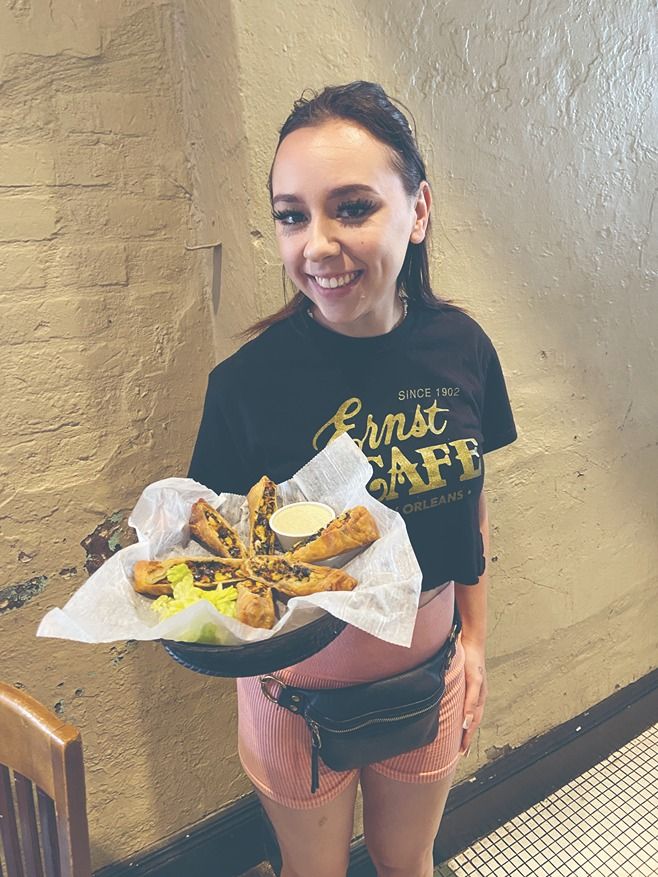 Ernst Café
has the distinction of being the oldest continually operating bar in the Warehouse District. Aside from their craft cocktail service pouring signature drinks like the Fulton 75 or Ernst Cup, they also have a number of tasty creole dishes and sandwiches to choose from.
600 S. Peters St., 504-525-8544, ernstcafe.com


Flamingo A-Go-Go
is a prime outdoor spot for New Orleanians looking for some R&R in the sun. Their on-tap "flocktails" are refreshing and pair well with appetizers including the garlic parmesan chicken bites or pepper jack boudin bombers. Stop in for fun day drinking and bottomless mimosa brunching.
869 Magazine St., 504-577-2202, flamingonola.com
Josephine Estelle
focuses on seasonal ingredients that help blend classic Italian recipes with Southern flavors. Come and enjoy this interesting mix at any time of day. They emphasize seasonal ingredients, homemade pastas and recipes passed down from many generations. The seared scallops and the 48-hour braised beef short ribs are absolutely to die for.
600 Carondelet St., 504-930-3070, josephineestelle.com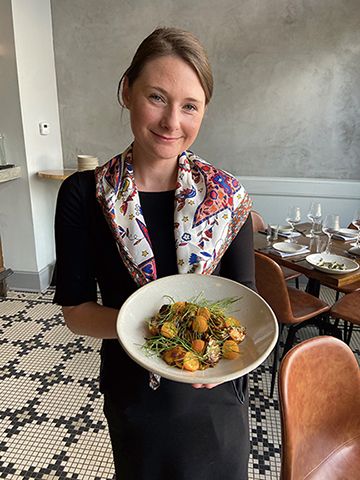 Le Chat Noir
is a new restaurant making a splash in New Orleans. Its drink selections are specifically catered to their entree menu, and their oyster bar offers chargrilled and fresh oysters shucked daily. A great date spot, Le Chat Noir offers a fresh take on New Orleans' fare with locally sourced ingredients and use of modern open fire techniques.
715 St. Charles Ave., 504-381-0045, lechatnoirnola.com
Legacy Kitchen Craft Tavern
is a great place for any time of the day. Start off with a delicious plate of beignets, avocado toast, or chicken & waffles. They also serve fantastic mimosas, screwdrivers, and other boozy cocktails. Coming for dinner? Try their shrimp tacos, pan-roasted salmon, and redfish Pontchartrain.
700 Tchoupitoulas St. #3612, 504-613-2350, legacykitchen.com
Legacy Kitchen's Tacklebox
not only has a great oyster bar, but also provides quality southern comfort food. Try their take on the NOLA classic trio of gumbo, jambalaya, and red beans and rice. Located steps from the French Quarter, Tacklebox also offers a daily brunch with items such as a Bananas Foster waffle.
817 Common St., 504-827-1651, legacykitchen.com
Luke
is a Creole-inspired brasserie that lovingly pays homage to French and German cuisines. The restaurant's raw bar offers some of the freshest Gulf seafood and oysters around and their fresh-caught mussels with fries make for a wonderful first course before the pork schnitzel.
333 St. Charles Ave., 504-378-2840, lukeneworleans.com
Manning's Sports Bar & Grill
is the ultimate living room for watching the big game. Call ahead to reserve one of their popular lounge seats in front of their huge screen. You'll enjoy traditional pub fare and snacks such as nachos, chicken tenders, and jalapeño poppers. Got a sweet tooth? Order a warm plate of beignets with powdered sugar and caramel drizzle.
228 Poydras St., 504-593-8118, caesars.com/harrahs-new-orleans
Meril
in New Orleans' Warehouse District, features celebrity Chef Emeril Lagasse's favorite dishes and cocktails. Restaurant guests can get a taste of Korean chicken wings, before savoring the flavors of Italian wood-fired pizzas, or whatever else you may be in the mood for. The dress is casual, and the kitchen is open for lunch or dinner.
424 Girod St., 504-526-3745, emerilsrestaurants.com
Mother's Restaurant
not only has the best baked ham in the world, but also some of the best red beans and rice in the Big Easy. Their menu features all day breakfast, so stop in any time to enjoy some crawfish etouffee or a shrimp Creole omelet. Arrive early on the weekends to avoid waiting in line, and don't leave without a piece of their sweet potato pie for dessert.
401 Poydras St., 504-523-9656, mothersrestaurant.net
Peacock Room
located in the Kimpton Hotel Fontenot, is a premier spot for an evening of romance. Their crawtator crushed oysters and cheewee fries put a fancy twist on the usual bar food staples, and their bartenders are equipped with a wide array of liquid ingredients to make whatever craft cocktails you fancy.
501 Tchoupitoulas St., 504-571-1818, peacockroomnola.com
Restaurant August
offers contemporary Creole cuisine in a beautiful 19th century French-Creole building. The menu is pretty fancy, so expect elevated fare like torchon of foie gras, poached lobster ravioli, and scallop almandine. The atmosphere matches their elegant cuisines with original architectural details, gleaming hardwood floors, and antique mirrors.
301 Tchoupitoulas St., 504-299-9777, restaurantaugust.com
Seaworthy
is the perfect place to relax and enjoy quality, hand-crafted cocktails with fresh oysters served on the half shell. Mussels, crabmeat dip, and fried gulf shrimp are just a few of the other savory seafood dishes on offer. Seaworthy also features a famous late-night happy hour. Top it all off with a rich banana bread pudding for dessert.
630 Carondelet St., 504-930-3071, seaworthynola.com
Stumpy's Hatchet House
primary attraction is its genius pairing of alcohol and hatchet throwing. They offer a number of private throwing pits to hone your tomahawk chucking abilities, as well as ample amounts of beer and wine to keep your throwing arm nice and loose. Head there with a group of friends and order their tasty bar snacks for the perfect night out.
1200 Poydras St., 504-577-2937, stumpyshh.com/neworleansla
The Steakhouse at Harrah's
allows patrons to get fancy. They use local and regional flavors and ingredients to make savory steakhouse classics such as ribeye, blackened strip, and filet mignon. They also serve fresh seafood, decadent desserts, and handcrafted cocktails. They treat guests with exceptional service and offer an award winning wine list.
228 Poydras St., 504-533-6111, caesars.com/harrahs-new-orleans


Tommy's Cuisine
is the place to be if you're craving quality Creole Italian cuisine in the Warehouse District. Expect amazing pasta dishes such as baked lasagna and fettuccine alfredo, alongside a light white wine or champagne pairing. A romantic spot for your date night, they even feature a list of wines available for half their original prices.
746 Tchoupitoulas St., 504-581-1103, tommyscuisine.com
Trenasse
is a contemporary Cajun-Creole restaurant located in the InterContinental Hotel. Here, you can find a taste of New Orleans and have delicious dishes like crawfish pie, boudin balls, and Unca Duke's BBQ shrimp, as well as oysters prepared a variety of ways: on the half shell, gratin, Rockefeller, and with smoked gruyere and pancetta.
4444 St. Charles Ave, 504-680-7000, trenasse.com
Ugly Dog Saloon
is a great New Orleans' spot to get tangy, smoky BBQ. The menu features classic smoked meats like ribs, burnt ends, and even sampling platters, along with inventive house favorites, such as the Lafitte Pig. A great place to catch the big game, they serve incredible sides to go with like collard greens and their world-famous coleslaw being just a few.
401 Andrew Higgins Blvd., 504-569-8459, theuglydogsaloon.com
Willa Jean
is a lovely retro-chic joint serving coffee and alcohol alongside a number of different southern-inspired breakfast and lunch items to enjoy. Their avocado toast and biscuit station, in particular, set them apart from the competition. They offer a range of other baked goods, toasts and sandwiches along with sweet treats like southern coconut cake.
611 O'Keefe Ave., 504-509-7334, willajean.com
Darrow
Houmas House & Gardens
is a great spot for a day trip that contains three different restaurants catering to each individual's tastes. Visit the Carriage House and enjoy Louisiana ribs or turtle soup, or head to Latil's Landing for more upscale offerings and a diverse wine menu. For a more casual dining experience, Dixie Café offers a full breakfast and lunch buffet.
401336 LA-942, Darrow, 225-473-9380, houmashouse.com
French Quarter
Crescent City Brewhouse
is a premier French Quarter destination for freshly brewed craft beers. Order a flight to enjoy samples of their pilsner, wheat beer, and other brews, accompanied with a delicious and refreshing oyster platter. All the brewing is done in house, continuing their family tradition of brewing the finest collection of world-class beers.
527 Decatur St., 504-522-0571, crescentcitybrewhouse.com
Curio
is your ideal French Quarter eatery serving Louisiana cuisine and drink. Their menu includes such Creole favorites as shrimp and grits and a tasty crawfish cavatappi pasta. They also offer an extensive beer and wine list. Here, you can experience American cuisine with a Creole flare.
301 Royal St., 504-717-4198, curionola.com
Desire Oyster Bar
is located in the iconic Royal Sonesta Hotel. Featuring delicious Creole food and seafood, they are best known for their oysters. They have a raw oyster bar where you can get a dozen freshly shucked oysters or order them chargrilled. You can also enjoy their award-winning seafood gumbo, shrimp remoulade, and much more.
300 Bourbon St., 504-553-2281, sonesta.com

Evangeline
is one of the French Quarter's most renowned restaurants. New Orleans classics like gumbo and etouffee are all on offer, with a separate weekend brunch menu featuring specials including fried alligator and waffles and crab cake benedict. They make dishes fresh and source ingredients directly from local markets and fishermen.
329 Decatur St., 504-373-4852, evangelineneworleans.com


Jimmy J's Café
is the funkiest diner to have a cup of joe or a Bloody Mary. This colorful little joint whips up unique breakfast foods such as eggs rancho, Monte Cristo French toast, and poached eggs Tuscan style 24/7. Not a breakfast fan? Jimmy J's po-boys, soups, and salads will satisfy your palate.
115 Chartres St., 504-309-9360, jimmyjscafe.com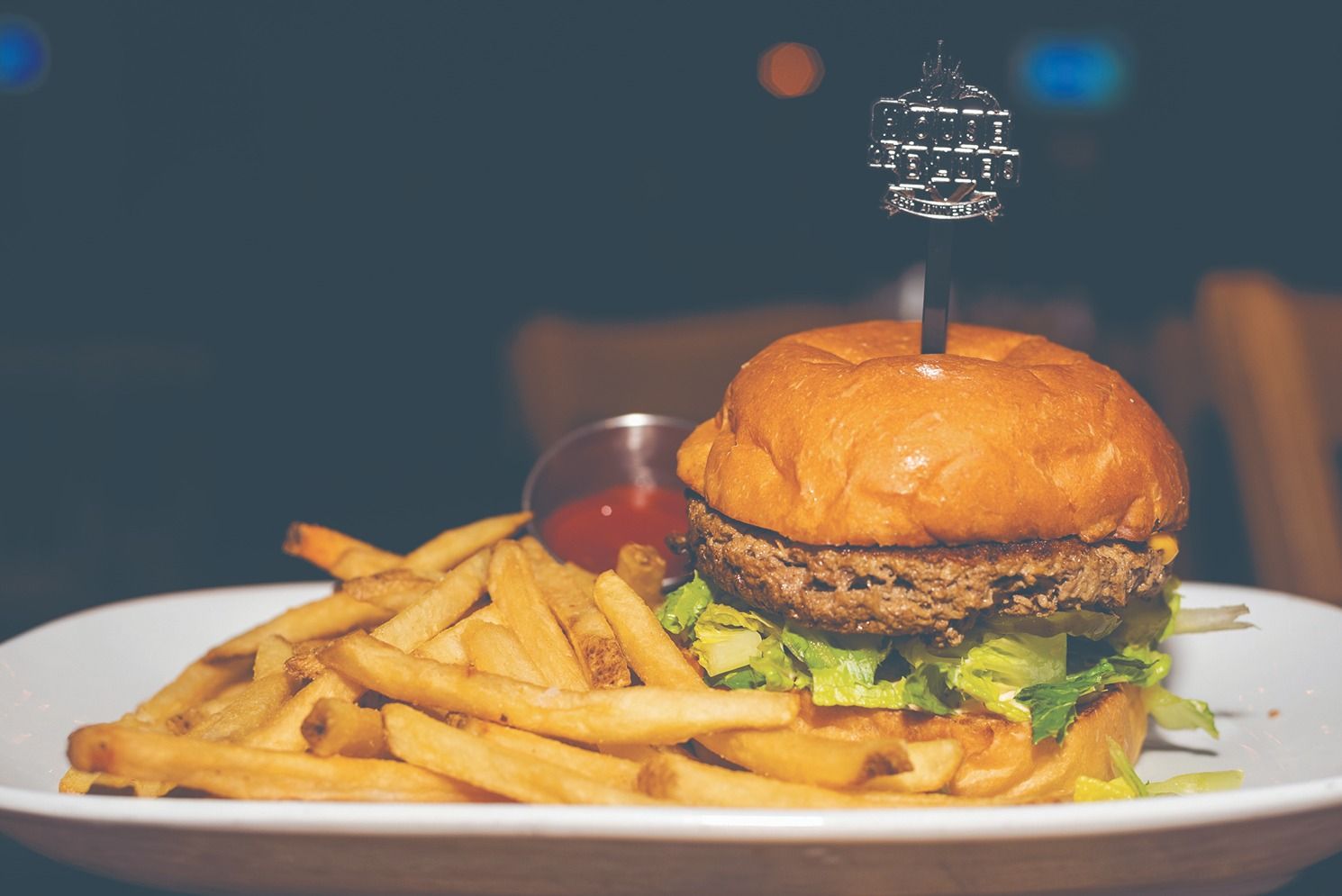 House of Blues New Orleans
is a good place to eat before a night in the French Quarter. Choose from delicious southern-style choices such as fried chicken, Cajun chicken pasta, and shrimp & grits. There's also live music in the club that'll keep you tapping your foot.
225 Decatur St., 504-310-4999, houseofblues.com


New Orleans Creole Cookery
offers a beautiful indoor and outdoor dining space in the French Quarter. Consider ordering the massive seafood tower, fit for a small group, with crab maison, shrimp cocktail, and shrimp remoulade. They also offer classic New Orleans dishes like jambalaya, crawfish étouffée, and shrimp Creole.
510 Toulouse St.,504-524-9632, neworleanscreolecookery.com
New Orleans Vampire Café
is a dining experience to die for. Sink your fangs into tempting dishes including fried deviled eggs, vampire burgers, and braised pork bellies. Feast on decadent desserts such as spiked snowballs, doberge cake, and death by chocolate cake. They also make blood cocktails sure to satisfy any vampire or mortal.
801 Royal St., 504-581-0801, nolavampirecafe.com
Orleans Grapevine Wine Bar & Bistro
offers an intimate atmosphere that is perfect for a date night. The double-cut pork chop is just one of many delicious entrees to pair with one of the largest bottled wine selections in the city. This is a great spot for casual fine dining.
720 Orleans Ave., 504-523-1930, orleansgrapevine.com


The Jimani
is a great late-night haunt for all things food, drinks, and sports. They boast a selection of over 100 different beers, domestic and foreign, as well as the recipe for some of the French Quarter's most potent Jell-O shots. Their Chicago-style take on the hot dog also makes for a tasty meal between rounds.
141 Chartres St., 504-524-0493, thejimani.com


Lower Garden District
Down the Hatch
includes a bar and grill, boasting delicious and unique plates, such as their alligator po-boy or the quesadilla rolls. The atmosphere is a great spot to gather with friends or family and indulge in the homestyle cuisine. Along with great food, they serve colorful drinks and are open for late night grub. Grab a seat on their outdoor patio under the stars to enjoy the summer air.
1921 Sophie Wright Pl., 504-522-0909, downthehatchnola.com
Mid-City
Café Degas
is New Orleans' longest running French bistro—for good reason. Café Degas' lunch, brunch, and dinner menus offer classic French dishes like frog legs, scallops, escargots, quiche, and more. This is a place to dine for friends, families, and lovers alike. Come by during brunch time to try their signature Belgian waffles.
3127 Esplanade Ave., 504-945-5635,cafedegas.com
Crescent City's Steaks
are to die for. All steaks are made of prime-aged beef and are cooked the New Orleans' way—sizzled in butter. As Louisiana's oldest family-owned steakhouse, their award-winning menu is always consistent and includes different types of steak from filets wrapped in bacon to cowboy ribeyes.
1001 N. Broad St., 504-821-3271, crescentcitysteaks.com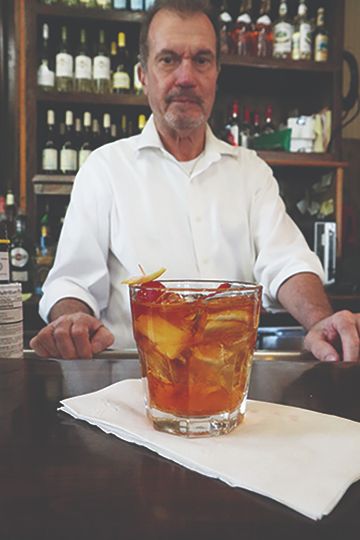 Mandina's Restaurant
is a New Orleans favorite for both Italian classics and delectable seafood. Filet mignon, shrimp remoulade, crab fingers in wine sauce, and Gulf fish amandine with fries are just a few of their delicious entree choices on offer. They've been serving the city for eight decades.
3800 Canal St., 504-482-9179, mandinasrestaurant.com
Mikimoto Japanese Restaurant
has been a favorite for sushi in New Orleans since 1999. This locally owned restaurant offers freshly made sushi including sashimi and specialty rolls like the Nola Roll (baked), the Mango Mania Roll, and the South Carrollton Roll. They have a wide range of dishes on their menu including udon, teriyaki, lots of appetizers, and other delicious dishes.
3301 S. Carrollton Ave., 504-488-1881,mikimotosushi.com
Neyow's Creole Café
is a well known Mid City spot that is renowned for its Creole-inspired dishes. Go for some of their NOLA classics such as char-grilled oysters, southern fried chicken, BBQ shrimp, and keep an eye out for their weekly specials and Sunday brunch menu. Arrive early to beat the rush.
3332 Bienville St., 504-827-5474, neyows.com
Neyow's XL
offers more Neyow's flavors in a more formal setting right next door to the original. Some of the restaurant's authentic Creole dishes include corn and crab bisque and jumbo crab cakes. A perfect spot to take that special someone, Neyow's XL also has an enormous selection of frozen drinks to choose from.
3336 Bienville St., 504-503-1081, xl.neyows.com
Nice Guys Bar & Grill
lives up to its name with a nice selection of traditional bar and grilled offerings. There are a ton of unique plates to choose from that feature creative spins on classic cuisine. A great spot to catch the big game with friends, try the char-grilled oysters and drunken' wings coated with alcohol-infused sauces.
7910 Earhart Blvd., 504-302-2404, niceguysbarandgrillnola.com
NOLA's Wings & Things
is the number one stop for quality cooking. Of course, they serve wings, but there are southern options such as gumbo, collard greens, and red beans & rice. Be sure to try NOLA's favorite spicy chicken sandwich, which is stuffed with kale and pickles.
7906 Earhart Blvd., 504-435-8117, facebook.com/nolaswingsandthings
Venezia
specializes in home-style Italian cooking with a New Orleans flair. Their original stone oven pizza and other authentic cuisine, such as chicken marsala, is a hit for the entire family. Grab a seat at the bar for a great cocktail before you dig into some of their delicious pasta. If you need a spot for your Sunday family gathering, look no further than Venezia.
134 N. Carrollton Ave., 504-488-7991, venezianeworleans.net
Lakeview
Lakeview Harbor Restaurant & Bar
is a cozy spot right by the lake. It's home to their burgers, which are layered with lettuce, tomato, pickles, and onions and best enjoyed while watching the sun set. They also make good po-boys, wings, steaks, and fried pickles. This is the perfect spot for great food and great service.
8550 Pontchartrain Blvd., 504-486-4887, lakeviewharbor.us
Metairie
A Tavola Restaurant and Wine Bar
is a wonderful New Orleans' option for a modern take on traditional Italian cuisine. The open kitchen offers delicious wood-fired pizzas and savory antipasti alongside soups, salads, paninis, and a wide range of other Italian staples. A Tavola offers a family-friendly atmosphere to relax and enjoy a glass of wine.
3413 Veterans Blvd., 504-577-2235, atavo.la


Bon Temps Boulet Seafood
has a passion for not only boiled seafood, but also mouthwatering BBQ.Their 16-hour wagyu brisket po-boy, which comes with your choice of caviar ranch or horseradish sauce, is just one of their more radical takes on classic New Orleans food fare.
4701 Airline Dr., 504-885-5003, bontempsboulets.com


Chef Ron's Gumbo Stop
is truly NOLA's one-stop-shop for great gumbo. You can get your gumbo customized with fried catfish, fried oysters, crabmeat, and more along with tasty sides such as cheesy mac or potato salad. Staying true to the New Orleans community, the food is all made with locally sourced ingredients.
2309 N. Causeway Blvd., 504-835-2022, gumbostop.com


Nephew's Ristorante
has been serving authentic Sicilian and Italian creole dishes to the New Orleans people for decades. Their enticing menu features tasty entrees like eggplant parmigiana and grilled rosemary chicken, with an array of delicacy side items such as frog legs, stuffed shrimp, and soft-shell crabs.
4445 W. Metairie Ave., 504-533-9998, nephewsristorante.com


Short Stop Poboys
has been dishing out tasty po-boys in Metairie since 1966. The restaurant has over 30 po-boys to choose from, all of which come with your choice of a side ranging from a bag of chips to homemade gumbo. For after the po-boy, they offer tasty desserts like lemon meringue pie and white chocolate bread pudding.
119 Transcontinental Dr., 504-885-4572, shortstoppoboysno.com


Spudly's Super Spuds
has the best baked potatoes in town. They specialize in unique baked potato dishes like the pizza spud, shrimply put, and chicken delight. They also serve sandwiches, po-boys, and salads. It's one of the most satisfying places to eat in the greater New Orleans area.
2609 Harvard Ave., 504-455-3250, spudlys.com


The Galley Seafood
is more than just a great local seafood restaurant. A number of different surf and turf appetizers are available for your whole party to enjoy. Sit out on their patio and try some of the Cajun house specials such as paneed veal and white beans and rice.
2535 Metairie Rd., 504-832-0955, thegalleyseafood.net


Multiple Locations
Bearcat Cafe
offers quality breakfast and lunch cuisine for health enthusiasts and culinary gluttons, alike. The restaurant includes two unique New Orleans' locations, with its spinoff, Bearcat CBD, including a dinner menu of locally-sourced ingredients and seasonal dishes. They cater to all dietary restrictions and preferences, while still maintaining high-quality, delicious food for all.
Multiple Locations, bearcatcafe.com


Caffe! Caffe!
has a welcoming atmosphere to enjoy a quick and tasty lunch, with local favorites being the grilled caesar pita and the Caffe! Caffe! take on the muffuletta. They also have a number of breakfast options available for early birds like the classic egg, cheese, and bacon biscuit.
Multiple Locations, caffecaffe.com


Daisy Dukes
is committed to providing you the best Southern fixins in the city. They serve breakfast, lunch, and dinner 24/7, and they're known for their blackened alligator sausage, shrimp po-boys, gumbo, and fried green tomatoes. Pair your food with their award-winning Cajun Bloody Mary.
Multiple Locations, daisydukesrestaurant.com


Felipe's Mexican Taqueria
is home to some of the best margaritas and tacos in town, all offered with friendly service, at affordable prices. If you want great tacos, choose from either the Mexico City tacos, Baja style, or the gringos tacos. They also offer quesadillas, bowls, burritos, and other Mexican dishes to enjoy.
Multiple Locations, felipestaqueria.com


Felix's Restaurant & Oyster Bar
has been a true French Quarter staple for more than 70 years. Their oysters are the restaurant's main draw, but Felix's also has delicious turtle soup alongside other cajun dishes. Their Lakefront, Gulfport, and Mandeville locations also feature live music performed weekly.
Multiple Locations, felixs.com


Pizza Domenica
is the best place to be in order to enjoy Italian classics in a lively atmosphere. As close to authentic Italian pizza as you'll find, Pizza Domenica has both white and red pizzas with a thin, delicious crust. All of their specialty gourmet pizzas come fresh cooked in a custom-made oven. Try their savory pies with an order of garlic knots and finish up with a zesty lemon pound cake.
Multiple Locations, pizzadomenica.com


The Ruby Slipper Café
is known for its slightly misleading name and delicious breakfast/brunch options. Some of their amazing signature dishes include fried green tomatoes and Bananas Foster pain perdu. Start your morning off right with their award-winning Bloody Mary and other tasty eye openers.
Multiple Locations, therubyslippercafe.net
Willie Mae's Scotch House
has been going strong with its New Orleans fried chicken since 1957. Whether you get it fried, baked, or in a sandwich, Willie Mae's chicken is some of the best in the city. Any number of their locations also comes fully stocked with a nice selection of frozen drinks and beers.
Multiple Locations, 504-822-9503, williemaesnola.com


Uptown
Cho Thai
serves some of the best Thai food you'll find in New Orleans. Owned by Thailand native Chef Jimmy Cho, the menu, featuring classics including pad thai, pork laab, and short rib khao soi noodle soup, is authentic and delicious. They blend elements of Thai street food and home cooking to create genuinely great dishes.
3218 Magazine St., 504-381-4264, chothairestaurant.com


Lebanon's Café
has a well-earned reputation for being one of the top Middle Eastern restaurants in New Orleans. Expect to enjoy traditional Mediterranean classics like tabbouleh salad and chicken shawarma, with their famous Lebanese tea to wash it all down. They make homemade hummus and the area's finest kabobs.
1500 S. Carrollton Ave., 504-862-6200, lebanonscafe.com


Mr. Tequila Bar & Grill
located on Freret Street, dishes up some of the best Mexican cuisine in the city with a Tex-Mex twist. Grab a buddy or two and enjoy a refreshing tequila with delicious dishes like fajitas, tacos, quesadillas, and enchiladas. Don't forget to order a side of chips with the dip trio.
5018 Freret St., 504-766-9660, mrtequilanola.com


Pascal's Manale
biggest claim to fame is being the birthplace of the world-famous BBQ shrimp, prepared in the shell with a tangy and spicy sauce. They also have delicious and savory steak entrees available as well. Grab some oysters before your meal at their standing oyster bar, and see why Pascal's has long been an Uptown staple.
1838 Napoleon Ave., 504-895 4877, pascalsmanale.com


Please U Restaurant
is guaranteed to live up to its name. The restaurant's po-boy selection is massive with unique choices including chicken fried steak and more. For lunch, they serve traditional New Orleans hot plates such as red beans and rice. They also offer all day breakfast for all the late-to-rise types.
1751 St. Charles Ave., 504-525-9131, pleaseunola.com


Shaya
is a James Beard award-winning restaurant serving modern Israeli cuisine in scenic Uptown. Shaya's amazing hummus options paired with fresh baked pita make it a truly elite destination for Israeli food. They also serve craft cocktails or quality wines imported straight from Israel and Lebanon. Be sure to reserve your table in advance.
4213 Magazine St., 504-891-4213, shayarestaurant.com


Tito's Ceviche & Pisco
will transport you with their authentic Peruvian cuisine. All of their specialties are amazing, with the ceviches being an easy stand out. They also have an extensive beer and pisco list to go alongside the menu. Get a taste of South America right here in New Orleans.
5015 Magazine St., 504-267-7612, titoscevichepisco.com


The Vintage
is one of the best places on Magazine Street to grab a bite and people watch. Their traditional beignets and mouthwatering sandwiches are a wonderful accompaniment to their extensive wine list. They provide the best atmosphere to enjoy good company over great coffee or a delicious cocktail, as well as one of the best sparkling wine menus in town.
3121 Magazine St., 504-324-7144, thevintagenola.com


Tracey's Original Irish Channel Bar
is your traditional Irish Channel pub, complete with friendly crowds and families. Serving a vast array of bottled beer and specialty po-boys, they also have plenty of seating and long tables catering to larger groups. Stop by for a lively atmosphere to have a pint with some raw oysters and watch the game.
2604 Magazine St., 504-897-5413, traceysnola.com
Westbank
Asia
is a great place to dig into when you're taking a break from the slots in Boomtown Casino. The menu features many different classic Chinese dishes such as szechuan beef and lo mein noodles. You can also order one of their Vietnamese classics like a hot bowl of pho.
4132 Peters Rd., Harvey, 504-366-7711, boomtownneworleans.com


Gattuso's Neighborhood Restaurant
is a great spot for a group dinner or first date on the Westbank. They offer delicious choices such as grilled shrimp wraps, catfish bites, and sweet chili wings. There's plenty of beer and cocktails to choose from. And if you have a puppo, outdoor seating is available.
435 Huey P. Long Ave., Gretna, 504-368-1114, gattusos.net


Legacy Kitchen Steak & Chop
cooks some mean steaks. Whether you prefer filets, ribeyes, or tomahawk, know that your taste buds will thank you. You'll also love the chicken & waffles, south beach shrimp tacos, and crawfish cornbread skillet. Save room for dessert because they got a big ol' chocolate cake on the menu.
91 Westbank Expy. #51, Gretna, 504-513-2603, legacykitchen.com


Mosca's Restaurant
is the best-known Italian restaurant in the Westbank and has been a favorite for over 60 years. All of Mosca's entrée dishes are made-from-scratch, with select recipes available on their website. Standouts include their signature oysters Mosca or the chicken cacciatore. Their family-style platters taste almost like home.
4137 US-90 W., Westwego, 504-436-8950, moscasrestaurant.com


Tavolino Pizza & Lounge
is the go-to spot for pizza and fun on the West Bank. Located in picturesque Algiers Point, Tavolino specializes in thin crust pizzas like the Behrman Hwy and the That's a Spicy Meatball. The food pairs deliciously with their selection of signature cocktails, wines, and select local, domestic, and imported beers.
141 Delaronde St., Algiers, 504-605-3365, tavolinonola.com