The Hit Broadway Musical Hamilton has Extended Run in New Orleans

History has its eyes on The Saenger Theatre as audiences have an opportunity to experience the extended run of the Broadway sensation Hamilton well past Independence Day, so "don't throw away your shot" and go!
Experience it Live

The first and most obvious question: Why see the Broadway production of Hamilton in New Orleans?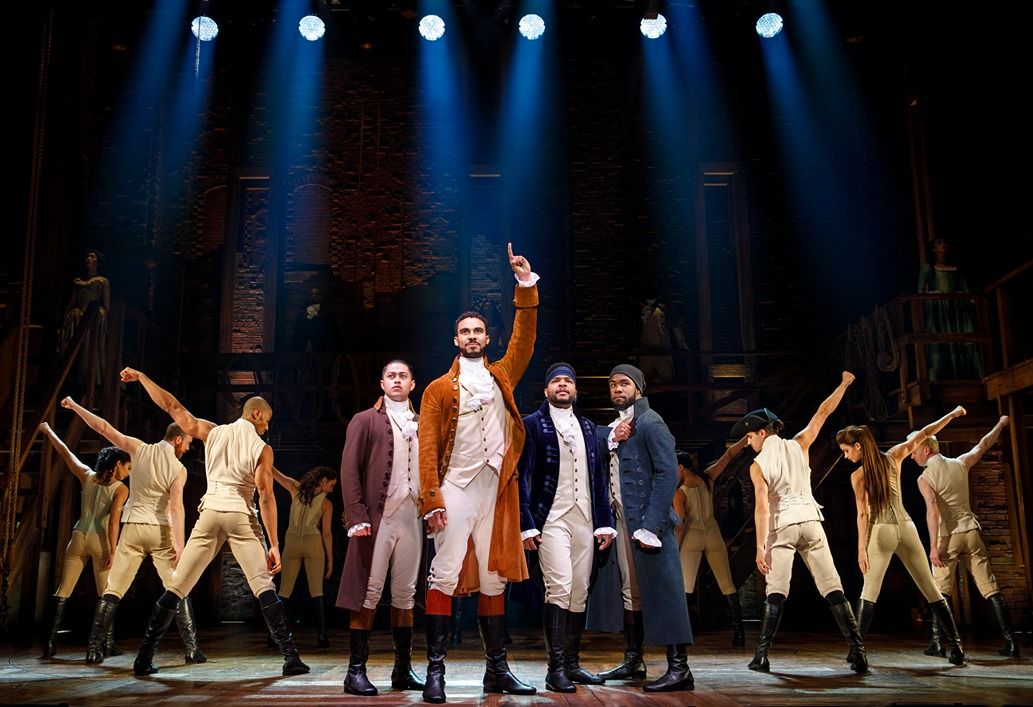 Given Hamilton's over-the-top popularity since the curtain rose on Lin-Manuel Miranda's multi-ethnic update of one of the least iconic—yet one of the most influential—founding fathers in New York City August 6, 2015, the Broadway musical became an instant classic. The show's soundtrack is know by heart to millions of adoring fans (and historians), beyond the fact that the entire Broadway production, with the original cast, was watched countless times after Disney+ began streaming it during a time when it was impossible for a Broadway-starved fan base to go the theatre. So is there a compelling reason to see it (again)?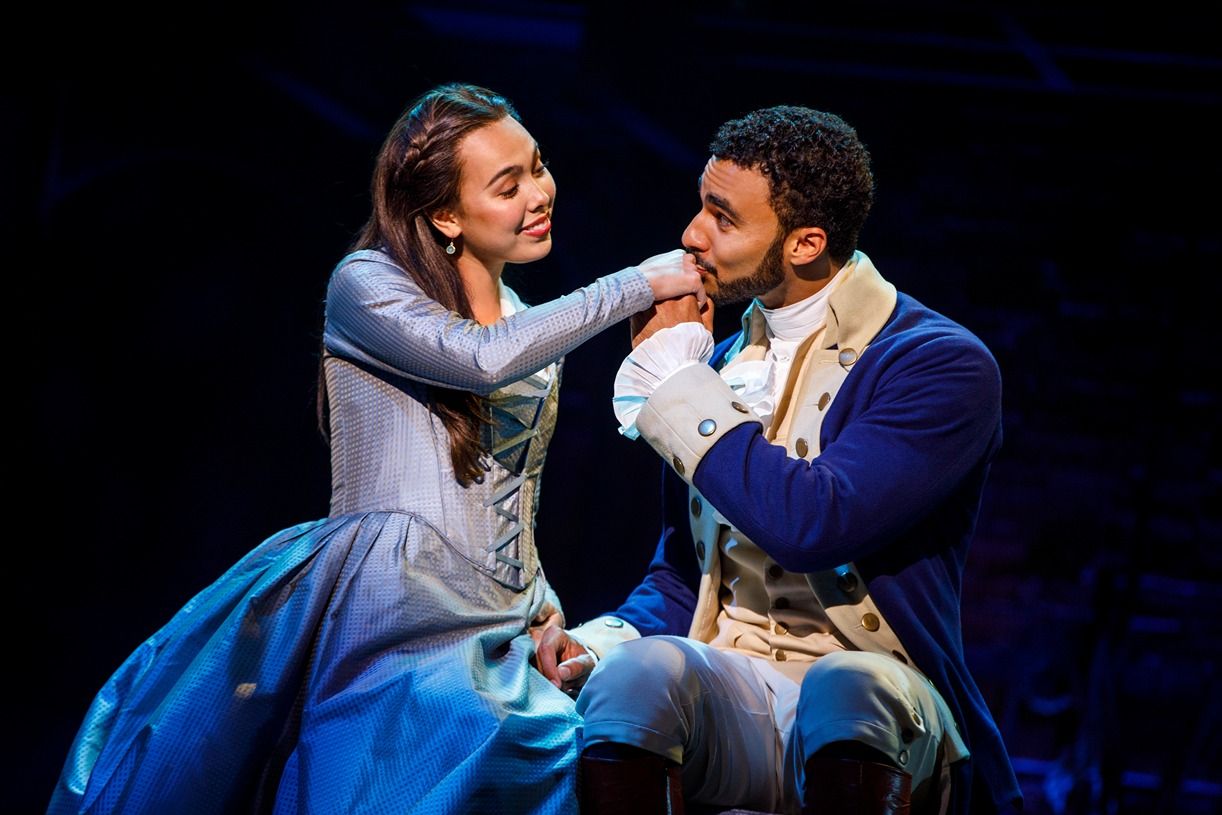 The answer would be a resounding : Yea!

Regardless of the excellent production values in Disney+'s streaming version, or how many times the soundtrack is heard, the answer is obvious from the first drumbeats as the house lights dim, and Aaron Burr (Josh Tower) strides onto center stage, Hamilton needs to be experienced the way Miranda created it—as a live Broadway production.
No overture or sweeping orchestration leads into the show, but the energy and intensity is palatable as he is joined by the entire cast, literally filling the austere set to the rafters. The roar from the audience anticipating the opening lines set a thrilling stage.
Hamilton is a collectively shared experience in which the audience and cast are galvanized with the energy from each other. They've created an energy that only seemingly exists in live theatre, and cannot be emulated on film or TV. Beyond that, there are so many nuanced performances and activities in the background or out of focal sight, that much may be missed if it's not in the sight lines. However, for theatre-goers, these hidden elements add to the audience's enjoyment, and sometimes characters' reaction.
A Rap Musical it is Not

It is important to note, some patrons of Broadway musicals may be misled by Hamilton being unfairly categorized as a "Rap Musical." They may believe this format is too big of a departure from the traditional shows, but have no fear.

That classification and subsequent avoidance would be wrong. While there are songs that are performed as rap, including two inspired Battle Raps in the form of cabinet meetings emceed by President Washington (Paul Oakly Stovall)—pitting Treasury Secretary Alexander Hamilton "debating" Secretary of State Thomas Jefferson (an uninhibited David Park), Miranda's musical is a love letter to all genres of music.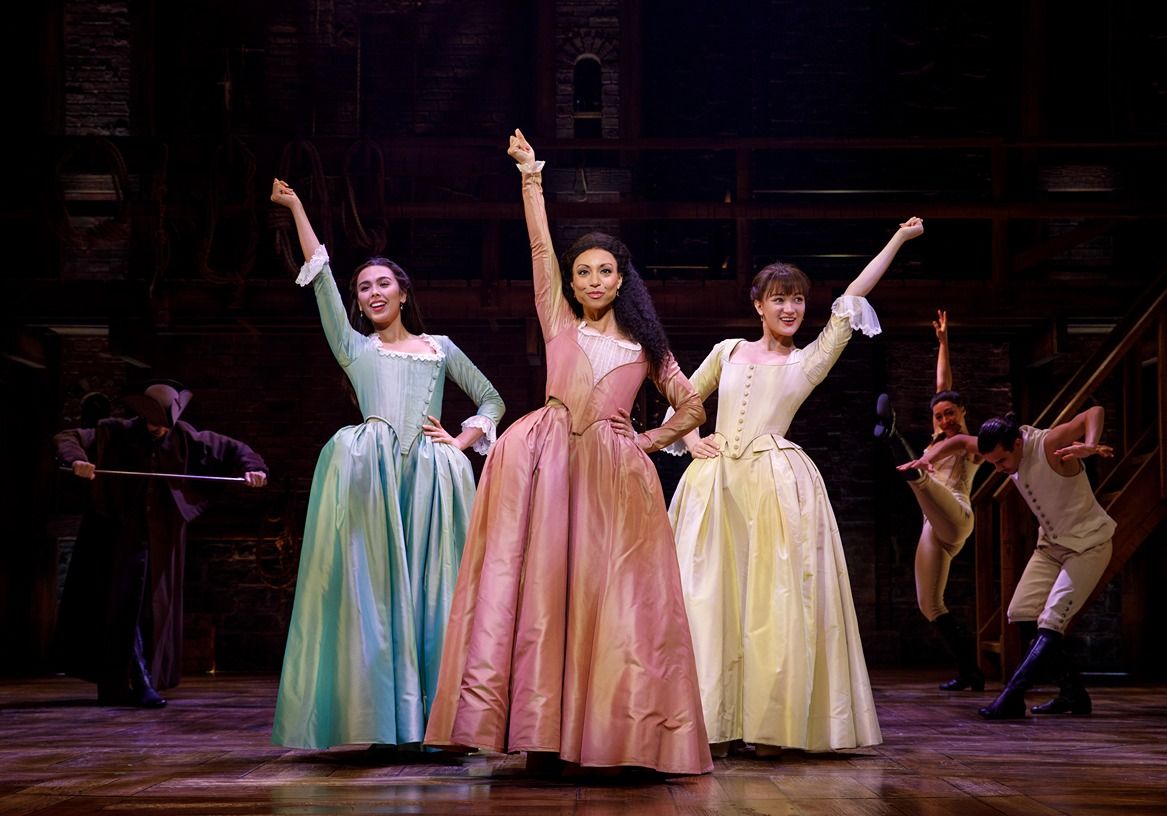 The show opens with a Colonial-era minuet, and spinkles Blues, Motown, torchlight ballads, upbeat love songs, and soulful seduction songs that would make Barry White blush. Miranda is successful in his goal of having his show be accessible to new audiences without undermining his clear love of all Broadway music. In making all the musical forms accessible and enjoyable to both the new and traditional audiences, he grows the fanbase in the process.

The Play is Hamilton's History

Historians and those with a subscription to Disney + may not find spoiler alerts here, but all else be warned: Hamilton charts the unpredictable life of Alexander Hamilton from poverty-stricken orphan in the Caribbean to his role as one of the most significant United States founding fathers, who effectively created the country's system of government and finance we know today.

Hamilton, Act I

The opening number quickly dispenses with his childhood in song and introduces the cast of characters, picking the story up as a recent college graduate meeting frienemy Aaron Burr for the first time shortly before the American revolution.

Along the way they befriend John Laurens (Jon Viktor Corpuz), Herculese Mulligan (Tyler Belo), and [New Orleans favorite] Marquis de Lafayette (David Park). Proud tomcatting ladies' men, the friends court the Schuyler sisters: Angelica (Stephanie Umoh), Peggy (Yana Perrault), and Eliza (Zoe Jensen) who Hamilton married.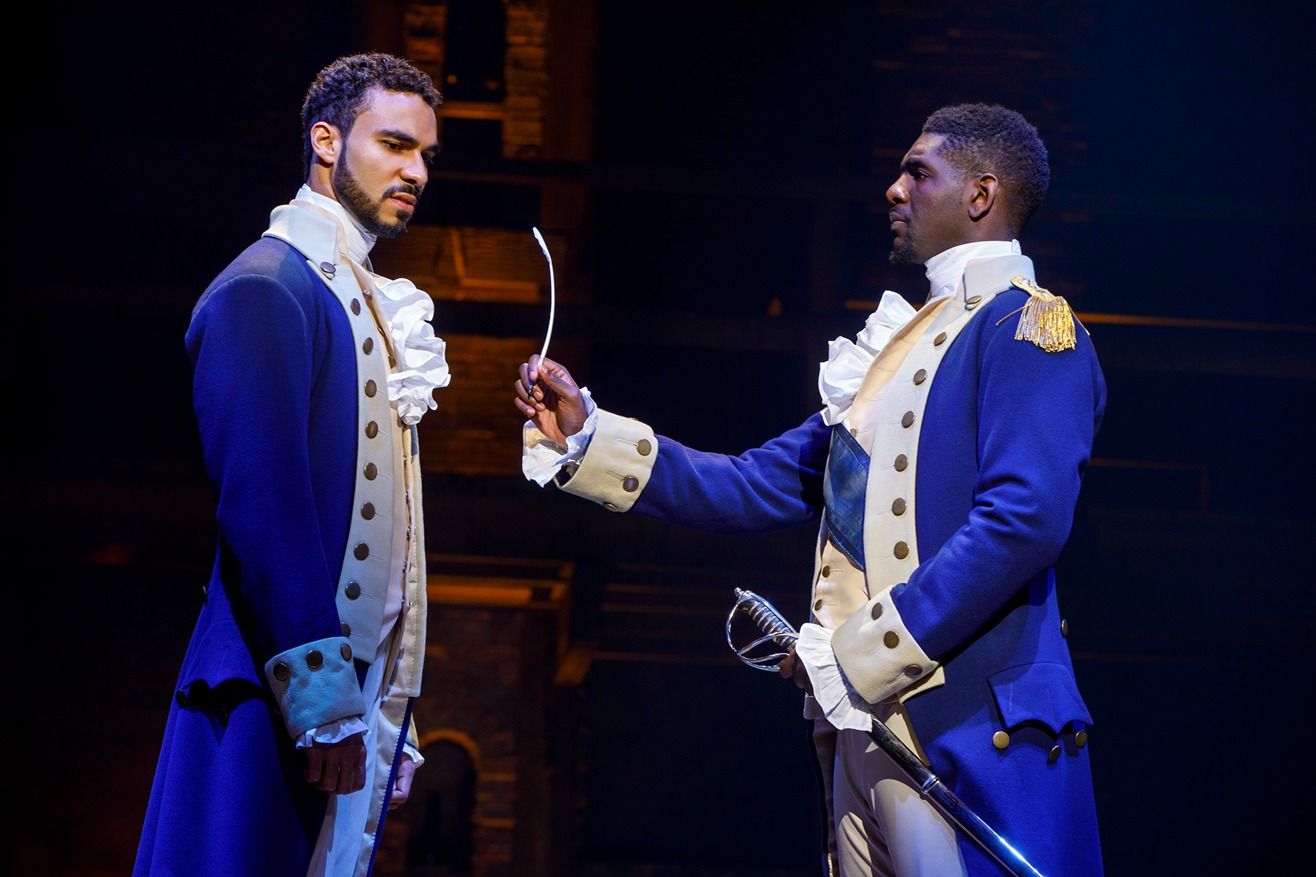 Historians have largely rejected the idea that Hamilton had a love triangle between his wife Eliza and his sister-in-law Angelica, but the devotion and friendship among the three is also widely accepted and keeps speculation alive. Miranda runs with this idea and creates plausible situations between the trio that may explain many of the historical writings from which the dialogue is sourced. Angelica's wedding flashback on how they all meet ("Satisfied") is a brilliant stage moment imagined by choreographer Andy Blankenbuehler.

Burr and Hamilton's paths criss-cross through the revolution, Hamilton always seeming one-step ahead of Burr, including becoming right-hand man to General George Washington (Paul Oakley Stovall).

Hamilton, Act II

After the victory over the British empire comes internal nation building in Act II. Unfortunately, it is also the turning point in Hamilton's life, in reality and on stage.

While his fame was a meteoric rise in wartime full of love, loyalty, and achievement, he becomes his own worst enemy in peacetime, ultimately being undone by five of the deadly sins. Hamilton has more radical ideas than his peacetime counterparts care for. Thus the two-party political system is born. It is quickly clear nothing has changed over the centuries.

The north and south are in the early stages of political divides based on slavery, and states' rights compete with the values in a strong central government, especially financially. And of course, rival political parties never miss gloating over salacious scandals in media coverage that brings down worrisome opponents. A significant difference is that in the end, the good of the country and its people are the priority despite political rivalries—much to the disbelief and anger of Aaron Burr.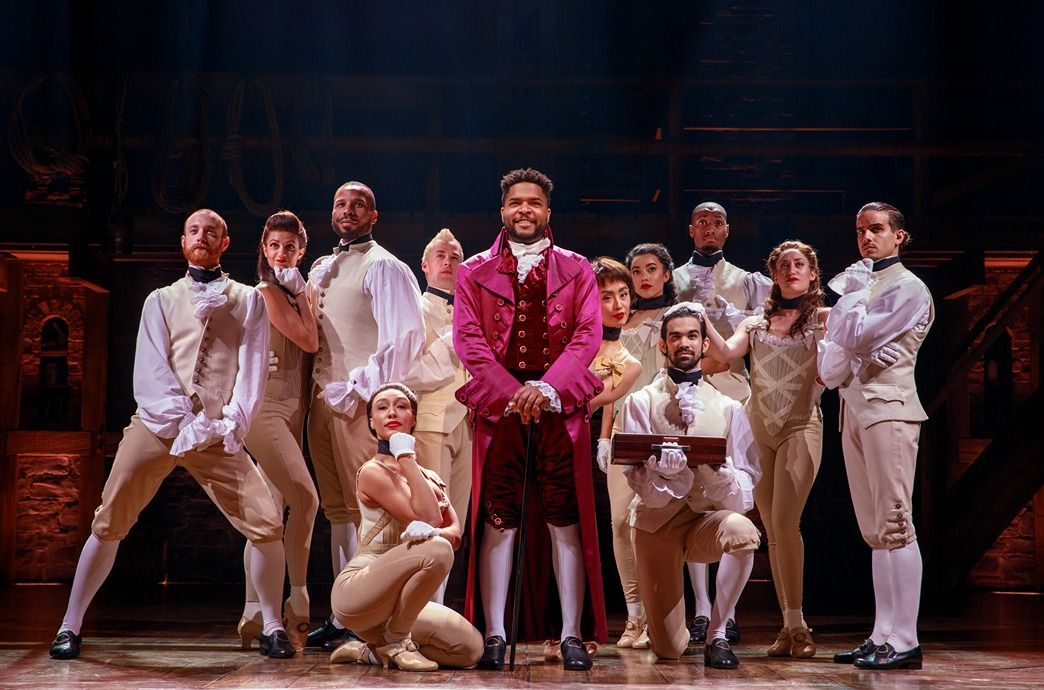 Even though Burr repeatedly acknowledges that Hamilton works tirelessly and persistently pursues his goals, Burr is increasingly resentful. He is bitter that his non-committal political strategy is not advancing his career as fast as Hamilton increases over the course of their lives. The Burr-Hamilton relationship is optimistic but contentious and ultimately fragile from the start.

This is an interesting dynamic that is reminiscent of the Salieri-Mozart relationship in Amadeus. Whether Miranda purposefully structured his plot line similarly with Peter Shaffer's other historical rivalry, or it is simply a theatrical coincidence, the narrative framework works well.

Like Amadeus, the story arc seems to follow the title character's career (Hamilton), but it is deceptively the antagonist's story (Burr), and how their intertwined yet parallel relationship comes to a tragic end—but who pays the bigger price?
Hamilton on Tour in New Orleans

Even if the show was seen on Broadway, this touring cast of Broadway veterans makes it new. They exude the passion necessary for a play that is as historically sound and painful as it is funny and soulful.

Alexander Hamilton (played by understudy Deejay Young, normally cast as Edred Utomi) had a more melodic voice than Miranda who originated the role. Young made Hamilton's strong convictions believable, making emotions real and conveying Hamilton's desperation, frustration, and futility convincingly. His balanced performance brought the egocentric aspects of Hamilton to life even as he displays loyalty, love, and repentance in his evolution as a person. In a pinch, understudy Young is also poised to step in as Lafayette & Jefferson, Mulligan & Madison, as well as Laurens & Phillip Hamilton, and would probably be mesmerizing in any of those roles.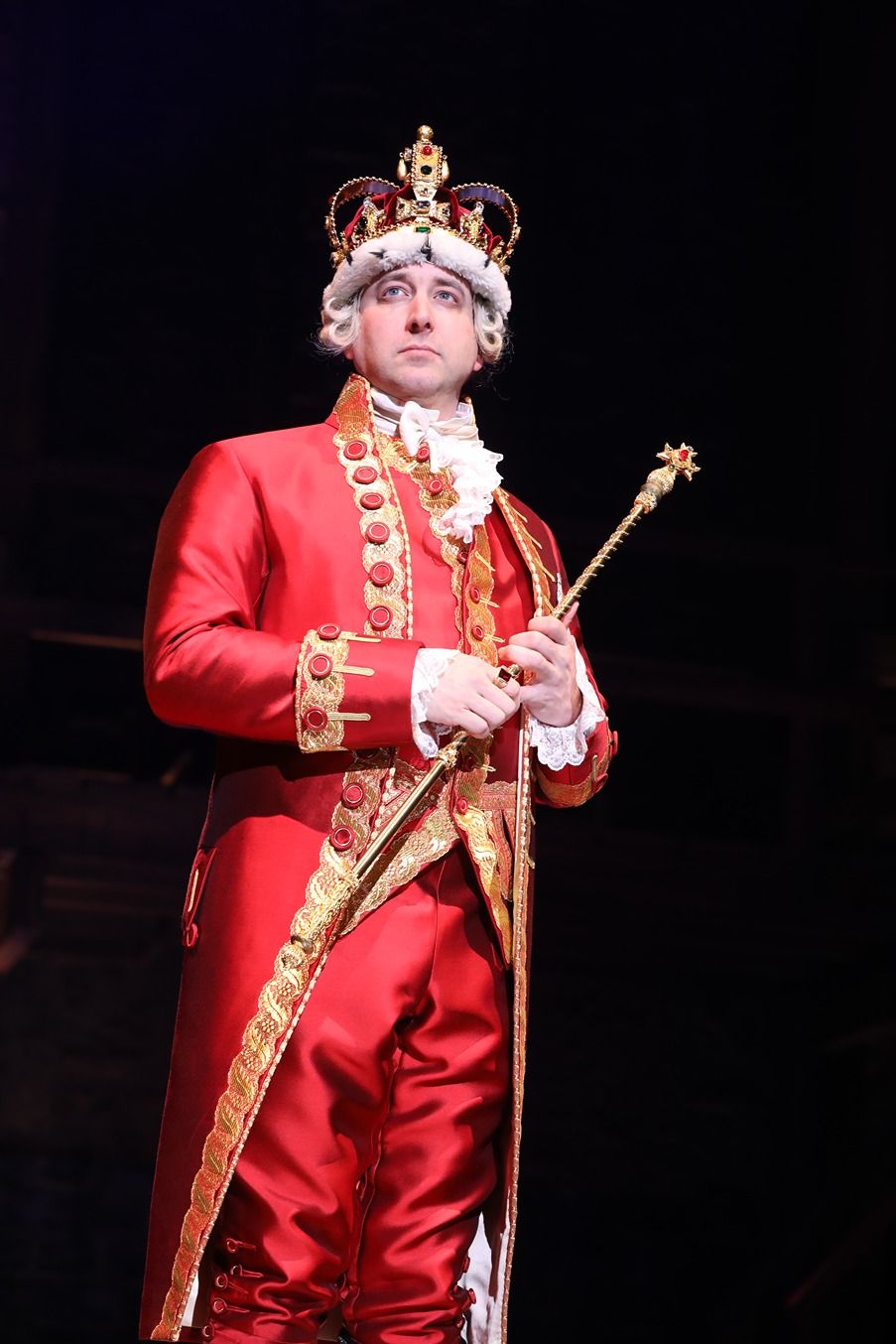 Other standouts are Park's Marquis de Lafayette (in Act I) and Thomas Jefferson (in Act II), Stovall's George Washington, and Yana Perrault as Peggy Schuyler (in Act I) and Maria Reynolds (in Act II).

Without imitating the animated performance of Daveed Diggs who originated the role, Park brings a fresh take and an equally energetic spin on these roles, especially Jefferson's return to America ("What'd I Miss").

Likewise, Stovall adds some soothing Luther Vandross-style cool with his parting words as Washington resigns his presidency (a soulful rendition of "One Last Time") that had many in tears.

Perrault purposefully taking the background as Peggy in Act I lustfully devours the stage (and Alexander Hamilton) as Maria Reynolds in Act II. The statuesque actor who somehow managed to look plain as Peggy, emerges with a shaved head that intensifies her as an appropriately sexy seductress. Then she opens her mouth, and an unexpectedly sultry voice laments with such desperate loneliness, Hamilton's plea for divine intervention ("Say No to This")—and ultimate failure in receiving any—is understandable.
And, of course, it is impossible to not note Peter Matthew Smith's hilarious turn as King George, who gets the first laugh before the proverbial curtain has even opened, and the most enthusiastic greeting of any character—which he royally relished. Smith's alternating sneering contempt and maniacal glee is the perfect comic relief popping up at unexpected times throughout the show.

The New Broadway Musical Theatre

Every generation has a Broadway sensation that is seemingly a complete departure from traditional formats, redefining Broadway musicals as accepted, yet is widley embraced by the audiences coming of age but disconnected to their "parents' Broadway." Like Hamilton in the 2010s, Bob Fosse productions like Chicago and the revelatory A Chorus Line turned Broadway shows on their heads when introduced in the 1970s, as did Andrew Lloyd Webber's Cats and Phantom of the Opera in the 1980s, Rent in the 1990s, and The Lion King in the 2000s—all challenging the conventional norms of The Great White Way.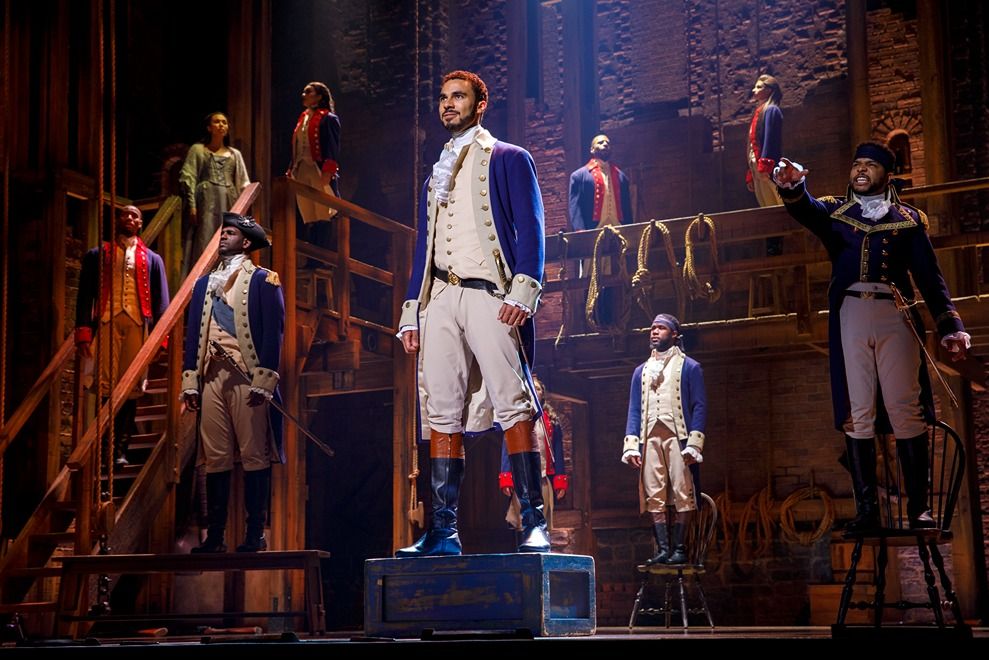 And here's where Miranda truly excels in his vision.

By throwing open the theatre doors for younger audiences of color, Lin-Manuel Miranda has made American history at once fun, interesting and relatable. His personal fascination with history and Alexander Hamilton who fundamentally altered the world through his ability to effectively communicate and basically never take no for an answer, was perfect material, especially connecting with Hamilton's own immigrant experience. A polarizing political figure in his day, Miranda's play neither judges nor forgives Hamilton's personal indiscretions, but is also careful to not throw the baby out with the bathwater.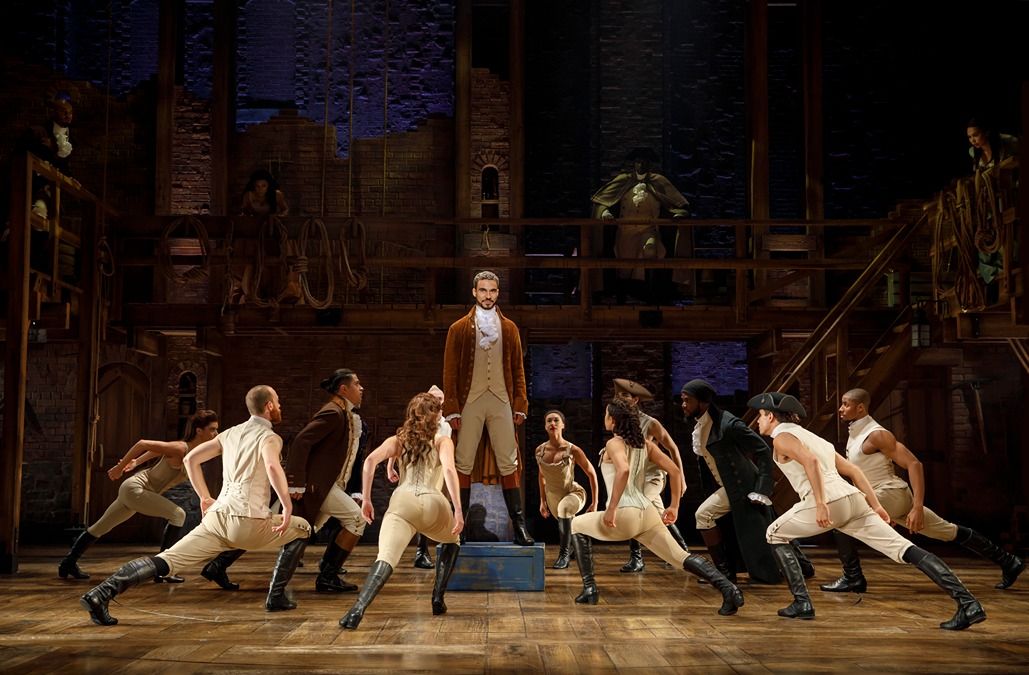 Miranda's show chooses to celebrate Hamilton's accomplishments (Revolutionary war hero, founder of the New York Post newspaper and U.S. Coast Guard, creator of the federal banking system and Washinton, D.C. as the nation's capitol, defender of the Constitution, and much more) and applaud his life's work. Despite the shortcomings of this personally flawed human being ("Finale/Who Lives, Who Dies, Who Tells Your Story"), the play reinforces the importance of what he achieved and why it all still matters—as bold a concept in the seventeenth century as it is in present day, which may be why Hamilton resonates with so many.
---------------

Hamilton is performing an extended run at the Saenger Theatre, 1111 Canal Street. Tickets are on sale at The Saegner box office, BroadwayInNewOrleans.com, and through Ticketmaster. Orders for groups of 10 or more may be placed by calling (504) 287-0372.
Producer Jeffrey Seller and Hancock Whitney Broadway In New Orleans present Hamilton at The Saenger Theatre, 1111 Canal St., New Orleans, LA, 70112 for an extended run through July 10, 2022.