To Kill a Mockingbird
Broadway New Orleans is ending its 2022-2023 season with the compellingly timeless story, Harper Lee's
To Kill A Mockingbird
.
While timeless, this adaptation of Harper Lee's 1960's novel is also right on time. With today's climate, the story is unfortunately in many ways current and relatable.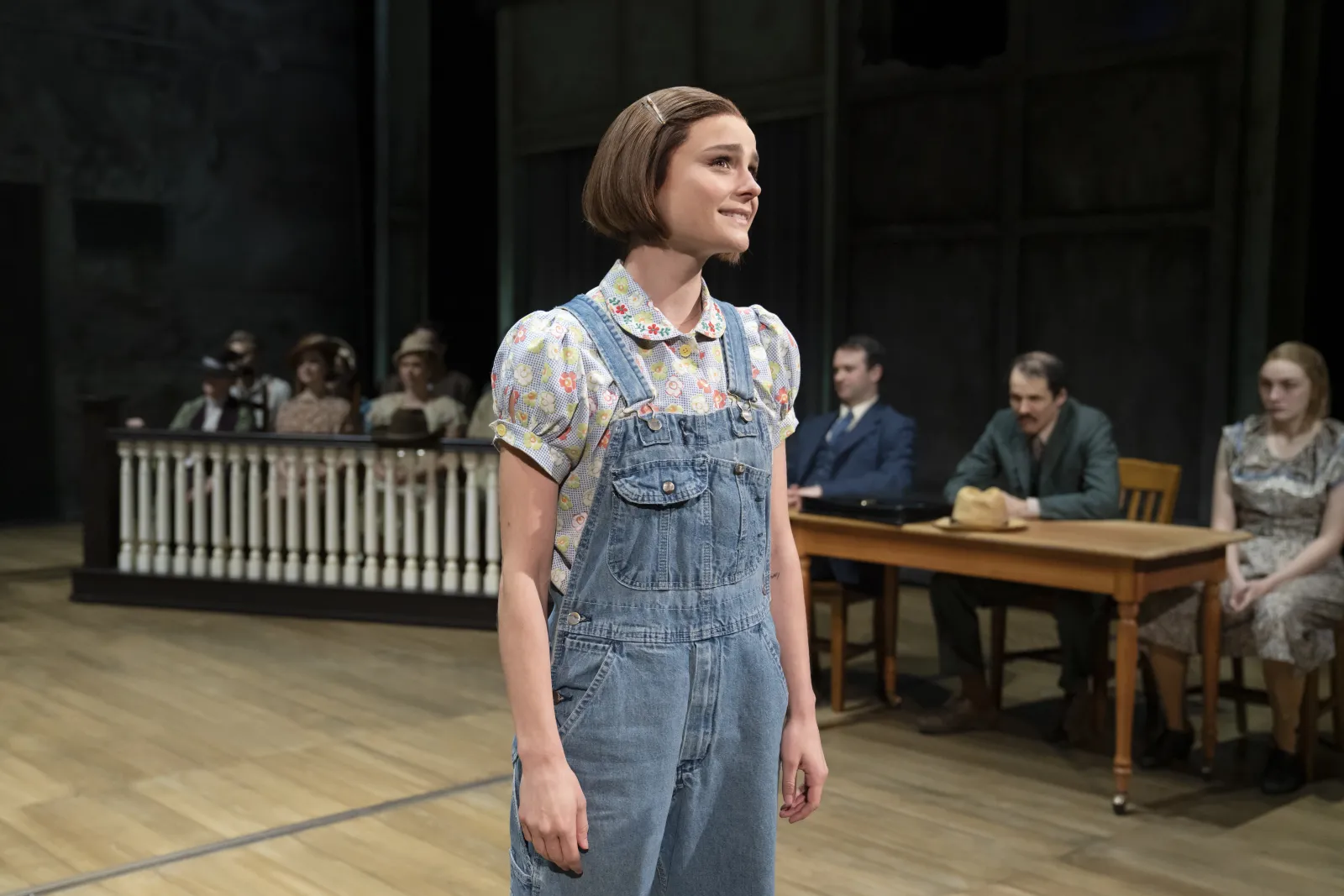 Beautifully performed on stage, make no mistake that this production, adapted by Aaron Sorkin, stands perfectly on its own as a dynamic theatrical experience setting itself apart from the novel and the 1962 film version while maintaining the basics of the storyline.
Sorkin's obvious changes between the play and the book can be seen right away. In the book, Lee spends a great deal of the early pages describing the ins and outs of life in the fictional town of Maycomb, Alabama before leading into the trial. In the play, Sorkin immediately jumps to the trial while seamlessly not missing a beat when it comes to the dynamic of what the story is about and the justice it stands for.
The Story
Like the book, the story takes place during the Great Depression in the fictional town of Maycomb, Alabama. The play is mostly narrated by Scout Finch (Melanie Moore), the 6 year old daughter of a widowed lawyer named Atticus Finch (Richard Thomas).
After Judge Taylor (David Manis) appoints Atticus to defend Tom Robinson (Yaegel T. Welch), a black man who has been accused of raping a young white woman, the town becomes hysterical and Atticus and his family face the brunt of this.
During the one-day trail—interwoven through the narrative of the play—Scout and her strong willed older brother Jem (Justin Mark) manage to befriend a boy named Dill (Steven Lee Johnson) who is visiting his aunt for the summer. Intertwined with the pressures of life and enjoying their summer youth, the three divide their time between sneaking into court while also exploring their fear and fascination with the town recluse Arthur "Boo" Radley (Travis Johns).
While the kids are allowed to explore during their summer break, their father is grappling with the idea of right versus wrong along with his feelings that everyone is inherently good. Throughout the play, he gets a few moments of awakening from his lifelong housekeeper, Calpurnia (Jacqueline Williams) who gives him a different perspective, one that is more relatable to the man that Atticus is defending.
[Spoiler Alert]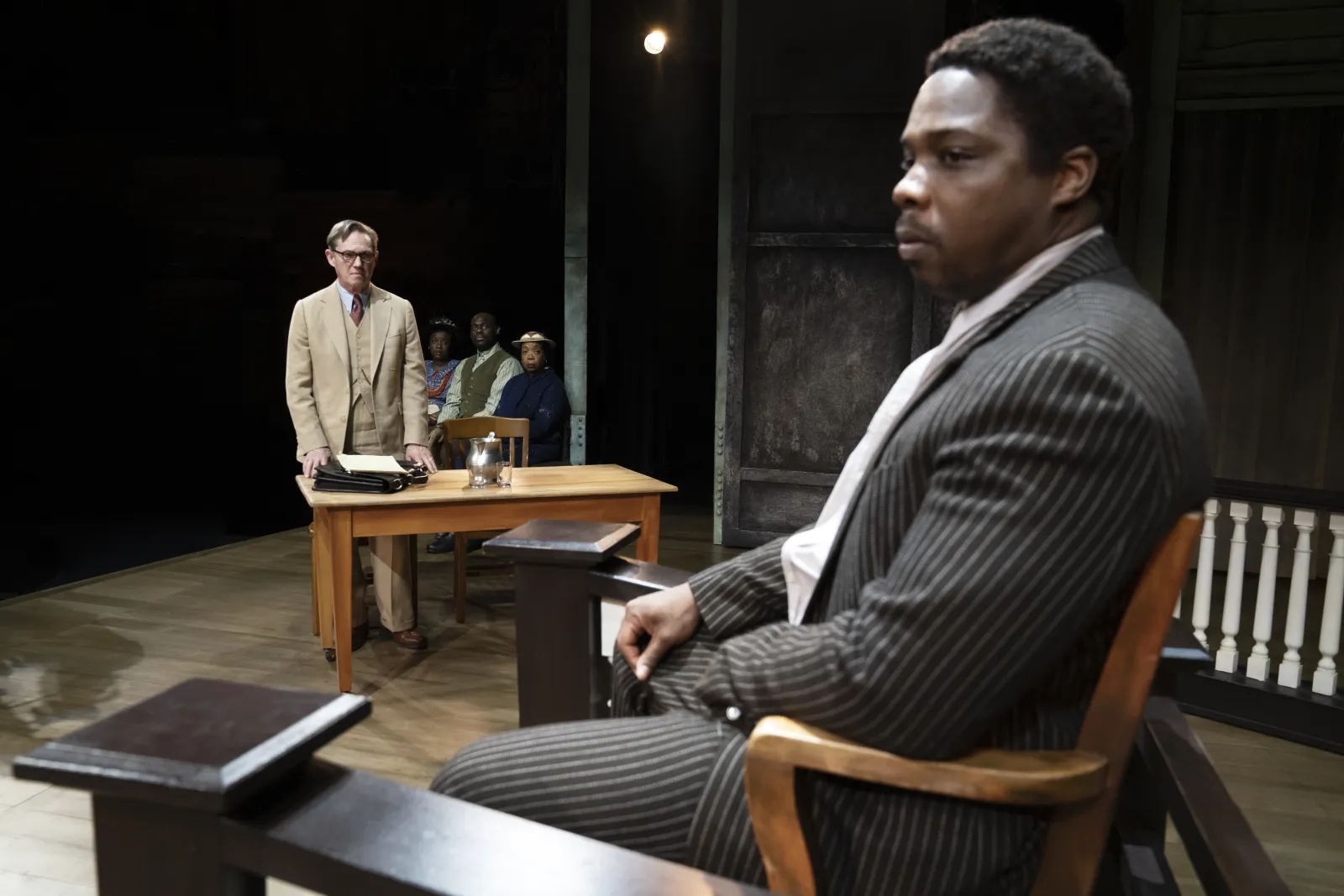 The most pivotal moment of the play is when Tom Robinson is found guilty of raping young Mayella Ewell (Arianna Gayle Stucki) after it's clear that the only sick, abusive rapist in the room is her father, Bob (Joey Collins).
Unfortunately Tom Robinson is killed shortly after, being accused of trying to escape prison, leading Atticus to realize that some people are evil and choose not to be good at heart.
Sometime after, Sheriff Tate (David Christopher Wells) arrives and discovers Ewell dead from a knife wound. While Atticus believes that Jem was responsible, Tate confirms that it was likely the mysterious Boo Radley who killed Bob while protecting Scout and Jem.
Deciding to protect Boo's privacy, the sheriff reported that Ewell fell on his own knife during the attack. And that's where the story ends.
While a karmic justice somehow prevailed, the story is realistic to what would likely happen during the 1930s where a black man was accused of rapeing a white woman.
The Production
Directed by Bartlett Sher, this adaptation of Harper Lee's To Kill A Mockingbird was brilliant and provocative, appropriately defusing stressful and rightfully uncomfortable moments with flashes of humor. Melanie Moore did an amazing performance as a little Scout. She embodied the voice, actions and emotions of a clever 6 year old. A pleasant surprise was that Atticus Finch was played by famous actor Richard Thomas who is also a part of the original cast.
This performance was thrilling, the audience was captivated and filled with emotion. Told from the story of a book that has been read across schools for decades, it was amazing to see the story told on a local stage.
Be sure to check out Harper Lee's To Kill A Mockingbird at the Saenger Theatre until Sunday, June 4th.
Moulin Rouge at the Saenger
The play is set in Paris—the Montmartre Quarter—during the turn of the 20th Century, also known as the Belle Epoque. This lively, bustling period of time was the perfect setting for dreams and love. This love story is one that takes place between the composer Christian and the beautiful cabaret performer, Satine, who is the star of the Moulin Rouge.
The Story
When Christian first arrives, he meets Bohemians Toulouse-Lautrec and Santiago who are working on writing a musical play. They ask Christian to help with the songs and that's where he meets Satine. In a case of mixed identity, Satine believes that Christian is the Duke at first until his true identity is revealed. Satine and Christian eventually fall in love, although the Duke still tries to consume her. He forces her to give up Christian, who is devastated. Satine, who has been ill, becomes worse and in a final, tragic scene, dies in Christian's arms.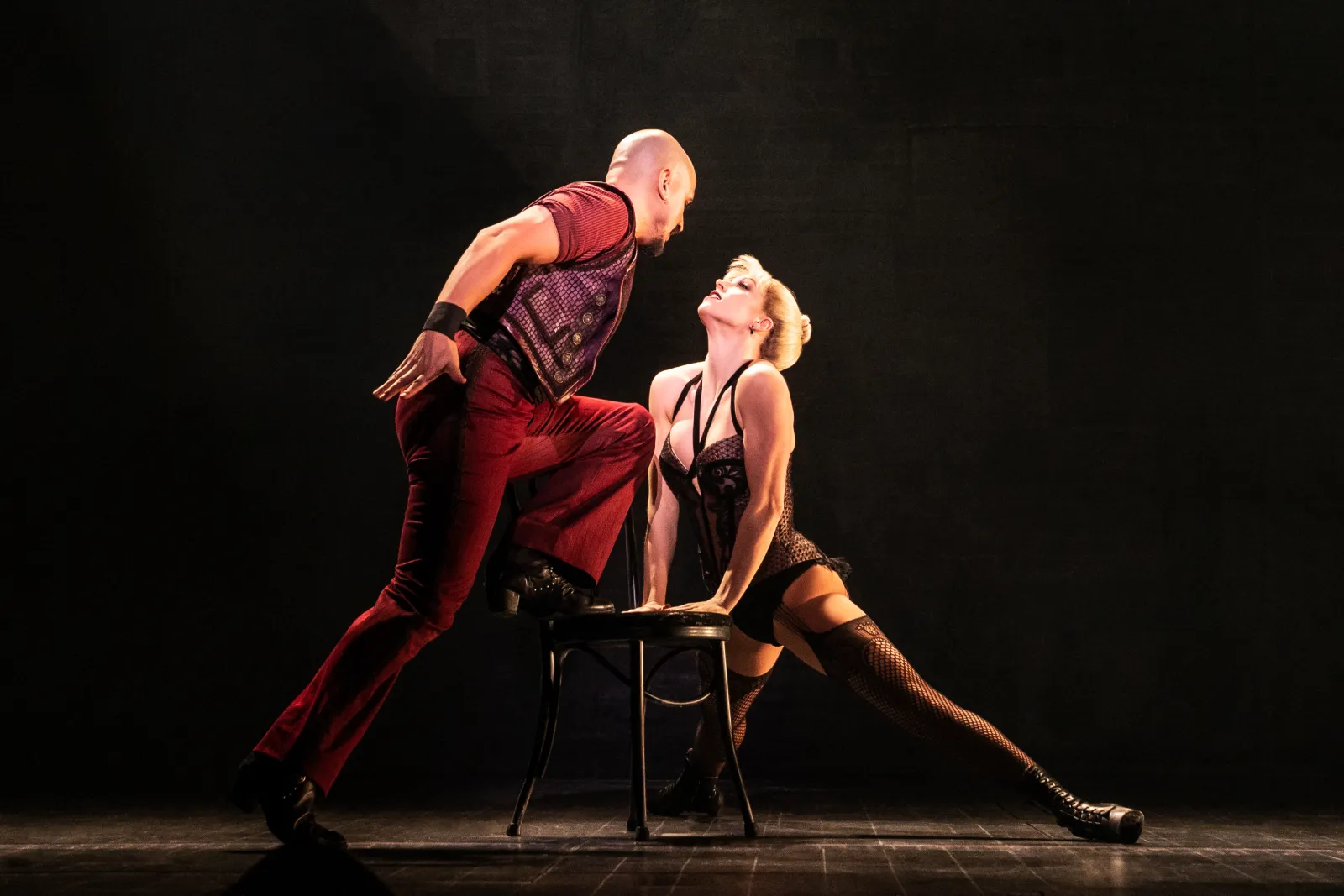 The Production
With a multi-layered illuminated red heart-shaped set as the background and MOULIN ROUGE in bright lights, this production exploded on to the stage. The show started out with a steamy, sultry rendition of "Lady Marmalade," initially with four performers shaking their stuff, but eventually with a full cast, can-can girls and all. The tragic love story of Christian and Satine revealed early sparks when the two first meet despite Harold Zidler's attempt to push her into the arms of the Duke and secure funding to keep them all from being homeless. Courtney Reed as Satine had a powerhouse voice as she ran through the songs within songs that make up Moulin Rouge's set list. Her opening number had all eyes on her when she entered on a sparkling swing and sang the Diamond sequence, which included "Diamonds are a Girl's Best Friend," "Material Girl," and "Diamonds are Forever." John Cardona, who played Christian, was the perfect hopeless romantic with an amazing voice as he tried to convince Satine that all you need is love.
The lighter, comical moments in the production were played to perfection by Nick Rashad Burroughs as Toulouse-Lautrec and Gabe Martinez as Santiago--the duo who lure Christian into their bohemian, dream of writing a musical for the Moulin Rouge. Their timing and energy provided a little break from the heart wrenching moments between Satine and Christian.
Some of the best moments in Moulin Rouge! are when it feels like you're actually at a show at the real Moulin Rouge in Paris. Men in shirt tails and women in can-can skirts, singing and dancing with the energy and verve that feels what 1890s Paris must have been like. Legs kicking high, colorful petticoats swishing and lots of fun had by chorus and leads alike.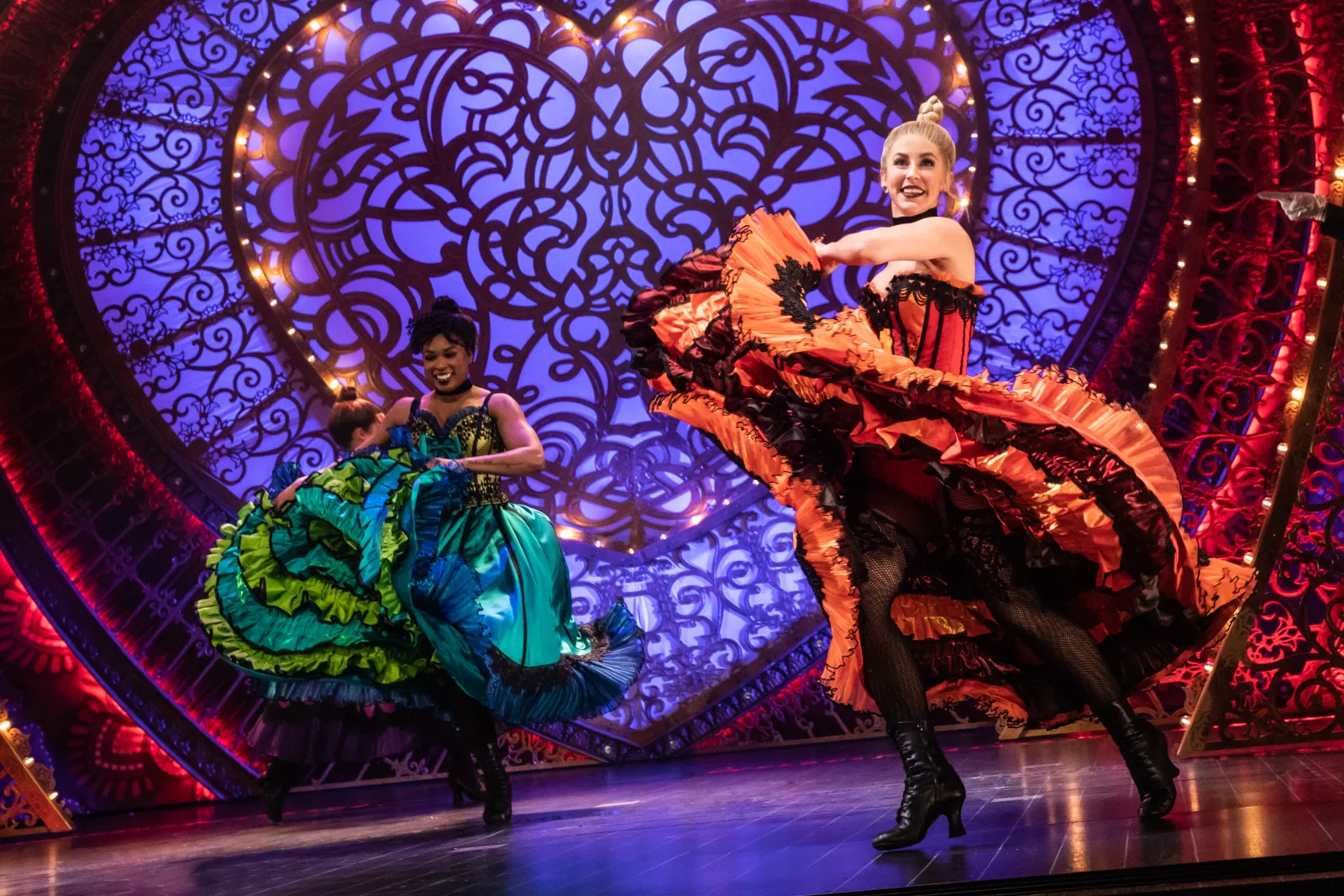 If you were looking for the songlist in the program, you won't find the traditional two acts with songs and performers listed. That's because this production includes essentially mash-ups of lots and lots of songs for each piece. "The Sound of Music" shares the stage with "Tainted Love" and "Rolling in the Deep." The performers handled the medleys with ease and the audience sang along to many of the songs. This audience was a rowdy one--cheering on the performers and doing call outs at key moments in the play.
Moulin Rouge! The Musical is based on the 2001 film Moulin Rouge!, which was directed by Baz Lurhmann and written by Luhrmann and Craig Pearce. The first performance was back in 2018, and it has received 14 Tony nominations and won 10, including Best Musical.

Moulin Rouge! The Musical is a rollicking good time from the colorful set to the high energy performers. It runs Saturday, April 8 through Saturday April 16.
Saturday, April 8 at 2 PM and 8 PM
Sunday, April 9 at 1 PM (ASL Performance) and 6:30 PM
Tuesday, April 11 at 7:30 PM Wednesday
April 12 at 7:30 PM Thursday
April 13 at 7:30 PM Friday
April 14 at 8 PM Saturday
April 15 at 2 PM and 8 PM Sunday
April 16 at 1 PM and 6:30 PM

Check the website for times and tickets.
Fiddler on the Roof at the Saenger
Fiddler on the Roof tells the story of a father and his daughters, his struggles to maintain tradition, and the encroaching intrusion from a harsh outside world. It is a story that is filled with life, happiness, tears, and joy.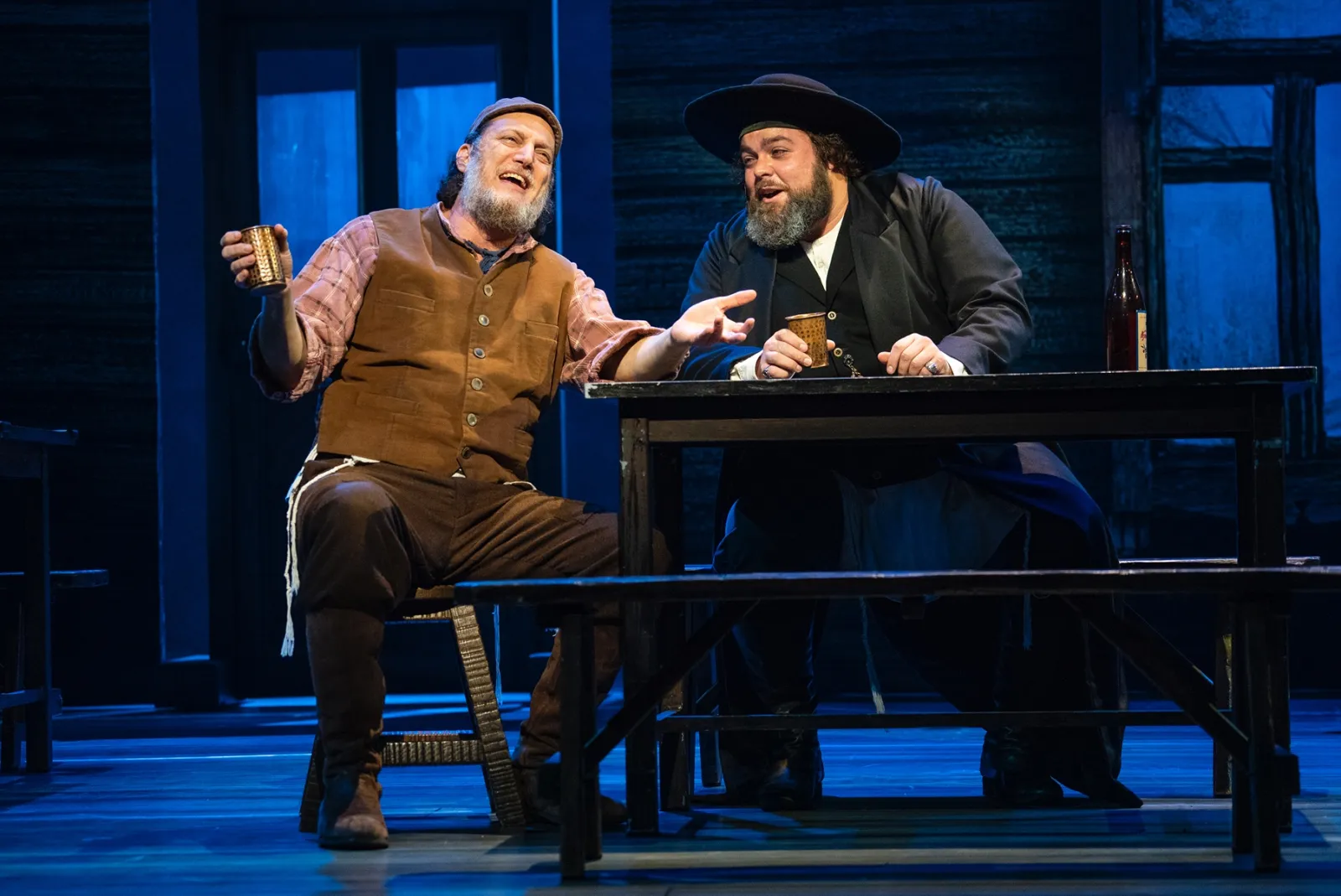 The Story
Fiddler is set in the Pale of Settlement of Imperial Russia in or around 1905 and is based on the story of Tevye and his Daughters (or Tevye the Dairyman) and other tales by Sholem Aleichem. Tevye is a milkman, who seeks to hold on to his Jewish religious and cultural traditions as outside influences encroach upon his family's lives. He has three strong-willed daughters who want to marry for love, driving their father to frustration. 

Act I starts with the song that marks Tevye's worldview—the boldly sung "Tradition." Determined to hold to tradition, Tevye seeks to impose traditional rules in way he lives his life and the marriage of his daughters. When the matchmaker, Yente, comes to visit to tell the family that she's found a match for the eldest daughter, Tzeitel, she reacts with disappointment. She wants to marry her childhood friend, Motel. Tevye struggles with wanting to make his daughter happy and holding to tradition. Next, Tevye's second daughter, Hodel, falls in love with Perchik. Eventually, he agrees to let Tzeitel marry Motel. Next, Hodel and Perchik make their own match, which shocks Tevye. When his third daughter, Chava, says she wants to marry Fyedka, Tevye puts his foot down and says he cannot allow her to marry someone outside of the Jewish faith. So the two of them elope. When rumors spread that the Russians are expelling Jews from the village, Tevye must leave with his wife, Golde and his two youngest daughters. As they leave, the fiddler begins to play.

The original Broadway production first opened in 1964 and held the record for the longest-running Broadway musical for almost 10 years.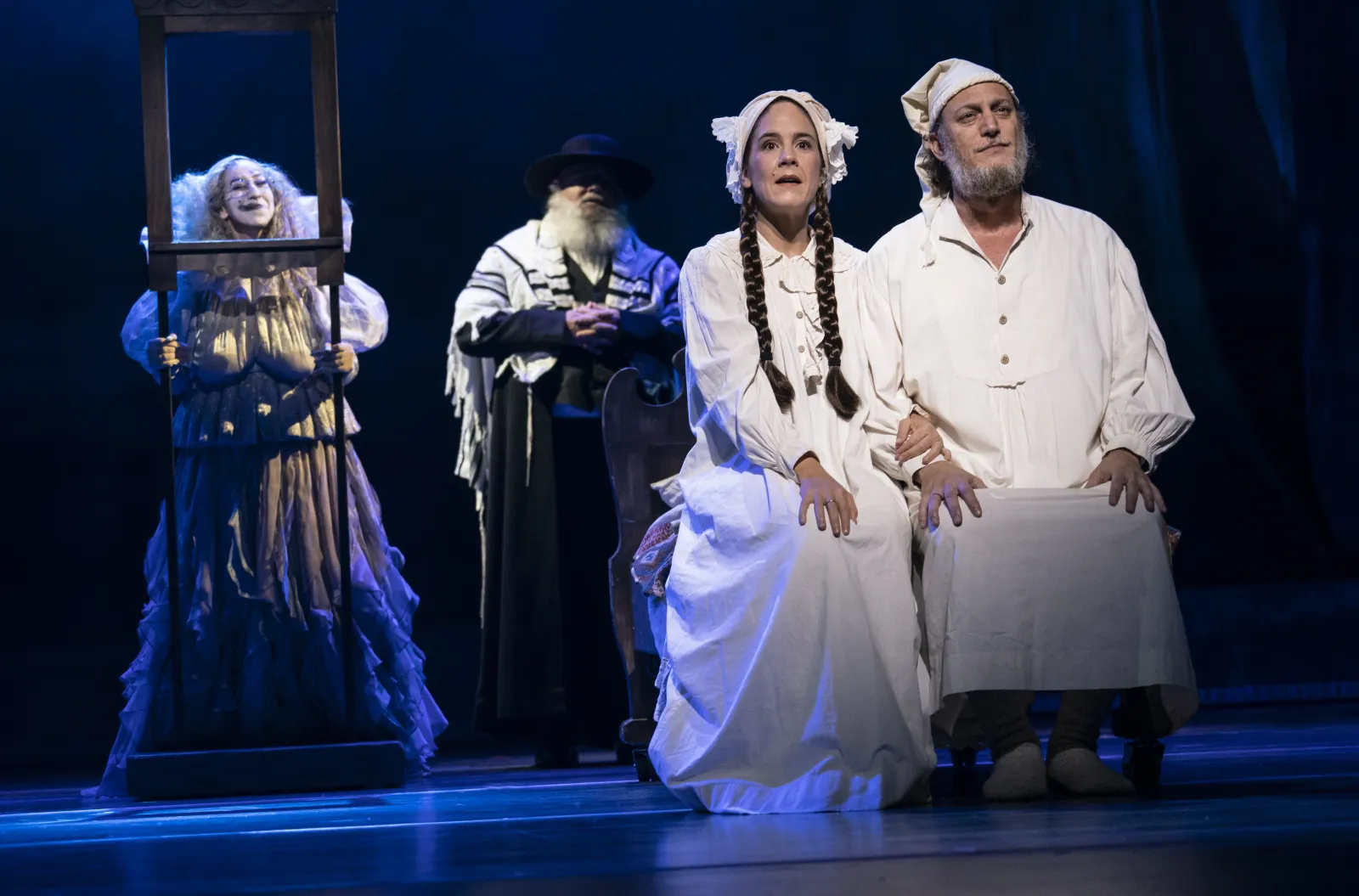 The Production
The performance was stellar and filled with the lively, bold sound the music and lyrics for which this play is known. The classic songs, "Tradition," "Sunrise, Sunset;' "If I Were A Rich Man;' "Matchmaker, Matchmaker" and "To Life (L'Chaim!)" were arranged and executed by a cast of talented singers. In particular, Jonathan Hashmonay, the actor who played Tevye, injected humor and wonder into his rendition of "If I was a Rich Man," as he danced, shimmied, and sang this number in Act One. Later he sang "Do You Love Me?"--his rich voice conveying the poignant desire for reassurance from his wife, Golde (Maite Uzal), as he struggled with his mixed emotions about his daughter's choices. Hashmonay stole the show as he endeared himself to the audience--as a loving father and husband, frustrated with his need to hold to tradition but see his daughters happy. His blustering discussions with God as he misquotes the Bible and questions why things happen made for humorous, light moments in the play.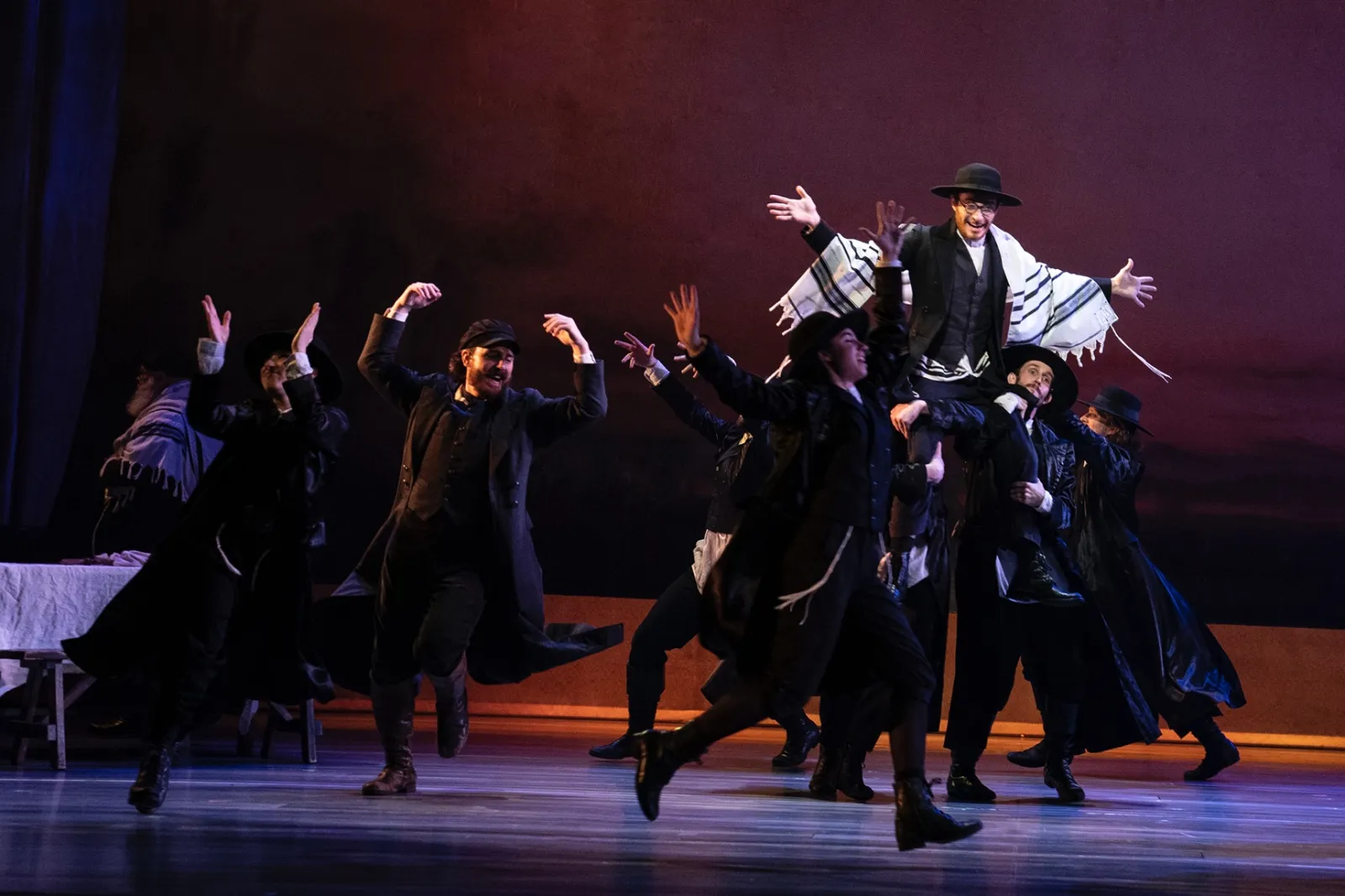 Besides Tevye, the real scene stealers were the full ensemble dance performances. "The Prologue: Tradition" and "The Wedding" brought most of the cast on stage for whirling dervish choreography and big, bold vocals. Israeli choreographer Hofesh Shechter created lavish dance scenes based on the original staging by Jerome Robbins. The movement and flow of the production was fitting for the story, with those high energy dance scenes to reflect celebrations and very still, quiet moments for emotion-charged songs. It was a wonderful performance and perfectly cast. At the end of the show, they announced that this and all performances were dedicated to Ukraine.
Fiddler on the Roof plays on the following dates:
* Wednesday, March 1 at 7:30 p.m.
* Thursday, March 2 at 7:30 p.m.
* Friday, March 3 at 8 p.m.
* Saturday, March 4 at 2 p.m. and 8 p.m.
* Sunday, March 5 at 1 p.m. and 6:30 p.m.
Broadway in New Orleans Presented by Entergy will offer a special $30 Student Rush Ticket for Fiddler on the Roof. Students must bring valid college student identification with them to the Saenger Theatre Box Office beginning two hours prior to each performance. The Student Rush Ticket price will be valid for evening performances ONLY (no matinees) with a two-ticket limit per student ID. Student Rush Tickets are subject to restrictions.
For more information please visit saengernola.com.



Tina Turner at the Saenger: Simply the Best
Exhilarating and powerful, Tina: The Tina Turner Musical is a magnificent melodic biography of the living legend's tumultuous life. This jukebox musical leads audiences through an emotional roller coaster as moments move from hopeful, to somber, to thrilling, to electrifying.
Following Tina Turner from her humble beginnings in Nutbush, Tennessee, the show opens with the young and outgoing Tina, born as Anna Mae Bullock. With a performance of "Nutbush City Limits," it takes us on a journey through the boisterous young Tina's life as a youth; from her parents' split, to moving with her grandmother, to moving back in with her mother and sister.
Tina (the musical) continues from there with a series of fast-paced scenes and changes that showcases Tina Turner's rise to fame in the 1960s to her rise to iconic status as the global queen of Rock n Roll.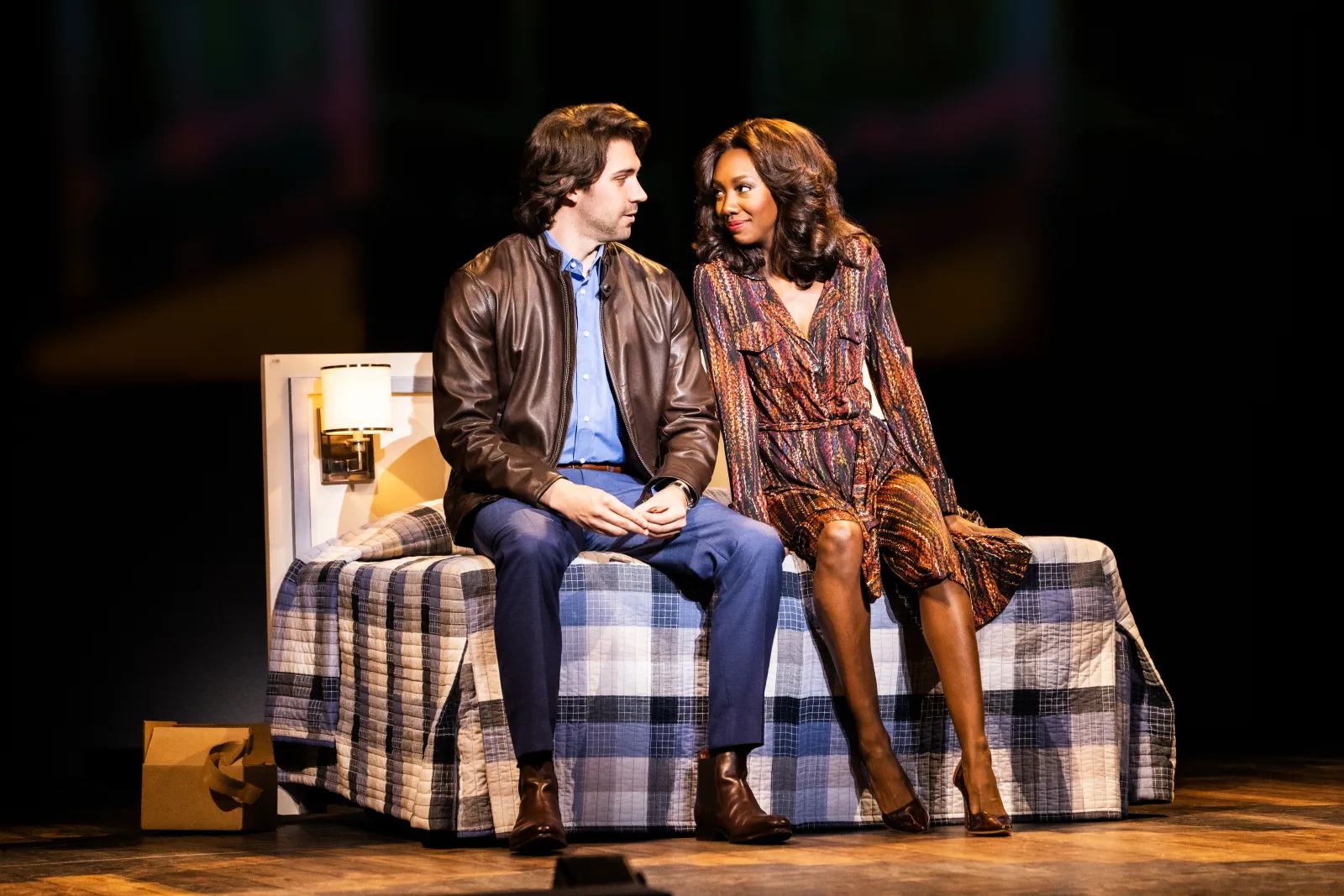 The Story
After moving to St. Louis to live with her mother, Zelma (Roz White), and older sister, Alline (Parris Lewis), Tina meets Ike Turner (Garrett Turner), a locally famous musician who eventually became the leading singer's husband. Throughout the show, the audience gets a taste of their abusive relationship as Ike displays all levels of abuse towards Tina and their children. He not only gets physical but at many times, very emotionally abusive and manipulative.
Tina eventually leaves Ike (1976) leading her to struggle with the burden of her terribly managed finances. Adding to her stresses she is unable to get proper work due to almost aging out of the music business.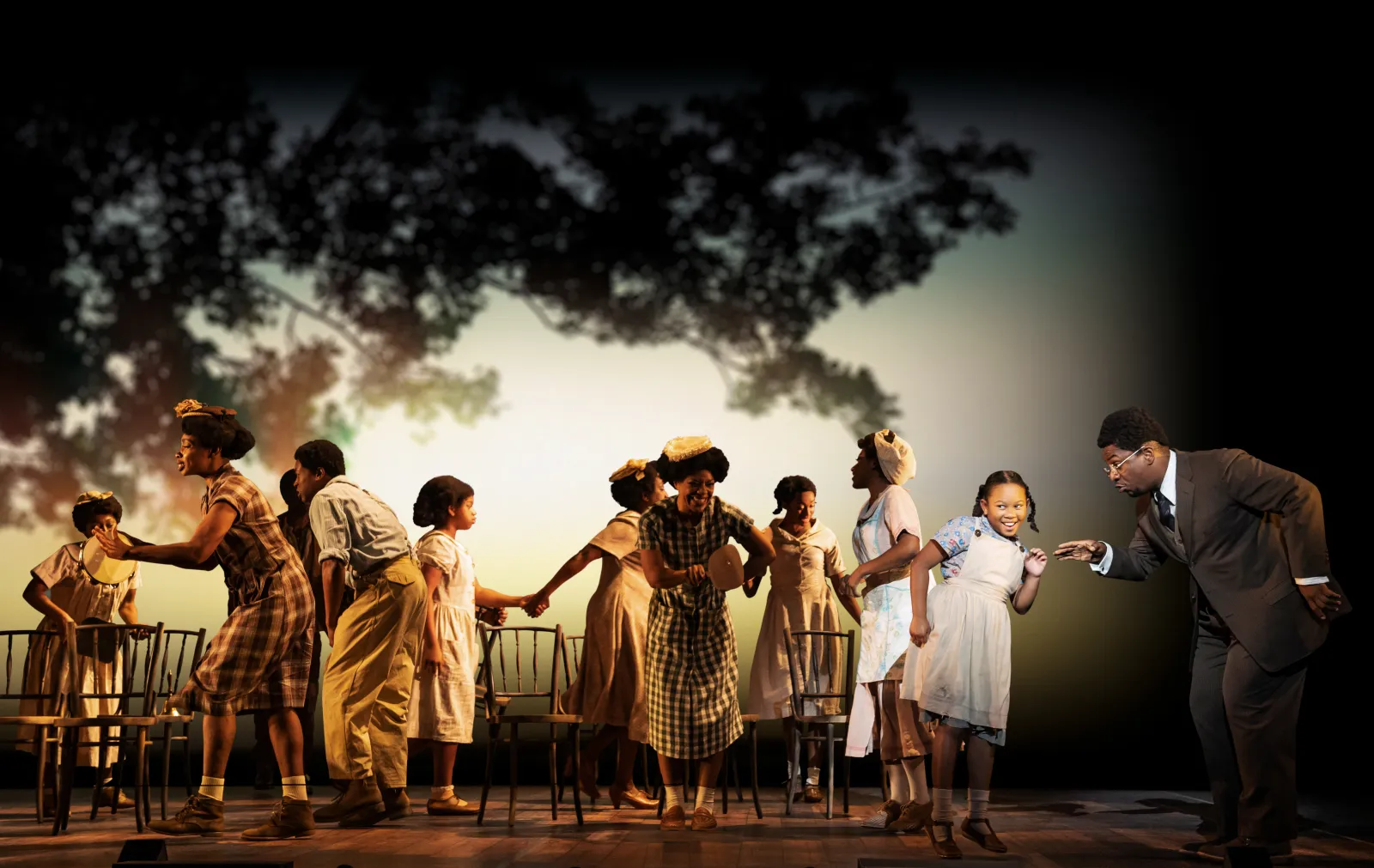 The Production
While there are two performers playing Tina on the Broadway Across America traveling show, Naomi Rogers (Tina) opened the New Orleans debut of Tina: The Tina Turner Musical.
The immensely talented performer stunned as Tina, embodying her vocal structure, facial expressions and movements. While her role was that of Tina Turner, Rogers' vocal skills stood alone. Her performances of the classic hit songs "Proud Mary" to "What's Love Got to Do With it" were phenomenal.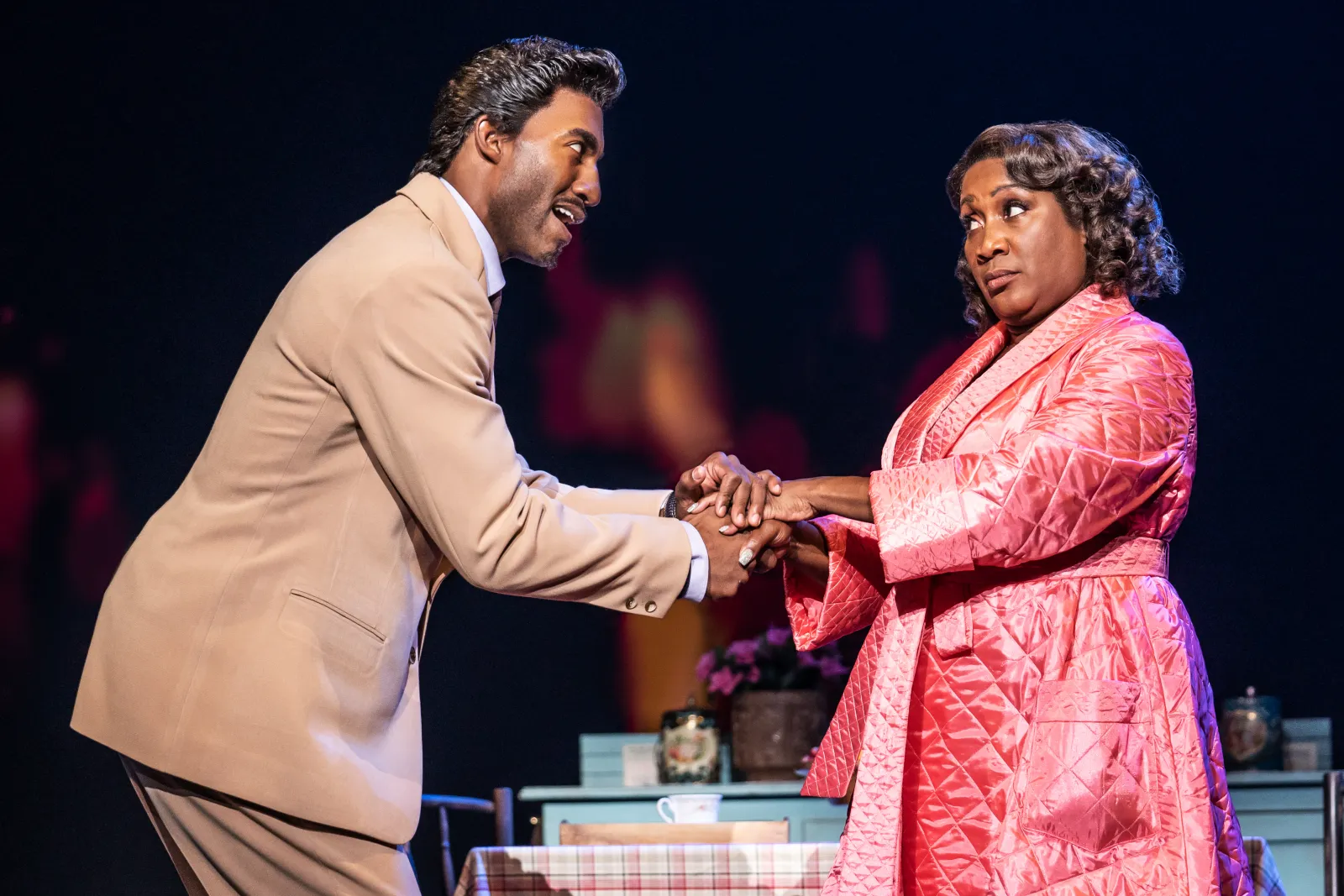 Along with Rogers, there were stand out vocals from Ann Nesby who played Gran Georgeanna (Tina's grandmother) and dynamic vocals and performances from Ayvah Johnson, who adorably played young Anna-Mae.
Simply the best! This show was heartfelt, sinsational and at many moments, fun and amazing. The audience sang, laughed and cried with the cast. Be sure to see this amazing show at the New Orleans Saenger Theatre this week until Sunday, February 12th.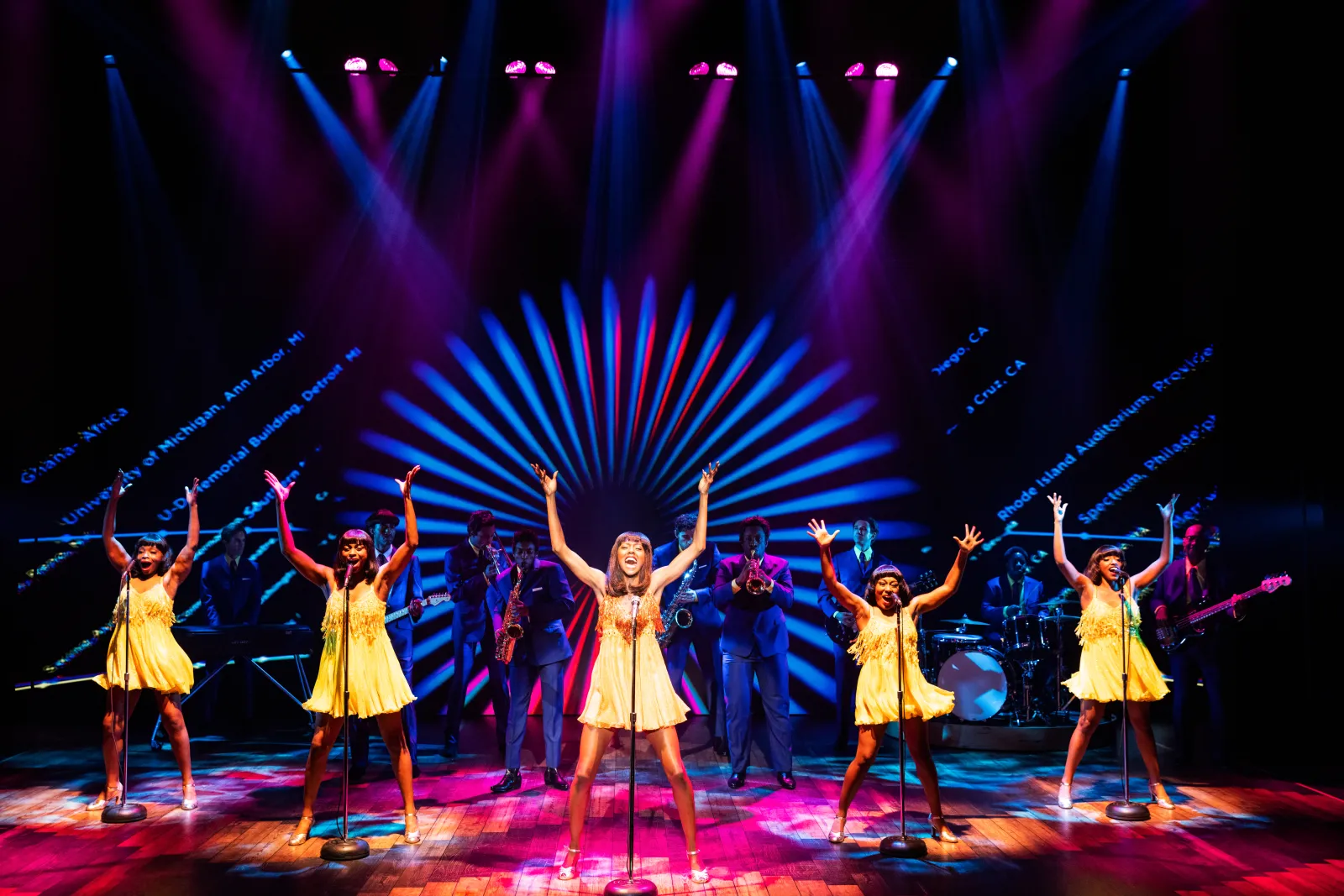 For more information please visit saengernola.com.

Broadway's SIX The Musical is Live at The Saenger Theatre
Electrifying and comically brilliant, if you're a fan of juicy history and Pop music then you must see this history with a twist. The 23 award winning musical SIX is on stage now at the historical Saenger Theatre. Famous for having six wives, England's King Henry VIII had a controversial reign from 1509 until his death in 1547. While his life was fascinating, this stage performance is not a story about the king. SIX is actually a vibrant display of "Herstory" told by his six queens reincarnated as a pop sextet.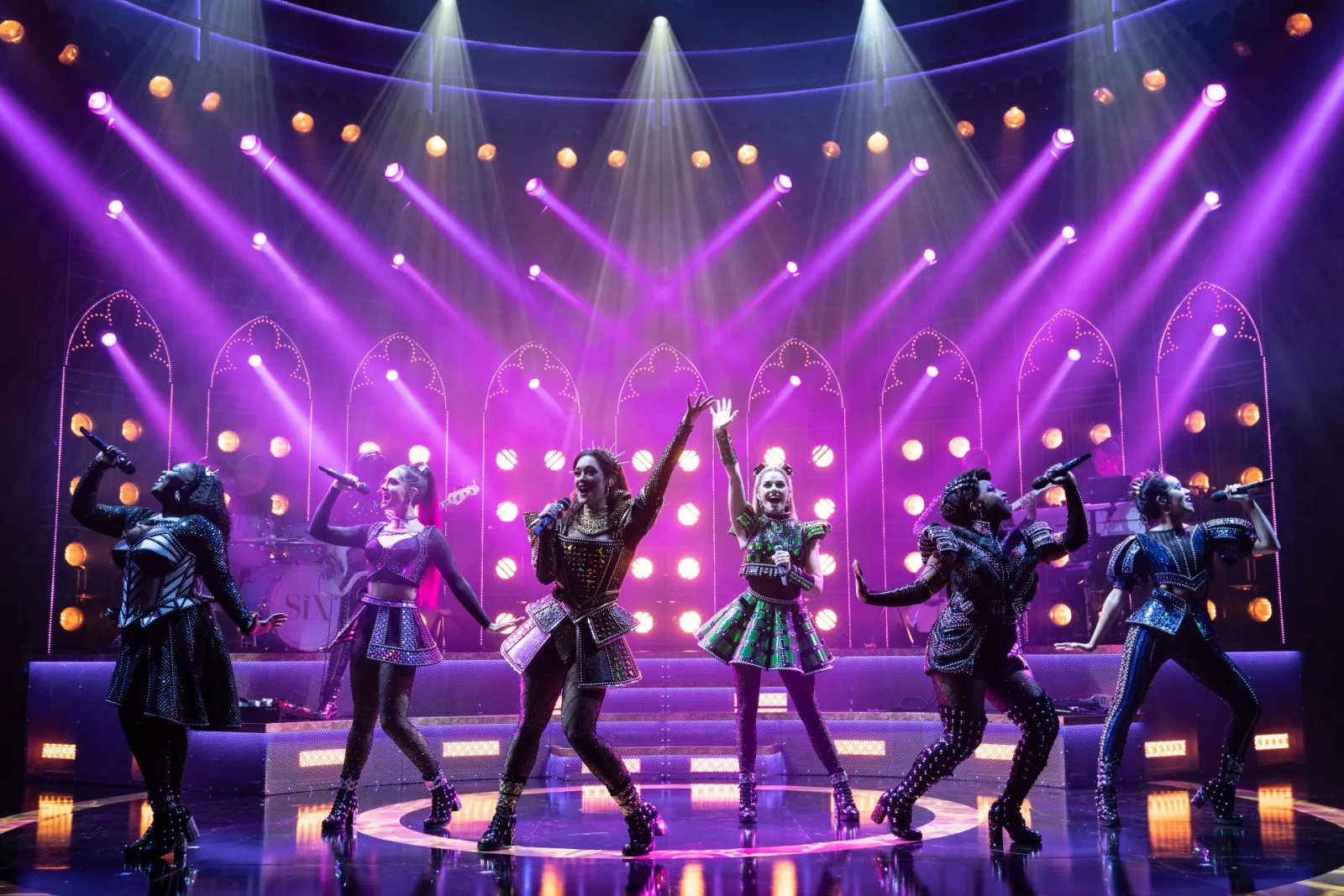 Performed as more of a concert than a play, SIX is one of the most unique Broadway musicals to hit the stage. The show opens with all six wives as they hilariously compete to see who had the most tumultuous life with the king. If you don't know the story behind the six wives, then you may be shocked to find out that two were divorced, two were beheaded, one died, and one survived and lived through the king's passing.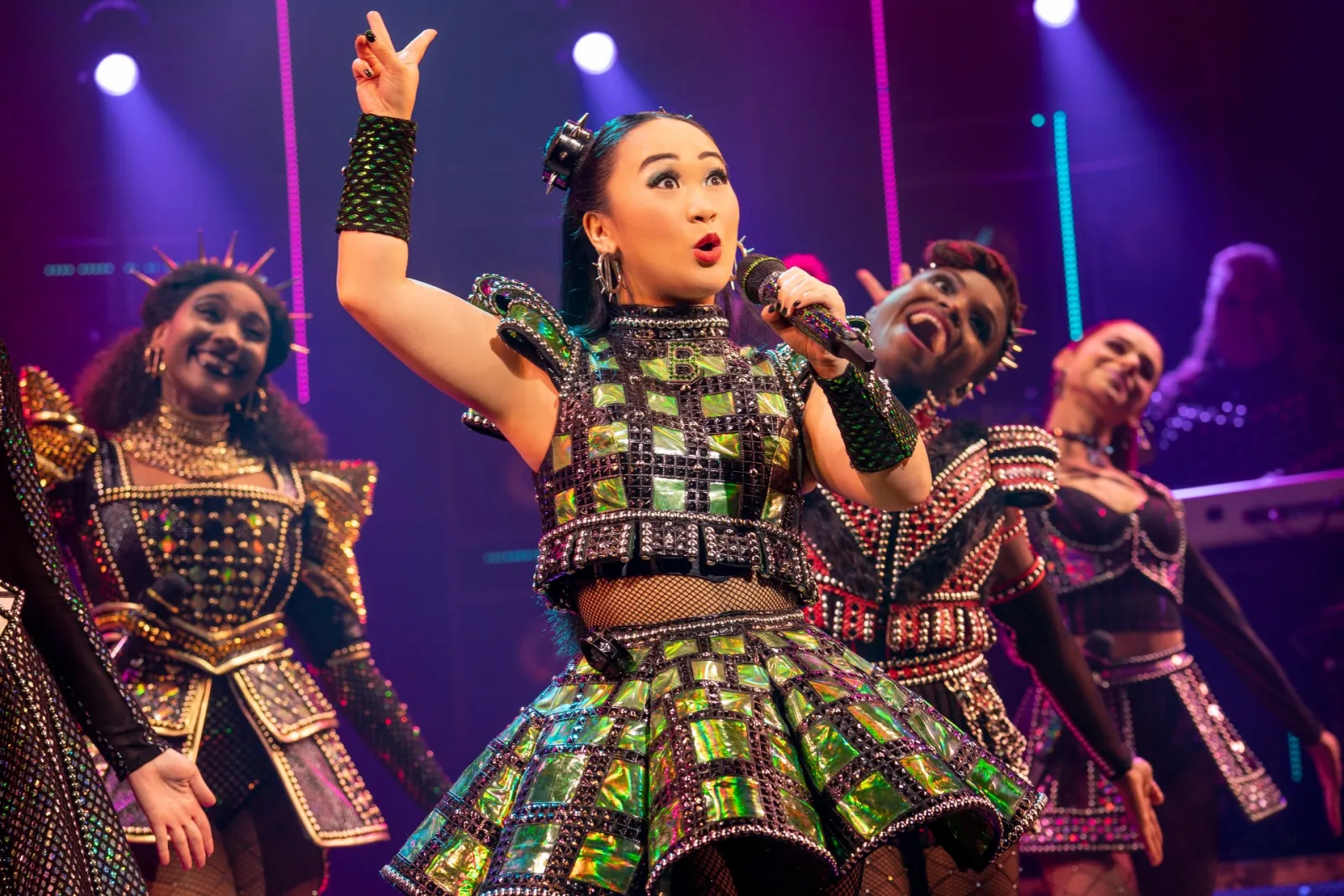 The Queens Herstory (wives)
Geniusly done, each queen belts out her story and it is simply fantastic. The first wife, Catherine of Aragon (Gerianne Perez), was a Spanish born heiress who was previously married to Henry's older brother King Arthur. Married to him for more than 20 years, he eventually divorced causing very controversial gossip after falling for his mistress and most famous wife Anne Boleyn (Zan Berube).
Boleyn had a very brief reign as queen due to being beheaded for treason and accused of infidelity. While her death was brutal, it made her a prominent figure in the political and religious upheaval of England. Up next came Jane Seymour (Cecilia Snow), the king's third wife who seemingly was the only one that was madly in love with the king, along with giving him his only male heir. Unfortunately she shortly died after giving birth.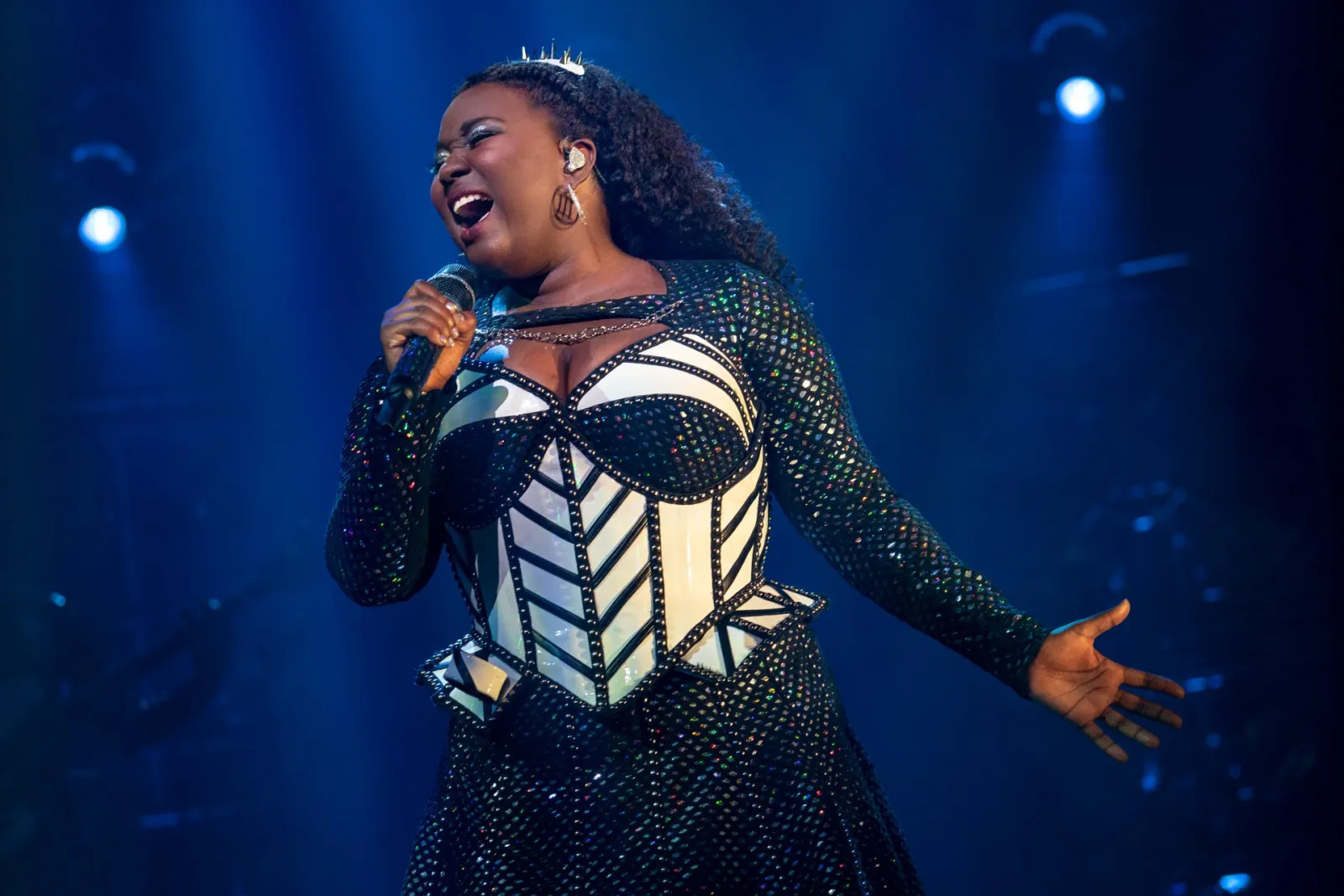 Coming in at number four was German-born Anna--better known as Anne of Cleves (Jana Larell Glover) . Anna's introduction to the king was somewhat of a "catfishing" of the time. While he ordered this bride based on a self-portrait, the king was unsatisfied with her appearance upon meeting her. After a short period the marriage was annulled and Anna was rewarded a large settlement.
Henry's 5th wife was a few decades his senior and likely the least known historically. Her name was Katherine Howard (Taylor Pearlstein) and she was beheaded after an alleged affair and sadly after living a rather used and abused life. After losing two husbands to death, the king's final wife, Catherine Parr (Sydney Parra), was practically forced to marry Henry to keep her status and survival as a female during the time. Parr outlived the king and was able to build a bit of success on her own as a published writer and activist.
SIX: The Production
This amazingly original work of art is a fantastic display of girl power set to the scene of a pop concert. The immensely talented all female crew from performers to musicians kept the audience entertained while giving these tragic stories from the wives a place to live, making them the main characters of their own stories. In return, making their lives a little less tragic. Showing at the Saenger Theatre until Sunday, December 4, this show is a must see! Don't miss the opportunity to witness live action history with a twist.
The Lion King

Roars

at the Saenger Theatre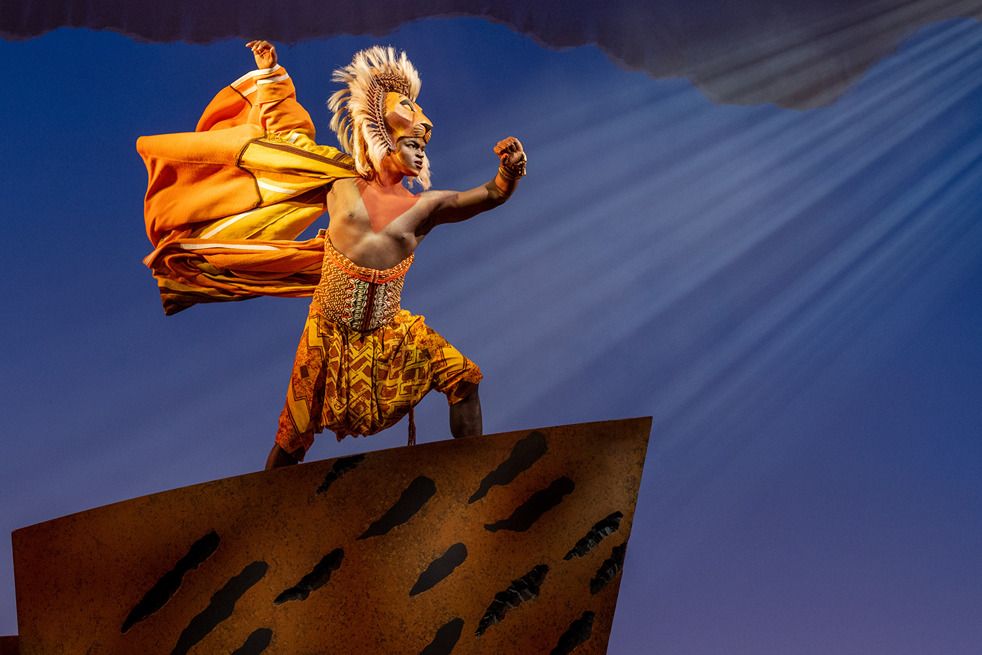 Having one of the best openings on Broadway, Disney's The Lion King stunned as it hit the stage this week, opening at the Saenger Theatre in New Orleans on Friday October 28. If you are familiar with the popular musical's storyline, you will know that animals can come from just about anywhere, and that is exactly what happened—in the theater. With intricate costumes and detailed movements from the ensemble, this six time Tony Award winning phenomenon is a must see. Its longevity is fitting proof.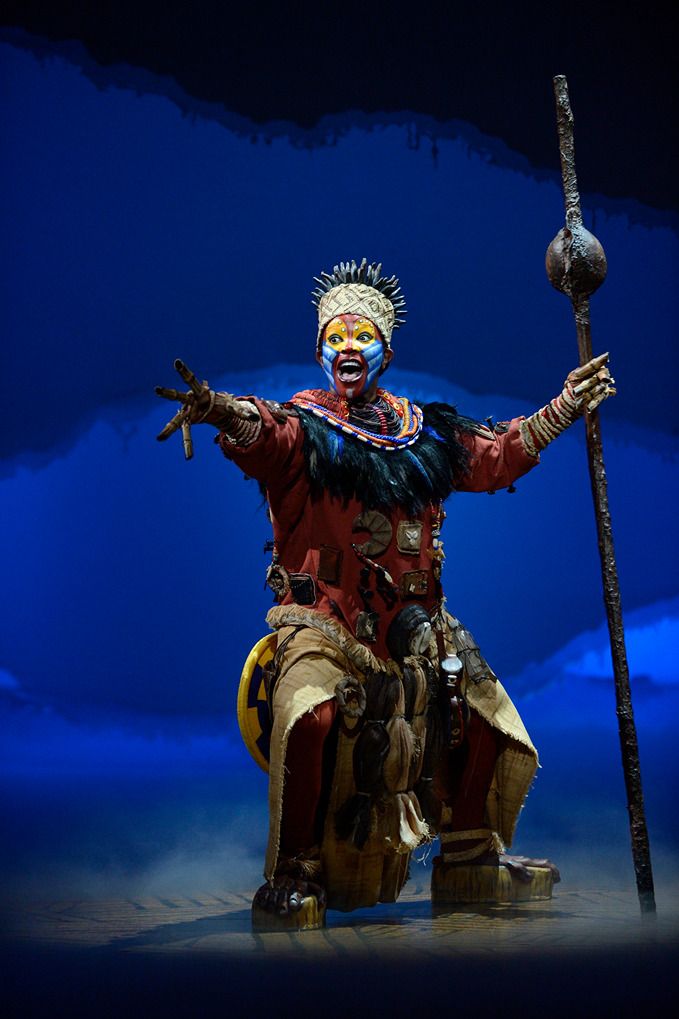 Adapted from the 1994 Disney movie of the same name, this show has been number one on Broadway fans' list of shows to see for over two decades. Reinvented as a Broadway musical for the stage in the late 1990s, The Lion King made its debut in Minneapolis, Minnesota, at the Orpheum Theatre. With such a successful premier, the show moved on to Broadway's New Amsterdam Theatre on October 15, 1997, while officially opening on November 13 that same year.
Standing as Broadway's third longest running show in history, the fan favorite has not only won several awards but has also grossed billions of dollars, making it the highest grossing Broadway musical of all time.
There is know secret to why this show has been so successful. Its precise incorporation of a variety of African cultures in its costumes, puppetry, dynamic music and vocals, and its remarkably emotional performances has created a once in a lifetime immersive experience for audiences across the globe.
The Broadway Show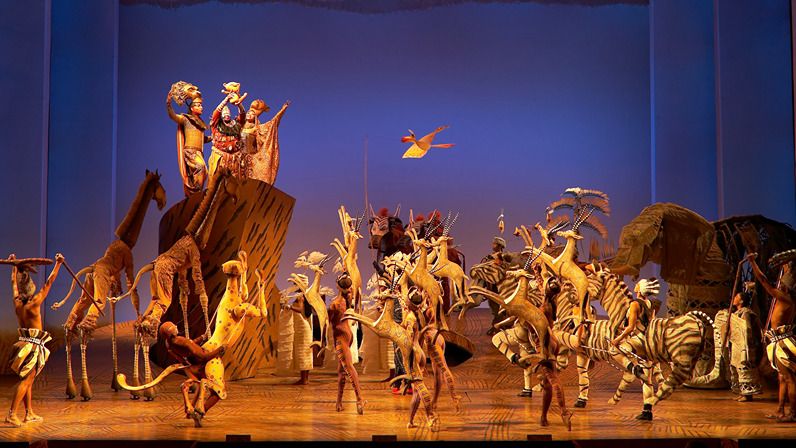 Opening with "The Circle of Life," the musical adaptation first introduces you to Rafiki (Gugwana Dlamini). Played by a woman in the musical, she begins the story with the oh so familiar opening of the welcoming of newly born Simba. Young Simba (Jaylen Lyndon Hunter) begins his life in the Pride Land getting into all of the things a young cub would likely get into with his best friend young Nala (Scarlett London Diviney).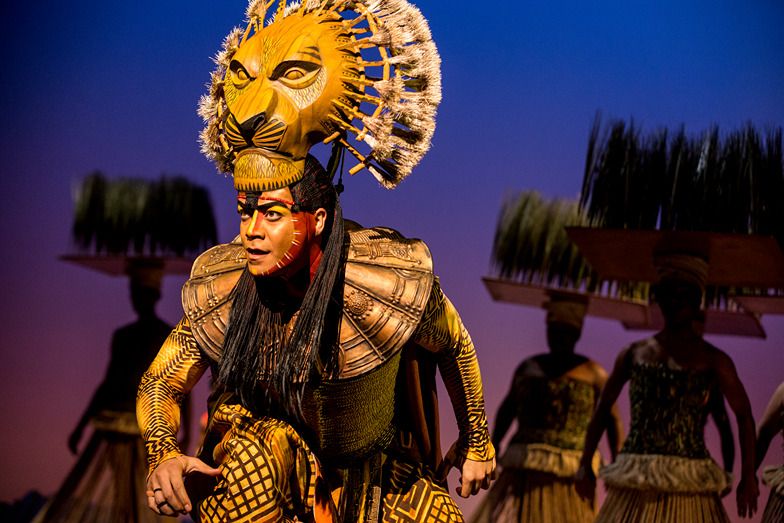 Similar to the Disney movie, the adaptation stays true to the plot with a few additions. There are a number of new scenes. One key addition is when Timon finds himself nearly drowning in a waterfall while Simba feels powerless to help him. Another major addition is the depiction of Nala's departure in the scene where Scar tries to make her his mate. When she refuses, she decides to depart the Pride Lands to find help after receiving the blessings of the lionesses and Rafiki during the new song "Shadowland".
At the Saenger Theatre New Orleans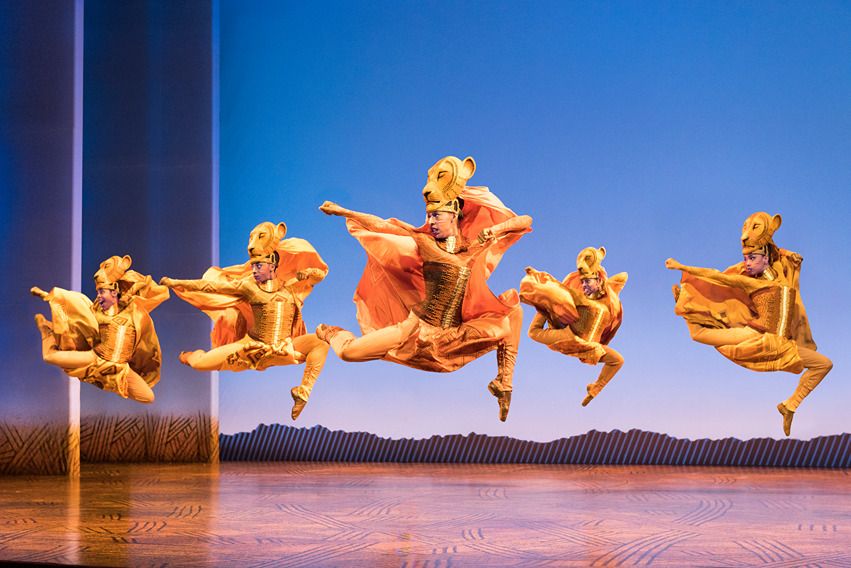 The show amazed with comical relief, yet touching with incredible aesthetics. Some favorites from the night's show were Timon's sarcasm, the hilarious hyena's, an amazing performance from young Simba, and the beautiful dialects and vocals of Rafiki and all of the ensemble singers and dancers. This show was nothing other than incredible and is most certainly a must see production.

If you haven't seen Disney's The Lion King yet, it is currently in an limited run with performances at the Saenger Theatre through November 13 (except Mondays).
Missing Pretty Woman is a big mistake, big...HUGE!
Staging a Broadway musical based on a movie is difficult enough, but to attempt to bring a beloved iconic film to stage is bound to be met with criticism—fair and unfair—from all sides. This production of Pretty Woman is no exception. Fans of the film will discover their storyline faithfully intact, which is no surprise considering the book was written by J. F. Lawton and the late Gary Marshall, both who wrote the film version. Theatre goers will be treated to a bevy of original songs created and performed by Broadway stars rarely seen in touring companies.
For those unfamiliar with the 1980s Gary Marshall film (his most successful movie—and he made a lot of movies), this romantic rags-to-riches tale is loosely based on George Bernard Shaw's Pygmalion, a la My Lair Lady. In this reincarnation, a wealthy lonely and (literally) lost entrepreneur Edward Lewis (Adam Pascale) meets up with a fledgling hooker Vivian Ward (Olivia Valli) who negotiates at a level he respects and also knows the way to his hotel. Sparks fly immediately.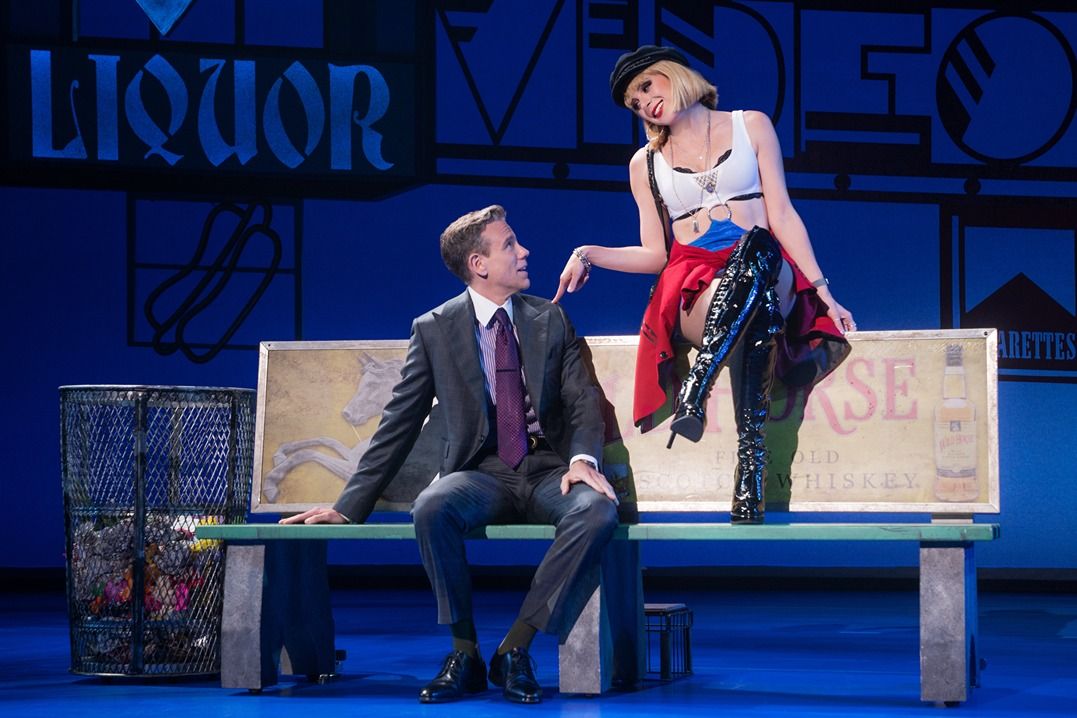 In need of a companion for social situations, but wary of distractions and unwanted entanglements, Edward compensates Vivian for her time the rest of the week. His goal is to focus on closing a multi-million dollar deal while in Los Angeles. Her's is paying the rent. To define the business arrangement, no kissing is allowed. Fans of the movie, or Pygmalion/My Fair Lady, or romantic comedies in general, all know how this turns out. HINT: They wind up kissing...and then some.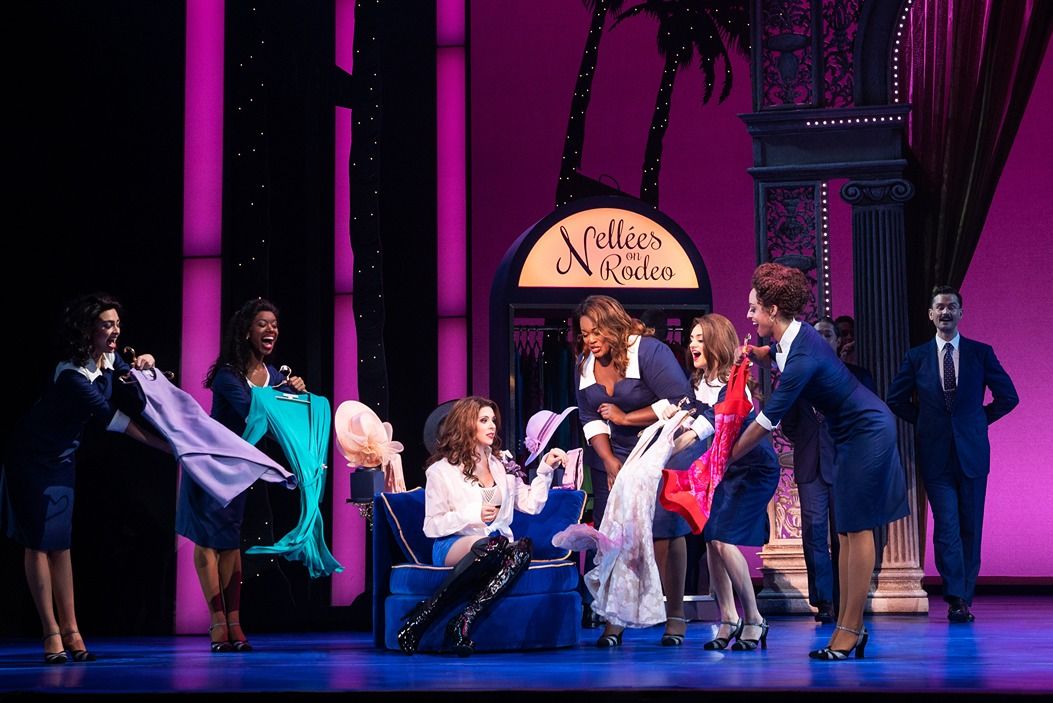 The cast is strong. Olivia Valli's voice sounds a lot like Julia Roberts, but she's also got the chops to belt out a song, impressing with "Anywhere But Here" as she takes the stage.
Kyle Taylor Parker does triple duty as the defacto "Happy Man" to frame the narrative, also stepping into Héctor Elizondo's shoes as non-judgmental hotel manager Barnard Thompson, and as the flamboyant boutique manager who excels at sucking up to rich customers. Not only is his performances remarkably different for each characterization, but by having them all played by Parker, it subtly reveals how each character is a moral compass in their own way.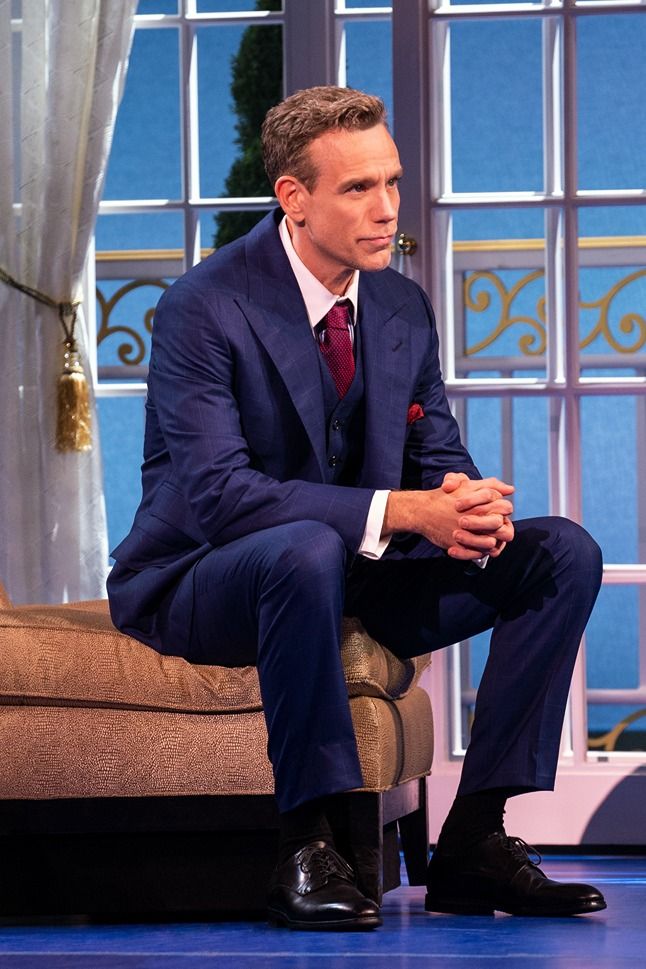 Adam Pascale is Broadway royalty, and having him join this cast as Edward is exciting and complements the talent around him. Pascale originated the role of "Roger Davis" in Rent. While it takes a few scenes to reconcile his famous anti-establishment stage persona now morphing into a one-percenter, his voice is every bit as strong and rich as it was in the 1980s...when this show is supposed to take place. There is a comfort in seeing "Vivian" as Pascale's new "Mimi"—it feels like Roger's in there somewhere. And this actually makes his transition to emotionless business tycoon into passionate dreamer, due to Vivian's influence, even more believable. Experiencing Pascale's performance and voice live is worth the price of admission.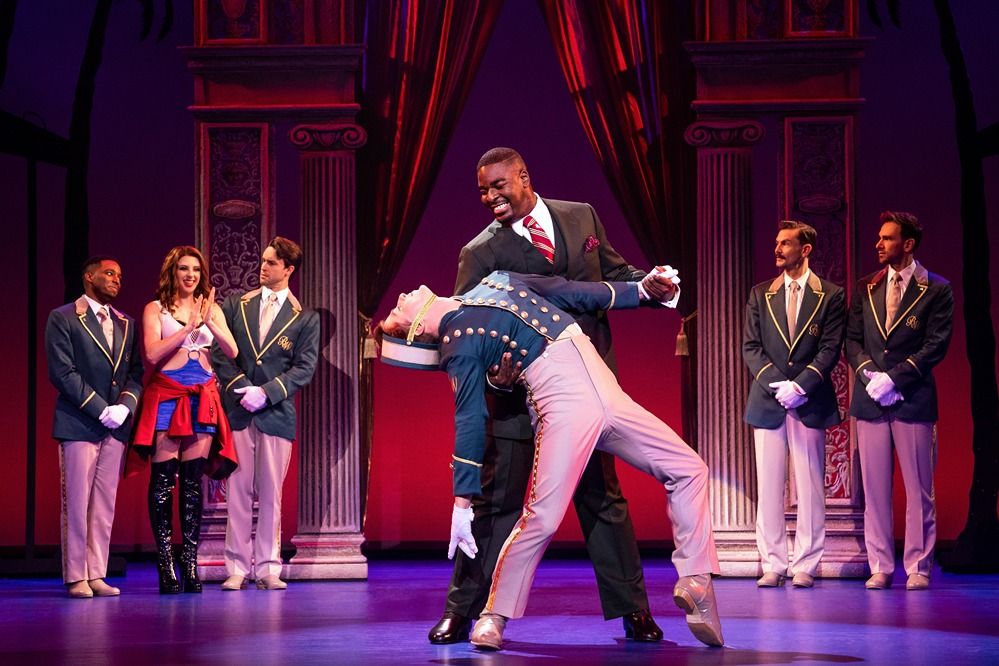 The scene-stealing standout, however, is Trent Soyster as Giulio, the hotel bellhop. The bellhop was relegated to amusing reactions shots in the movie version, but Soyster almost completely steals the show with comedic agility and timing. Between learning to dance with the hotel manager and getting absorbed into the excitement of the lavish lifestyle Vivian and her friend Kit (Jessica Crouch) are experiencing, his performance is laughable in every good way imaginable.
Appropriate to the decade the play is set, 1980's rock icon Bryan Adams and Jim Vallance infused 16 original songs to solidify Pretty Woman as a musical. The era is best represented with Pascale's rendition of "Freedom."
But don't think you're escaping Roy Orbison's signature song that inspired the story, no matter how many times they tease it.
Pretty Woman is being performed at the Saenger Theatre through Sunday October 9.


The Hit Broadway Musical Hamilton has Extended Run in New Orleans

History has its eyes on The Saenger Theatre as audiences have an opportunity to experience the extended run of the Broadway sensation Hamilton well past Independence Day, so "don't throw away your shot" and go!
Experience it Live

The first and most obvious question: Why see the Broadway production of Hamilton in New Orleans?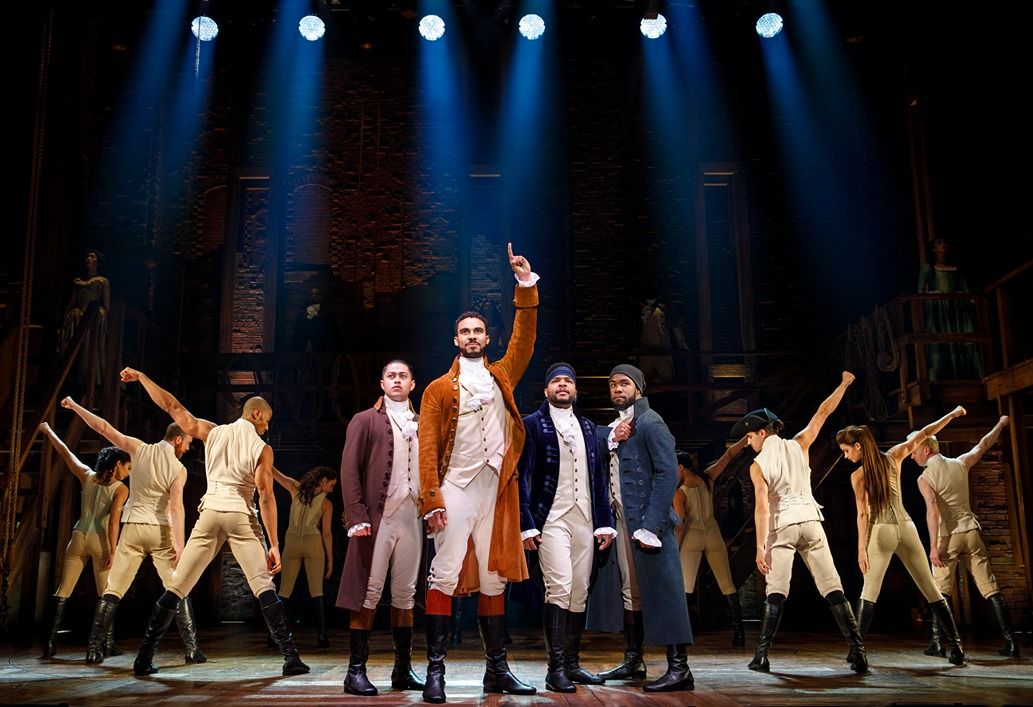 Given Hamilton's over-the-top popularity since the curtain rose on Lin-Manuel Miranda's multi-ethnic update of one of the least iconic—yet one of the most influential—founding fathers in New York City August 6, 2015, the Broadway musical became an instant classic. The show's soundtrack is know by heart to millions of adoring fans (and historians), beyond the fact that the entire Broadway production, with the original cast, was watched countless times after Disney+ began streaming it during a time when it was impossible for a Broadway-starved fan base to go the theatre. So is there a compelling reason to see it (again)?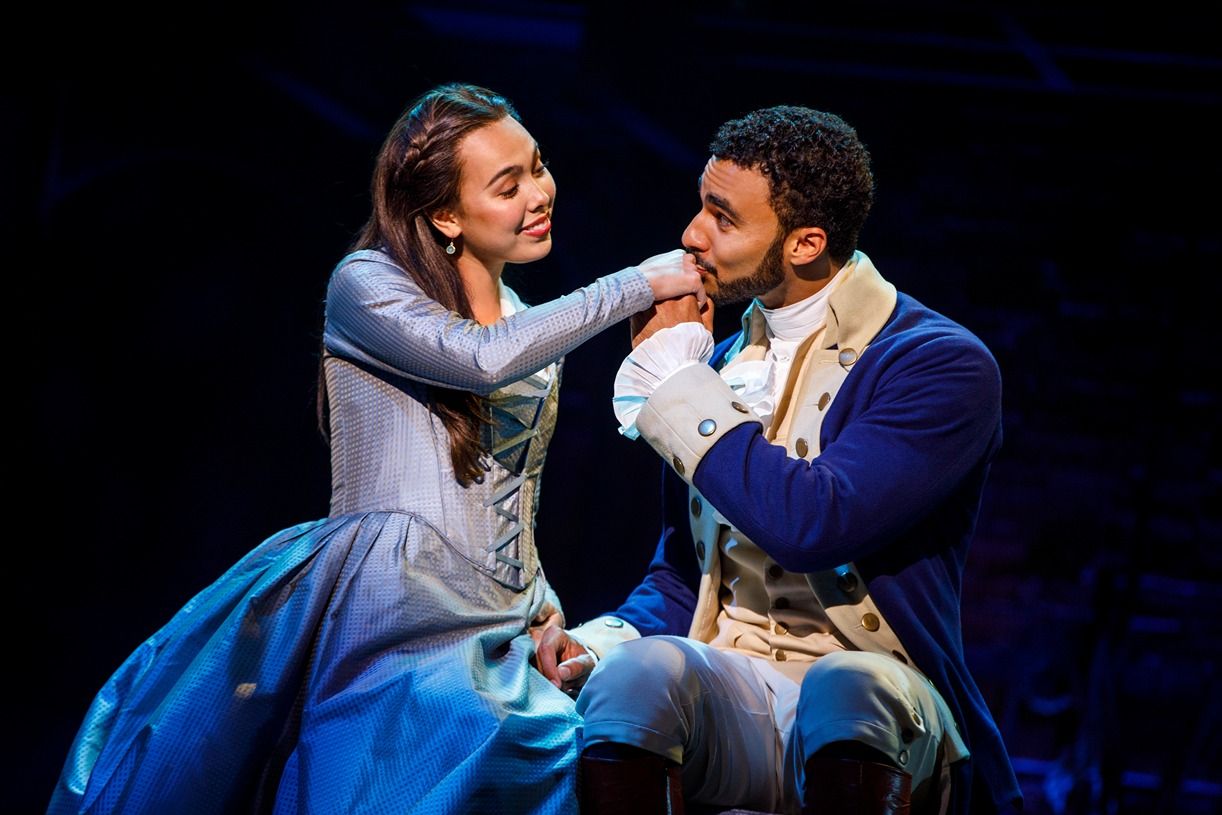 The answer would be a resounding : Yea!

Regardless of the excellent production values in Disney+'s streaming version, or how many times the soundtrack is heard, the answer is obvious from the first drumbeats as the house lights dim, and Aaron Burr (Josh Tower) strides onto center stage, Hamilton needs to be experienced the way Miranda created it—as a live Broadway production.
No overture or sweeping orchestration leads into the show, but the energy and intensity is palatable as he is joined by the entire cast, literally filling the austere set to the rafters. The roar from the audience anticipating the opening lines set a thrilling stage.
Hamilton is a collectively shared experience in which the audience and cast are galvanized with the energy from each other. They've created an energy that only seemingly exists in live theatre, and cannot be emulated on film or TV. Beyond that, there are so many nuanced performances and activities in the background or out of focal sight, that much may be missed if it's not in the sight lines. However, for theatre-goers, these hidden elements add to the audience's enjoyment, and sometimes characters' reaction.
A Rap Musical it is Not

It is important to note, some patrons of Broadway musicals may be misled by Hamilton being unfairly categorized as a "Rap Musical." They may believe this format is too big of a departure from the traditional shows, but have no fear.

That classification and subsequent avoidance would be wrong. While there are songs that are performed as rap, including two inspired Battle Raps in the form of cabinet meetings emceed by President Washington (Paul Oakly Stovall)—pitting Treasury Secretary Alexander Hamilton "debating" Secretary of State Thomas Jefferson (an uninhibited David Park), Miranda's musical is a love letter to all genres of music.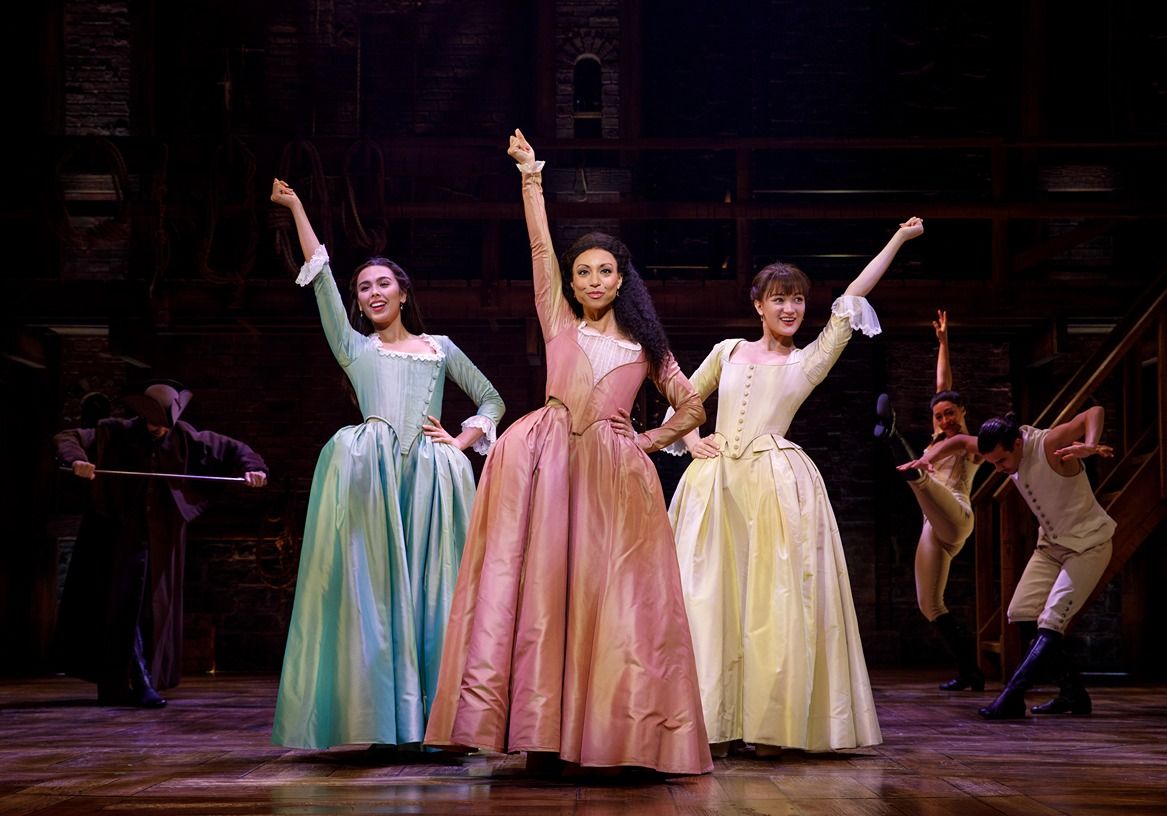 The show opens with a Colonial-era minuet, and spinkles Blues, Motown, torchlight ballads, upbeat love songs, and soulful seduction songs that would make Barry White blush. Miranda is successful in his goal of having his show be accessible to new audiences without undermining his clear love of all Broadway music. In making all the musical forms accessible and enjoyable to both the new and traditional audiences, he grows the fanbase in the process.

The Play is Hamilton's History

Historians and those with a subscription to Disney + may not find spoiler alerts here, but all else be warned: Hamilton charts the unpredictable life of Alexander Hamilton from poverty-stricken orphan in the Caribbean to his role as one of the most significant United States founding fathers, who effectively created the country's system of government and finance we know today.

Hamilton, Act I

The opening number quickly dispenses with his childhood in song and introduces the cast of characters, picking the story up as a recent college graduate meeting frienemy Aaron Burr for the first time shortly before the American revolution.

Along the way they befriend John Laurens (Jon Viktor Corpuz), Herculese Mulligan (Tyler Belo), and [New Orleans favorite] Marquis de Lafayette (David Park). Proud tomcatting ladies' men, the friends court the Schuyler sisters: Angelica (Stephanie Umoh), Peggy (Yana Perrault), and Eliza (Zoe Jensen) who Hamilton married.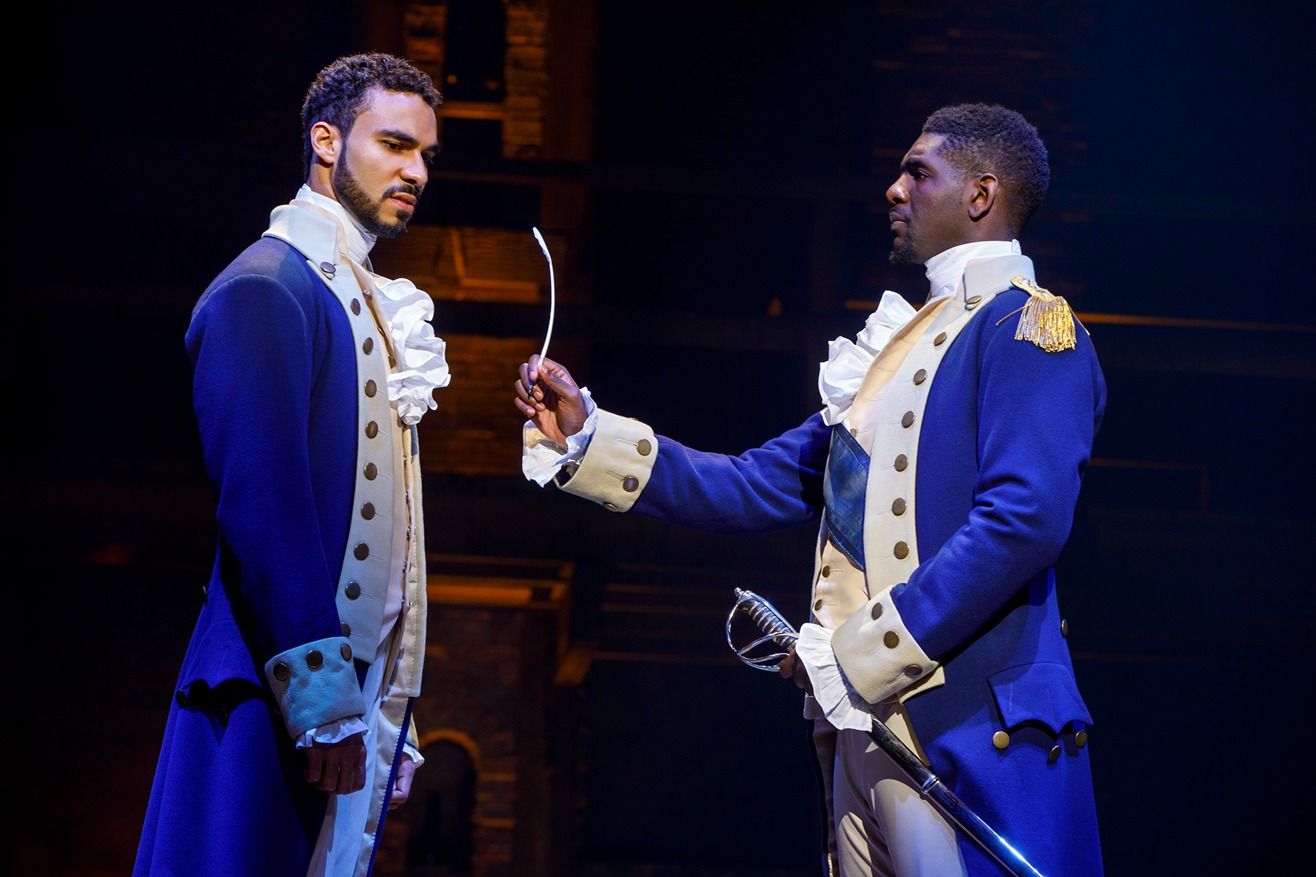 Historians have largely rejected the idea that Hamilton had a love triangle between his wife Eliza and his sister-in-law Angelica, but the devotion and friendship among the three is also widely accepted and keeps speculation alive. Miranda runs with this idea and creates plausible situations between the trio that may explain many of the historical writings from which the dialogue is sourced. Angelica's wedding flashback on how they all meet ("Satisfied") is a brilliant stage moment imagined by choreographer Andy Blankenbuehler.

Burr and Hamilton's paths criss-cross through the revolution, Hamilton always seeming one-step ahead of Burr, including becoming right-hand man to General George Washington (Paul Oakley Stovall).

Hamilton, Act II

After the victory over the British empire comes internal nation building in Act II. Unfortunately, it is also the turning point in Hamilton's life, in reality and on stage.

While his fame was a meteoric rise in wartime full of love, loyalty, and achievement, he becomes his own worst enemy in peacetime, ultimately being undone by five of the deadly sins. Hamilton has more radical ideas than his peacetime counterparts care for. Thus the two-party political system is born. It is quickly clear nothing has changed over the centuries.

The north and south are in the early stages of political divides based on slavery, and states' rights compete with the values in a strong central government, especially financially. And of course, rival political parties never miss gloating over salacious scandals in media coverage that brings down worrisome opponents. A significant difference is that in the end, the good of the country and its people are the priority despite political rivalries—much to the disbelief and anger of Aaron Burr.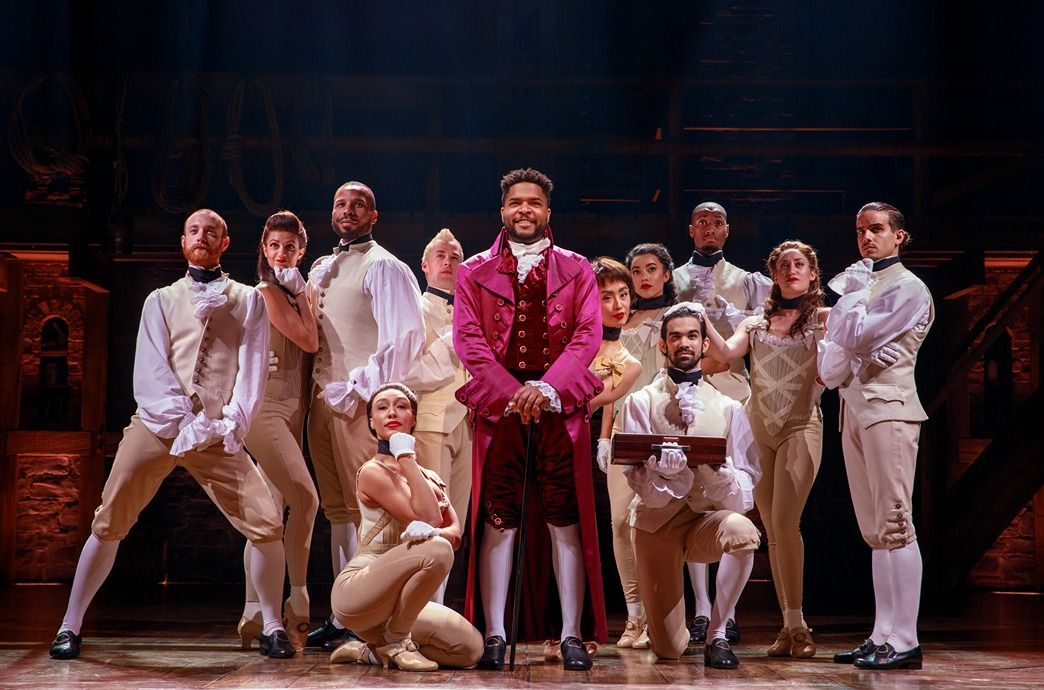 Even though Burr repeatedly acknowledges that Hamilton works tirelessly and persistently pursues his goals, Burr is increasingly resentful. He is bitter that his non-committal political strategy is not advancing his career as fast as Hamilton increases over the course of their lives. The Burr-Hamilton relationship is optimistic but contentious and ultimately fragile from the start.

This is an interesting dynamic that is reminiscent of the Salieri-Mozart relationship in Amadeus. Whether Miranda purposefully structured his plot line similarly with Peter Shaffer's other historical rivalry, or it is simply a theatrical coincidence, the narrative framework works well.

Like Amadeus, the story arc seems to follow the title character's career (Hamilton), but it is deceptively the antagonist's story (Burr), and how their intertwined yet parallel relationship comes to a tragic end—but who pays the bigger price?
Hamilton on Tour in New Orleans

Even if the show was seen on Broadway, this touring cast of Broadway veterans makes it new. They exude the passion necessary for a play that is as historically sound and painful as it is funny and soulful.

Alexander Hamilton (played by understudy Deejay Young, normally cast as Edred Utomi) had a more melodic voice than Miranda who originated the role. Young made Hamilton's strong convictions believable, making emotions real and conveying Hamilton's desperation, frustration, and futility convincingly. His balanced performance brought the egocentric aspects of Hamilton to life even as he displays loyalty, love, and repentance in his evolution as a person. In a pinch, understudy Young is also poised to step in as Lafayette & Jefferson, Mulligan & Madison, as well as Laurens & Phillip Hamilton, and would probably be mesmerizing in any of those roles.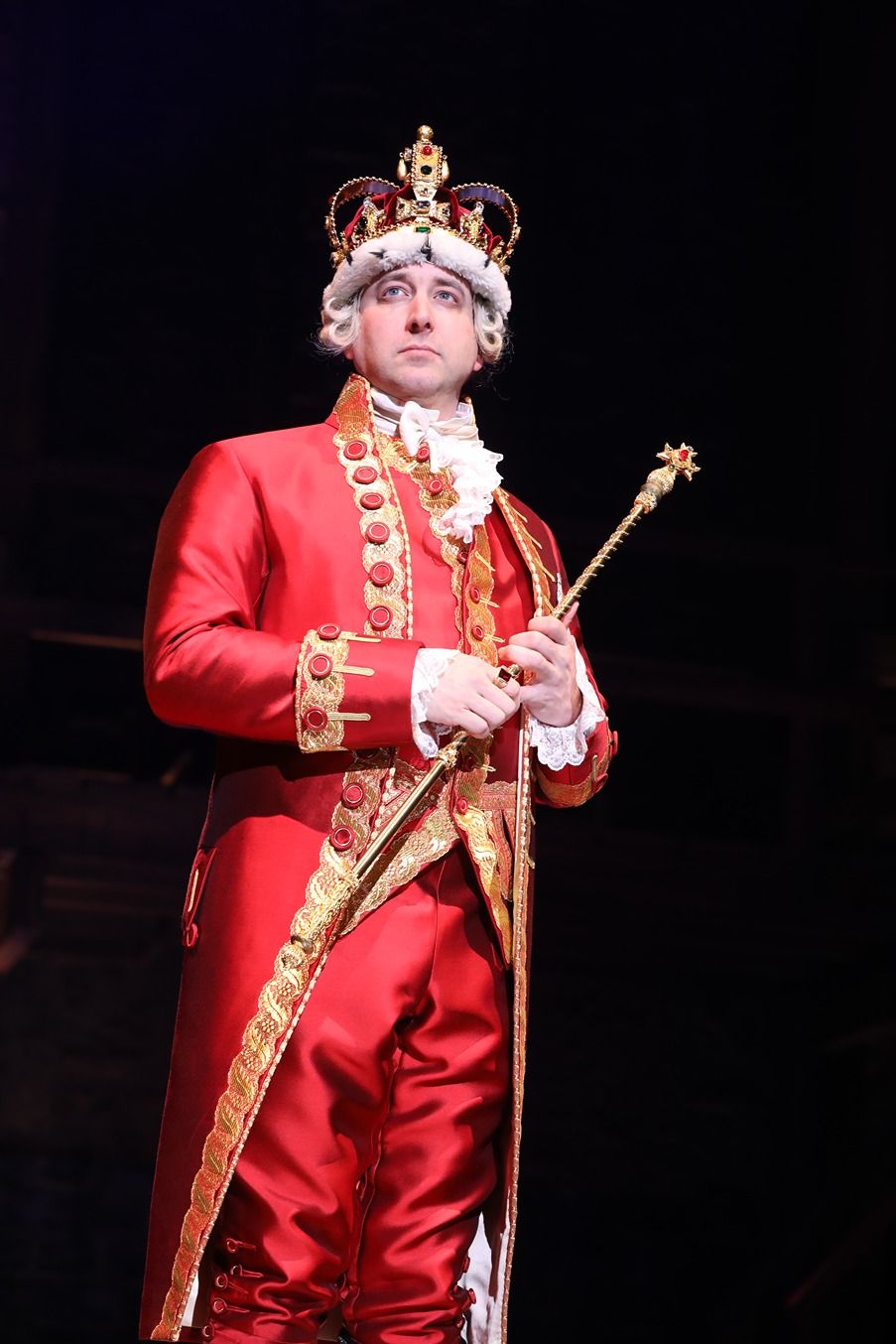 Other standouts are Park's Marquis de Lafayette (in Act I) and Thomas Jefferson (in Act II), Stovall's George Washington, and Yana Perrault as Peggy Schuyler (in Act I) and Maria Reynolds (in Act II).

Without imitating the animated performance of Daveed Diggs who originated the role, Park brings a fresh take and an equally energetic spin on these roles, especially Jefferson's return to America ("What'd I Miss").

Likewise, Stovall adds some soothing Luther Vandross-style cool with his parting words as Washington resigns his presidency (a soulful rendition of "One Last Time") that had many in tears.

Perrault purposefully taking the background as Peggy in Act I lustfully devours the stage (and Alexander Hamilton) as Maria Reynolds in Act II. The statuesque actor who somehow managed to look plain as Peggy, emerges with a shaved head that intensifies her as an appropriately sexy seductress. Then she opens her mouth, and an unexpectedly sultry voice laments with such desperate loneliness, Hamilton's plea for divine intervention ("Say No to This")—and ultimate failure in receiving any—is understandable.
And, of course, it is impossible to not note Peter Matthew Smith's hilarious turn as King George, who gets the first laugh before the proverbial curtain has even opened, and the most enthusiastic greeting of any character—which he royally relished. Smith's alternating sneering contempt and maniacal glee is the perfect comic relief popping up at unexpected times throughout the show.

The New Broadway Musical Theatre

Every generation has a Broadway sensation that is seemingly a complete departure from traditional formats, redefining Broadway musicals as accepted, yet is widley embraced by the audiences coming of age but disconnected to their "parents' Broadway." Like Hamilton in the 2010s, Bob Fosse productions like Chicago and the revelatory A Chorus Line turned Broadway shows on their heads when introduced in the 1970s, as did Andrew Lloyd Webber's Cats and Phantom of the Opera in the 1980s, Rent in the 1990s, and The Lion King in the 2000s—all challenging the conventional norms of The Great White Way.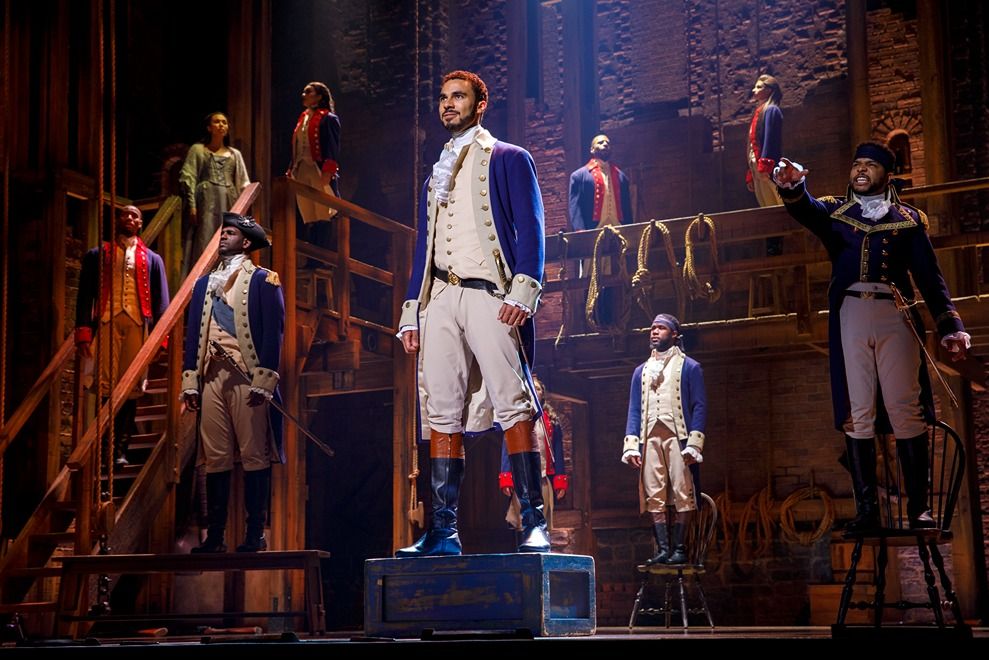 And here's where Miranda truly excels in his vision.

By throwing open the theatre doors for younger audiences of color, Lin-Manuel Miranda has made American history at once fun, interesting and relatable. His personal fascination with history and Alexander Hamilton who fundamentally altered the world through his ability to effectively communicate and basically never take no for an answer, was perfect material, especially connecting with Hamilton's own immigrant experience. A polarizing political figure in his day, Miranda's play neither judges nor forgives Hamilton's personal indiscretions, but is also careful to not throw the baby out with the bathwater.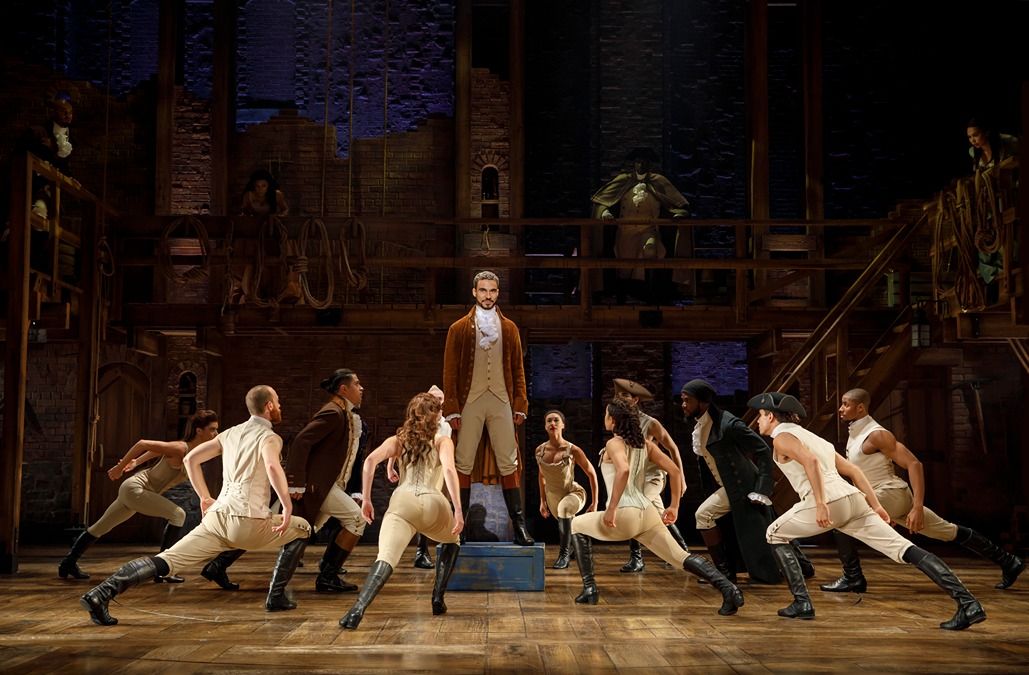 Miranda's show chooses to celebrate Hamilton's accomplishments (Revolutionary war hero, founder of the New York Post newspaper and U.S. Coast Guard, creator of the federal banking system and Washinton, D.C. as the nation's capitol, defender of the Constitution, and much more) and applaud his life's work. Despite the shortcomings of this personally flawed human being ("Finale/Who Lives, Who Dies, Who Tells Your Story"), the play reinforces the importance of what he achieved and why it all still matters—as bold a concept in the seventeenth century as it is in present day, which may be why Hamilton resonates with so many.
---------------

Hamilton is performing an extended run at the Saenger Theatre, 1111 Canal Street. Tickets are on sale at The Saegner box office, BroadwayInNewOrleans.com, and through Ticketmaster. Orders for groups of 10 or more may be placed by calling (504) 287-0372.
Producer Jeffrey Seller and Hancock Whitney Broadway In New Orleans present Hamilton at The Saenger Theatre, 1111 Canal St., New Orleans, LA, 70112 for an extended run through July 10, 2022.