If there's one thing that New Orleans has over other places, it's our gorgeous sunsets. The bright sun turns to dark orange as it sinks slowly beyond the Mississippi River, pulling the blue sky down into shades of purple and black. If you can't be on a boat or at a lakefront restaurant to watch it, the rooftop bars of New Orleans offer stunning views of this nightly event.
From just a story or two off the ground to several stories in the air, these rooftop bars can make you feel like you're flying when the breeze hits you just right. Even if you have a fear of heights, you can find a seat far enough away from the railing so that you don't feel uncomfortable. They are truly some of the most-talked about bars in this city.
The Prettiest Rooftop Bars for Sunset Sips
1.
Alto
600 Carondelet St. (504) 900-1180, acehotel.com/new-orleans/eat-drink/alto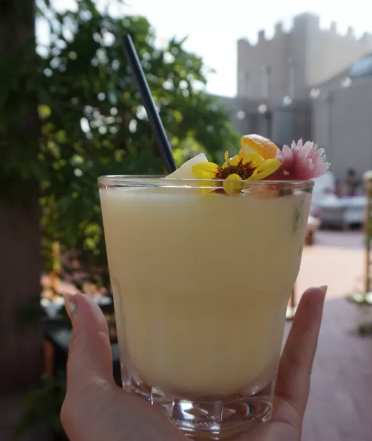 The swanky Ace Hotel's outdoor rooftop bar is located next to the pool and offers wonderful views of the New Orleans skyline especially when the sun is setting over the Mississippi River. It is recommended to get one of Alto's signature frozen cocktails for this occasion.
You don't have to be in a bathing suit to lounge on one of the pool chairs to enjoy this patio. But you can also take a table or relax in one of the lounge areas in the corners. Alto also has some high-end snacks like Calabrian Chiles Chicken Wings, a JT Burger, or Andouille en Crute that you can get for the group.
2.
Hot Tin
2031 St Charles Ave. (504) 323-1500, hottinbar.com
Hot Tin is a hot ticket if you want to see the entire city skyline. Even people who have been to Hot Tin just once call it one of the coolest rooftop bars in New Orleans. Unlike some of the other bars in this list, Hot Tin is at the top of the Pontchartrain Hotel on St. Charles Avenue. It's farther away from the downtown area, so you are able to fully see the tall buildings of the CBD and Warehouse District.
Hot Tin offers outdoor seating for those perfect-weather nights, or you can lounge indoors. Stepping into Hot Tin feels like walking into the home of a world traveler. There's so many curious items to look at and ponder. Obviously, it's an amazing place to take great photos for The 'Gram.
3.
Rosie's on the Roof
1000 Magazine St. (504) 528-1941, higginshotelnola.com/new-orleans-restaurants/rosies-on-the-roof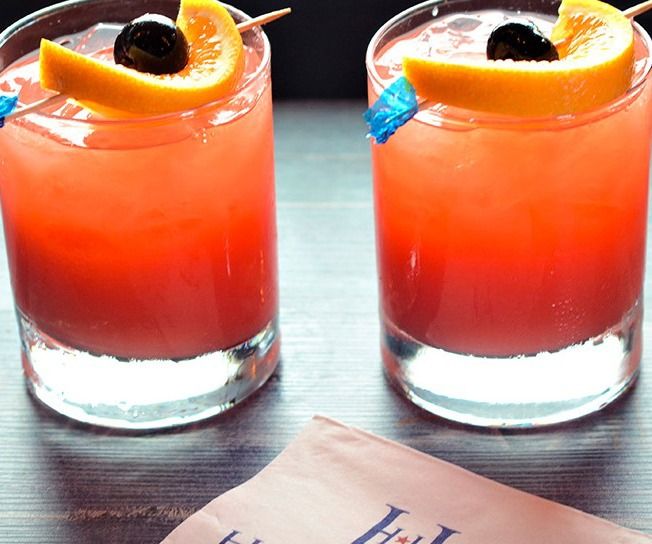 Whether you just got done visiting the ever-growing world-class World War II Museum in the Warehouse District, or you just find yourself leaving dinner in the area, take time to check out Rosie's on the Roof at the Higgins Hotel. This beautiful open-air bar is inspired by Rosie the Riveter, the World War II campaign poster that inspired women to join defense industries.
You can sip on a local craft beer, an In The Mood Glenfarclas Scotch cocktail, or even a made-for-two The Riveter cocktail with rum, bitters, and fruit juice served in a 40 ounce Thermos. Don't forget to order the Riveter Fries to go along with it!
4.
Above the Grid
317 Baronne St. (504) 962-6500, abovethegridnola.com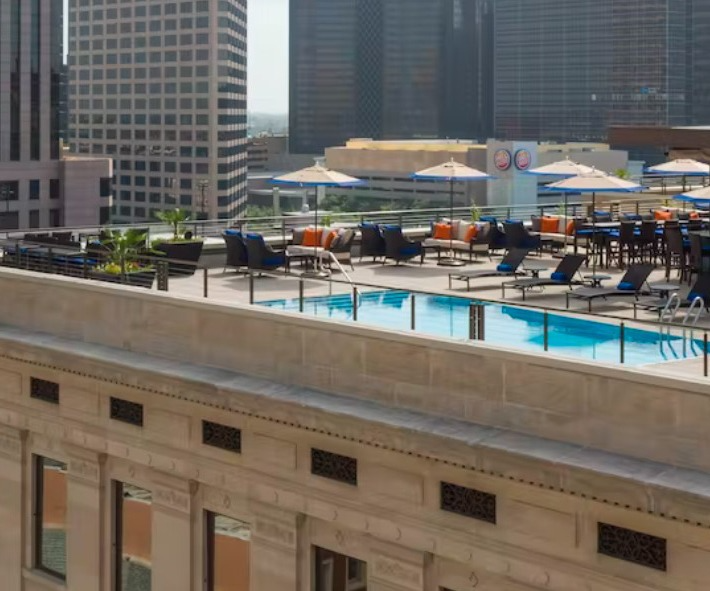 Above the Grid is the NOPSI Hotel's rooftop pool and bar, and it feels like a world away when you're up there. The 1920s-era building was formerly the headquarters of New Orleans Public Service Inc., and it retains many of its industrial elements as décor and ambiance.
While you sip a signature cocktail or some sparking wine, try out some of the delicious snacks on the food menu. Warm Spinach & Artichoke Dip and Boudin Balls are some of the best sellers. But it's hard to resist the steaming hot Truffled French Fries sprinkled with fresh rosemary.
5.
Ingenue
1111 Gravier St. (504) 518-5600, monkeyboardnola.com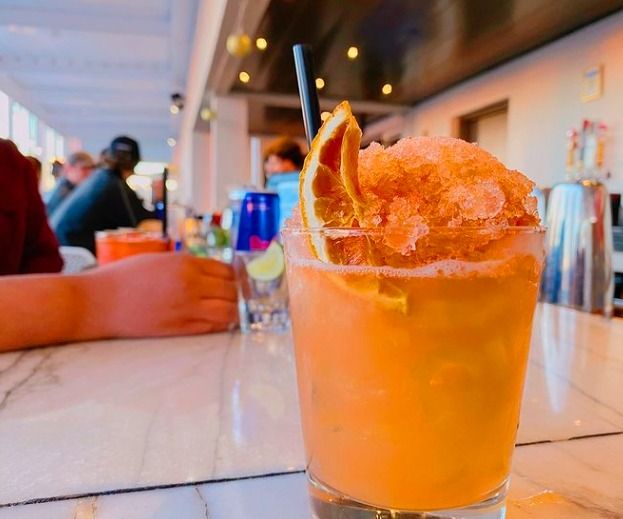 At the top of the music-inspired Troubadour Hotel, you'll find the cozy rooftop lounge Ingenue. Formerly called Monkey Board, Ingenue is the best spot to buy a bottle of wine to enjoy watching the day drift into night.
Other patrons prefer to try a few signature cocktails. For example, the The Rosemary Peach Bellini is topped with bubbly. And the Fig Dark and Stormy may be the only cocktail you can find with fig preserves in it. The Lavender Bee's Knees with lavender honey syrup is for someone who likes an earthy, floral flavor.
6.
Vue New Orleans
1600 Canal St. (504) 702-6800, vuenola.com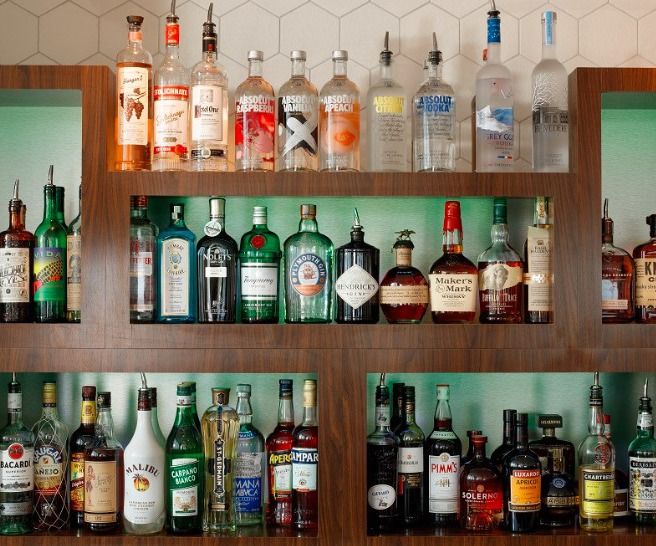 Not to be confused with Vue Orleans at the Four Seasons Hotel, Vue New Orleans is the rooftop lounge located at the SpringHill & TownPlace Suites by Marriott in the downtown area. It is considered by many to be a "hidden gem" since it's removed just enough from the middle of downtown to be quieter than other rooftop bars.
Vue New Orleans is on the hotel's 14th floor; you will be able to see over vast swaths of downtown, the French Quarter, and Mid City. But you'll have to wait until Vue opens at 5 p.m. to see what they have to offer.
7. The Pool Club
550 Baronne St. (504) 603-8000, virginhotels.com/new-orleans/dine-and-drink/rooftop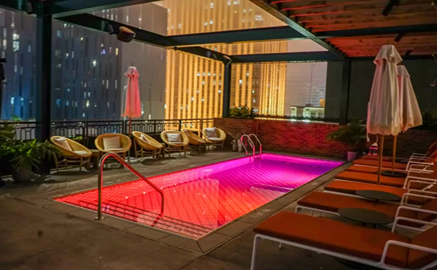 If you haven't toured The Virgin Hotel yet, here's your chance! Head over to the Virgin Hotel in the CBD and take an elevator up 13 floors to enter The Pool Club. The half-covered bar, pool, and patio is a lovely spot above the din of the street that gives you great views of the nearby buildings as well as the horizon beyond Uptown. The pool also lights up at night in a sultry shade of red (which is an awesome background for photos).
Golden Hour, The Pool Club's version of happy hour, happens every Monday through Friday from 4 p.m. to 6 p.m. and features some of the best deals in the area for the after-work crowd. But feel free to stop by whenever they're open for the rotating signature cocktails and some light bites!
8.
Mambo's
411 Bourbon St. (504) 407-3717, mambosnola.com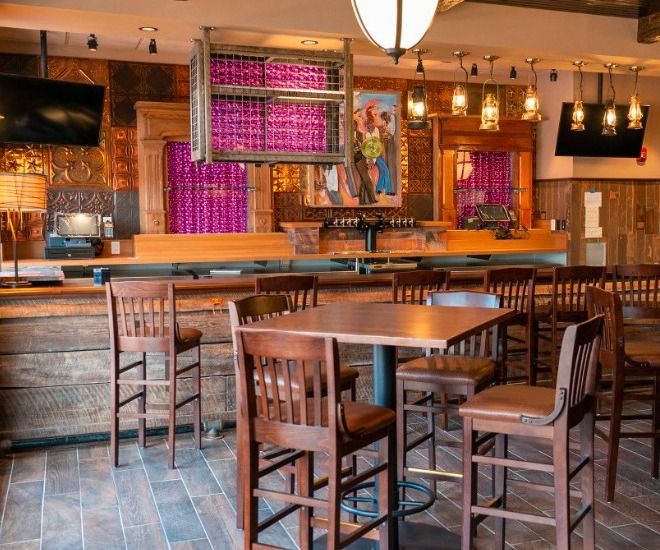 Bourbon Street is known for tourists walking down the street, going from bar to bar. But Mambo's will make you want to break that tradition. This is the only rooftop bar on Bourbon Street. It's a great place to unwind from the chaos and clamor on the street below.
Mambo's is not just a bar. The large menu offers many Creole and Cajun dishes like Crab Cakes, Chicken and Andouille Gumbo, and BBQ Shrimp and Grits. You are more than welcome to just get drinks, though! Try a Frozen Margarita or Bourbon Street Flush as you sit on the open-air patio.
9. La Riviera Poolside Bar
621 St. Louis St. (504) 529-5333, omnihotels.com/hotels/new-orleans-royal-orleans/dining/la-riviera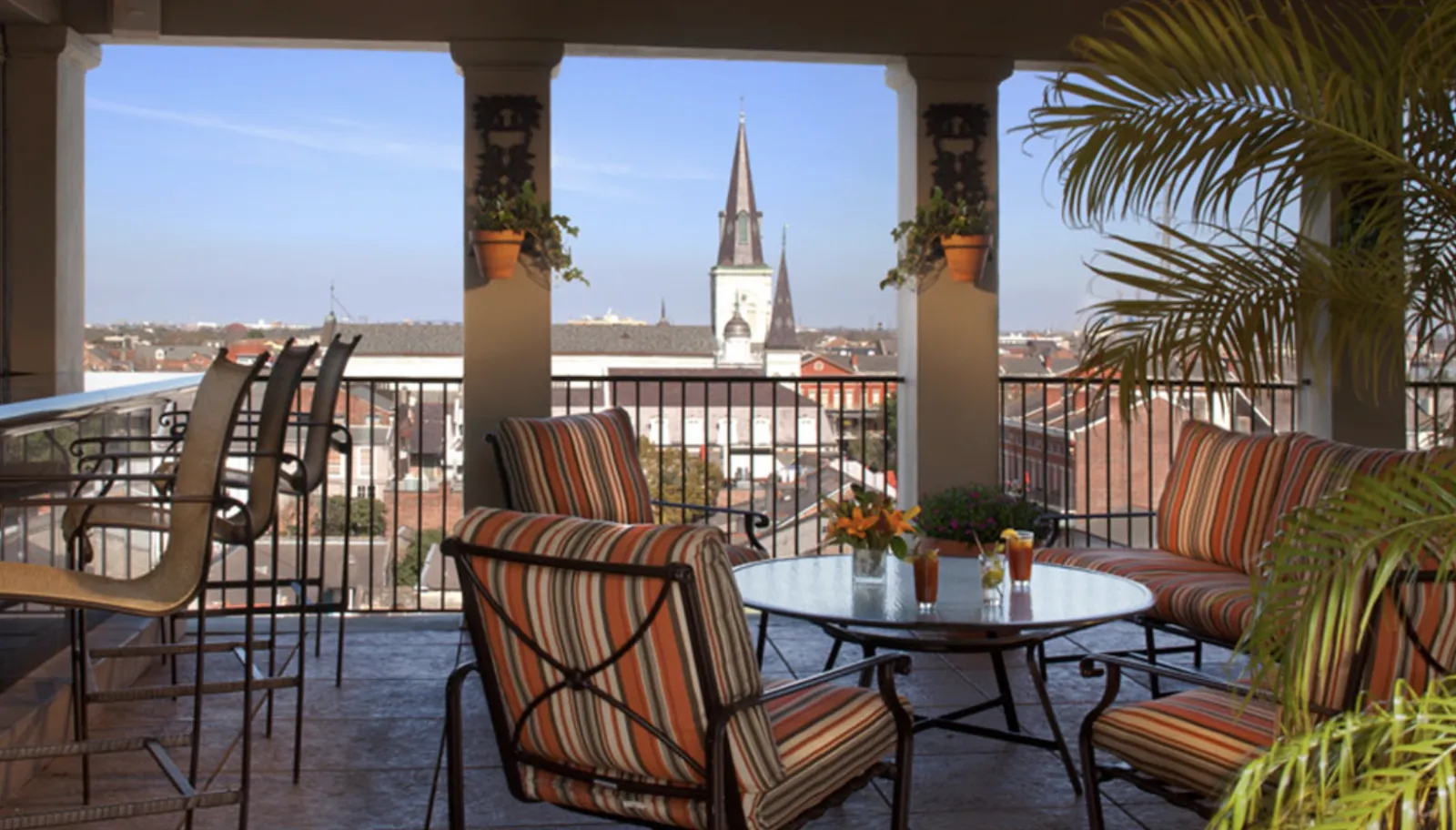 In the heart of the French Quarter, you will find La Riviera Poolside Bar several floors above the street at the Omni Royal Orleans Hotel. Though downtown New Orleans can be a whirlwind of activity at all hours of the day and night, this pool and bar can help you detach from the high-energy and truly relax.
La Riviera is open to guests only so this is a perfect spot for a visit or a staycation! It is open seasonally so please call to inquire about days and hours of operation.
10.
Capulet
3014 Dauphine St. (504) 507-0691, capuletbywater.com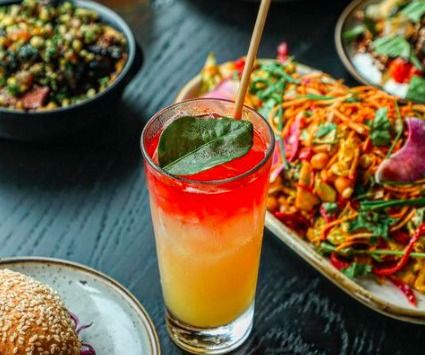 Capulet is the best rooftop bar to visit Monday through Thursday; it is closed on the weekends for private events. Capulet is located deep in the Bywater neighborhood, so you're guaranteed to have a gorgeous view of the Crescent City. You can see the curves of the Mississippi River as it wends northward to the French Quarter and beyond.
The irresistible dinner plates consist of complex recipes: Roasted Acorn Squash, Seared Gulf Shrimp, and KimChi BLT are just some of the options. The cocktails like the Tom Yum Club and The Cake Out in the Rain are just as complex and artisanal.
The Loveliest Rooftop Bars in New Orleans
These elevated rooftop bars will not let you down! You'll be enamored with the views, and it can feel like you're in an entirely different place. Don't let cold weather stop you; there will likely be heaters available for your comfort.
Always be sure to check out the social media pages and websites of these rooftop bars before you go. They are very popular spots to rent out for private parties and weddings so they may not be open to the public at times.