One-stop shop for organic, local, healthy foods in New Orleans
On this bright Sunday morning, families and friends gather at the Crescent City Farmers' Market in City Park to find a variety of locally-grown produce, fresh breads, baked goods, cut flowers, Louisiana seafood, fresh dairy, pasture-raised meats, handcrafted meals, and more. Shopping at farmers markets has become a favorite pastime, where you can bring your children and pets, access fresh local foods, and reconnect with neighbors, local farmers, and food artisans.
"At Crescent City Farmers' Markets, we are open all year round—rain or shine," said Francesca Jones, Market Manager for Crescent City Farmers Market, a project of Market Umbrella, a non-profit organization. "We currently have three markets weekly in the New Orleans area: Tuesdays are Uptown at Uptown Square, Thursdays in Mid-City at Lafitte Greenway Plaza, and Sundays in City Park at Tad Gormley Stadium. We are a food-only farmers market with about 20-30 vendors per market."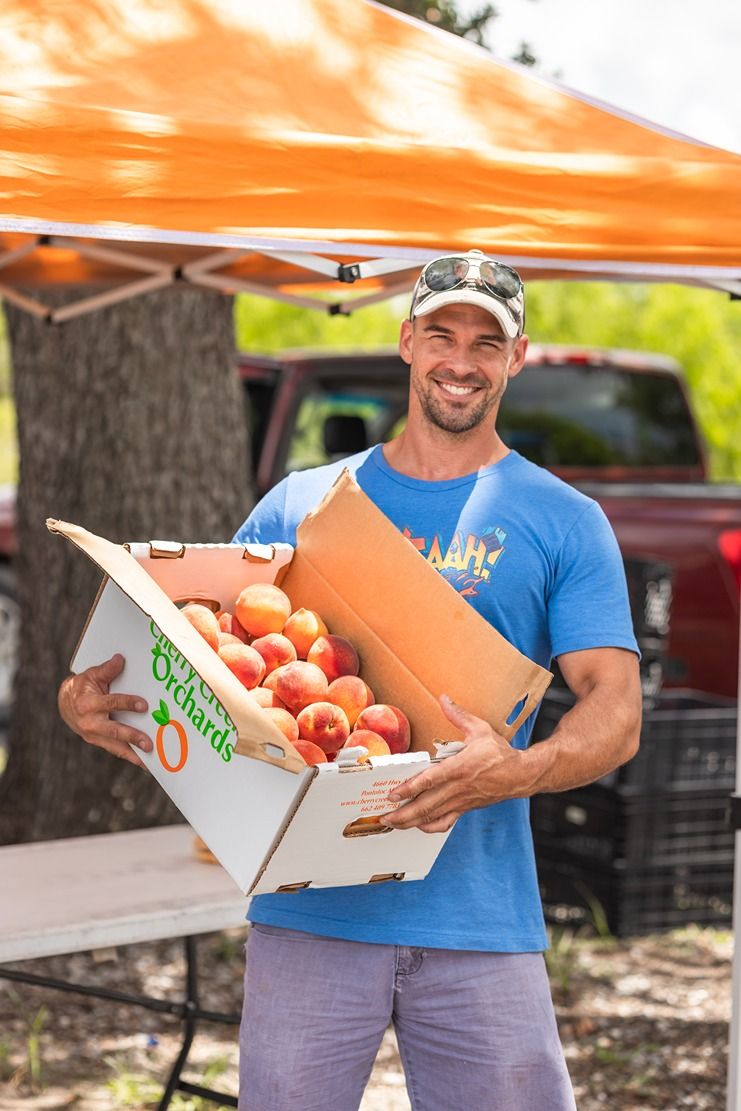 Jones pointed out that these vendors which are farmers, fisherman, ranchers, dairies, bakers, and food makers are from within a 200-mile radius and determine their own pricing.
"All vendors accept cash," said Jones. "And we have our own token currency."
She explained that the $5 and $1 unit tokens can be purchased with credit/debit or food stamp cards. "For customers with EBT/SNAP benefits, Crescent City Farmers Market will double your dollars for fresh fruits and vegetables," said Jones.
In fact, the fresh produce sold at farmers markets may be cheaper than you think. "People don't understand how good and inexpensive it is. You save on sales tax, and you are supporting local people," said Charise Poché from Poché Farms in Independence, Louisiana. Poché has been a part of the Crescent City Farmers' Markets for ten years. She indicated that the fruits and vegetables you buy at the farmers markets are the freshest and the tastiest because the fruits are allowed to ripen fully in the field and then brought directly to the market.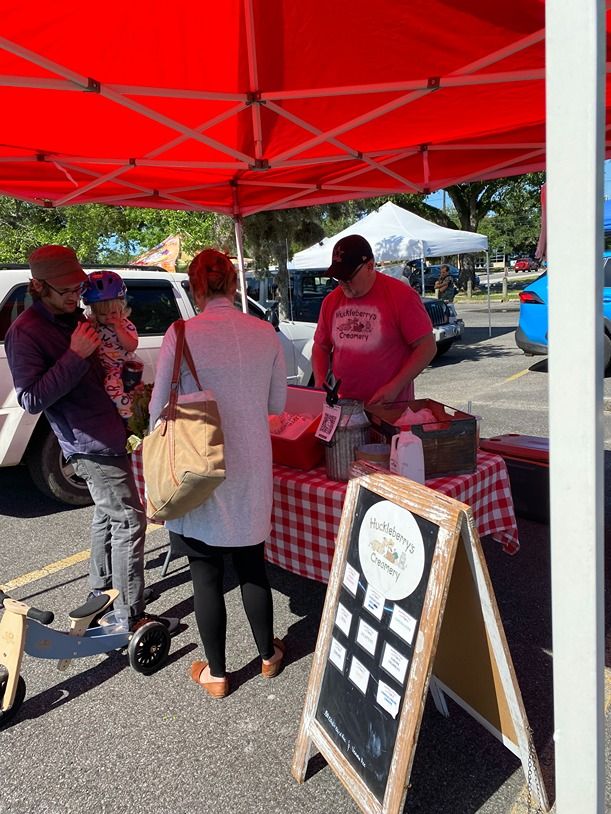 "Our tomatoes are never refrigerated," Poché extolled. "You can't beat a real vine-ripened tomato." For Poché, tomatoes, berries, cucumbers, and squash are particularly plentiful at the end of June. Such seasonal foods such as the perennial fruits: peaches, blackberries, blueberries, and figs are the main attraction at these markets during the summer.
Purchasing locally-grown foods also helps support local food producers including Poché Farm and Huckleberry's Creamery. "At the Crescent City Farmers' Market, we do get a good number of repeat customers," said Chris McCarty, owner of Huckleberry's Creamery located in Clifton, Louisiana. "We sell goat milk, chocolate, and whole, feta goat cheese, and our best seller, cheesecake made with goat products." McCarty sets up his booth at the Thursday and Sunday markets in New Orleans, and in Covington on the Northshore on Saturday. He also sells goat milk soaps, farm fresh chicken and duck eggs, as well as an assortment of marinated feta cheeses.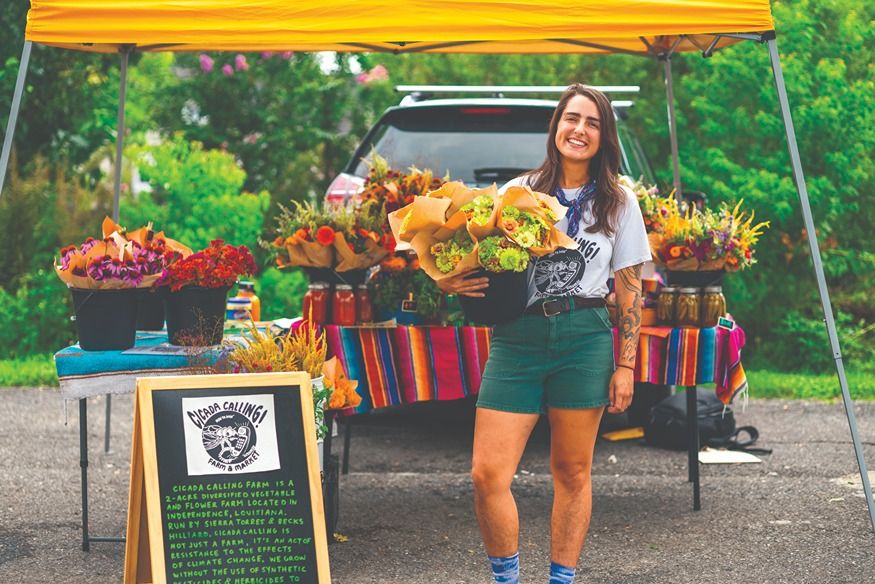 Another popular, food-only farmers' market located on the Westbank is the Gretna Marketplace, which is open every Saturday from 8:30 a.m. - 12:30 p.m., rain or shine. Located at 300 Huey P. Long Avenue between Third and Fourth Streets, vendors set up booths of various food items including fruits, vegetables, flavored olive oils, cakes and cookies, as well as a designated kids' arts and crafts table under the pavilion. On every second Saturday of the month, the Gretna farmers market includes an Art Walk which gives local artists and crafters an opportunity to display and sell their work.
"The Gretna Marketplace was started about 18 years ago—two months after Hurricane Katrina," said Monica Naquin, a native of Gretna, who is one of the marketplace coordinators. "This has been a meeting spot for neighbors to gather after the hurricane and stay in touch. The farmers' market is an easy and convenient way to get fresh fruits, vegetables, honey, plants, fresh cut flowers, some prepared foods, as well as some other things that may be out of ordinary."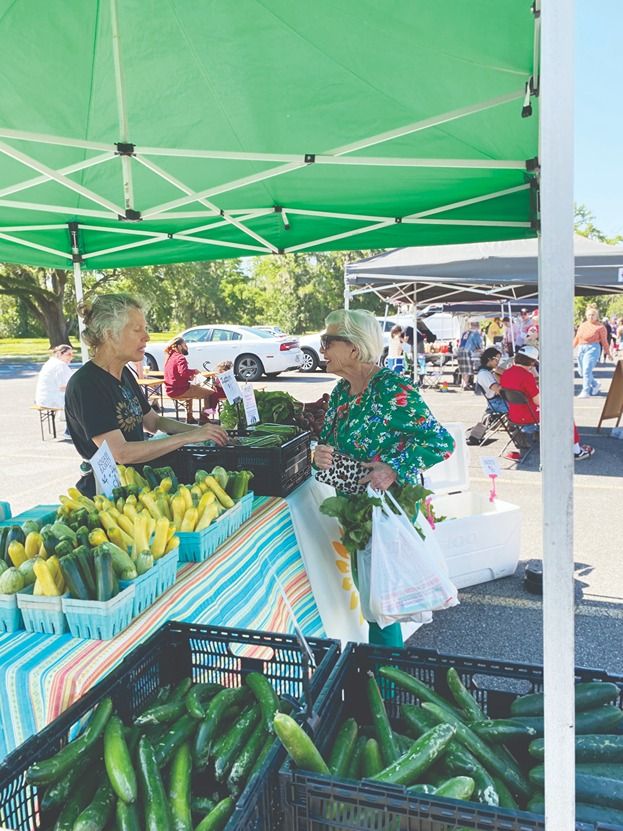 Buying directly from local farmers not only contributes to the local economy, but it can also help preserve agricultural green space. Most food found at the farmers' market is minimally processed, transported shorter distances, and generally grown using methods of little impact on the earth. "Our fruits and vegetables are picked right before market and are high in nutrients," stated Poché. "We are environmentally aware. The carbon footprint of a local farmer is so small."
You can also bring your recyclables to the Sunday Crescent City Farmers' Market. An independent recycling service called REALcycle has set up a public drop off. "We are a recycling organization faithful to earth," said Ryan Singer, co-owner of RealCycle. "You can dispose of food waste, glass, aluminum, and cardboard every Sunday."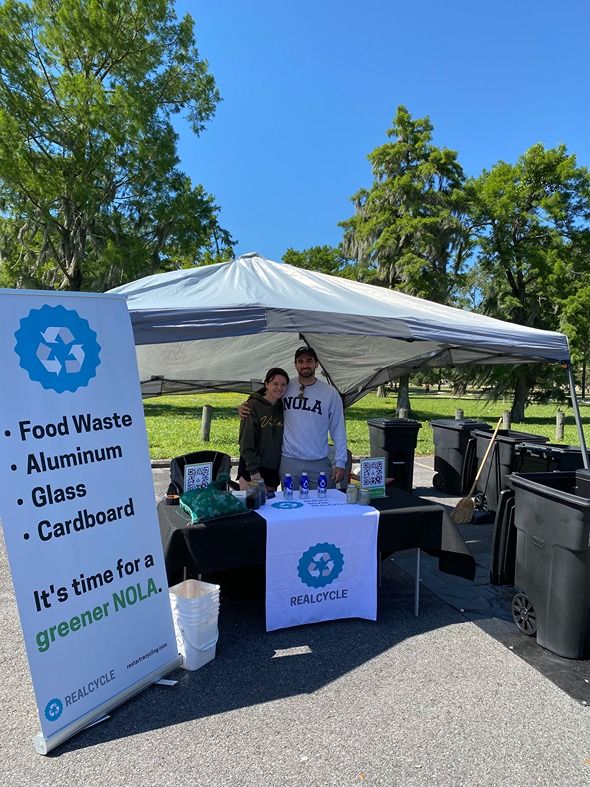 As you look forward to the seasonal citrus fruits in January and the creole tomatoes in July, a regular trip to the farmers' market is one of the best ways to shop healthy, stay connected to your communities, and give back to local food producers, all the while experiencing a small-town life in the midst of this wonderful big city.
NOLA Farmers Markets: OPEN rain or shine
1. Crescent City Farmers' Market (CCFM)
● Tuesdays (8 a.m. - 12 noon) Uptown Walk up Market at Uptown Square
● Thursdays (3 p.m. - 7 p.m.) Mid-City Lafitte Greenway Plaza
● Sundays (8 a.m. - 12 noon) City Park at Tad Gormley Stadium
2. Gretna Farmers' Market and Art Walk
● Saturdays (8:30 a.m. - 12:30 p.m.) Pavilion at 300 Huey P. Long Avenue
3. Ben and Ben Becnel's Farmers' Market (2 locations in Belle Chasse, LA)
● Mon - Sat (8:30 a.m. - 5 p.m.) Sundays (10 a.m. - 4 p.m.) 7020 Hwy 23
● Mon-Sun (8:30 a.m. - 5 p.m.) 14977 Hwy 23
4. Westwego Farmers and Fisheries Market (484 Sala Avenue in Westwego)
● Farmers' market (2X/month) 1st and 3rd Sundays
● Monthly free music concerts with food/crafts vendors (on Fridays once/month)
5. Farmers' Market - French Market (2-48 French Market Pl)
9 a.m. - 5 p.m. 7 days a week