From Watsonville, California to Stilwell, Oklahoma, there are quite a few cities whose claim to fame is the "Strawberry Capital of the World," but for folks around here that title will forever and always belong to Ponchatoula.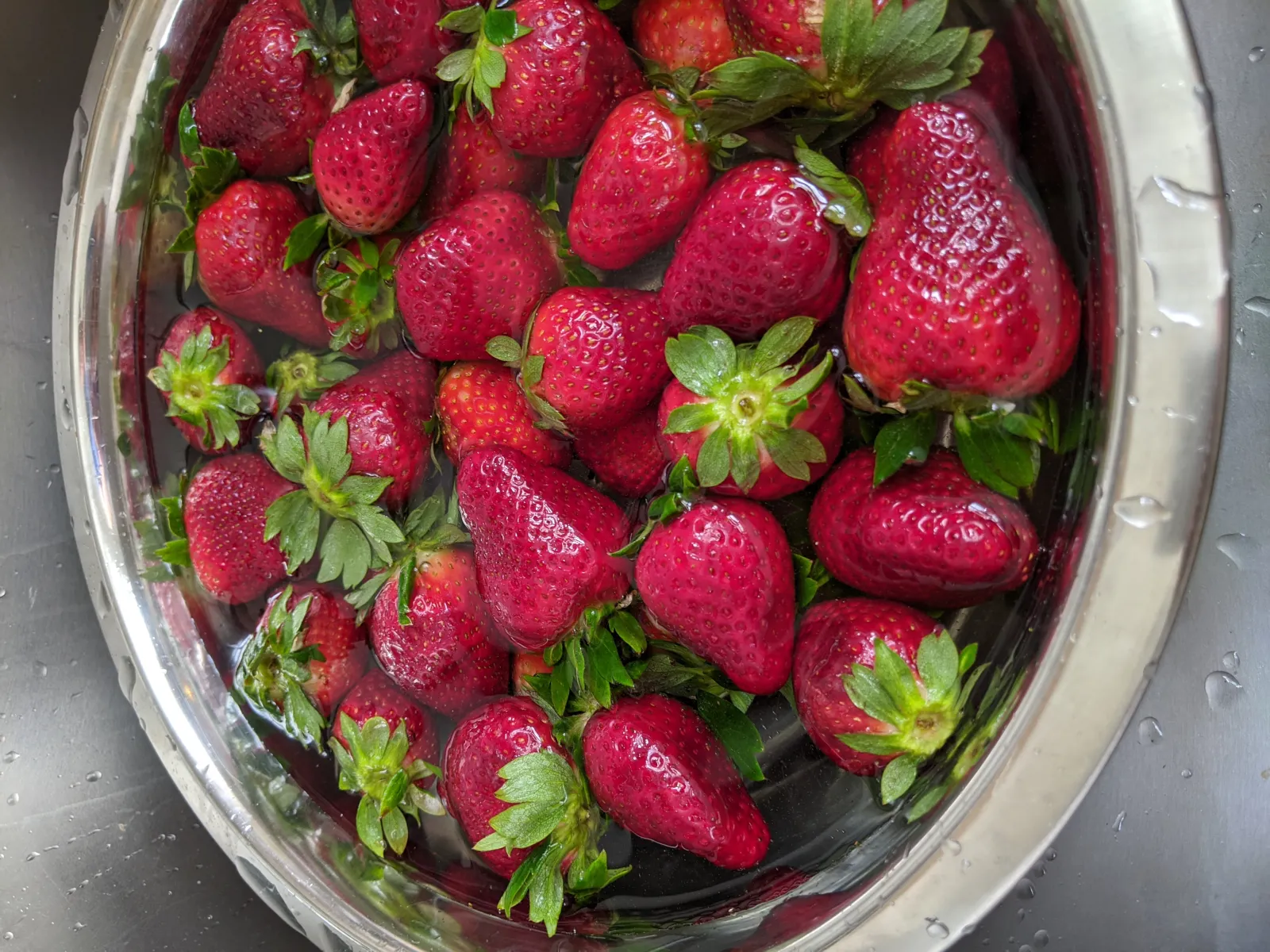 For almost two centuries, farmers in and around Tangipahoa Parish have been growing ruby-red, sweet, juicy strawberries. Louisiana farms currently in operation in the "Berry Belt" are less than one-tenth of what existed in the area's heyday in the 1920s when over 14,000 acres were devoted to the sweet fruit. But locals still clamor, and are willing to pay top dollar, for what they consider to be the berry best.
Ponchatoula's fame in the strawberry game can be attributed to two important factors. First, the prodigious pine forests in Tangipahoa Parish provided the much-needed pine straw mulch that raises the acidity of soil as it decomposes, protects against crop-destroying pests like slugs, and can effectively insulate overwintering plants from the cold.
Secondly, Ponchatoula's humble beginnings as a train depot in the mid-1800s played a significant part in the sustainability and economy of the area. In 1863 during the Civil War, Union troops looted the burgeoning town and destroyed the depot, but it was rebuilt in 1895 and, with the advent of refrigerated railway cars, strawberry farmers would come to Ponchatoula from all around Tangipahoa and Livingston Parishes to ship their sweet cargo to New Orleans and away north into cities like Memphis and Chicago.
The decline in family-run farms can be seen all across the country. Though any enterprise can involve a certain level of risk, a farmer's success depends upon many elements working together, several of which are difficult, if not impossible, to control. From natural growth processes like weather and disease to wildly fluctuating market prices and government regulation, farming is not for the faint of heart, and in every succeeding generation, we see fewer and fewer people willing to put their livelihood on the line for such a risky business. The strawberry farmers in Ponchatoula are no exception, though there are still a good number of folks who have either inherited the family business or taken over crops from older farmers who've hung up their hats.
Farmers still active in the area include Eric Morrow and his brother-in-law William Fletcher, whose fields lie close to one another on the east side of Ponchatoula. Heather and Dale Robertson run Johndale Farm, also in Ponchatoula, a farm New Orleanians have become increasingly familiar with as their berries are typically the first to hit the local farmers markets.
In the town of Springfield in nearby Livingston Parish, you'll find Landry-Poché Farms, a fourth-generation, family-owned and operated farm established in 1926. Also in Springfield, crawfish restaurateur Trey Harris took over a retired farmer's field just five years ago. Though new to the game, he has already earned recognition for his beautiful berries at the Ponchatoula Strawberry Festival and is now supplying Rouses Markets all over southeast Louisiana.
Though the number of strawberry farmers in the area has declined, people from all over the state, and country, still come to Ponchatoula to celebrate the blushing berry every spring at the annual Ponchatoula Strawberry Festival (lastrawberryfestival.com). This year, the festival is celebrating its 50th anniversary, a boon to strawberry-lovers across the state after two long years of inactivity due to the pandemic. "We're expecting record crowds," Donald Lanier, Ponchatoula native and longtime festival board member, said. "We know people are ready to come out, and if the crop's good, which we think it's gonna be, we're going to have record crowds and we're going to roll with it, make some people happy for a change."
Drawing more than 250,000 visitors each year, the 2022 Ponchatoula Strawberry Festival will span three days, April 8-10, and will include a full midway with over 20 rides for adults and children, live music on two stages, arts and crafts vendors, and tons of food vendors, featuring (of course) Louisiana strawberries. "We have a farmers area called Farmers' Row right by the grounds," Lanier said. "They'll come there with their trucks and set up their fresh berries. They're also allowed to sell anything made with their berries like jam, jellies, and breads."
Although no for-profit vendors are allowed within the festival grounds, the organizers do allow Ponchatoula's nonprofit community organizations, schools, and churches to sell foodstuffs like chocolate-covered strawberries, fried strawberries, strawberry pie, strawberry funnel cake, and even strawberry daiquiris. "If I actually had to pick my favorite dish, it would be strawberry shortcake," Lanier admitted. On Saturday and Sunday, the festival will also feature a strawberry-eating contest. "Tons of people enter it. All they gotta do is eat a pint of strawberries, but you gotta eat the stems and all." Lanier warned, relating his own experience. "I tried it one year. The first stem that gets caught in the back of your throat, you wanna just die then, but people love to do it, just to say they did it."
During peak strawberry season, mid-March to early May, New Orleans' chefs take full advantage of the local harvest. Beloved local chef and restaurateur Frank Brigsten has long been wowing us with his berry-licious creations at his eponymous Riverbend restaurant. As soon as our local strawberries make an appearance at the farmer's markets around town (sometimes as early as January), Brigtsen will add Strawberry Shortcake to the menu, a dessert almost as popular as his pecan pie or white chocolate bread pudding. A warm, house-baked biscuit is topped with fresh, sliced Ponchatoula strawberries from Johndale Farms, hand-whipped cream, and served atop a glorious pool of strawberry sauce and crème fraîche.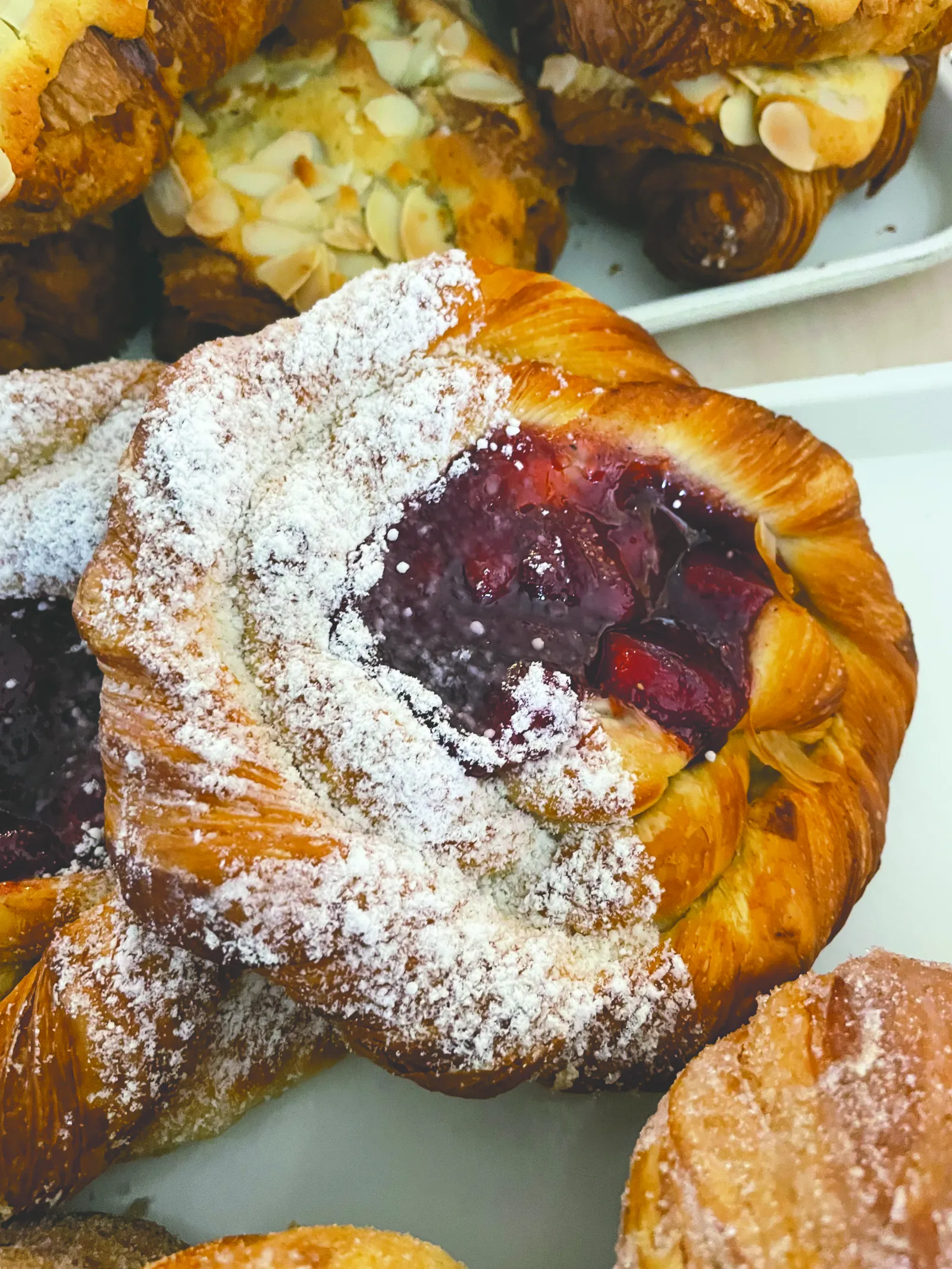 Bakester Megan Forman over in Gert Town, who's also the chef and owner of the wildly successful Gracious Bakery, is regularly whipping out strawberry-laden pastries with berries from Fletcher Farms. It's difficult to resist her flaky, powdered sugar-dusted strawberry danish, crisp strawberry turnovers, and strawberry jelly-filled donuts, especially with three Gracious Bakery locations in town.
Executive Pastry Chef Maggie Scales of the Link Restaurant Group often uses Ponchatoula strawberries in her berry laden-creations. At Cochon, she flaunts a homey strawberry crisp topped with vanilla ice cream and a drizzle of strawberry balsamic reduction, and at their uptown bakery, La Boulangerie, she often offers strawberry turnovers and pies. This year during Carnival Season, they even offered a strawberry almond king cake all dressed up in purple, green, and gold.
Amid all of this berry-baloo, you may wonder, are Louisiana strawberries really that good? Even better than the competition shipped in from places like California and Florida? "Certain times during the year, ours are so sweet, it's unbelievable, and they're just not even comparable in flavor and texture." Lanier said. "They are absolutely better; you can taste that yourself."