The Epiphany on Twelfth Night, otherwise known as Kings Day, means King Cakes as it signals the kickoff to Carnival. For many, Joe Gambino's Bakery has seemingly perfected the Mardi Gras staple, and has taken the pre-Lenten treat to a more portable level—as a King Cake Rum Cream. The tasty liqueur has all the decadence of Gamibino's tri-colored pastry, packs plenty of punch, and is easier to carry—perfect for parade watching with to-go cups cocktails, flasks, and coffee.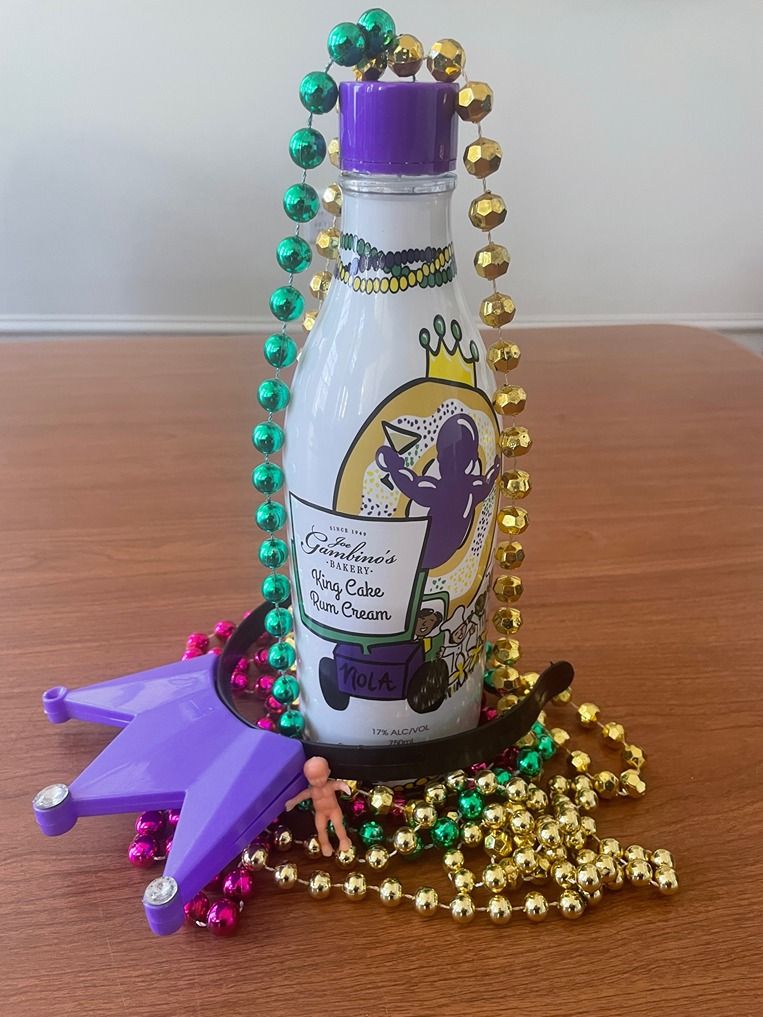 Similar to Irish Cream made with Irish whiskey to create a whiskey-based liqueur, Joe Gambino's King Cake creation has fused "the finest in spices, fresh Wisconsin cream, and aged Caribbean Rum" to create a rum-based liqueur. It's appropriately fitting that Gambino's decided to turn to the rum which made New Orleans a thriving seaport to complement this smooth cream drink to taste like a liquid King Cake.
Joe Knows King Cake
Since 1949 when Joe Gambino took over and rebranded the Beulah Ledner Bakery, and expanding facilities throughout New Orleans, Gretna, Metairie, and Baton Rouge, Gambino's has kept its commitment to consistently honor the bakery's century of history—including faithfully using Beulah Ledner's original doberge cake recipe.
Gambino's went rogue, abandoning the limitations of Carnival season by offering their signature hand-made King Cakes throughout the year with "the sweet, Danish dough is mixed with cinnamon swirls for a flavor you will love." Incredibly, Gambino's managed to effectively squeeze that popular flavor profile into their King Cake Rum Cream.
Let Them Drink Cake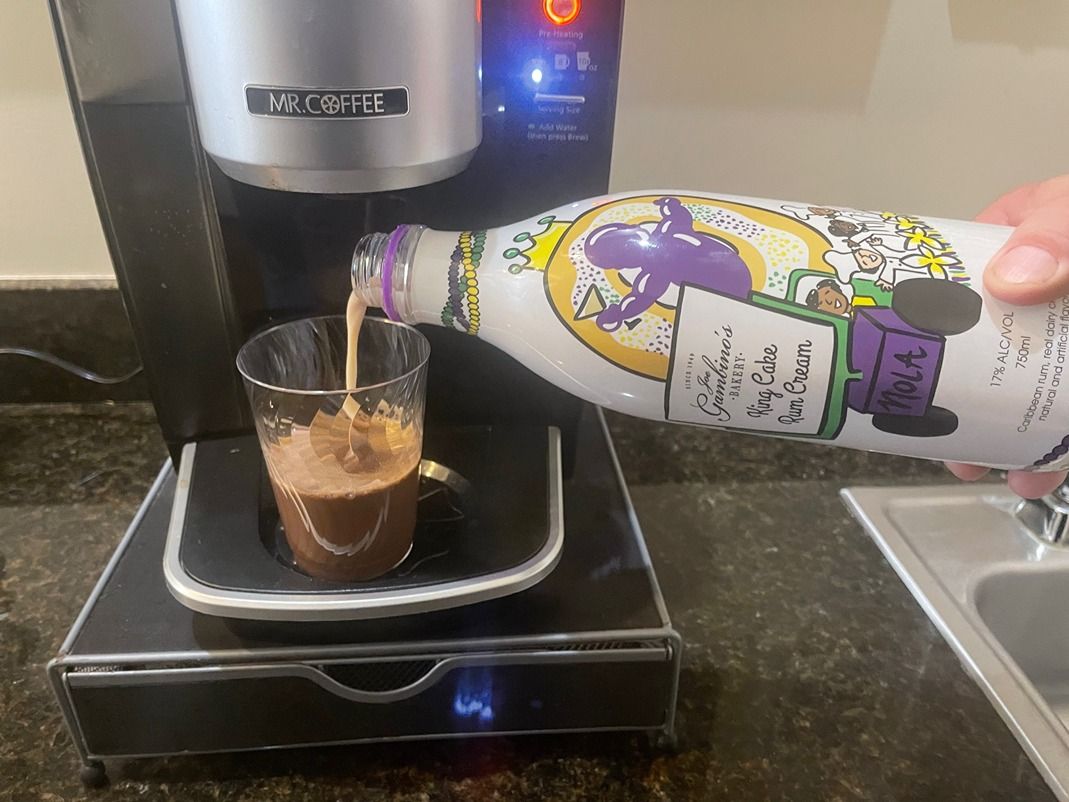 The innovative evolution into a king cake rum cream should be no surprise to Carnival enthusiasts or Gambino King Cake fans. The New Orleans-based bakery teamed up with Sidewalk Side Spirits to produce and bottle a little liquid Mardi Gras mischief in 2020.
"It's long been a dream for us to partner with such an iconic New Orleans bakery for the production of this distinctly New Orleans treat. We were lucky enough to land Midwest Custom Bottling in Pewaukee, WI for blending and bottling," says Lauren Myerscough of Sidewalk Side Spirits.
"Sidewalk Side Spirits is the name of our company based here in New Orleans. Midwest Custom Bottling/EJ Gallo is the name of the distillery currently blending the rum cream," Myerscough explains. "They're one of two distilleries here in the US with the ability to create cream liqueurs, so you can imagine how busy they are."
Short of the plastic baby inside—clearly a choking hazard—the liqueur captures the cinnamon and nutmeg notes among the sweetness indicative of a freshly baked King Cake. Served over ice, mixed into a cocktail, or even blended with coffee or hot chocolate, the festivities of the season are enhanced with each sip.
"It's a joint effort all around!," says Myerscough. "We work with Cocktail & Sons, here in New Orleans, to create the Gambino's approved custom King Cake syrup blend, which we ship up to Midwest to combine with their rum cream and create what you get in the bottle."
With many imbibing options, the drink goes down very smoothly. So, during the many parades, balls, and parties leading up to Fat Tuesday, it's good to remember that the rum cream's 17% alcohol by volume can sneak up on revelers during festivities.
Already popular, Gambino's King Cake Rum Cream was a featured as the Official Mardi Gras Shot of Superior Seafood's Mardi Gras, and has been gaining momentum among the King cake crowd ever since.
The 750 ml bottles are great for gatherings, but mini-bottles are also available and can be fun over-21 Mardi Gras gifts.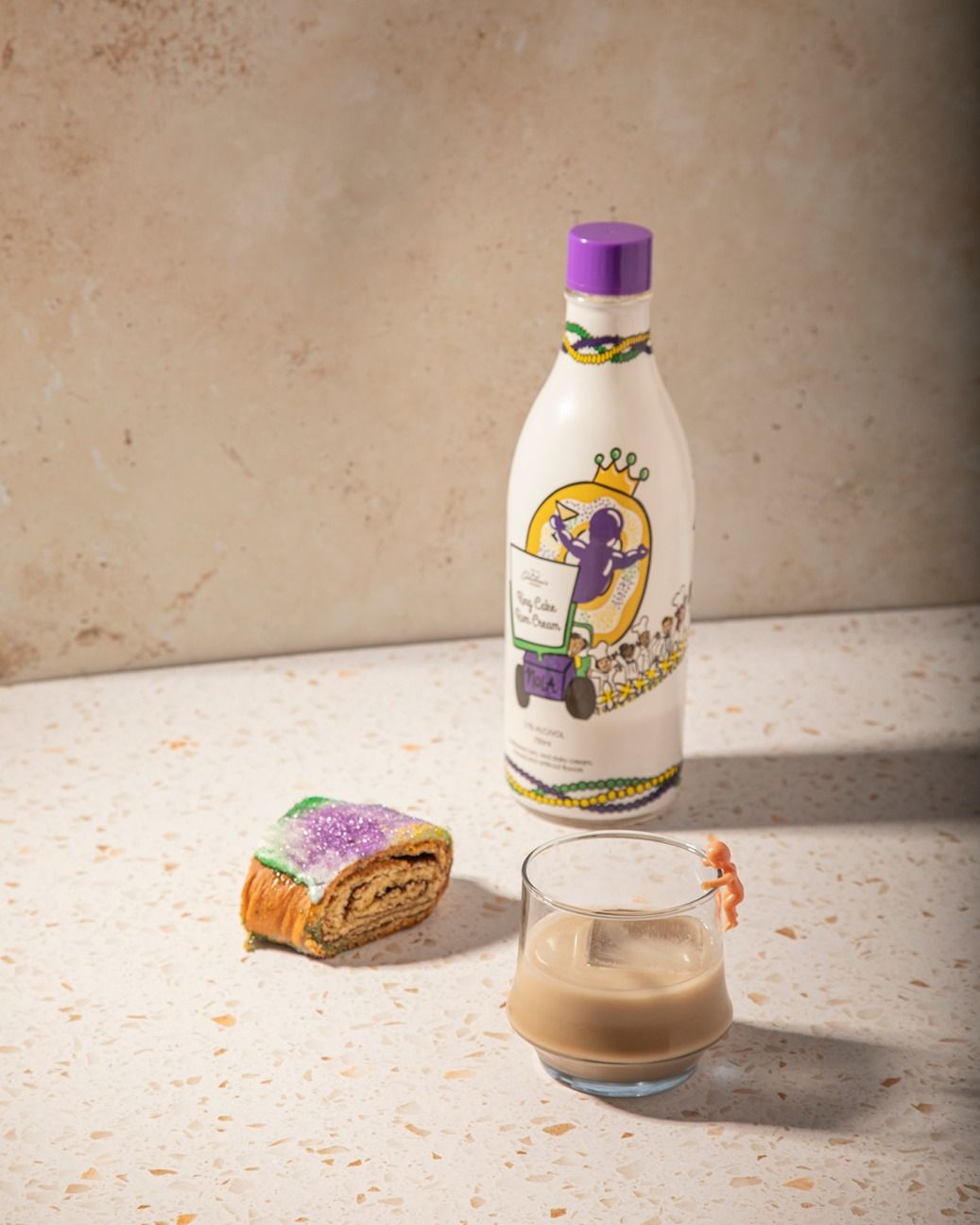 Breakfast of Mardi Gras Champions
Suggested by Sidewalk Side Spirits

The Big Chief
• 1 oz vodka
• 1 oz Kahlúa
• 1 oz Gambino's King Cake Rum Cream
Pour over a large rock. Stir to serve.
—Slice of King Cake optional, but highly encouraged.
King Cake Milk Punch

• 3 oz Gambinos King Cake Rum Cream
• 1 oz Gold rum
Stir over rocks. Garnish with cinnamon.


Creole Coffee

• Creole Coffee
• 1 oz Gambinos King Cake Rum Cream
• 1 oz dark rum
• 1 cup hot brewed coffee
• Whipped cream, cinnamon to garnish.

Enjoy.