Famous tequila brand Jose Cuervo Tradicional has announced a give-back cocktail program to benefit the local New Orleans non-profit organization Son of a Saint, which benefits local fatherless boys. The program will give the public an easy way to support Son of a Saint, which involves ordering a new margarita made with Jose Cuervo Tradicional tequila at certain local restaurants.
Son of a Saint was founded by Bivian "Sonny" Lee, III in honor of his father, Bivian Lee, Jr., who was an NFL defensive back for the New Orleans Saints from 1971 to 1975. When Bivian Lee, Jr. died of a heart attack at the young age of 36, he left behind his wife, his 5-year-old daughter named Tamica, and a 3-year-old Sonny. As a child, Sonny came to terms with the loss of his father and the burdens his widowed mother faced through a variety of opportunities he had while growing up, such as access to psychiatrists and the ability to play in sports leagues. In turn, Sonny founded Son of a Saint in 2011 with the goal of reproducing his own opportunities for fatherless boys in the community.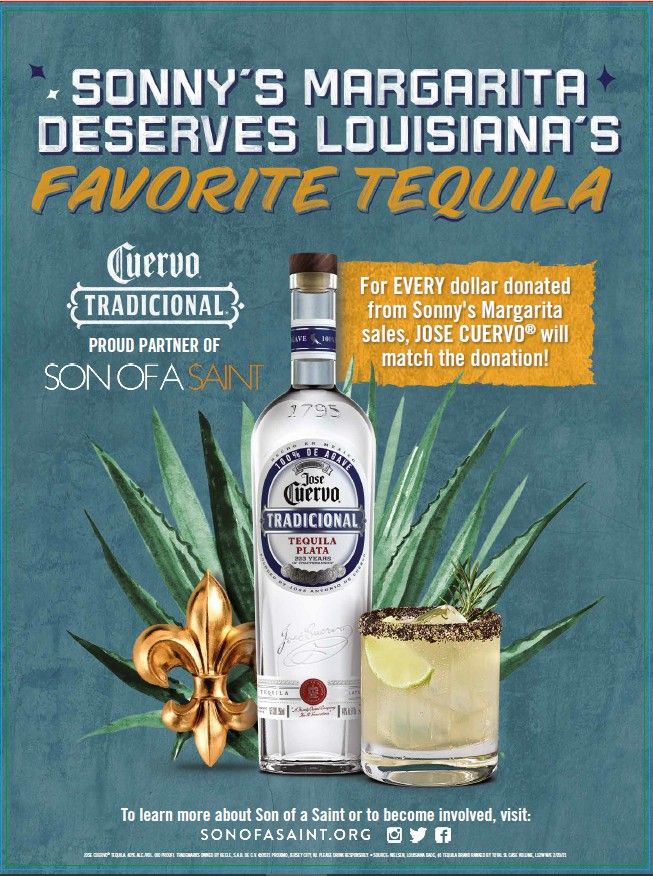 Every year, Son of a Saint selects a group of boys aged 10-12 and fatherless due to their father's death or incarceration to join its program. Each boy remains an official Son of a Saint mentee until the age of 18, but Son of a Saint continues to advise them until 21.
Residents can help support Son of a Saint by purchasing "Sonny's Margarita" at participating locations. Jose Cuervo Tradicional, along with different New Orleans bars and restaurants, will commit a portion of the Sonny's Margarita sales revenue, up to $50,000, to the non-profit.
These are the current locations that will be selling the margarita; new locations will be added to the list in the near future:
· Felipe's Mexican Taqueria, Multiple Locations
· Carreta's Grill, Multiple Locations
· Paco's Tacos, Multiple Locations
· Lucy's Retired Surfers Bar, 701 Tchoupitoulas St., 504-523-8995
In addition, Jose Cuervo Tradicional will match every donation from the sale of Sonny's Margarita, resulting in a total commitment of $100,000. This will cover the organization's food budget for an entire year.
For more information on Son of a Saint and their charitable program, please visit their website.