The kids are alright
With space to share on the festival grounds, families fill the crowds along with other festival-goers.
Beloved by locals and tourists alike, the New Orleans Jazz & Heritage Festival has become integral to New Orleans's culture and history over the past fifty-three years. Every year, nearly half a million people come from all over the world to experience the best food, the big acts, the local jazz, and the one-of-a-kind atmosphere; however, one type of festival-goer holds the heart of carrying on the love of Jazz Fest in their tender little hands—kids.
The typical image of Jazz Fest crowds portrays the goofy, the weird, and the passionate people who flock to the stages, but take one look around the back of the crowds, and you'll see the future of Jazz Fest running around, screaming and dancing along with the best of them. A crowded festival might not seem like every parent's dream, but, for some, it is the most magical of days. Three local families sat down to discuss why they bring their little ones to Jazz Fest.
Local Festin' Families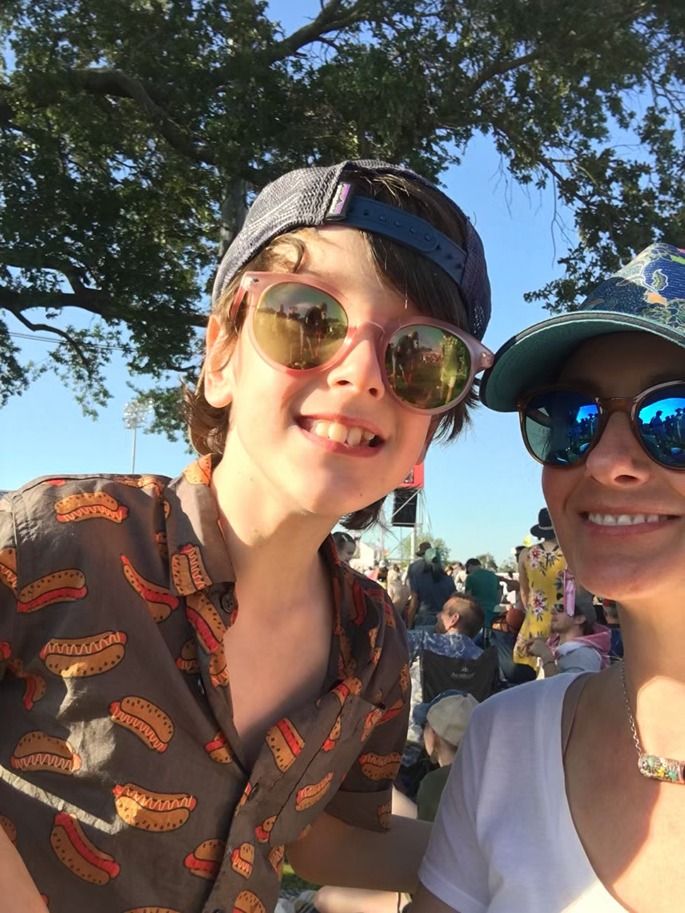 Karen Curry explains why she brings her son Parker Curry (14) to Jazz Fest every year. She says, "I grew up going to Jazz Fest. I love it so much that I go every day, every year. I want him to grow up loving it as much as I do. I like exposing him to music and letting him see the bands that he likes and trying new foods. Just having fun and being with all the people and friends."
Parker certainly has learned to share that love with his Mom. The two reminisce about their favorite Jazz Fest memories. Karen recalls, "I think the first time I brought him, he was three or four, and he loves Bob Marley. He still does and has ever since he was a baby. Ziggy Marley was playing. He was on his dad's shoulders, and it was just like his mind had been blown. It was like he was seeing Bob Marley, but it was Ziggy, and it was just the greatest experience. Last year, Ziggy Marley played the songs of Bob Marley, and that was pretty awesome."
Parker definitely agreed, saying his favorite memory from his Jazz Fest visits was getting to see Ziggy Marley play the songs of Bob Marley. That and getting to eat the meat pies. It seems like food is always a pretty big motivator to kids of all ages. Parker continued to list all the food he got to eat—mostly the types of pies.
While Karen may be a born and bred Jazz Fest lover, Christine and Mike Mauer became life-long fans after moving to New Orleans in 2010. Every year since their move, the two have gone to Jazz Fest. When asked why they chose to bring their then 2-year-old toddler, Piper, last year, the couple laughed, saying, "We had a kid, and we wanted to continue going to Jazz Fest."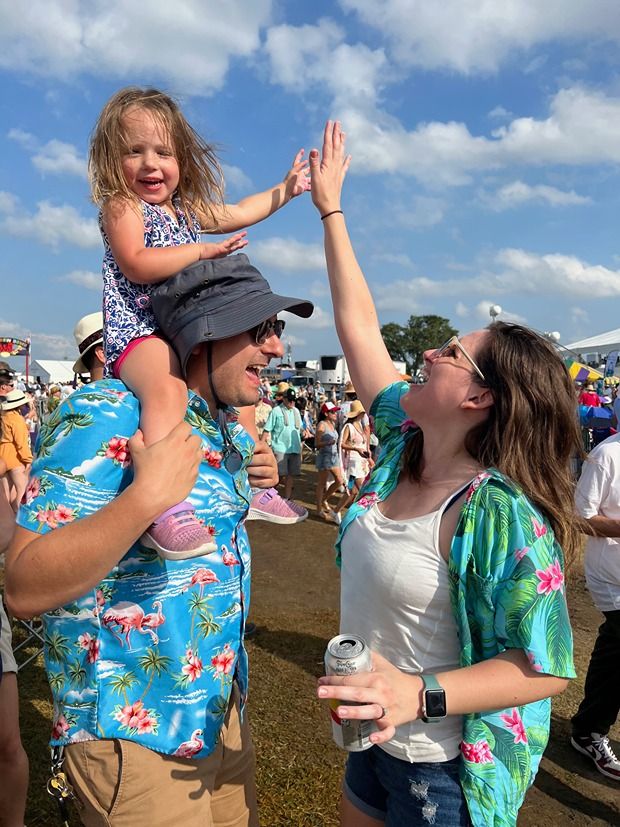 Recalling their favorite moment from last year, Christine explained, "We are huge fans of Jimmy Buffett. So getting to bring Piper and see her get really excited for Jimmy Buffett with us, it was really fun. It was a perfect day for her."
When asked what Piper was most looking forward to this year, she happily exclaimed, "Pasta," and "Doja Kitty." While Doja Cat holds a big part of Piper's heart, Mike and Christine are excited to expose her to Lizzo and Dead and Company this year.
Ruby and Lola, twin 2-year-old toddlers, agree with Piper on a lot of things. Especially what they most look forward to this year at Jazz Fest. When asked what their favorite part of Jazz Fest was, they broke out into dance and yelled snacks. When asked what their favorite snack was, their answer wasn't ice cream, like you'd expect. They wanted pasta and crawfish. Ruby even sighed, looked at her mom, and said, "I love crawfish."
While the twins seem well on their way to being the most "New Orleans" toddlers to ever go to Jazz Fest, their mom, Amanda Sulcer, explained why she finds it so important to bring them. She said, "If you have the opportunity to immerse your kids in such interesting, fun, and exciting culture—that is New Orleans—why wouldn't you want to do it? The best part of Jazz Fest, for me as a parent, is seeing your children's eyes light up when the sound from the stage just starts roaring into the crowd. I mean, they just stop in their tracks, and they're just looking. And you can see their little minds start going, and then all of a sudden you see their little hands start going, and then you feel that little booty start going. And then all of a sudden, they're just fully in it, and they're just dancing and having a good time. If there's an opportunity for your child to experience and feel that, why wouldn't you want to give them that?"
One thing each family had in common, which holds true for families across the country: People want to share with their kids the love and passion they have for their local culture and heritage. Jazz Fest has always been about sharing New Orleans's music, culture, and history with the world. The kids who go to Jazz Fest now may one day be the parents who uphold the tradition and continue to show future generations why we love New Orleans.