For fans missing their Uptown picnic spot, Picnic Provisions & Whiskey has reopened today for dine in, delivery, takeout and catering. Co-owners and founders Tory McPhail, Ti Martin and Darryl Reginelli have done everything in their power to make enjoying a meal at Picnic as safe as humanly possible for guests and team members alike. Safeguards like mandatory mask-wearing (except while seated), social distancing, hand sanitizer, distance markers, daily health checks for team members and more are in place and listed online at nolapicnic.com. In addition to regularly cleaning all common surfaces, dining tables and chairs, the folks at Picnic are refraining from "handshakes, high-fives and unfortunately hugs" and encourage guests and employees to instead load up on "air-fives" and lots of smiles.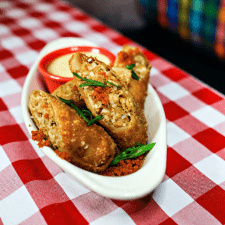 With the safety procedures, Picnic has also "gone coastal" with their new menu with peel and eat wild caught Gulf shrimp with Thai basil mayo and Noni's Kitchen pepper jelly, cracked crab and grilled corn beignets, and sticky Vietnamese glazed wild caught shrimp with Thai basil, cucumber and red chili paste. Naturally, many of the dishes you know and love are available like the Cajun potato salad, crispy Cajun boudin egg rolls, their famous Crawfish Boil Hot Fried Chicken Sandwich and those Bonfire Brownie S'Mores. Picnic is also offering grab-n-go cocktails, buckets of beer and wine by the glass and the bottle.

Visit nolapicnic.com to place an order for delivery, takeout information, safety guidelines and the complete menu.