One of your favorite seasons is here again! Not Christmas, spring, or winter, but yes, Girl Scout Cookie season!
Beginning January 14, Girl Scouts Louisiana East's cookie presales will start, and their booth sales will begin February 25. The cookie sale will conclude Sunday, March 13. The Girl Scout Cookie program also gives us a big surprise of their newest cookie: Adventurefuls™.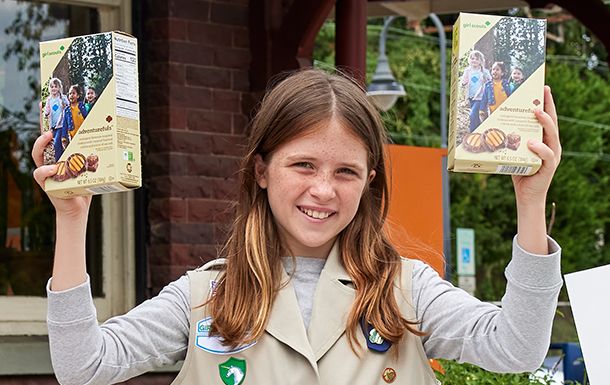 To make sure the community stays safe during this challenging time, Girl Scouts Louisiana East and Girl Scouts of the USA kick off the new 2022 season Girl Scout Cookie season nationally with many Girl Scouts selling in creative, socially distant, and contact-free ways. With the ongoing pandemic, girls are still adapting to their sale methods, so the happiness of Girl Scout Cookies remains through the most extensive girl-led entrepreneurship program. Additionally, beginning Friday, January 14, GSUSA will make online orders accessible nationwide. Those who do not know a Girl Scout can still have the chance to purchase from a local troop directly shipped to their homes or donate to local organizations.
The Girl Scout Cookie Program not only sells its cherishing cookies, but the program also has long taught girls how to run a business via in-person booths, door-to-door activity, and manage the Digital Cookie® platform online, which was launched in 2014 by GSUSA. Whenever COVID-19 hit in the middle of 2020, the girl scouts in southeast Louisiana were inspired to act by hosting canned food drives, sewing masks for the communities, and donating cookies to frontline workers. Girls as young as five years old embraced their entrepreneurship by staying connected to their communities and constantly having fun by participating in the cookie program this year. In addition, the proceeds from every purchase stay local with its troop and its council to operate Girl Scouts' essential leadership programming.
Furthermore, new materials will be provided as part of the cookie badge program to support girls as they continue to run their cookie business profile and via social media, helping them excel and be well equipped for selling during these times.
"Our Girl Scout Cookie sellers had a strong year in 2021, in spite of the COVID-19 pandemic. Love for Girl Scout Cookies remained strong, and we anticipate an even better year in 2022. Our Girl Scouts are excited to continue engaging girl-powered and innovative approaches to the cookie program. We hope our communities will support their local Girl Scouts with the same energy and excitement as they have in years past," Rebecca Pennington, CEO of Girl Scouts Louisiana East, said in a press release.
Freshly, it'll be possible for people who may not know a Girl Scout to purchase Girl Scout Cookies online for shipment to their door. Starting on January 14, customers can enter their zip codes into the Girl Scout Finder to find a local troop to purchase from through the Digital Cookie platform for direct shipments and donations to local organizations. This new, contact-free way has allowed the local girls to keep their safety and skill-building at the top of their minds.
Girl Scout Cookie season is recognized from Friday, January 14 to Sunday, March 13. Consumers can show their support by purchasing the all-time favorite cookies: Thin Mints®, Peanut Butter Patties®, Shortbread®, along with the new Adventurefuls™ cookie: an indulgent, brownie-inspired cookie topped with caramel-flavored crème and a hint of sea salt. Adventurefuls™ gives consumers a new-found and delicious option while enjoying cookies such as Thin Mints® and Caramel deLites®. Though social distancing measures may keep family and friends apart, the shared joy can continue through more than a few different ways.
If you know a Girl Scout, reach out to her to see how she sells cookies with the local and safety protocols. The Girls will be taking preorders starting Friday, Jan.14, by sharing personalized URLs with friends and family through email and social media.
If you do not know a Girl Scout and need to enter your zip code into the Girl Scout Cookie Finder, visit girlscoutcookies.org, text COOKIES to 59618 (message and data rates may apply. Text STOPGS for STOP, HELPGS for help), or use the official Girl Scout Cookie Finder app for free on iOS or Android devices to find socially distant or contact-free cookie booths if they are available in your area.
According to a press release, Girl Scouts Louisiana East is grateful to local businesses for opening space outside their retail locations for Girl Scouts to sell cookies in a safe and socially distant manner when allowed by local COVID-19 guidelines.