Restaurants outside NOLA offer panoramas at "see level" of the water around us
Famously below sea level, New Orleans has very few restaurants with views of the water, despite being surrounded by a huge lake, a mighty river, and oh so many canals. However, eateries outside the city limits with slightly higher elevations offer an array of waterfront dining experiences in unexpected places.
West
Middendorf's Seafood Restaurant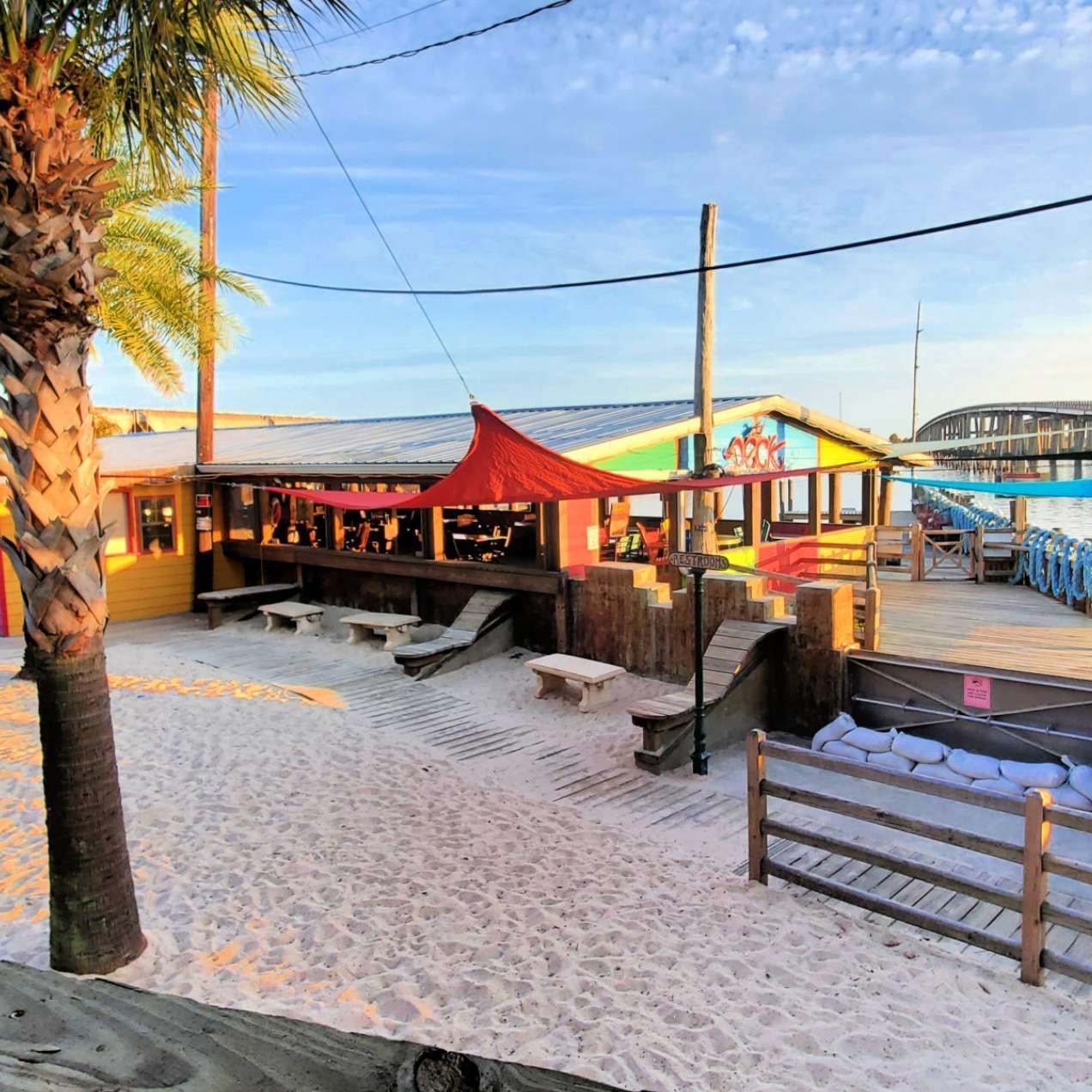 At the Manchac Bridge after miles of undeveloped swamp surrounding I-55 on the west side of Lake Pontchartrain, the original Middendorf's Seafood Restaurant almost seems to be an illusion rising from the water.
This oasis has strategically squeezed itself in between the banks of Lake Maurepas and Lake Pontchartrain on Bayou Manchac since 1934.
After losing his job after the stock market crash in 1929, Louis along with his wife, Josie Middendorf, came to the little fishing village of Manchac from Houston. They opened their café with a $500.00 loan co-signed by a former mayor of New Orleans, T. Semmes Walmsley. While Louis chatted up local barflies, Josie cooked from her own personal recipes, including the thin fried catfish that has kept people flocking to Middendorf's ever since.
The waterfront location opens up the calming quiet of Bayou Manchac to the diners on the covered deck and the second-floor sunset dining room. Beyond that, docks allow patrons to take a before- or after-dinner stroll above the water, while also welcoming boaters to tie off for a bevy or a bite.
A man-made beach and connected Tiki hut along the shore has thirsty beach-bum wannabes and party-goers channeling their inner Jimmy Buffet.
Chef Horst and his wife Karen Pfeifer took ownership of Middendorf's after Hurricane Katrina. The team infuses energy and innovation into the place, but are careful to honor and respect its history and have not strayed from the recipes and specialties that has made the restaurant so popular.
East
Palmettos on the Bayou, Slidell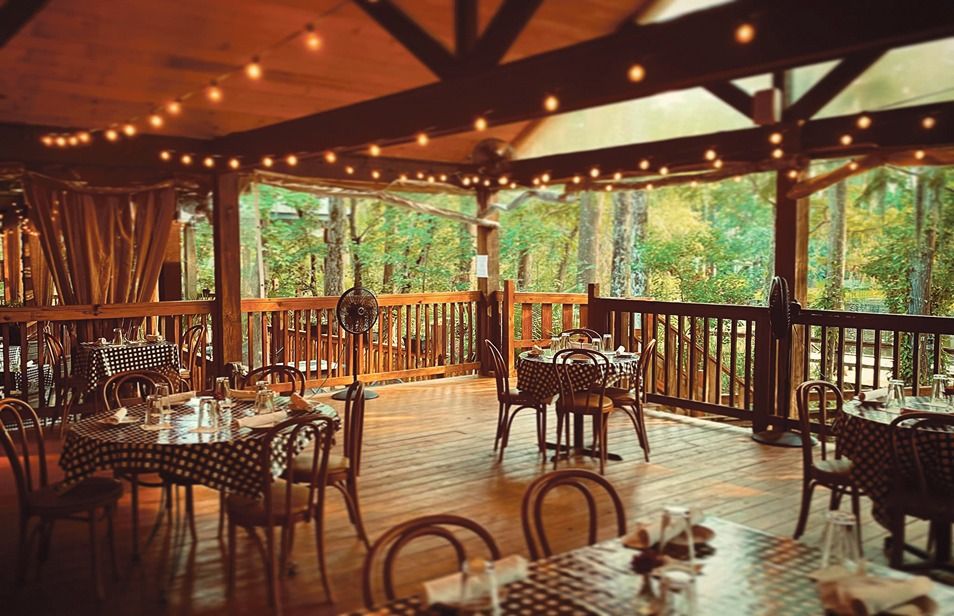 After five years creating a culinary splash at Restaurant August in New Orleans, Executive Chef Ross Dover's cuisine can now be experienced along Bayou Bonfouca at Palmettos on the Bayou. Adjacent to Slidell's Heritage Park, this upscale venue is an elegant oasis in what would otherwise seem a landlocked spot surrounded by busy streets.
"It's a dream come true to work in this spectacular waterfront setting," says Ross, a Louisiana native. "It's the perfect setting to enjoy classic Louisiana dishes such as our duck and tasso gumbo—inspired by my grandmother's recipe." Other native dishes include gulf fish amandine, crispy chicken waffle, and New Orleans BBQ shrimp.
The restaurant seamlessly transitions in and out of the surrounding waterfront, with large glass walls and stadium-style stepped levels, allowing views for customers dining inside or out. Towering cypress and oak trees surround the restaurant and are part of it at the same time with the bayou streaming in and around the outdoor dining area. Live jazz often accompanies Sunday brunches and dinners during the week.
South
The River Shack Tavern, Gretna
Next to the defunct ferry terminal in Old Gretna, the River Shack is tucked at the base of the levee along the Mississippi River. The grass berm effectively blocks water views at street level; however, the restaurant brilliantly incorporates an expansive deck above its building with breathtaking views of one of Ole Muddy's famous riverbends and the CBD's soaring skyline in New Orleans.
Without much cover, the bar area aloft is often closed during the heat of the summer but makes for a lovely spot to welcome the cooler breezes of fall leading into winter and the subsequent spring.
The tavern prides itself on being "a cross between a neighborhood tavern, a live music club, a sports bar and a small-town restaurant," and succeeds on all counts. Walking in the door for the first time doesn't feel intimidating—quite the opposite. You are practically welcomed in as a regular.
The bar is extensive and the menu is upscale pub food. The rooftop nest on the Westbank offers Tex-Mex meals along with burgers and po-boys. Beyond this, the choices of salads, wraps, steaks, and brunch dishes are surprising and innovative.
Segnette Landing, Westwego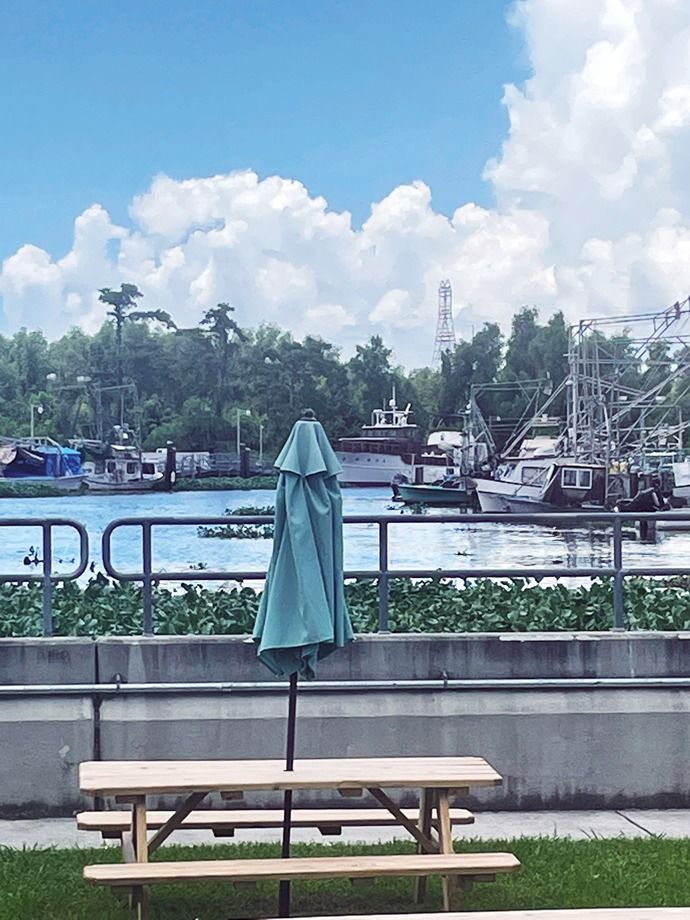 An alligator pops his head above the seemingly tranquil waters in Bayou Segnette's working harbor, and patrons quickly realize this is no ordinary waterfront dining experience. The inconspicuous cottage building is hiding in plain sight behind the bustling Westwego Shrimp Lot off the Westbank Expressway.
Segnette Landing's covered porch and open picnic tables afford diners views of the harbor front teaming with boats, from gulf-bound shrimp, and sea fishing vessels to flat-bottom and airboats touring the bayou's wildlife. And occasionally, some of the wildlife make their way to the water's edge to see what's for dinner—it's probably not your food they want.
In reality, the alligators, birds, and fish are an ecosystem all to their own and are generally not interested in the people over the seawall but rather looking for food within the bayou itself. However, there is a thrill in spying these animals and reptiles in their habitat while enjoying the restaurant's food and drink from a safe distance.
And Segnette Landing's menu is part of that food chain. The kitchen creates notable Louisiana-inspired dishes such as Mrs. Allison's crawfish pie, Creole white beans and shrimp, an oyster dinner, as well as fish and seafood platters fresh off the boat.
North
The Barley Oak, Mandeville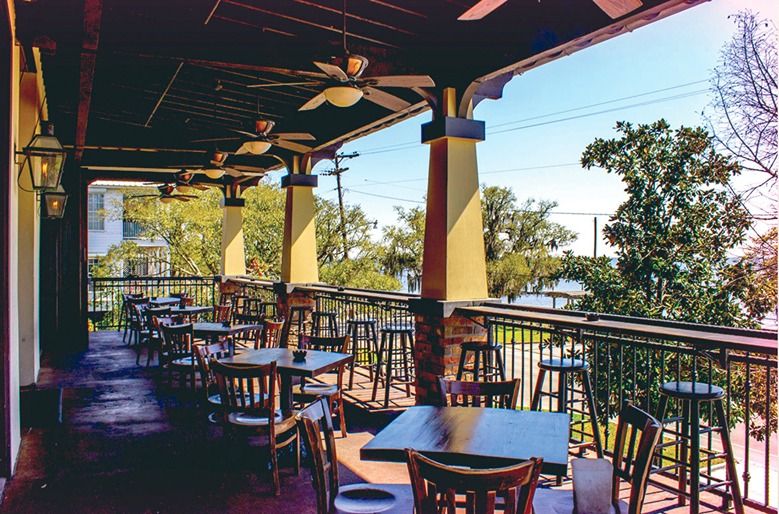 On a large second story gallery rising above Lake Pontchartrain, The Barley Oak is a throwback to relaxed elegance. With high-top tables and ceiling fans, this Northshore "old world draught house" is a perfect perch to soak in the sparkling blue water of Old Mandeville. Boasting over a hundred craft brews on tap from around the globe, the pub menu is appropriately full of German-based fare such as a German sausage platter, pretzel basket, and a bratwurst dog, but still caters to local taste with a Cajun sausage platter, smoked brisket sandwich, and gumbo.
"I always dreamt of opening my own bar. Although the concept of my ideal establishment has changed over the years, the vision has remained the same," says owner Nick Powers. "I have unleashed my passion and set my dreams free. I open the doors to you."
Sweeping views of the lake and the Causeway from the outside seats are indeed dreamy. Powers' concept offers soothing vacation vibes, especially with colorful skies during fall sunsets. It's a relaxed way to wind down a day for locals and visitors alike. After all, it's 5 o'clock somewhere.
So whichever way the compass rose points, may fair winds and following seas lead hungry travelers to a satisfying meal, paired with some natural Louisiana water, and drink in a relaxed waterfront dining experience.