On May 20, join in personally celebrating National Quiche Lorraine Day, which is dedicated to the French dish that can be served and eaten for every meal of the day. The origin of the quiche lorraine is said to be the rural region of Lorraine in France near the border with Germany, hence the name. It consists of an open pie crust filled with savory custard of eggs and milk or cream and pieces of smoked bacon or lardons and cheese. As the best-known variant of the quiche dish, it is no surprise the quiche lorraine would have its very own day. Here are five popular spots in New Orleans that can serve or sell you quiche lorraine, as well as other quiches, this May 20.
Maple Street Patisserie
This bakery specializes in rustic European breads and cakes, sweets, and sandwiches. It sells individual quiches in three different kinds: spinach cheese, ham cheese, and bacon cheese. The bacon cheese quiche is most close to the original recipe of quiche lorraine. All of the quiches go for $6 and are made with Swiss cheese. 7638 Maple St., 504-304-1526, cargocollective.com/maplestreetpatisserie.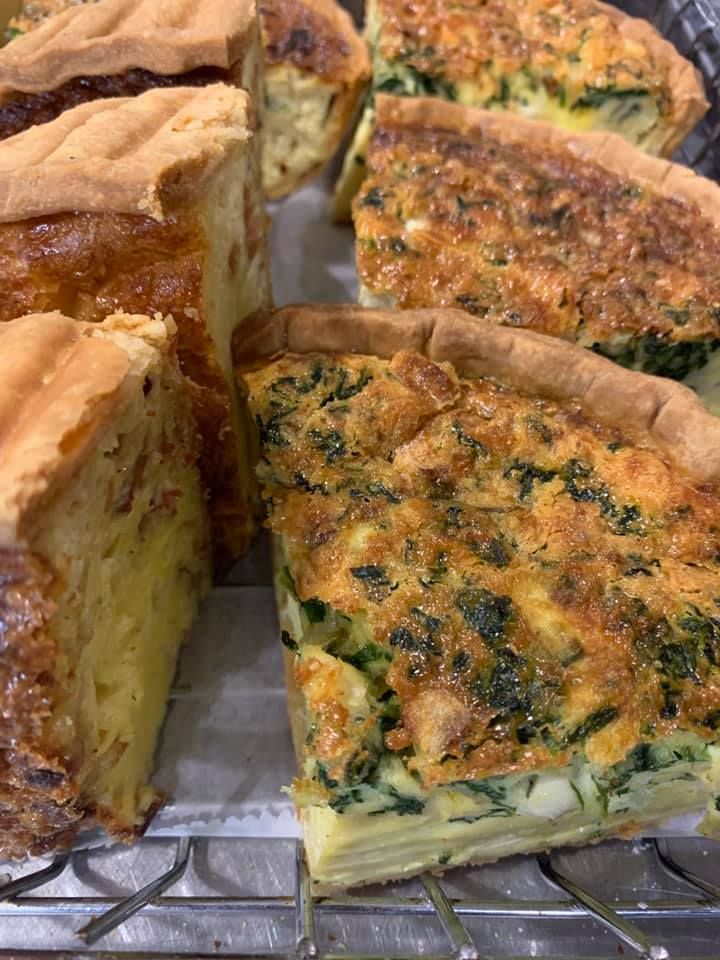 Tartine
This cozy café with a courtyard serves sandwiches and pastries and also hosts tea parties. For breakfast, a slice of quiche goes for just $9 with a choice as to the cheese and fillings. For the classic quiche lorraine, ask for the bacon, onions, and cheese option. 7217 Perrier St., 504-866-4860, tartineneworleans.com.
Café Degas
This romantic bistro, where a tree grows right through the dining room, serves French cuisine with a touch of Creole and a selection of fine wines. As entrees, the café serves two options for quiche: the crawfish and spinach quiche with petite salade for $15 and La Quiche Degas with broccoli, Swiss cheese, and caramelized onions for $13. For a close resemblance to the original quiche lorraine recipe, try ordering the La Quiche Degas without the broccoli. 3127 Esplanade Ave., 504-945-5635, cafedegas.com.
La Boulangerie
This famous local French bakery serves decadent pastries, breads, cakes, and sandwiches in a modest storefront setting. On its savory menu, the bakery offers quiche lorraine prepared with bacon, caramelized onion, and Swiss cheese. Sip some coffee while enjoying your quiche so you can feel like you're right in Paris. 4600 Magazine St., 504-269-3777, laboulangerienola.com.
Windowsill Pies
Not only does Windowsill Pies serve some very tasty sliced pies like vanilla bean bourbon pecan, brandied cherry, and strawberry frangipane, the bakery also offers a mouthwatering quiche sardou. While not a loraine, this exceptional quiche is made with baby spinach, caramelized onions, artichokes, Creole seasoning, and parmesan. At just $13, give it a try! 4714 Freret St., 504-381-4953, windowsillpiesnola.com.