Doris Metropolitan has a new bourbon at its bar and a new cocktail on its menu.
Itai Ben Eli and Itamar Levy, who are partners at the French Quarter steakhouse at 620 Chartres St., and its counterparts in Costa Rica and Houston, went to the Maker's Mark Distillery in Kentucky to collaborate on this unique bourbon: Doris Metropolitan Barrel Pick. It's not merely a gift from Maker's to Doris. Lots of steakhouses have a "private barrel" from a distillery. What makes this one special is that Itai and Itamar chose the staves themselves (staves are blocks of wood from aging barrels used to bestow flavor upon new barrels while they age). They helped craft this bourbon's distinct flavor by choosing staves based on the characteristics they wanted it to have, specifically balance and smoothness.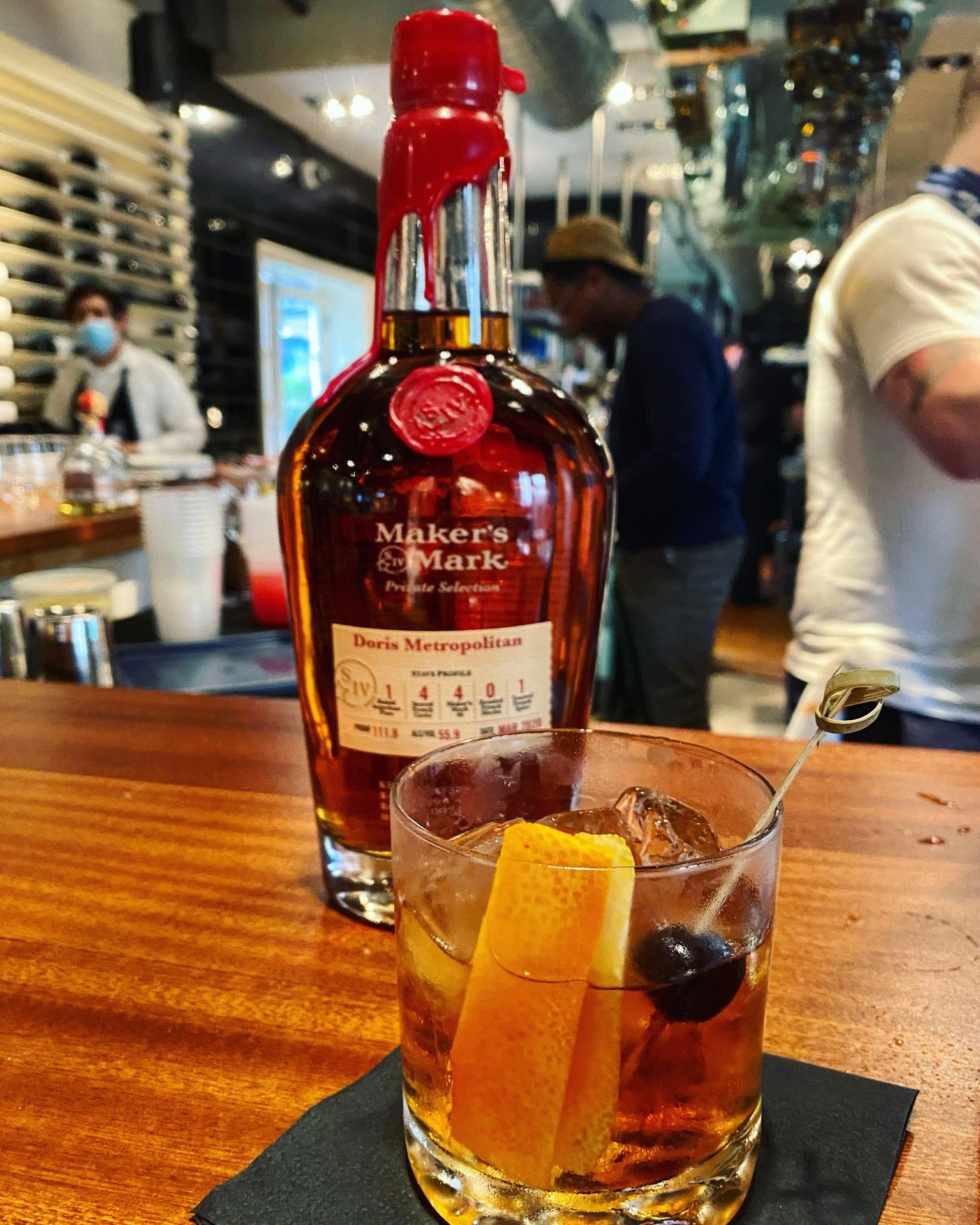 Itai and Itamar's selection is dominated by staves from Maker's Mark 46 and seared French cuvée.
The result is a rich, darker style of Maker's. Despite being a whopping 111.8 proof, it isn't as hot in mouthfeel as Maker's Mark's classic 90 proof. The notes are closer to coffee while keeping Maker's signature caramel and vanilla notes intact.
"As a bourbon fan, it was an amazing experience to create one to our preferences," Itai said. "Flavor notes impossible for us to get anywhere else." He recommends enjoying Doris Maker's neat, on the rocks, or in an Old Fashioned.
Doris' Bar Manager Jonny Reff has written an Old Fashioned menu full of renditions of the cocktail with different liquors. "Loretto," featuring the restaurant's Barrel Pick, is the standard-bearer of this menu.
Being someone who indulges in an Old Fashioned at least once—okay, twice—a week, I was curious to see how "Loretto" tastes. Usually I'd share the parts and full recipe, but you won't have the key ingredient.
The "Loretto" is Doris Maker's, demerara sugar syrup, dashes of both Angostura and Regan's Orange Bitters, Luxardo cherry, and orange peel, as well as lemon peel. It's reminiscent of marzipan, dark cherry, toasted oak, and candied fruit. Delicious.
Or you could just drink Doris Maker's neat or on the rocks.
And naturally, it pairs very well with steak.
Andrew Marin writes about food and cocktails for Where Y'at Magazine. His adventures can be followed on Twitter and Instagram @ndrewmarin