What is Mardi Gras without a good king cake? Not only do we have king cake to look forward to, but also a new delight we never knew we needed to help raise our Mardi Gras spirit. Now, we have an extra sweet surprise to enjoy during Mardi Gras festivities as the Copeland's family announces the launch of their new Mardi Gras-inspired dessert— Mardi Gras King Cake Rum Cream Bread Pudding.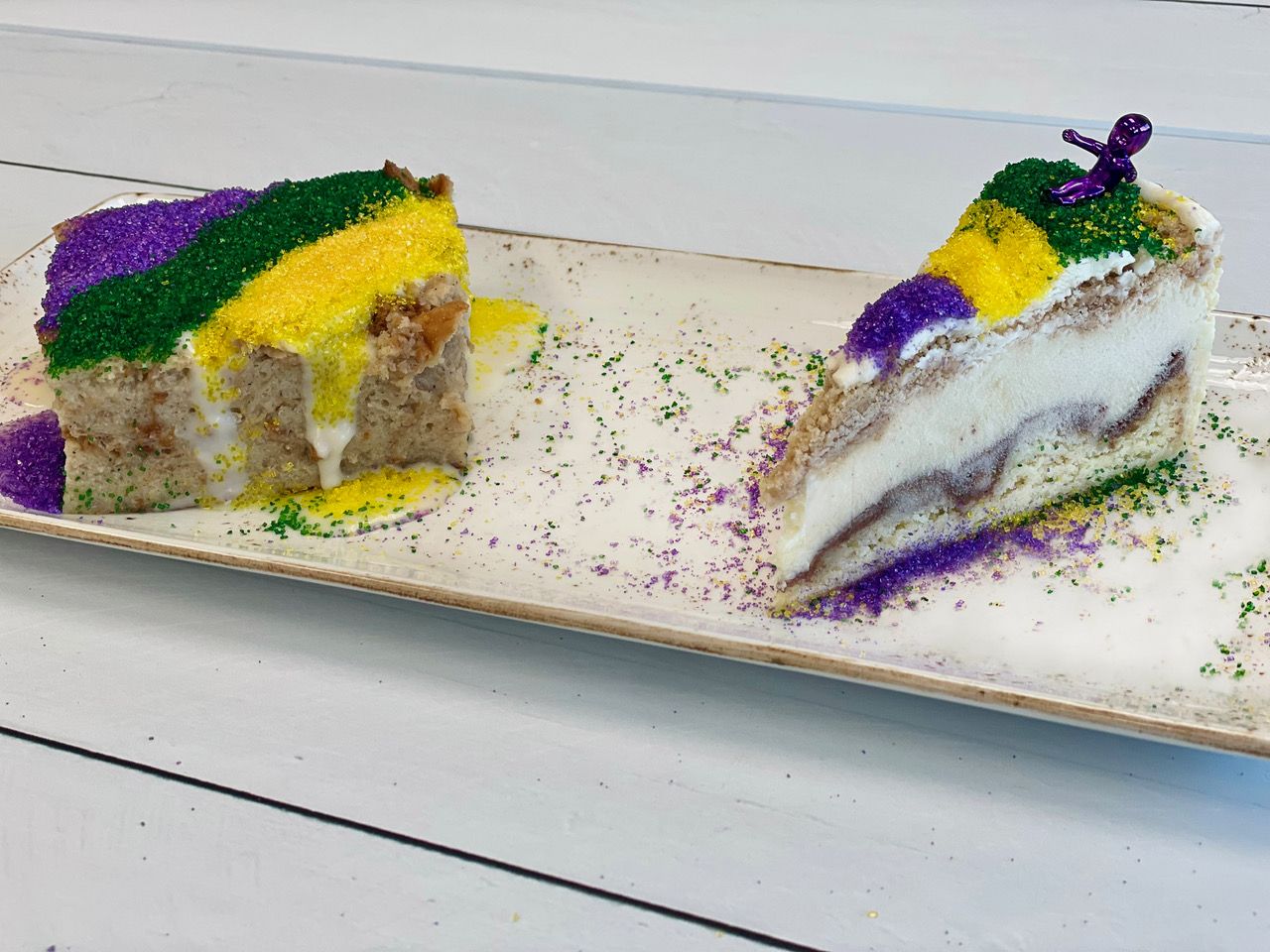 It is available from now through March 1 at Copeland's of New Orleans locations. "We have partnered with three local family businesses to create the ultimate comfort dessert," Al Copeland, Jr. said in a press release. "Our chef took the delicious flavor of Gambino's King Cake Rum Cream and combined it with Kleinpeter's heavy cream to create a warm king cake rum sauce that tops the from-scratch bread pudding made from Leidenheimer French bread."
Sidewalk Side Spirits, another local business, is where Gambino's King Cake Rum Cream comes from, partnered with Gambino's Bakery and the award-winning bartenders of New Orleans' Cocktail & Sons to produce the King Cake Rum Cream. "When we created Sidewalk Side Spirits, it's no coincidence that our first brand would be Gambino's King Cake Rum Cream," John Eason, founder of Sidewalk Side Spirits, said in a press release. "We wanted to build iconic New Orleans spirit brands that had close ties to New Orleans and the surrounding community. We are excited to partner with Copeland's deep local roots and a maverick history of culinary innovation, great food, and fun. Cheers to getting Mardi Gras back and King Cake Rum Cream Bread Pudding!"
I hope that no one's sweet tooth ever goes rotten because the well-known King Cake Cheesecake is back on the menu as well, but only for a limited time! Beginning February 1st, each customer who orders King Cake Rum Bread Pudding or King Cake Cheesecake this Mardi Gras season will get a doubloon offering 2 for 1 Crash and Burns accessible in various sizes (singles frozen or on the rocks, punch bowls on the rocks, and frozen gallons). "We are excited to bring back the tradition of our King Cake Cheesecake and create new Mardi Gras traditions with local family businesses. Mardi Gras is back in the city, and we are ready to celebrate," Al Copeland, Jr said in a press release.
Get these beautiful delights before it is too late! King Cake Cheesecake, King Cake Rum Cream Bread Pudding, and Crash and Burns are offered dine-in, curbside pickup, or catering at CopelandsToGo.com.