In the midst of anticipation that Louisiana has flattened the curve and business can once again resume, many restaurants around New Orleans that had closed temporarily are opening back up again, even if only for takeout and delivery. Cafe Reconcile, a restaurant that doubles as a non-profit organization dedicated to offering job training and other resources to the community's youth, announced their reopening for curbside and takeout starting today, Monday May 4th.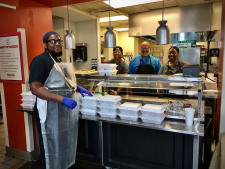 Café Reconcile's weekday takeout menu includes daily lunch plates and a family meal that feeds four.


DAILY LUNCH PLATE:
Catfish (fried, grilled, lemon pepper or blackened) + choice of 2 sides ($11)
DAILY LUNCH SPECIALS:

Monday - Smoked Sausage Red Beans & Rice ($7)
Tuesday - Smothered Chicken with Rice & Gravy + 1 side ($9)
Wednesday - Pork Tenderloin with Rice & Gravy + 1 side ($9)
Thursday - White Beans & Shrimp ($9)
Friday - Father Harry Shrimp Salad ($14)
SIDES:

Macaroni & Cheese, Collard Greens, or Sweet Potato Crumble
DESSERT:

Bread Pudding ($5/available daily)
FAMILY MEAL FOR 4:

Whole Jerk Seasoned Chicken Cut into Quarters + Choice of 2 Sides (one quart each) ($35/available daily)

Though the cafe was closed, the action behind the scenes has never stopped at the Central City organization. "We have continued to be active and connected remotely to hundreds of Reconcile Alumni who have needed our help to navigate the challenges presented by the COVID-19 pandemic," said Gerald Duhon, executive director of Café Reconcile. The cafe's program team which consists of a social worker, mental health specialist and social services coordinator has been reaching out remotely to over 200 of the organization's alumni helping them gain access to much needed services during the pandemic, from help applying for unemployment and connecting them to food assistance sources to ensuring access to mental health services. Café Reconcile has also offered direct assistance to alumni during these trying times in the form of grants and gift cards. "Reconcile is family. Our Alumni have already overcome many obstacles along their journey, and we will continue to be here for them to help them reach their potential" said Duhon.
Furthermore, Café Reconcile has partnered with local organizations to provide over 1600 meals per week to Second Harvest Food Bank and offering "Meals of Hope" distributed by the Greater New Orleans Caring Collective to hospitality workers and the home bound all over the city.
To learn more about Café Reconcile or to donate, please visit them online at cafereconcile.org.