Onetime Louisiana Governor Earl Long famously stopped at supermarkets on his travels to load up on fruits and vegetables when they were in season or available at a good price. If you want to emulate his example, you could do worse than stopping at some of the unique farmstands and markets around the New Orleans area.
While most emphasize local produce, don't be too dismayed if you see fruit with a sticker from California or even overseas, since many also offer some items from farther away at prices at least as good as the local supermarkets. But with the fall being the peak time for local citrus, you should be able to find satsumas, Meyer lemons, and other fruit grown quite near to the city.
Here are a few farmsteads and markets worth exploring.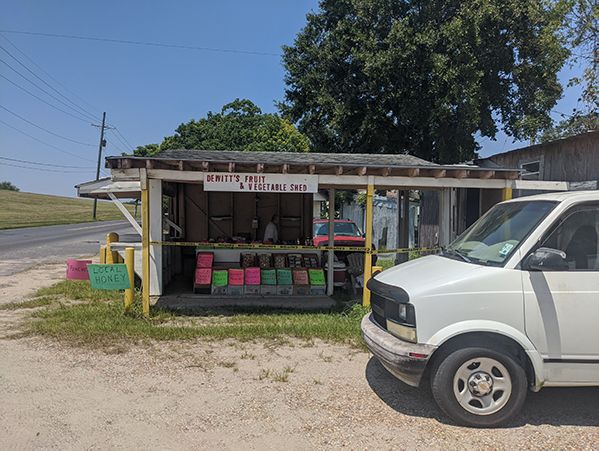 DeWitt's Fruit and Vegetable Shed
Just across the parish line into Old Jefferson is DeWitt's Fruit and Vegetable Stand, a business that has been in place for so long that it was called a "nostalgic reminder of plain old free enterprise" in a bank commercial that aired nearly 40 years ago. Take a short walk or drive from the Oak Street area for Creole tomatoes, when they're in season, and local citrus including Plaquemines Parish satsumas in the fall, as well as items such as local honey, boiled peanuts, pepper jelly, and other preserves. 725 River Rd., Old Jefferson
Johnny's Produce
Head east from New Orleans, past where St. Claude Avenue turns into St. Bernard Highway, to visit this farmstand, owned by an Italian-American family who's been growing and selling produce in the area for generations. Best known for its "Celebrity" Creole tomatoes, a variety indigenous to the immediate area, the farmstand also carries other vegetables, such as eggplant and bell peppers, as well as staples including onions and garlic. Local jams and caponata, the eggplant-based spread, are also on offer. East St. Bernard Highway between Rosetta Drive and Marietta Street, Chalmette
Ben Becnel's The Farm and Ben & Ben Becnel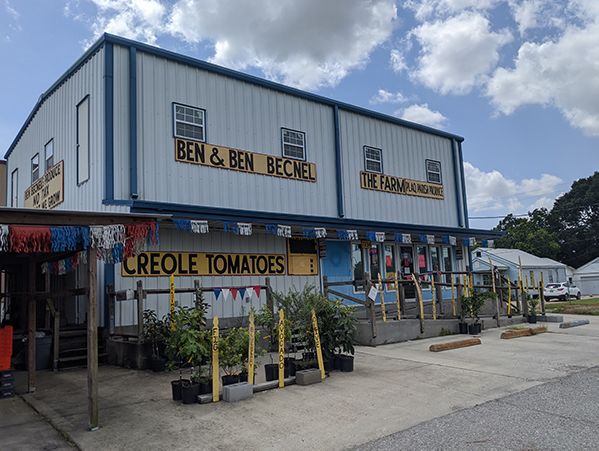 Stop at either of this family-owned farmstead's scenic locations on the road to Plaquemines Parish for locally grown produce, from strawberries in the spring to okra, watermelon, and Creole tomatoes in the summer to citrus and pumpkins in the fall. Also enjoy Louisiana-made pickles, preserves, and honey, and make sure to check the farmstead's lively Facebook page to see what's in stock and on sale. If you'd like to try your hand at growing your own produce, you can also purchase avocado, fig, and other fruit-bearing trees from the farmers market. The famed Hong Kong Market in Terrytown, with its own diverse selection of produce, is also quite near to the location at 7234 Highway 23. Belle Chasse, facebook.com/pages/category/Farmers-Market/Ben-Becnels-The-Farm and facebook.com/Ben-Ben-Becnel-Inc
Crescent City Farmers Market
If you're looking for a healthy but movable feast, stop at one of the Crescent City Farmers Market's weekly locations around the city to check out a wide variety of local fruit, vegetables, meat, seafood, flowers, and breads from a variety of individual vendors. You can also order a produce box for pickup or even home food delivery through market affiliate Top Box Foods. Check their website for the latest on times, locations, and vendor offerings, as well as any adjustments in procedure around the coronavirus pandemic. Multiple Locations, crescentcityfarmersmarket.org
Cajun Fresh Market
Cajun Fresh Market got its start as a single truck selling strawberries, and it's expanded into its present location, where it's open seven days a week along the eastbound side of Highway 90, heading towards New Orleans. The market offers local in-season produce, along with other regional delicacies, such as boudin, hot tamales, and crawfish pies. Plans are in the works to expand the selection of po-boys and other sandwiches, and house-made specials like jambalaya are also frequently available. 938 US-90, Raceland, cajunfreshmarket.com
Vietnamese Farmers Market
In the early morning every Saturday, beginning around 6 a.m., predominantly Vietnamese produce vendors gather in this parking lot outside Ly's Supermarket in New Orleans East with their wares. While many of the buyers and sellers are Vietnamese, you don't need to speak the language in order to buy the fresh seasonal produce, seafood, and prepared foods that are available that week. Get there early and expect to primarily pay cash. Consider sticking your head in Ly's for additional Vietnamese food offerings or stopping at the nearby James Beard Award-winning Dong Phuong restaurant and bakery for baked goods or other fresh Vietnamese food, including pho. 14401 Alcee Fortier Dr.