While New Orleans is known as a foodie paradise, it can be hard to find vegetarian food here. We've got steaming piles of crawfish, rich chicken and andouille gumbo, and decadent overstuffed roast beef poboys, but it seems like there aren't as many options when it comes to meatless meals. While meat-forward restaurants are more plentiful, there are many vegetarian-friendly restaurants to choose from if you want to cut out the meat. Don't worry; some of these places still have meat on the menu for those who prefer it.
These restaurants are the absolute best in New Orleans if you're vegetarian or vegan and hungry. Meat-lovers may even be convinced to turn over a new leaf!
Where to Get Vegetarian Food in New Orleans
1.

C

armo
527 Julia St. (504) 875-4132, cafecarmo.com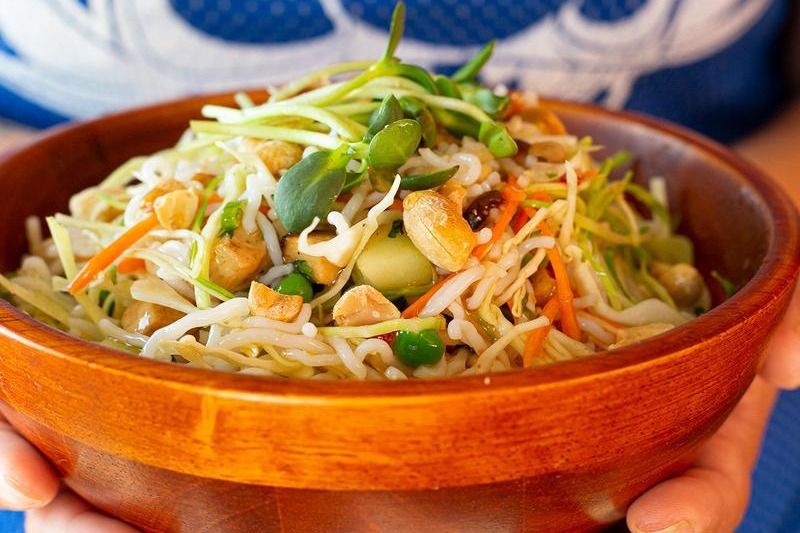 This Warehouse District restaurant has several cultures represented on its menu. There's a little bit of the Caribbean, some South American, influences from West Africa, and flavors of Southeast Asia. Of course, there's also some Gulf South for the local twist.
Carmo specializes in raw seafood dishes like ceviche and sashimi, but there is a wide selection of vegan and vegetarian food. The Ceviche Vegan is mushroom, beans, and cucumbers marinated in lime, passionfruit, and caju juices red chili, yellow chili, onion, corn, sweet potato, avocado, and crunchy corn.
2.

The Daily Beet
Multiple Locations, thedailybeetnola.com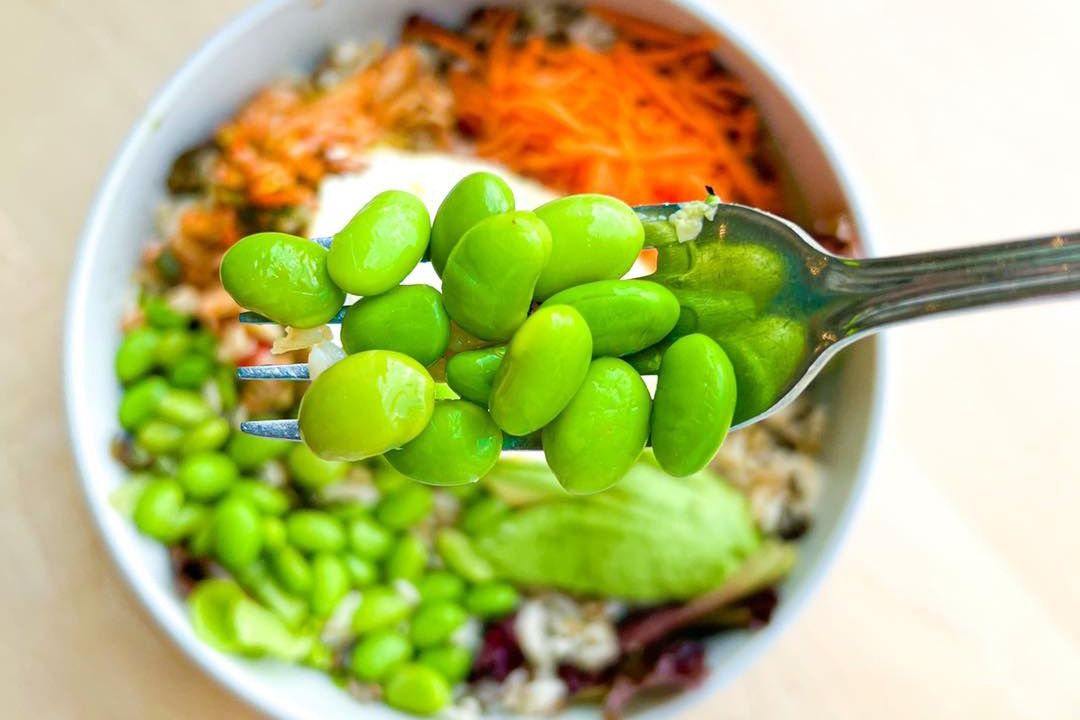 The Daily Beet is health and wellness forward, but you don't necessarily have to be the healthiest eater to enjoy their food and beverages. You can check out the CBD (1000 Girod St.) and Uptown (3300 Magazine St) locations to see what they've got cooking or order on their website for easy pick-up or delivery to certain areas.
Among the sweet and savory bowls and extensive juice options, you'll find the awesome salad section. The Mexicali Blues Salad is one of a kind: romaine lettuce, spring mix, avocado, black beans, corn, tomato, red onion, cilantro, corn chips, and Cotija cheese with jalapeno lime vinaigrette. This salad is Eat Fit-certified to boot!
3. The Sneaky Pickle
3200 Burgundy St., (504) 218-5651, https://www.yousneakypickle.com/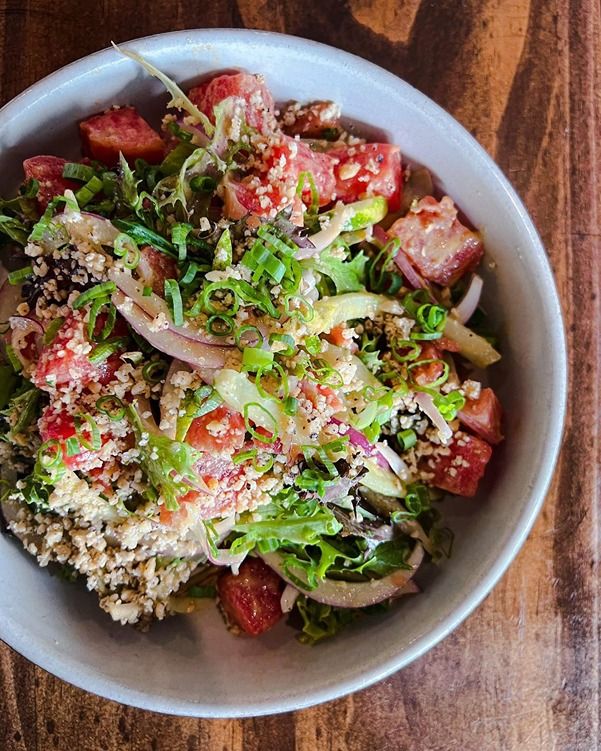 Despite its name, there's no tricks here: The Sneaky Pickle serves up quality vegetarian food. With vegetarian, vegan, and one meat option (a Wagyu beef burger), everyone will be happy with their order.
The Sneaky Pickle has two different menu options depending on which time you visit. Dine from 11 a.m. to 4 p.m. on Thursday through Monday, and you'll be greeted with the Sneaky Pickle menu. Opt for dinner on those same days and you'll pick from the more upscale Bar Brine menu. The Sneaky Pickle has all you need for a hearty and healthy vegetarian meal.
4.

Bearcat Café
Multiple Locations, bearcatcafe.com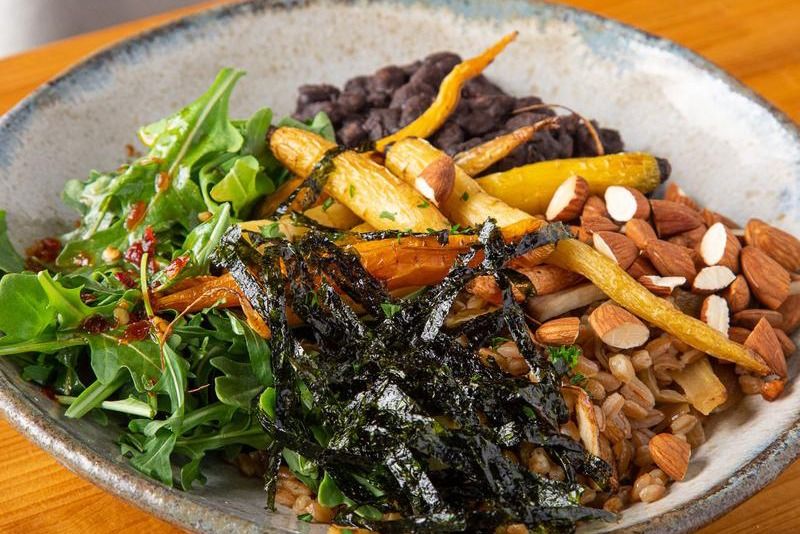 There are two locations for you to enjoy Bearcat: the original Uptown location (2521 Jena St.) just off of Freret Street and the CBD location (845 Carondelet St.). The menus at each location can vary, so it is best to check out the website to ensure you go to the one that you'll like best.
Bearcat does not strictly serve vegetarian or vegan as you'll come across items like Goat Balls (boudin, goat cheese, Steen's Syrup) on the menu, however, there are many vegetarian and vegan dishes to choose from. The Wild Mushroom Katsu Sandwich is a satisfying vegetarian dish with fried mushrooms, Katsu sauce, vegan aioli, a vegan bun, and crispy potatoes.
5.

Alma Café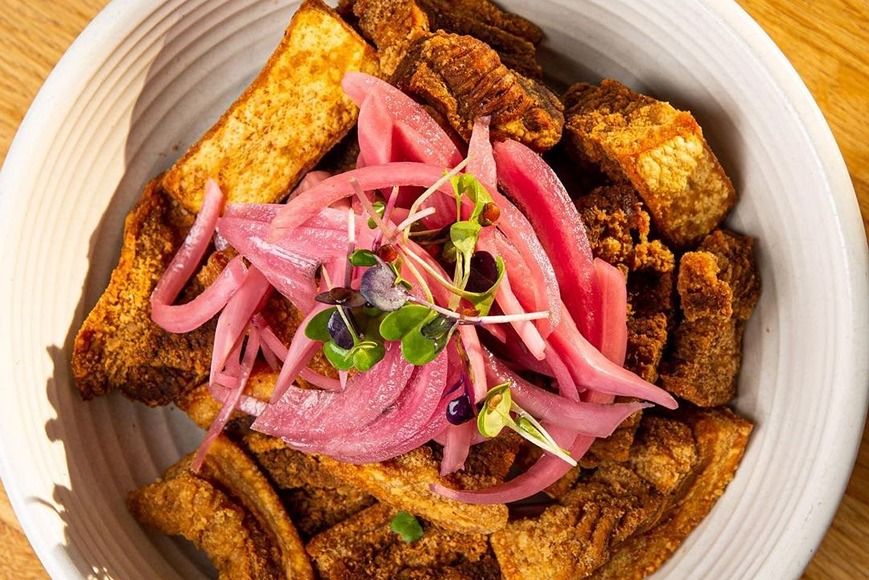 800 Louisa St. (504) 381-5877, eatalmanola.com
Alma is one of the best and most authentic Honduran restaurants in New Orleans. Chef Araujo puts her family's history and her own experiences into every bite of her food. While many of her dishes feature meat, there are some that are made just for vegetarians (or those who would just like a meat-free dish that day).
You can start off with the Moros Y Cristianos, a vegan dish made with small red beans and Louisiana-grown jasmine rice cooking in coconut milk and herbs. The entrée Brussel Sprouts Bowl features fresh Brussel sprouts with jasmine rice, spicy peanut butter, and avocado.
6.

Kindred
7537 Maple St. (504) 841-9538, kindrednola.com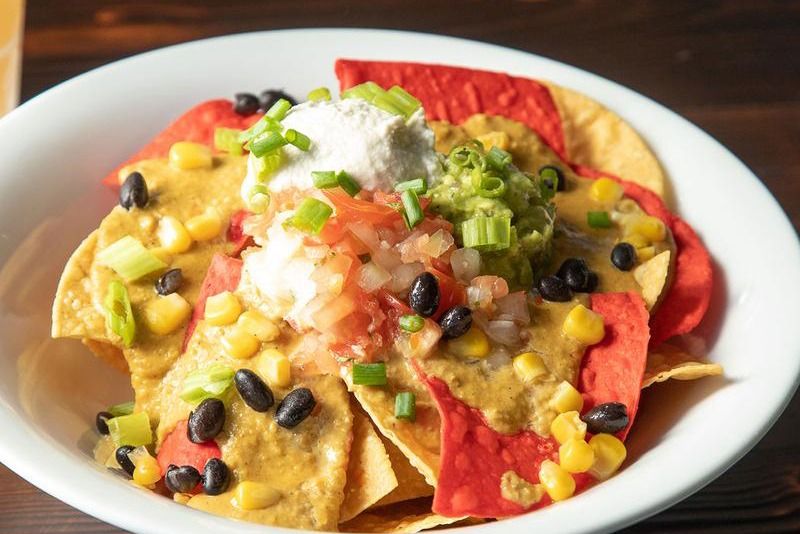 You don't have to worry if your food isn't full vegetarian at Kindred. In fact, this is a 100% vegan restaurant! Reading the menu, you'll see main dishes like the Shrimp PoBoy, Meatball Sub, and Maple Street Burger, but each and every item is fully plant food. The Shrimp PoBoy is made with fried mushrooms. The meatballs in the sub are vegan. The burger patty is non-GMO soy burger.
The Tuna Salad and Tuna Sandwich are hits with people wanting a light lunch. The "tuna" is actually smashed chickpeas. The Vegan Cauliflower PoBoy is fried cauliflower tossed in buffalo or Kindred sauce and served on French bread with lettuce, tomatoes, pickles, and vegan mayo.
7.

Sweet Soulfood
1025 N Broad St. (504) 821-2669, sweetvegansoulfood.com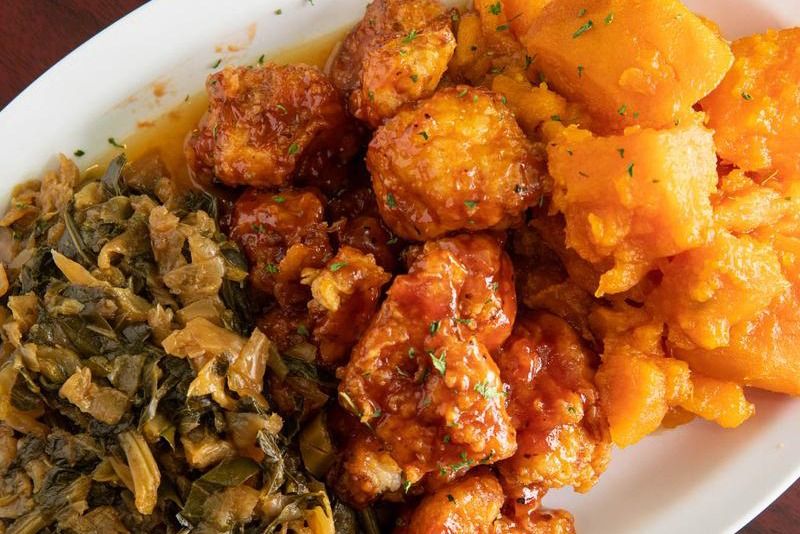 Sweet Soulfood proudly serves fully vegan dishes that look and taste just like traditional New Orleans soulfood. Instead of order a la carte items, Sweet Soulfood has plate options that change daily. You will be presented with a main dish and several side dishes, and you simply pick how many items you want.
You can choose to have between one and four menu items. Your options for one day could be: Eggplant Lasagna, Orange Cauliflower, Fried Cauliflower, Cashew Mac, Jambalaya, Veggie Fried Rice, Okra Gumbo, Creole Curry, Mushrooms N' Gravy, Cabbage, Collard Greens, Sweet Potatoes, Bread Pudding, and Potato Salad.
8.

I-Tal Garden
810 N Claiborne Ave. (504) 515-7321, italgardennola.com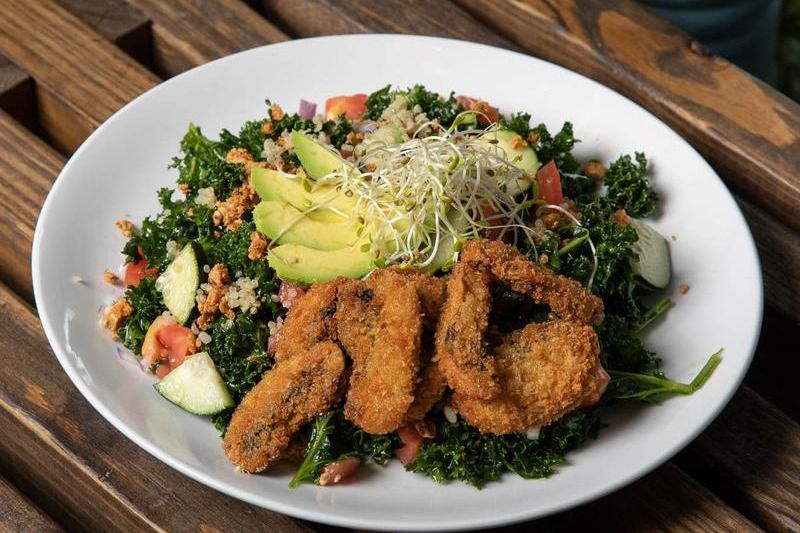 In the Treme neighborhood, I-Tal Garden serves all vegan food that you might swear is not vegan at all. Take the Cajun Oyster Bites which look like fried oysters. They're actually chickpea-battered oyster mushrooms fried crispy. The sticky, sweet Ribs are actually made of jackfruit.
These big, hearty plates can be eaten guilt-free knowing that no animals were harmed in their making. Even the wings are made of chickpea-battered cauliflower and fried before being tossed in one of the rich sauces. The Kickin' Strips are great for chicken-lovers: portobello mushroom caps sliced and fried.
9.

Breads on Oak
Multiple Locations, (504) 324-8271, breadsonoak.com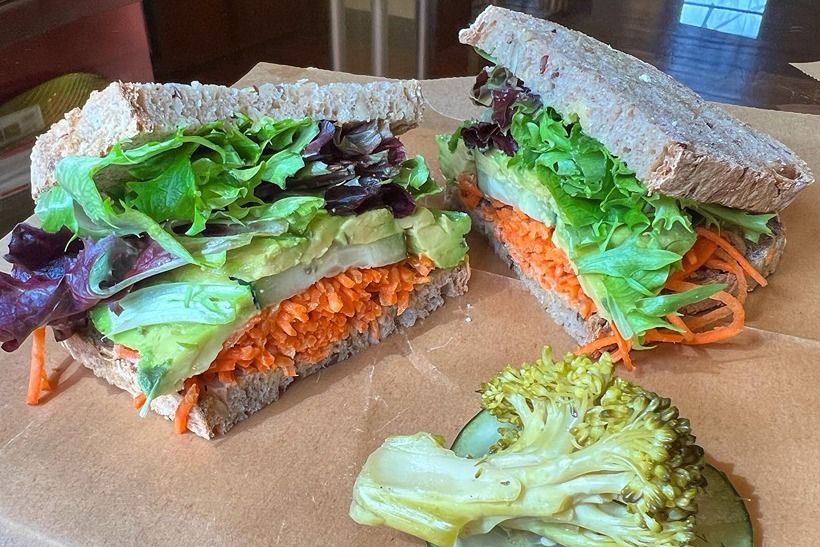 Breads on Oak is so popular with plant-preferred diners that a second location was necessary. You can enjoy these dishes at the original location in the Riverbend neighborhood (8640 Oak St.) or in the heart of the CBD (222 Carondelet St.). Both locations open and close early, so this is where to go for breakfast and lunch.
Breakfast is served all day at both locations. You can get something savory like the Creole Omelet Toast or sweet like the Peanut Butter Blondie. Lunch will be delicious with something like the Muffanada: a vegan muffaletta with vegan Italian ham, vegan bacon, vegan cheese, olive salad, tomato, and greens.
10.

True Food Kitchen
801 St. Charles Ave. (504) 558-3900, truefoodkitchen.com/locations/neworleans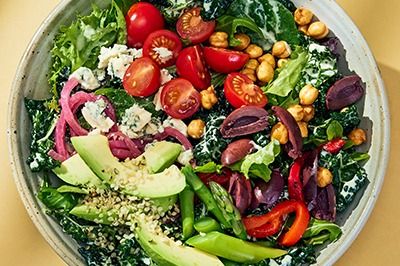 True Food Kitchen is a perfect spot to get a quick, healthy restaurant lunch for anyone who works in the Warehouse District or CBD. But it's a spot for anyone who wants a health-conscious meal at a good price. The salads and bowls are so fresh you'll feel like it was just picked. You can also ask about making your selection vegan to be totally plant based, vegetarian, keto, or paleo.
The Tuscan Kale Salad is a simple and elegant blend of organic kale, lemon juice, garlic, parmesan cheese, and breadcrumbs. The Chopped Salad is a colorful mix of medjool dates, dried cranberries, jicama, organic apples, Manchego cheese, farro, marcona almonds, and champagne vinaigrette.
The Best Vegetarian Restaurants in NOLA
These vegetarian-friendly restaurants in New Orleans have such great food that you won't even miss the meat! While there's nothing wrong with visiting a steakhouse or enjoying some freshly-caught Gulf shrimp, going meatless once in a while can be good for your health. You may find that you enjoy making veggie swaps in your typical meat dish, too.
What's your favorite vegetarian or vegan restaurant in New Orleans? Let us know where it is!