Sushi as we know it today was considered to be a street food in the 1800s. Before that, sushi had been around for hundreds of years in parts of southeast Asia as a fish preservation technique that today is called narezushi. Eating fish and rice is an ancient delicacy, and it is enjoyed by more people today than ever before. Luckily, New Orleans has so many Japanese restaurants serving sushi that you can always find some no matter what part of town you're in.
Though there are a ton of restaurants for sushi in New Orleans, the following eateries are serving the best, the freshest, and the most innovative rolls. You should definitely have some sake to go with your sushi!
Where to Get Sushi in New Orleans
1.

Mikimoto
3301 S Carrollton Ave. (504) 488-1881, mikimotosushi.com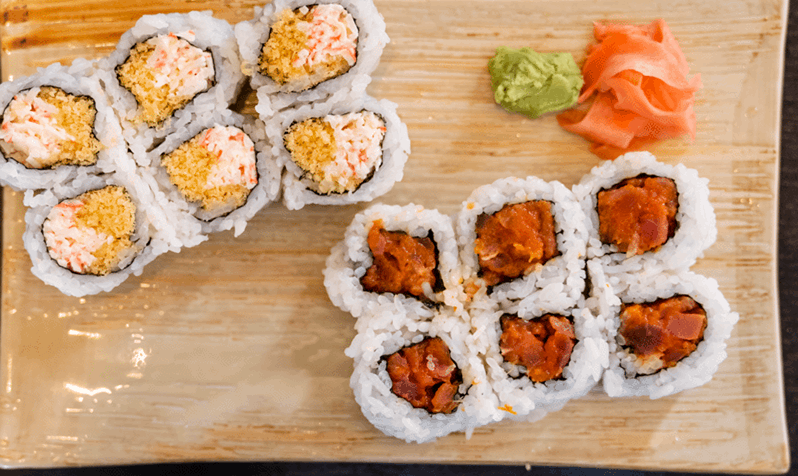 It may not have a huge dining room, but Mikimoto is often packed with diners who swear that this is the best sushi spot in the entire city. The sushi and sashimi offerings are the popular items, but the appetizers, soups, rice dishes, and even desserts all have excellent qualities. It's no wonder Mikimoto has been in service since 1999.
Try the signature South Carrolton Roll: tuna tataki, avocado, green onion seaweed and rice roll with wasabi roe, chili pepper, and snow crab on top. Or look at the Spicy Fried Oyster Roll: tempura oyster with cucumber, jalapenos, and smelt roe with wasabi sauce.
2.

Hana Japanese Restaurant
8116 Hampson St. (504) 865-1634, hanasushinola.com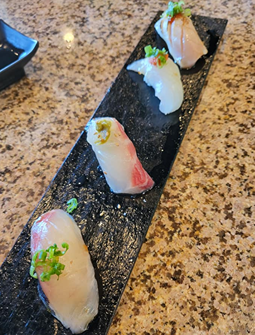 Hana Japanese Restaurant has been serving the Riverbend neighborhood for over 30 years. Open daily for lunch through dinner, Hana is popular for traditional Japanese fare at excellent prices, especially if you get a lunch special.
The signature rolls are so plentiful that you'll have to make several trips to try them all. The Hana Special Rolls includes shrimp, crab stick, tuna, salmon, snow crab, tamago, cucumber, and avocado. Ben Chan's Roll is spicy tuna, avocado, cucumber, eel, and tuna with the addition of boiled shrimp.
3.

Rock N Sake
Multiple Locations, facebook.com/rocknsakenola, rocknsake.com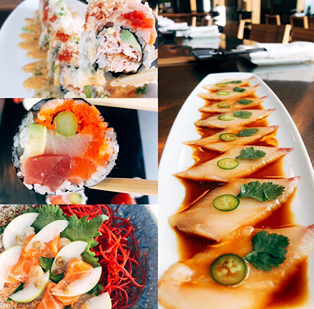 Rock N' Sake has two locations in the greater New Orleans area, but they are no longer connected. The original Rock N' Sake location (823 Fulton St.) was opened in 1998 by Tanya Hailey and Duke Nelson who still own the high-end, much-beloved sushi restaurant. The Metairie location (2913 Metairie Rd.) was sold by Hailey and Nelson a few years ago so that they could focus more on the NOLA location and other pursuits.
In Metairie, take a seat on the cute patio to dine on a Purple Ninja Roll with tuna, salmon, snowcrab, avocado, cucumbers, tomato, purple pickled onions, smoked sea salt, ginger-infused soy sauce. In the Warehouse District, try the Voodoo Queen roll with coconut-fried salmon, jalapenos, avocado, snowcrab, spicy tuna, sweet chili garlic, aioli, green onions, and tempura flakes.
4.

Kyoto II
5608 Citrus Blvd. (504) 818-0228, facebook.com/Kyoto2Nola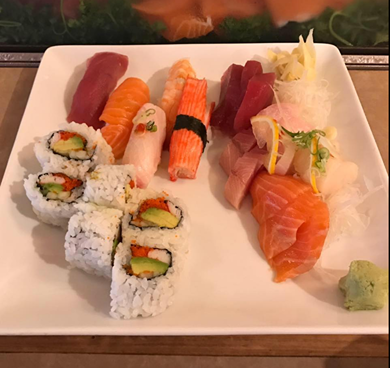 This wonderful restaurant is tucked into a strip mall in Elmwood, and it has amazing, authentic Japanese food that is hard to find elsewhere. The regulars love the lunch specials because they are great deals. From Monday through Friday 11:30 a.m. to 2:30 p.m. and Saturday from noon to 4 p.m., you can select from a wide variety of specials like Chicken Teriyaki Bento and Sashimi Lunch at low prices.
For dinner, check out the Chef's Creations. You'll find delicacies including the Funky Margarita Roll with your choice of crawfish or spicy tuna wrapped with tuna, fresh salmon, and a guacamole topping and the Ankimo Exotic with steamed fish pate topped with ponzu and smelt roe.
5.

Origami
5130 Freret St. (504) 899-6532, origaminola.com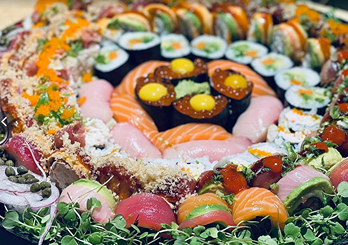 Origami is popular with the college crowd and young families who enjoy the excellent prices and long list of options for sushi, vegetable-only sushi, soups, and small plates. The sushi rolls range from traditional to innovative. Have you ever heard of the Godzilla Our Way? It's a deep-fried roll with cream cheese, avocado, shrimp tempura, snowcrab, crunchy avocado, and spicy mayo.
The Throw Me Somethin' Mister is a locally-loved roll with snow crab and crunchy on the inside and shrimp and avocado on the outside with a drizzle of spicy mayo and eel sauce. Yo Momma N'em is tuna, salmon, white fish, snow crab, asparagus, and crunchy in soy paper.
6.

Sake Café
Multiple Locations, sakecafeonmagazine.com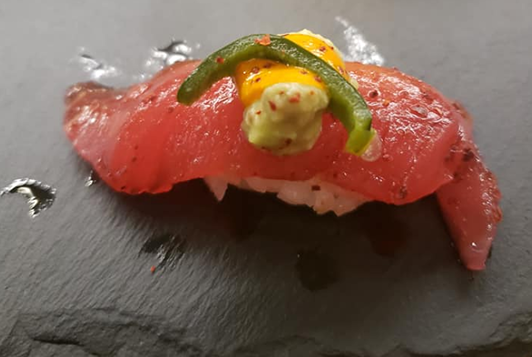 Sake Café has spread out around town to serve all of those who love the sushi and the atmosphere that Sake Café provides: Metairie (4201 Veterans Memorial Blvd.), Elmwood (1130 S Clearview Pkwy.), and New Orleans (2830 Magazine St.). And the extensive list of signature cocktails isn't half bad either! You can get great deals om those cocktails, appetizers, and traditional sushi rolls during the daily happy hour from 3 p.m. to 5:30 p.m.
Sake Café's signature rolls consist of many colorful and creative items. The Spice Girl Roll is pepper tuna, avocado, and masago inside with snow crab on top then sprinkled with shichimi and seaweed powder.
7.

Tsunami
601 Poydras St. (504) 608-3474, neworleans.servingsushi.com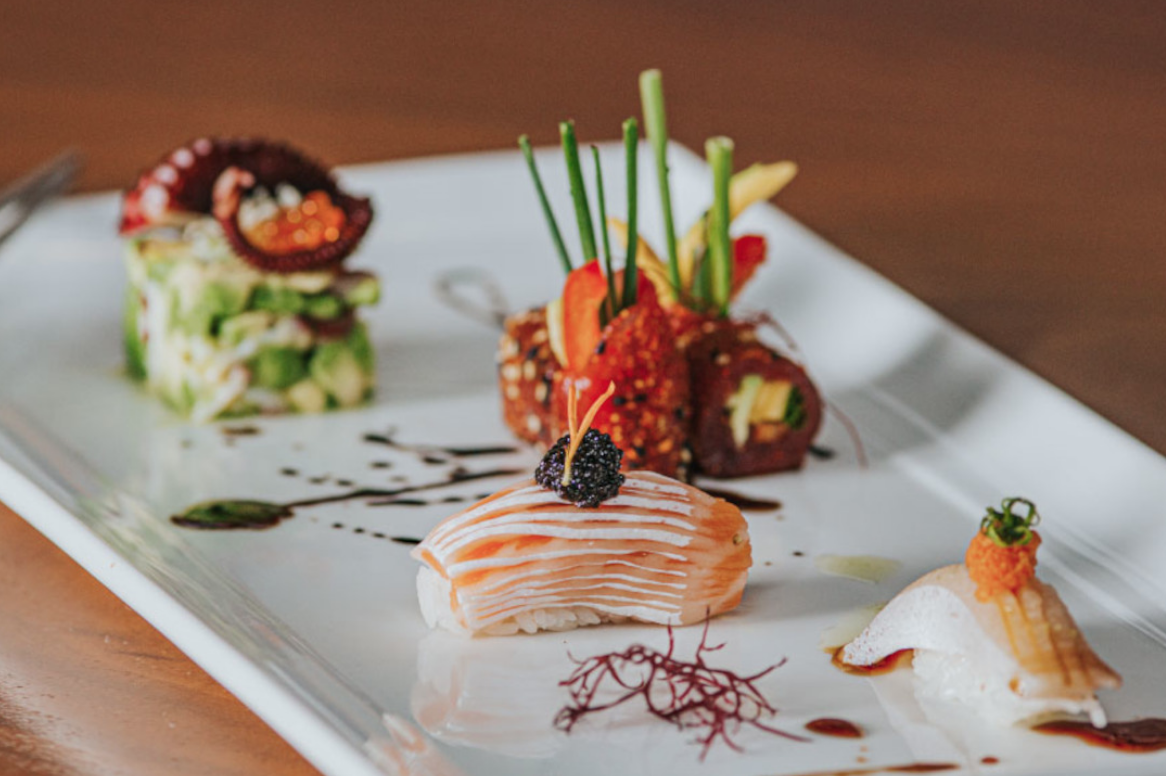 Tsunami Sushi is an award-winning restaurant. Its location in the heart of the CBD makes it a popular stop for lunch for workers in the area. Some of the signature rolls take a little longer to prepare because they are truly works of art. The Black & Gold rolls is a stunning blend of crunchy shrimp, kani, spicy mayo, crawfish, and scallions with a sunburst of Tsunami and tsurai sauces.
The specialty dishes are also quite a sight to behold. The Sunflower is a dish made with sashimi slices of seared tuna drizzled in spicy ponzu sauce with tobiko, masago, scallions, and a quail egg which is arranged to resemble, you guessed it, a sunflower!
8.

Asuka Sushi & Hibachi
4600 Washington Ave. (504) 862-5555, asukaneworleans.com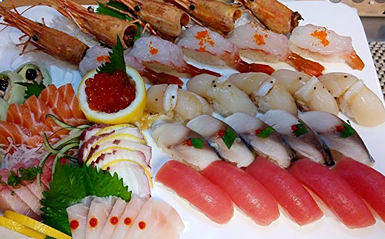 Asuka has a huge menu of sushi rolls ranging from traditional to creative to fried and delicious. Maybe you're in the mood for something lighter like the Crazy Roll which is tempura shrimp, spicy tuna, avocado, and masago in a soybean paper wrap.
Or perhaps you'd like something more satisfying. The Asuka Roll is lightly fried with snow crab, crawfish, avocado, and cream cheese with spicy mayo and eel sauce. The Louisiana Roll is tempura shrimp, snow crab, crawfish, avocado, and cream cheese fried then topped with spicy mayo, cream sauce, eel sauce, and scallion.
9.

Ikura Hibachi & Sushi
310 N Carrollton Ave. (504) 485-5658, ikurahibachisushi.com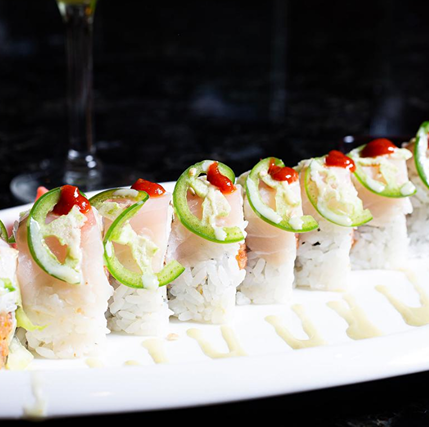 You can find Ikura inside the multi-story building on the corner of N. Carrollton and Bienville St. The signature rolls are unique and hard to find elsewhere. This may be the only place where you can get softshell crab sushi! The Seafood PoBoy Roll has crawfish, fried shrimp, fried softshell crab, and lettuce inside then drizzled with eel sauce and spicy mayo.
Salad for dinner is an excellent choice here. The Chef's Salad is romaine lettuce with fresh sashimi, boiled shrimp, crabstick, seaweed, and squid salad. The Tropical Roll is coconut shrimp, mango, and cream cheese wrapped in rice, salmon, and tuna.
10.

Royal Sushi & Bar
1913 Royal St. (504) 827-1900, royalsushinola.com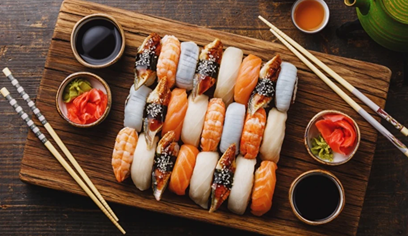 Royal Sushi is more than just sushi, although that would be reason enough to go. The ramen menu is great for soup-lovers, and hibachi rice is super filling. It will be hard to pass up the signature rolls here, however. You may want to order two entrees and take one home for tomorrow.
The King Cake Roll is a Zulu-inspired roll with cream cheese and coconut shrimp topped with tuna, eel sauce, and crunchy almonds. The Crispy Calamari Roll is fried squid, snowcrab, asparagus, crunchy, green onion, smelt roe, and Japanese red paper with a hefty drizzle of the chef's special sauce.
The Best Sushi in New Orleans
You can certainly visit all of these restaurants to get your favorite classic roll, but these signature rolls are just too wonderful to pass up. Maybe you can find a roll that's based on your usual but with even more amazing inclusions. What's your go-to roll?
Did we miss the best sushi restaurant in New Orleans? Let us know where it is!