We all know pet moms and dads want the best for their fur babies, and if any are in the local New Orleans area, this list is for you. The top best total pet care places for your pet to visit while you are out on vacation or at work, these places are sure to take the time to play, soothe and keep an eye on your loved ones. Many visitors also come to NOLA with their pets and are uneasy about leaving them inside their air bnb's with no other companionship and choose to bring their pets to these places so they do not feel out of town and lonely while their owners are out and about.
With these places available, pet lovers can go on Bourbon for a drink or down Magazine Street to shop without feeling guilty. These places can also refer veterinarians in an emergency; some even have them on site, so please take a look!
Top Ten Pet Care Services in Nola
1. Pawlins
3501 River Road, (504) 302-7200, https://www.pawlins.com/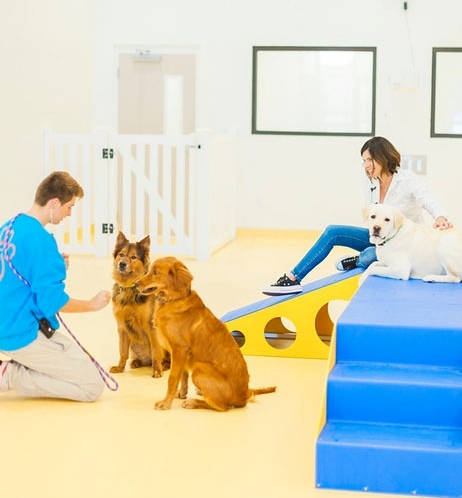 Pawlins have everything a pet and their owner could ask for. They have built state-of-the-art facilities for dogs to run and play in a healthy, safe environment. This total pet care business offers daycare, boarding, grooming and a partnering full-service veterinarian right next door. Pawlins only offers boarding services to cats and dogs. However, all daycare services are specifically for dogs, and each has to undergo an interview process to ensure they are a safe and fun match for Pawlins.
The facility has different parts and activities for dogs during their daycare time, such as outdoor play, indoor play, outdoor water park, separate play areas for small pups, enrichment toys and games, webcam access to both indoor and outdoor yards. The staff do their best to ensure your pet is comfortable and fed on the clock, they even have essential-Oil scent technology to soothe the pups. Whether you will be out of town or need a break from your furry friend, at Pawlins, they will get the second-best belly rub they've ever received.
2. Petcetera
3205 Magazine St. (504) 269-8711, https://petceteranola.com/
Petcetera is a full-service pet boutique with a fun name you'll want to say over and over again. Get your dog or cat looking good at the grooming department, and you can be assured that the staff will treat your pet like family. If you prefer to do it yourself, the self-service bath station has an re-purposed antique claw-foot tub to bathe your pet which is open daily. Join the Puppy Scrub Club to get a free eight bath.
Petcetera also offers training services, pet sitting and walking services, and lovely pet portraits. Pick up a freshly-baked biscuit or cookie in the bakery department to reward your little girl or boy for being so good.
3. Zeus' Place
4601 Freret St., (504) 304-4718, https://zeusplace.com/
Zeus' Place is another top shop that has offered quality service for your fourlegged friends for over 16 years. Their mission since opening has been to create a provide a unique boarding, daycare, and grooming experience. Since opening in 2006 they have also founded a second facility, Zeus' Rescues where they save stray pets from shelters that are about to be euthanized and find them homes. Zeus' believes in loving on your pets but also in improvement for the New Orleans area in all aspects of community which includes animals. The business has also opened a third building, Zeus' Place Downtown, for the downtown nola area.
Both the original and third business that the company owns offers grooming, boarding, daycare and webcams for dogs. Boarding and daycare prices are listed on the website for all owners convenience. All grooming concerns can be answered over the phone. Zeus' also allows owners to connect the webcams to their phone, tablet or computer with internet connection so you can watch your pet play and sleep wherever you may be.
4. Camp Bow Wow
2731 Tchoupitoulas St, (504) 891-3647, https://www.campbowwow.com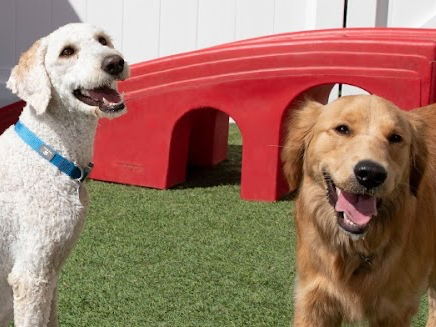 Camp Bow Wow in a national doggy day care, housing 222 facilities in total. These pet lovers offer boarding, daycare, training, grooming and more to keep your pets happy and healthy. Camp Bow Woe prides itself in providing a safe environment for your dog above all but is still focused on fun. With their spacious play yards, your dog will make friends while you watch with their live webcam connecting to your computer or smartphone. Doggy daycare and boarding also allow your pet to experience the business's enrichment model. While your pup is there, they will get playtime emphasizing enrichment and daily sensory stimulation during group play. They believe this enhances the physical and mental well-being of their campers.
Camp Bow Wow also owns a nonprofit for less fortunate animals. The Bow Wow Buddies Foundation helps ill and injured dogs by funding urgent medical care and aiding with veterinary expenses for owners and rescue and shelter organizations that may not have the finances to help their dogs in need.
5. Sarah's Pet Care Revolution
(504) 457-8778, https://sarahspetcarerevolution.com/
Sarah's Pet Care Revolution is a team of individuals who have set out to provide the best environmentally smart and nurturing pet care for your animals. Since 2010 SPCR has been helping the New Orleans area by supplying owners with at-home sitting and dog walking. First, all customers must meet with the manager for revolution registration, and from there, they can choose any service listed. Sarah's Pet Care Revolution offers dog walks, pet sitting visits, letting a cat in or out, slumber parties and more. Each service is listed on their website with the rates and any additional charges to clarify. SPCR staff can even run errands for your pet while you are away, groom and do a deep litter box clean.
Each staff member is carefully chosen and interviewed to ensure they know all responsibilities and align with the business's goals. Sarah's Pet Care Revolution takes pride in being welcomed into your home and ensures the animals and owners have peace of mind whenever they are with a team member. If you want an intimate and caring companion to keep your cat or dog company while out, consider Sarah's Pet Care Revolution your best in-home choice.
6. Courtney's Pet Care
(985) 788-6704, https://courtneyspetcare.com/
Courtney's Pet Care understands that pets need familiarity and hands-on care, so they come to you for any of your pet's needs while you are away. While servicing the ​​Mandeville, Madisonville, Covington, Abita Springs and Lacombe areas, their mission is to provide quality dog walking and dog sitting. Courtney's Pet Care plans to become the most reliable and trusted dog walking service in the Northshore area because like many pet owners, Courtney herself was looking for that for her own dog.
Established in 2014, Courtney's Pet Care believes each experience should be filled with joy and safety. Whether you are away from home for work or at home and cannot give your dog a walk, they are here to help. All rates are listed on their website for any services offered, and new customers must fill out an information form to submit if interested.
7. MaryMac's Doggie Retreat
1470 Annunciation St, (504) 354-8991, https://marymacsdoggieretreat.com/
MaryMac's Doggie Retreat is a safe and fun environment for all dogs looking for daycare, boarding, grooming and even social events. Featured in People magazine, The Drew Barrymore Show and Business Insider MaryMac is a well-known black-owned company servicing the New Orleans area since 2015. When owner, Courtney McWilliams, was looking for someone to dog-sit, her anxious furry friend MaryMac's was born. As a social worker, she combined her career skills with her love for animals to create an experience that focuses on providing a stress-free and fun time for owners and pets.
This popular doggie retreat facility also pushes socializing events for animals and owners to promote networking skills and learn about the healthiest and latest trends for dog care as a community. Each service is listed on the website and even has a special breakdown for doggy daycare to separate each group by age, temperament and size. At MaryMac's Doggie Retreat, they realize that every dog is different and pledge to take the time to help and support each one brought into their care.
8. Top Dog Grooming by Kristin
6250 General Diaz St, (504) 500-0688, https://www.facebook.com/topdoggroomingbykristin/
Top Dog Grooming by Kristin is a grooming service that will surely leave your dog with a fabulous new do. They service all kinds of different breeds and have certified groomers to ensure your pet is comfortable while getting serviced. Top Dog Grooming offers a homelike environment that makes pets feel safe and familiar. The cuts styled for each dog are discussed with every owner and replicated as best possible.
The doggy salon does especially well on showcasing the talent for schnauzer and doodle cuts but welcomes all furry friends. To book an appointment, please call ahead to ensure that can fit you in at your earliest convenience.
9. Canine Connection
4920 Tchoupitoulas St., (504) 218-4098, https://canineconnectionnola.com/
If you are still looking for a premium pet care service in the uptown New Orleans area, look no further, Canine Connection has all you and your pet will need. Open 365 days a year with 24-hour staffing, this pet facility provides customers with overnight boarding, doggie daycare, bathing, grooming services and more. The pet care company has ten spacious outdoor play areas and a separate grooming business, Canine Culture, across the street from their boarding location.
All pets must be updated with DHPP (Distemper, Hepatitis, Parvo, Parainfluenza), Leptospirosis, Bordetella and Rabies vaccinations. Proof is required before booking, and vaccinations administered at home will not be accepted. The facility also provides a unique service in individual time with pets and staff and a self-service dog wash station that is first come, first serve. One of the values of Canine Connection is healthy and happy dogs which is also why they invest in local shelters and rescue groups by founding the NO Fleas Market on Magazine Street and using a portion of the proceeds to give back.
10. The Blakemoore Bark
319 N. Diamond St., 504.510.5636,
https://www.theblakemoorebark.com/
The doggy daycare also provides the area with transportation services for their pets as well as Primp, Private Reserve Spa Treatments, and The Blakemoore Woofer, an energy-filled day planned for dogs in daycare. Founder, Channing Blakemoore, became a fluent groomer in 2010 and has been committed to his love for animals and their care ever since. If you are looking for a fun and comfortable environment to care for your dog, The Blakemoore Bark experience is sure to do the trick.
The Blakemoore Bark is a high-quality pet care service for Orleans Parish, Jefferson Parish and Westbank. At this doggy care facility, they care about nothing more than the comfort and safety of your loved one. Although a smaller business, The Blakemoore Bark accepts about 23 pups in daycare daily, 20 pups in boarding and 5-6 pups daily in grooming. The stewards on staff work tirelessly to be attentive to each animal they service.
Top Ten Pet Care Services
There are various options that can help you care for your pet in any way you may need but these places have been named the top ten for their safety, care, and passion for your furry friends. Whether you are going out for a shopping spree, going on vacation or working remote from home any of these pet servicing facilities can be the perfect fit for you.
New Orleans is not only tourist friendly, but we are animal friendly as well. No matter what there is a place near you that will give your pet all the attention they need while your away.