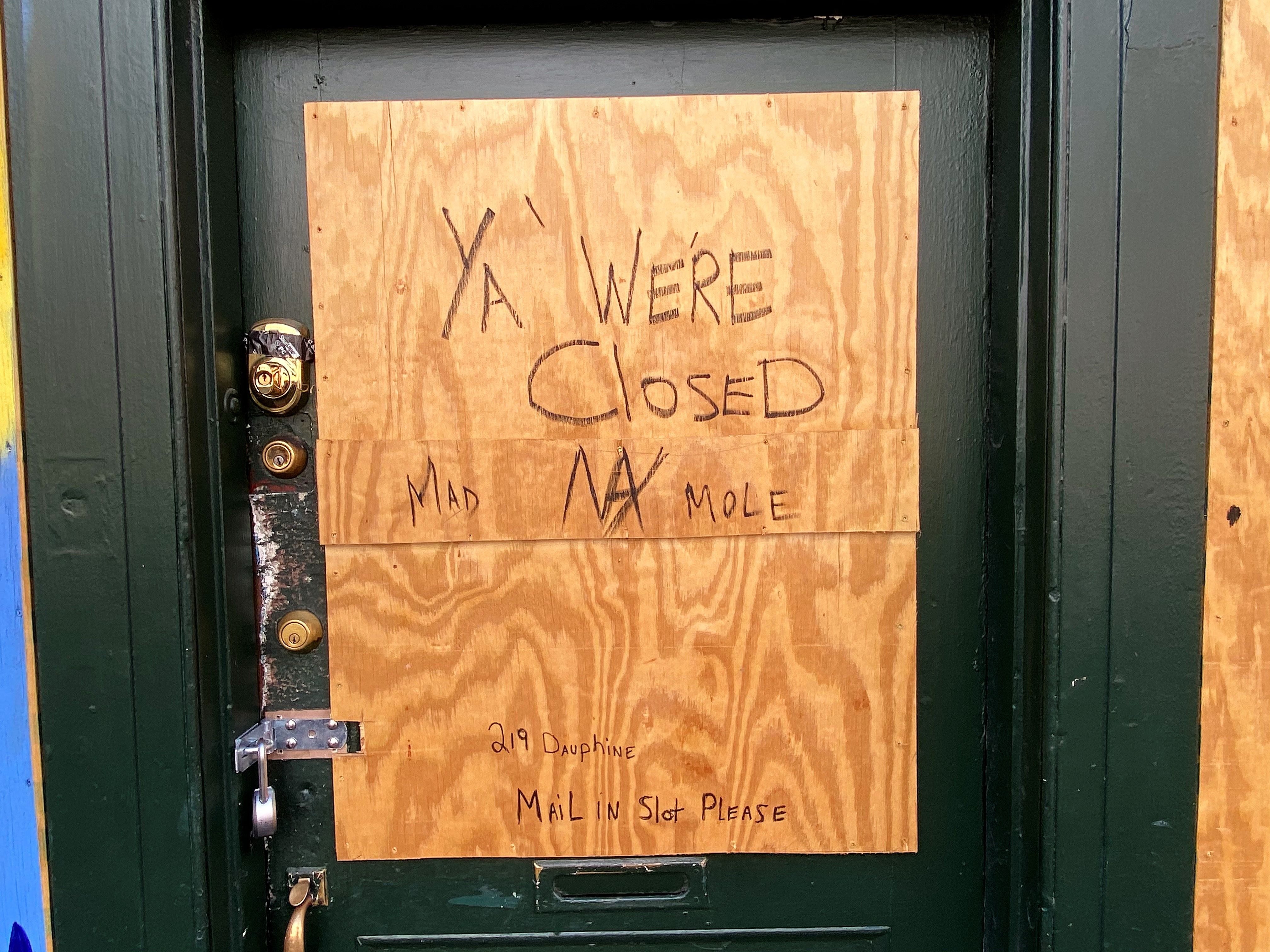 COVID-19 first took over New Orleans last March. And as businesses all around the city shut down, the plywood boards went up—the likes of which we haven't seen since Hurricane Katrina. Plywood is dull, bland, and lifeless, on both an esthetic and a symbolic level. Not only is it drab and colorless, but its very presence in the window of a bar, restaurant, or shop signifies that what is behind that board is also barren, devoid of life, and deserted—closed for business. Plywood doesn't usually evoke happiness. More than just an eyesore, those boards have all sorts of bad associations, from hurricanes to pandemics to financial woes.
However, a group of local artists have set out to change all that. They may have no control over the closures of businesses, but they are trying to bring a little bit of beauty and positivity to what has long been an unsightly reminder of struggle and anxiety.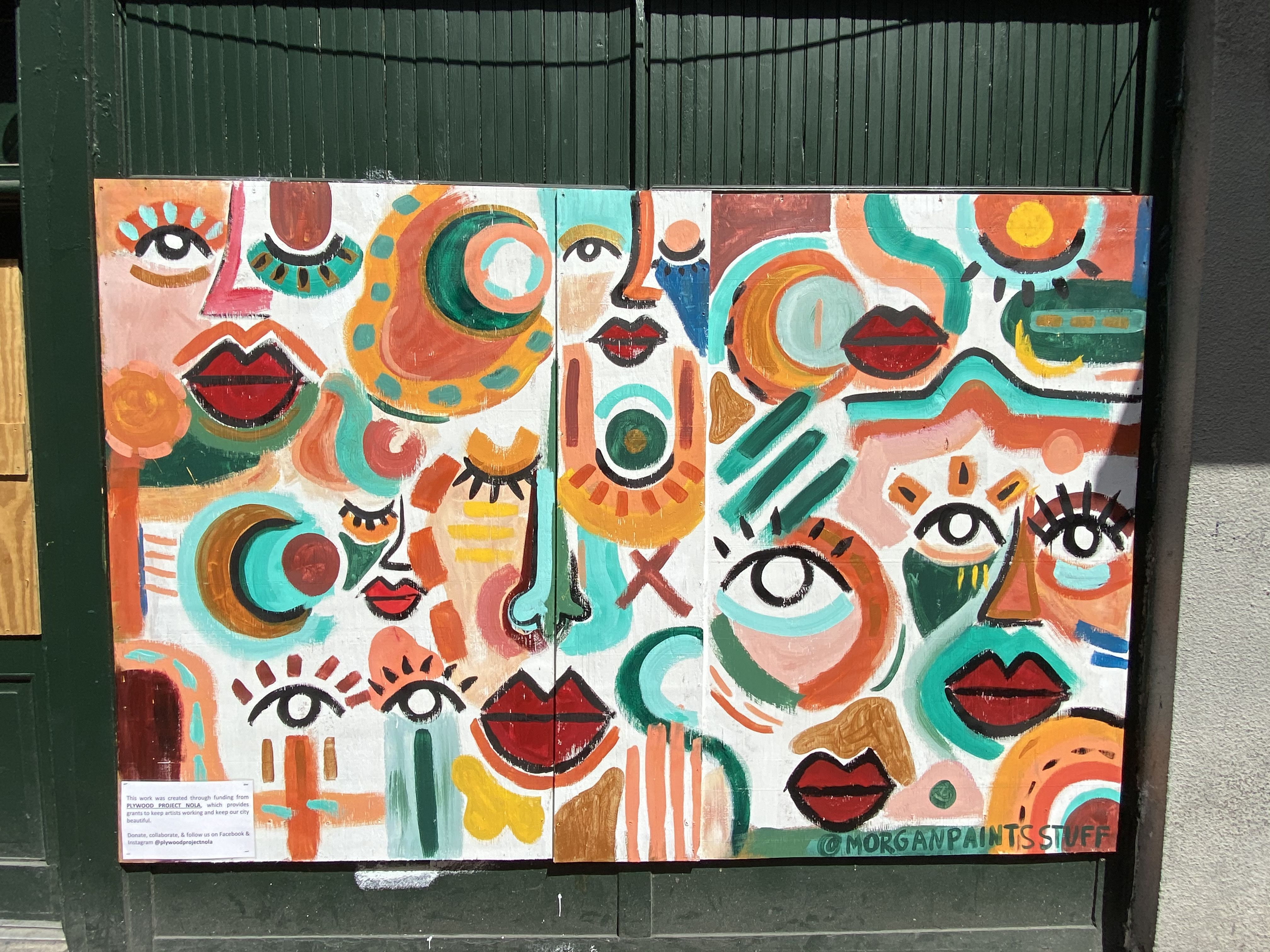 New York transplant Daniel Carlton describes himself as "a theater artist, an educator, and a community-based cultural worker." He is also the mastermind behind Plywood Project NOLA, a purely crowd-funded art project designed to paint over some of the ugly and the sadness evoked by the plywood boards covering up local businesses. Carlton says that he was just grabbing his morning coffee one day when he happened to see an artist out painting over a board. He was so inspired by what he saw that he decided to turn the idea into an official project that would benefit the community as well as the artists. He saw it as a chance to make the boards look better while putting a feel-good message out there, as well as to memorialize what is, for better or worse, a situation of historic significance.
So, Carlton started a GoFundMe page to raise money to sponsor the artists involved—"a micro-grant for artists to have a couple of grocery runs," he says. But once the businesses reopen, as they are starting to now, and the boards come down, Carlton's ultimate goal is to hold an auction and sell all the plywood artwork off, earning the artists some extra cash and recognition, and giving the buyers a once-in-a-lifetime (we hope) sort of keepsake.
"I just felt like this was the time to do it. This is a huge moment in history, and this plywood is the physical expression of that," he says. "This is so extreme, what we're going through, that people are going to want to keep a piece of that. If somebody owns the plywood artwork that's in their backyard that used to live on the boards at Deanie's in the French Quarter, and they can say, 'That's not at Deanie's anymore because Deanie's is open again,' then there would be an inherent value in that as a memorialization of this moment."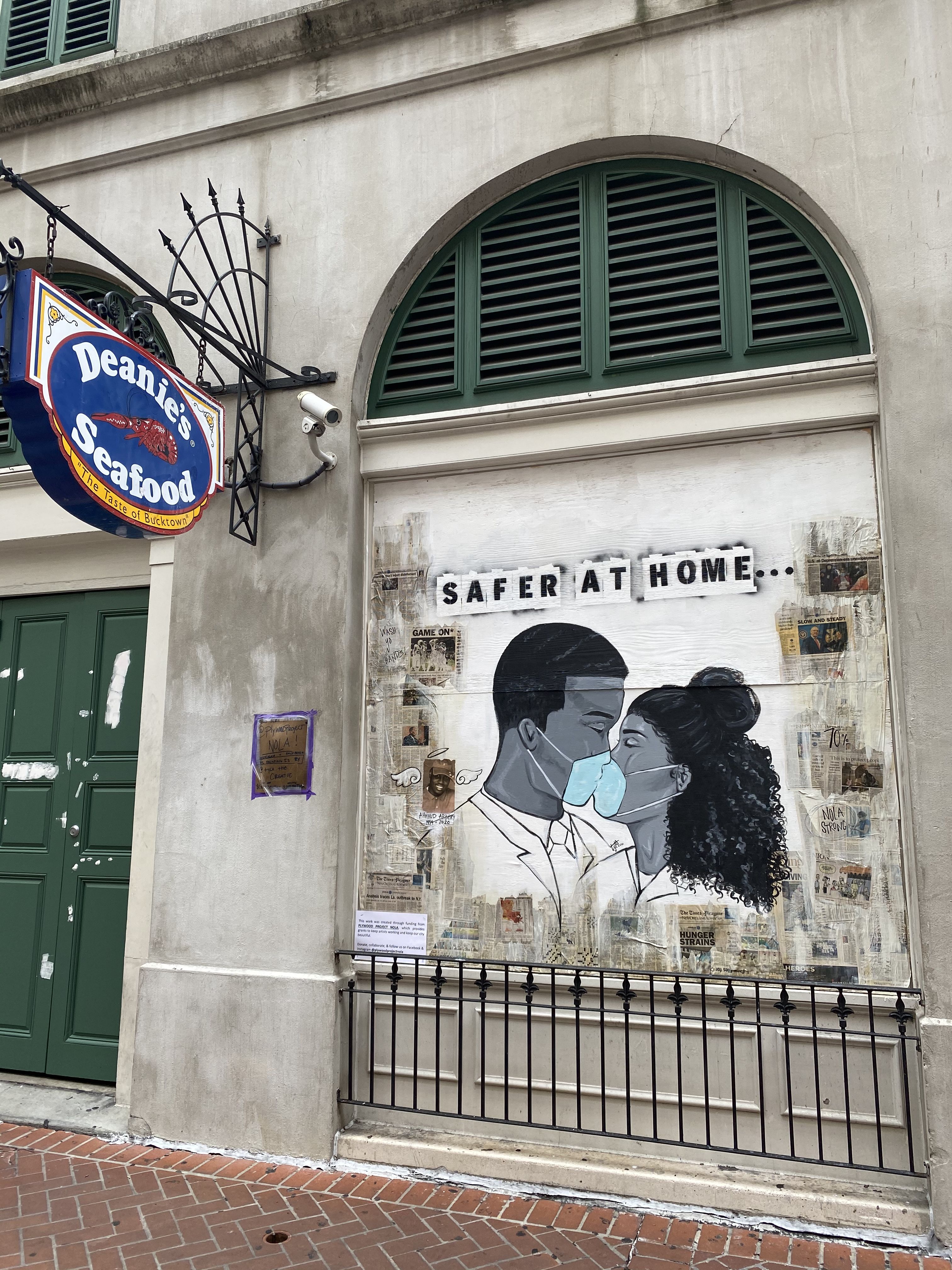 Carlton says that approximately 20 artists have applied to be involved in the project. Of those, 10 have been selected and have completed (or soon will) approximately 12 different pieces around the French Quarter. And because all the money being raised is coming from private donations, and funds are therefore limited, some artists have painted a board or two out of the goodness of their hearts, pro-bono, because they believe in the project and what it stands for. "With their adventurous sense of spirit, some of the artists have done work on their own that was not officially commissioned through the project," Carlton says. "But they just found this love and found this community and found this joy in this permission for expression. And they're still out there doing it, just because they love it."
"I joined the project because it was very hard to see the city we love so empty and covered in plywood," explains Bruna Pétalla, a Brazilian artist who has done three boards so far. "This city is not the same without the people who bring the daily magic to it."
The Plywood Project is not a case of pretty vandalism—these artists are not simply randomly applying paint, helter-skelter, to any brown board up for grabs in the Quarter. It's not graffiti. Carlton insists on getting the okay from the business owners first, even offering to pay for the boards up front or to give them a percentage of the price the painted piece ultimately brings in at auction.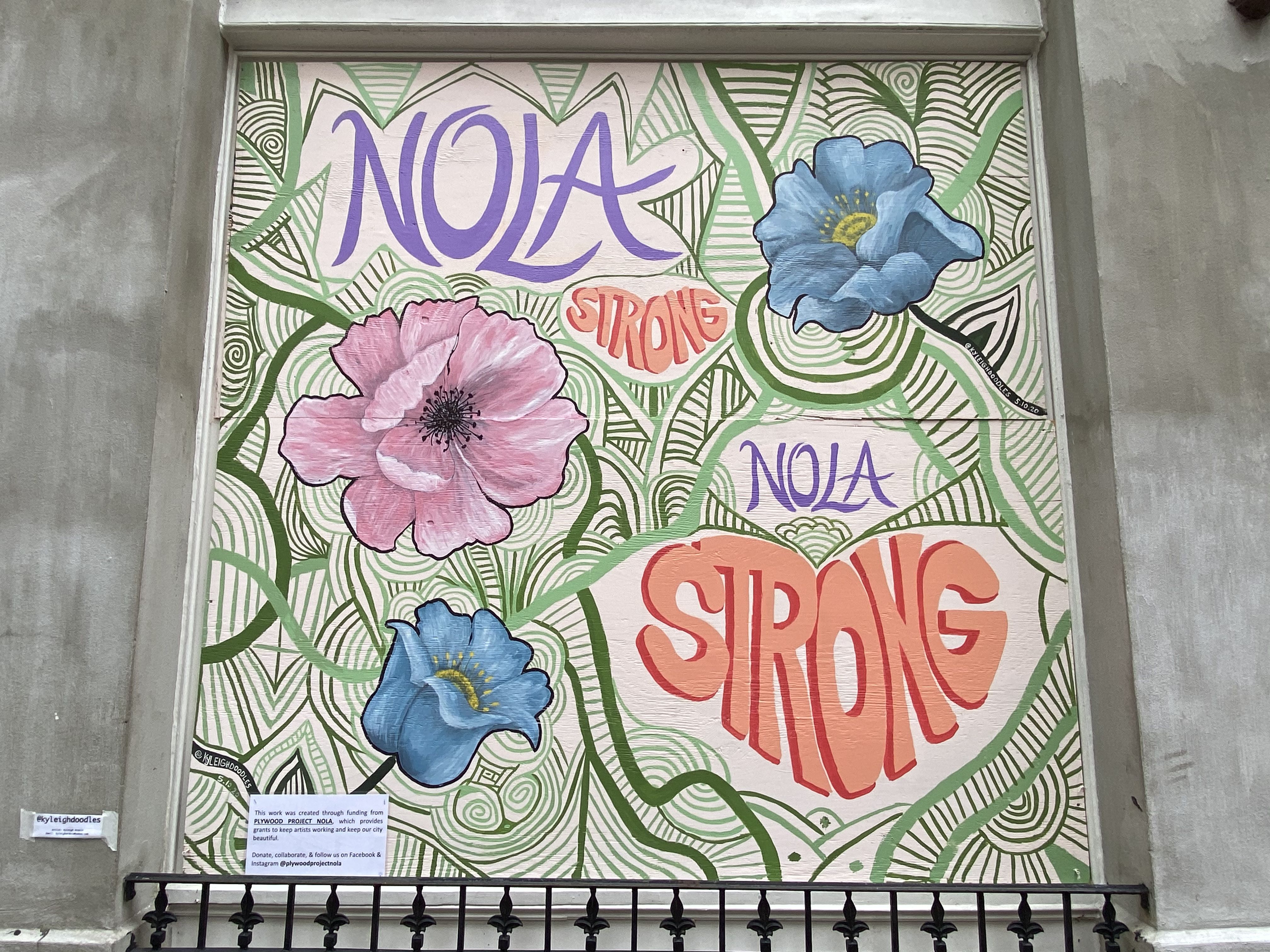 "I don't ever want to lose sight of the fact that if there's plywood up on a window, they had to, with a very heavy heart, order that plywood as a way to seal up their main source of revenue," Carlton explains. "The artists treat those boards like they're the most precious canvas—like the board itself is already a precious commodity, and painting it is a way of respecting it, which makes it something even more valuable. I think they recognize that the plywood is a piece of history."
Finding business owners who agree to have their boards painted has involved considerable research and knocking on a lot of doors. "It comes through luck, through chance, through strategy, through a lot of effort," Carlton says. One owner he met at the dog park. Another was a friends-of-friends scenario. And many are social media and Google Earth finds. He adds that he and the artists involved, "could have become helicopter pilots in the amount of time that [they've] spent just stalking owners of businesses that are closed up."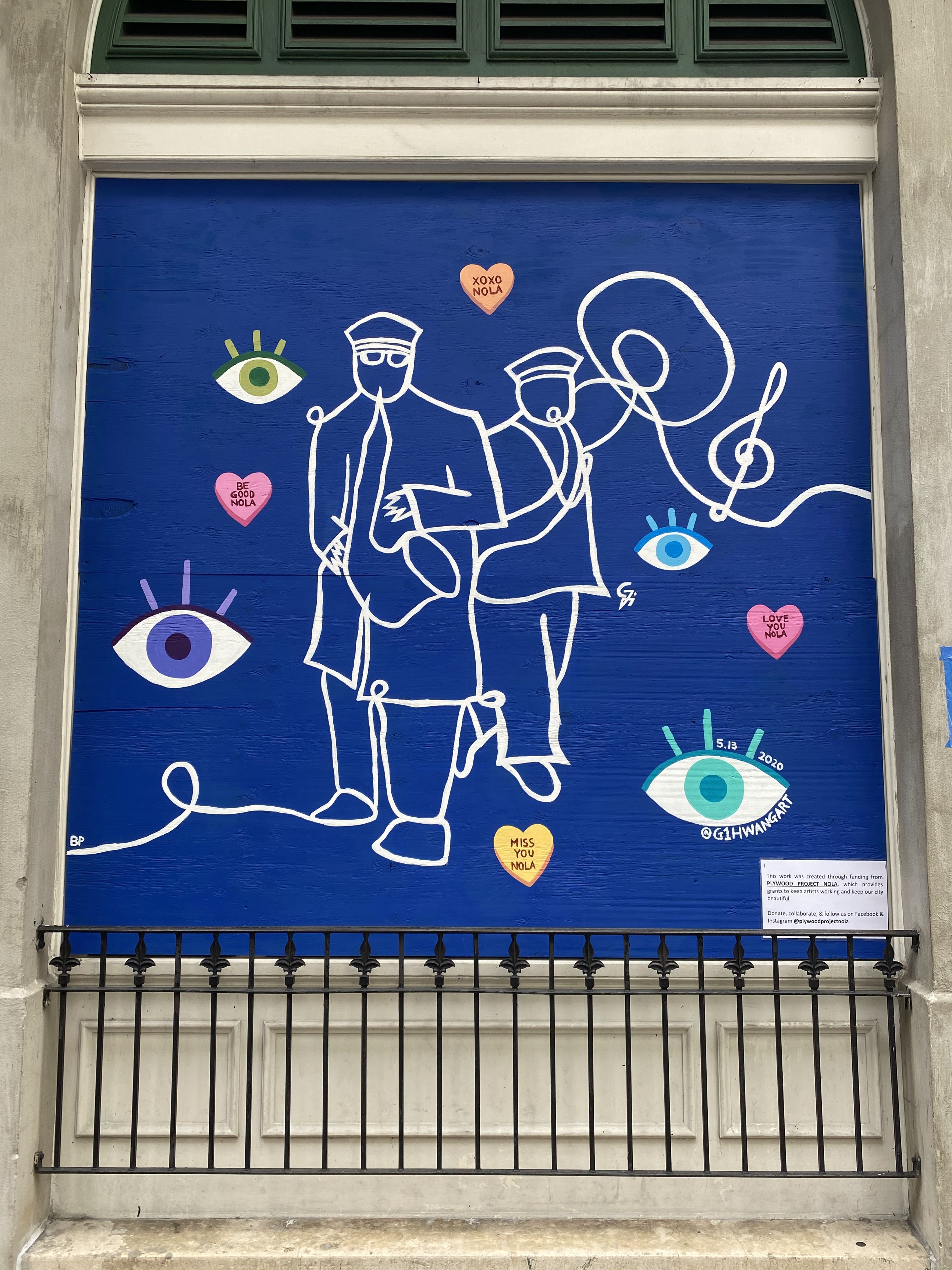 But those owners who do give the go-ahead have been very supportive of the project. For example, the owner of Deanie's gave permission to have all 12 of his boarded-up windows painted, and he asked only that he be allowed to choose his favorite piece at the end of it to keep and display in his restaurant.
"They love the attention they have been getting from it and also the colors we brought to their places," Pétalla says of the business owners.
Zak Parsons, another of the artists on the project, agrees that the owners have been very receptive of his and the other artists' work. "However, they're probably more excited to get the plywood down and be able to get safely back to business," he notes.
Carlton has given the Plywood Project artists great creative flexibility, and he has very few requirements: first, to be nice—positivity only. He says that satire and social critique are acceptable, "But it's just not the time for gratuitous negativity. This has to be an opportunity to support each other."
"I know that it's not much, but I hope that my piece will bring some joy and positivity into the viewer's day—provide a slight distraction from a bad situation," says Parsons of his plywood masterpiece.
But staying positive is not always easy. Local artist Sam Skrimpz notes that they [chosen pronoun] had to paint over homophobic graffiti on the side of Oz bar to do one of their three boards. "I paint colorful cranes. They're to give hope," Skrimpz explains. "This is a nod towards the new reality we'll be stepping into. We need to take the same energy of mutual aid and heightened sense of community into the next step of our lives in living with COVID."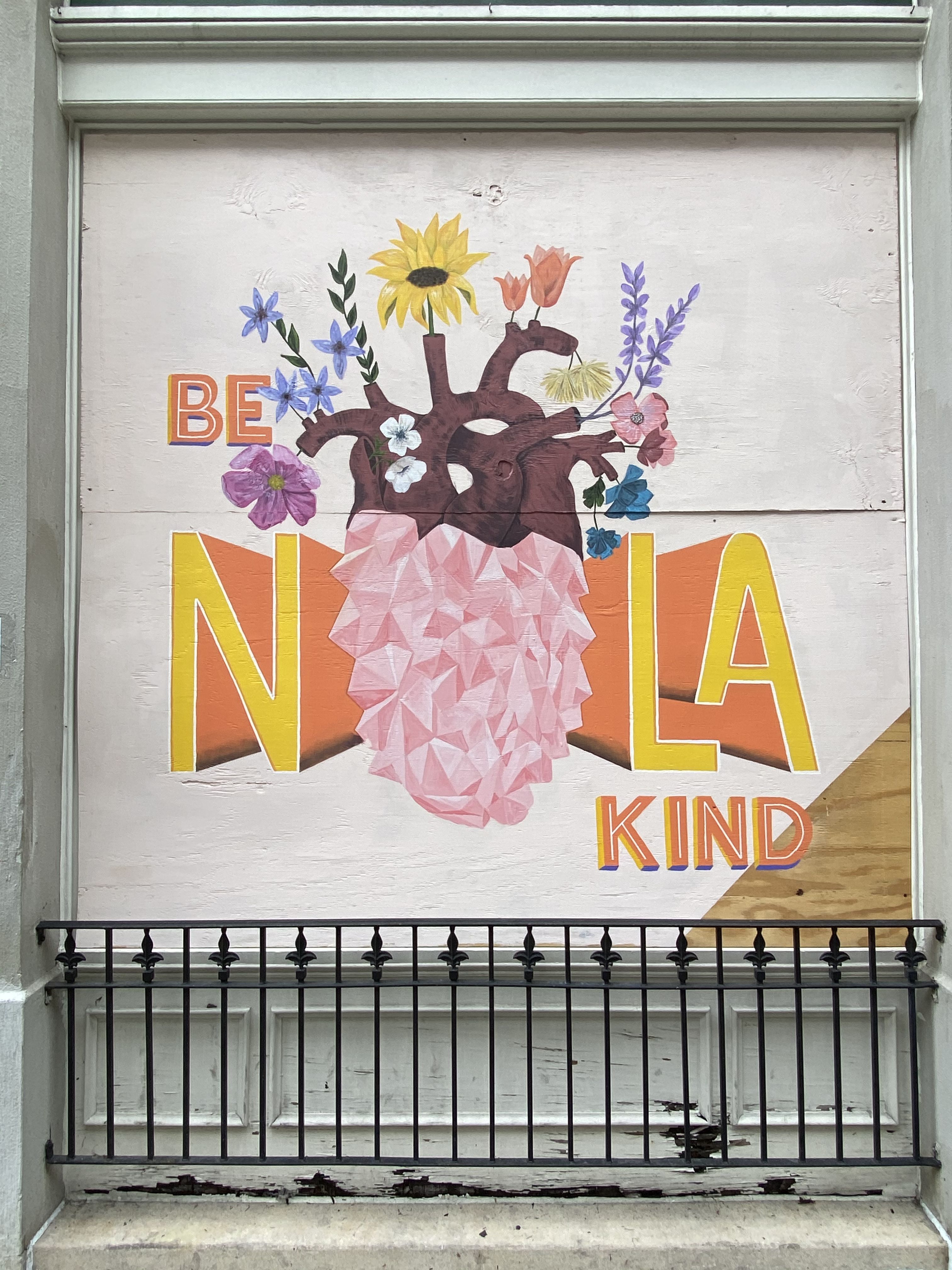 Carlton does request that the artists go deeper than the generic "We're all in this together" or "Wear a mask and wash your hands" sort of message and paint a deeper, more New Orleans-centric theme. The artists are also required to cover the entire surface of the plywood with paint.
"A lot of people are tagging boards. But if all you're doing is tagging a board that still looks like a plywood board, to my mind, that's a different project," Carlton says. "Our project is really about creating a value in artwork where value had seemed to have been taken away. The only way to restore it is by covering it completely and turning the entire thing into an art piece."
Pétalla's message is "Be NOLA Kind," with the double-meaning of being kind and also being of a New Orleanian sort. "Be NOLA Kind is my way to connect to people during these times—to remind them that the kindness we have is even bigger than anywhere else," says Pétalla. "We are the kind of people who fight together, who stay strong, and who find reasons to smile and dance even when we can't leave our homes."
Parsons painted a board on the outside of Cosimo's bar that is a series of smiling mouths. "I used ultra-bright florescent ink, scale, and multiple prints to give off not only PMA (positive mental attitude), but a hopeful message of an un-masked public in the future," he explains. "I titled the piece Someday Soon."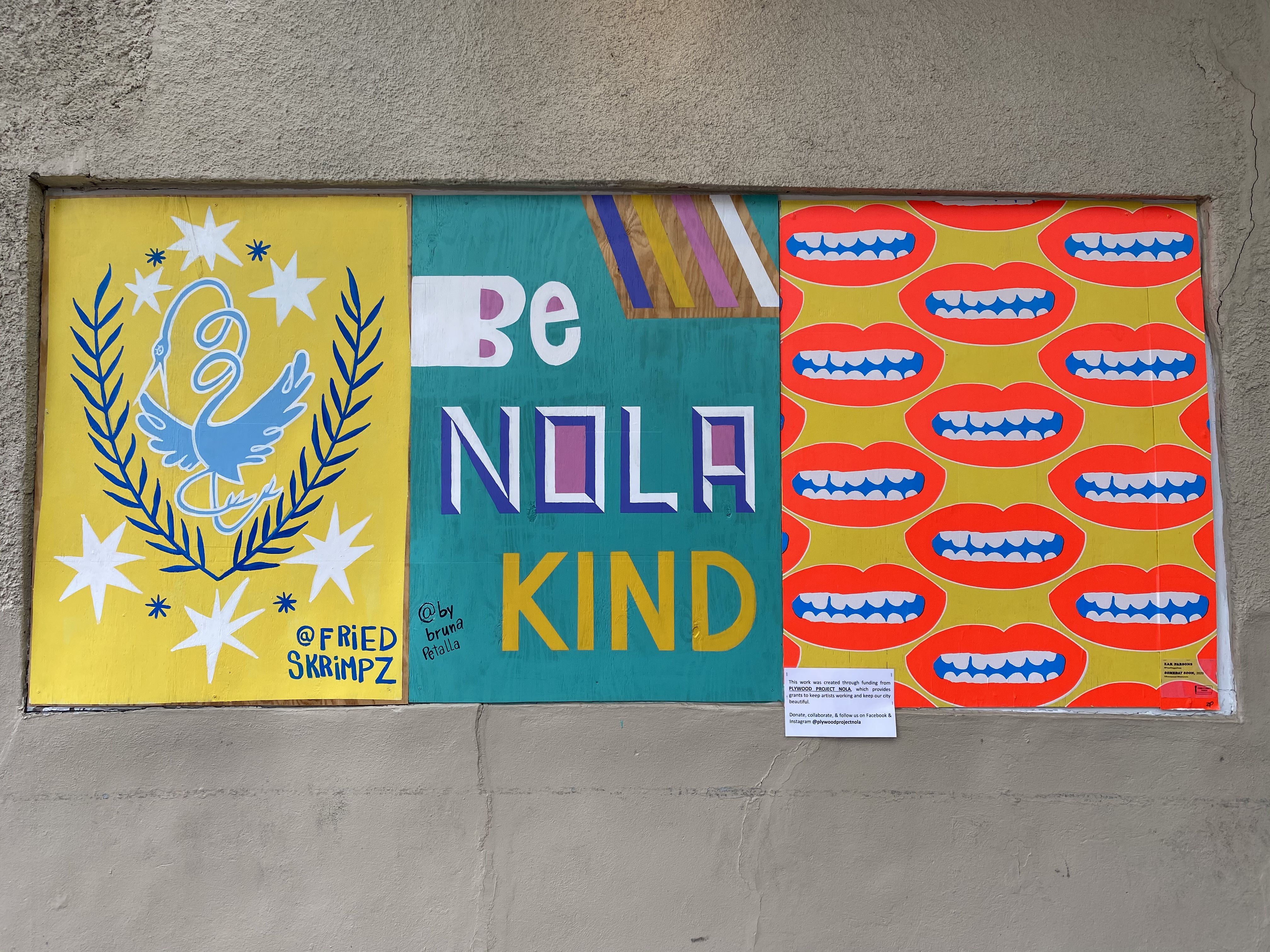 "'Someday Soon,' we'll be able to take our masks down," Carlton adds. "It's the idea of when the smiling mouth of a stranger will no longer feel dangerous but will feel warm and welcoming again."
"Wearing a mask, in some ways, is the new smile," he continues. "It's the way that you tell people that you care about them—you put a mask on, in the same way that a smile was an expression of care. You put a smile on to tell people that you care about them, that you don't want them to feel troubled."
Overall, the Plywood Project NOLA has done a lot of good for the community. It's brought a little color to those unattractive plywood boards and a little hope to the people during otherwise bleak times. The owners love it, the public loves it, and the artists are so invested in the project that, Carlton says, they've become almost like a family.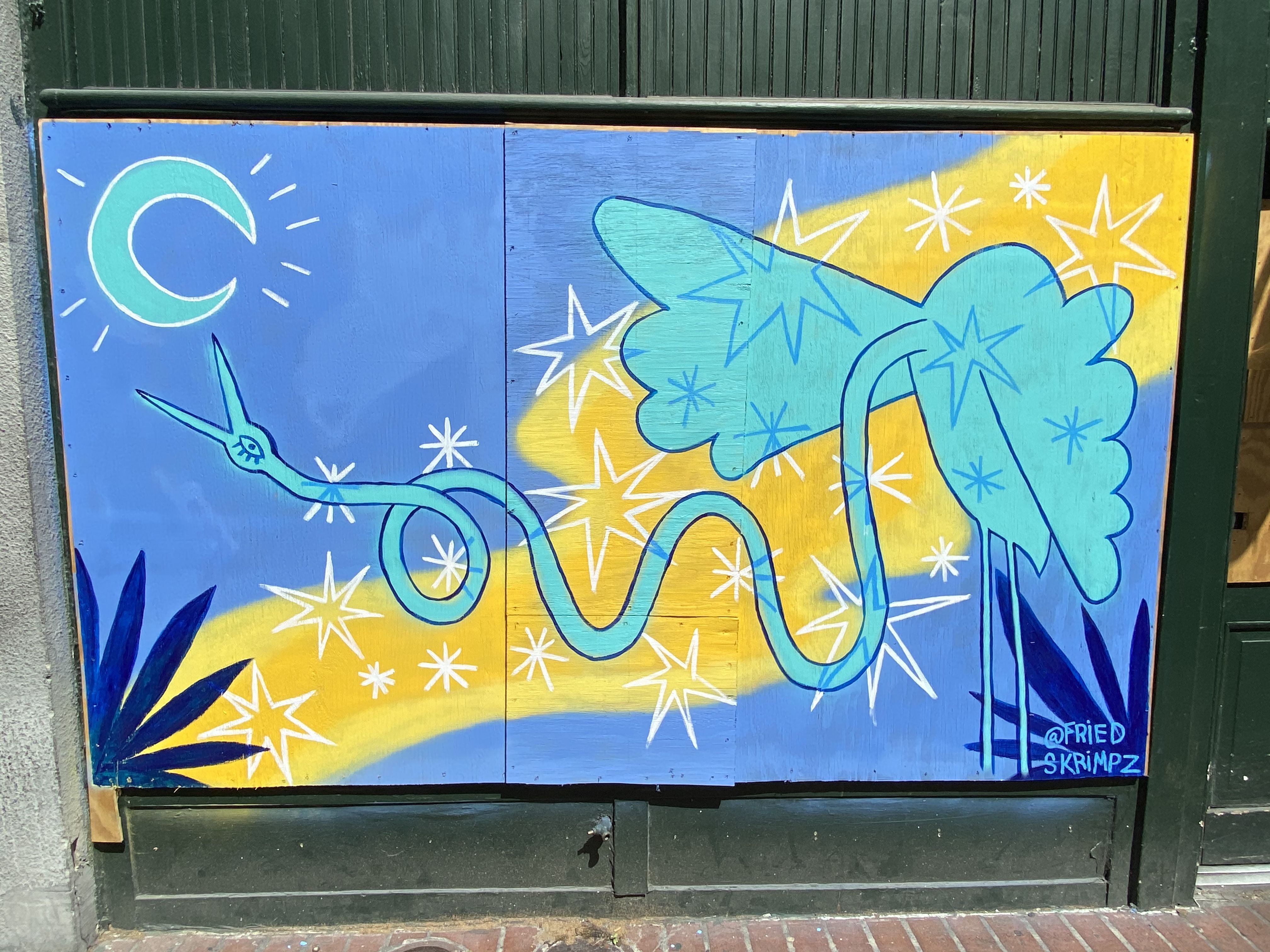 "Everyone who passes is curious and kind. They tell us thank you, ask about the project, even send us money for making the pieces," says Skrimpz. "It's an amazing positive feedback loop experience. And it feels good to make others feel good!"
"It brings me joy to see people's reaction and connections they have with my pieces," agrees Pétalla. "People were always so thankful for us coloring the city—a lot of emotional moments. This project even helped me make friends during quarantine times."

"Everyone lost income. Everyone lost opportunity. And everyone lost the feeling that the things they do with their hands were useful or important," says Carlton. "And I feel like, on some level, even though this only put a little bit of money in the artists' pockets, it gave them a sense that what they do with their hands and their minds and their images is useful."
"Anybody can go paint on plywood," he continues. "But this, the way that people have rallied around, I kind of feel like we're going to go on and do something more from this."
Check out the Plywood Project NOLA Facebook and Instagram pages, or follow or support an artist:
Sam Skrimpz @friedskrimpz
Zak Parsons @fourfingerpress
Bruna Pétalla @bybrunapetalla
Tyla A. Maiden @tyla.the.creative
Kyleigh Ardoin @kyleighdoodles
Jiwon Hwang @g1hwangart
Morgan Gray @morganpaintsstuff
Mr. Balloon Hands @mrballoonhandsfu
Philip X Diaz @philip.x.diaz