Not unlike incredible gas-station eats, New Orleans' dive bars have long perfected the art of serving great food at affordable prices. Though one can find almost any type of cuisine at a bar these days, from burgers and tacos to pierogi and dim sum, one of the oldest and most ubiquitous of items would have to be the po-boy.

Needless to say, it's always a good time to have a po-boy, but in November, many locals (and savvy visitors!) get a hankering that could have everything to do with the annual Oak Street Po-Boy Festival...or not! It could just be that a slight dip in the temperature and humidity levels have us craving our version of comfort food, a dish oft found at our neighborhood bars.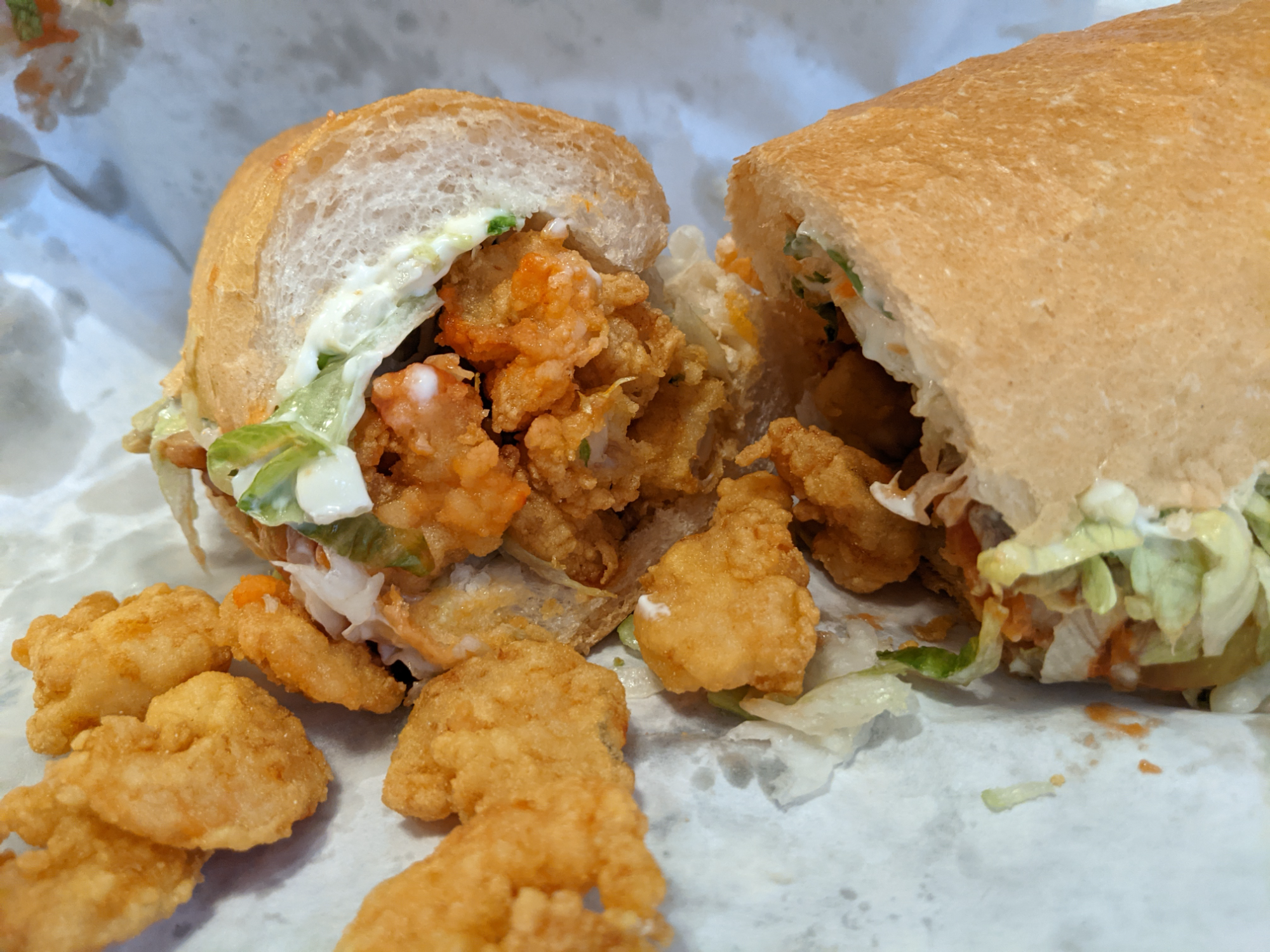 Take for example the famed yellow-sided Domilise's on Annunciation Street. Originally founded as a bar over a century ago, this family-owned, fourth-generation spot has developed a reputation for being one of the must-try places for a fried shrimp po-boy in town. Served small (about 8") or large (about 11"), the crispy-crusted, Leidenheimer French loafs are stuffed with small, freshly fried shrimp and fully dressed—there's no better way—with shredded lettuce, pickles, mayonnaise, and hot sauce. It's $12 for a small, plenty of food for one person, but if you've got a hefty appetite, you should opt for a large or add an order of their curvy, thick cut fries and you'll be all set.
Not nearly as venerated as Domilise's, but perhaps equally well-known is Parasol's Bar & Restaurant. Though it has changed hands a couple of times since it opened in 1952, the Constance Street sports bar has long been the center of activity for the Irish Channel's St. Patrick's Day festivities, and is equally known for its in-house roasted beef po-boys with brown gravy. How a po-boy is dressed means different things to different establishments, but at Parasol's, it's lettuce, tomato, mayo and pickles, and a small (6") roast beef po-boy will set you back about $9, leaving plenty of room for a bag of Zapp's and even a frosty brew.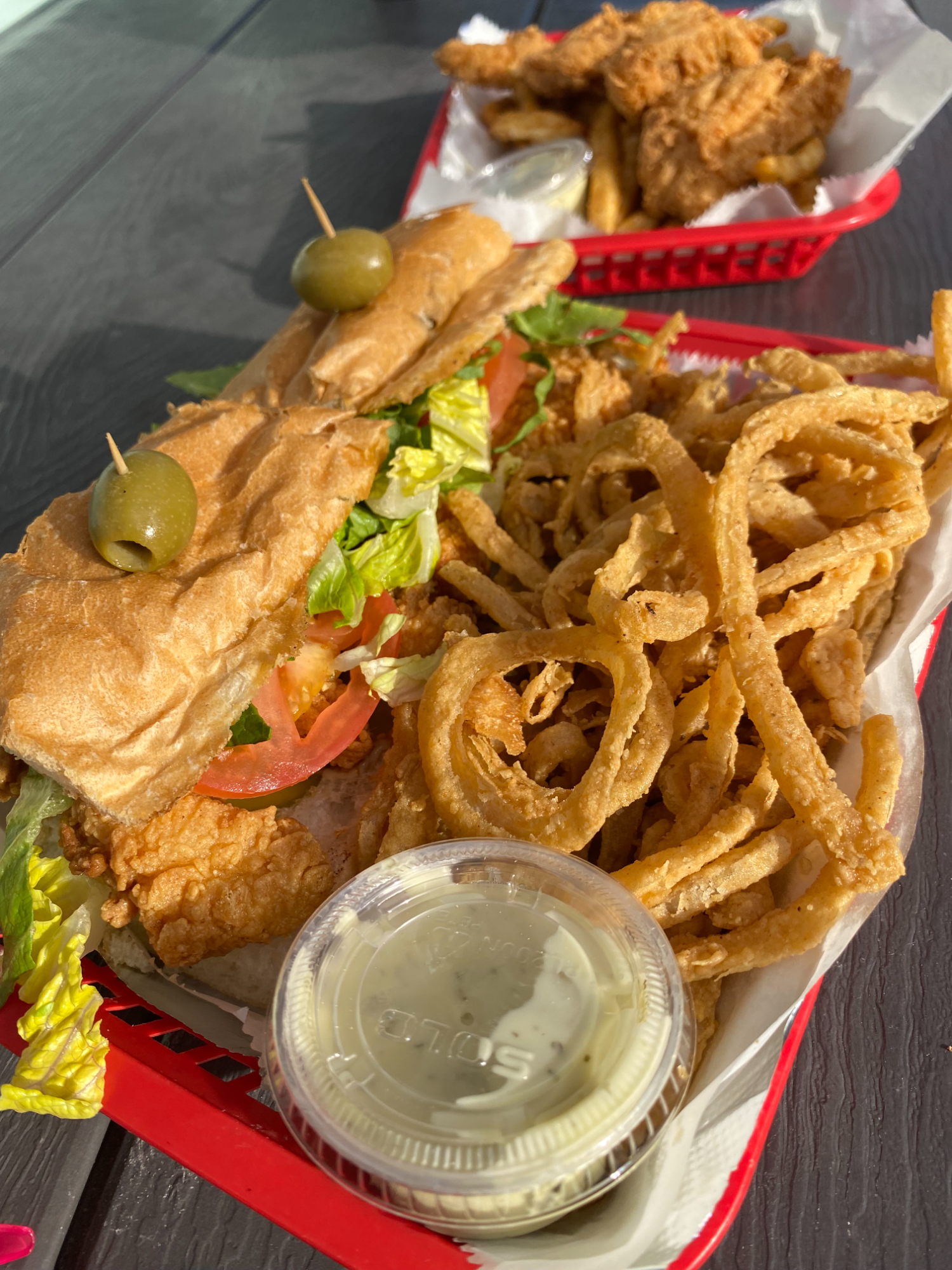 Less than a block away, the family that formerly ran Parasol's re-opened on Magazine Street as Tracey's Original Irish Channel Bar. In 2010, Jeffrey and Jaime Carreras, the couple who had run Parasol's for 12 years, were priced out of the Constance Street building. The solution? They took all of their memories and customers, moved into a new building, and continued doing their thing. Loyal patrons and a prime location has made Tracey's a new hub for St. Patrick's Day activities and Saints fans, not to mention their "World's Best Roast Beef" po-boy, with thinly-sliced beef doused in garlic-laden brown gravy. All po-boys are 8"—dressed with lettuce, tomatoes, pickles, and mayo—and the roast beef taps in at $12.
Up in the Black Pearl neighborhood, Cooter Brown's Tavern & Oyster Bar is essentially a sports bar featuring a jaw-dropping 84 taps (plus even more bottled offerings) and numerous flat-screen TVs showing every sporting event imaginable. Located on the river end of South Carrollton Avenue, the tavern is also a great spot to grab a po-boy. Like Tracey's, all of Cooter Brown's po-boys are served on 8" Leidenheimer French bread, and among the usual suspects is an eye-opening, fun-to-say specialty for $13.50 called the "Gator 'Mater," made with alligator sausage, fried green tomatoes, Creole mustard, and coleslaw. Pair it with a Crescent City Connection IPA from NOLA Brewing and you're good to go.
Over on Conti Street in the French Quarter, the Erin Rose is a charming "hole in the wall" with tons of character and just enough space for a long bar. Frequented regularly by locals and adventurous tourists, the Irish bar is a great place to hang out for a draft or two, or perhaps one of their famous frozen Irish Coffees, and to have a Killer Po-Boy. Launched inside this tiny establishment in 2012, this chef-driven pop-up has dug in, even after opening their own digs location a few blocks away on Dauphine. Chefs Cam Boudreaux and April Bellow are offering deliciously creative slants on the classic New Orleans po-boy by using banh-mi French bread from Dong Phuong Bakery and filling them with creations like roasted sweet potatoes with black-eyed peas and pecan, seared Gulf shrimp with radish and cucumber, and black beer beef debris with horseradish sauce, spicy beans, and pickled peppers. Ranging between $11 and $14, you can prop yourself up at the Erin Rose's hospitable bar for a unique po-boy feast.
Down in the LGD (Lower Garden District), there's a pub dubbed Down The Hatch on Sophie Wright Place. Open daily, the bar is a reliable spot for affordable brews and consistently good food with a Mediterranean slant. Their burgers taste suspiciously of kebab (and we're not complaining!) and, among jalapeno poppers and pulled pork nachos, they also offer hummus and falafel. The eclectic menu also features several po-boys, including one with alligator sausage (fully dressed) for $12. The kicker? It also comes with a side salad or fries!
There are innumerable bars serving po-boys in this town, but the last one on this list would have to be The Jimani. Pronounced like the zodiac twins, the Chartres Street spot is known primarily as a sports bar, but their food menu just might surprise you. Sure, there's an 8 oz. steak po-boy, a breakfast version with fried eggs, hot sausage, and bacon, and one with Buffalo chicken and bleu cheese dressing, but we're holding out for the spicy crab. Sure to send you blissfully into heartburn city, the French bread is filled with crab meat-stuffed jalapenos, onion, tomatoes, and "special sauce" for $11. All sandwiches at The Jimani are served with pickles and pepperoncini, but you could easily add an order of seasoned fries and still not break the bank.