Proof that pop-ups can be the perfect spot for a romantic Valentine's night out.
Thanks to aggressive marketing campaigns and endless propaganda, February is officially and commercially realized as the month of romance. Not only are we to single out the 14th as a day to lavish expensive attention on our significant others, but the entire month is now celebrated as "Creative Romance Month."
As anyone in a long-term relationship will tell you, singling out one day (or even one month) to show romantic appreciation for your partner is not enough. Love doesn't just happen, it's a full-time, year-round endeavor requiring active, engaged participants.
That being said, there's certainly no harm in actively participating in this heart-filled holiday, just as long as you remember to do it again in March (and April and May, etc. ). On that note, instead of doing the same old song and dance—i.e. dinner at a "romantic" restaurant followed by a show—why not go for something infinitely less formal, more affordable, relatively adventurous, and fun? Why not try a new pop-up?
Typically held at bars, local breweries, indie theaters, and live music venues, many pop-ups are happening where the entertainment factor is already built-in. The atmosphere is casual and the dinnerware typically consists of paper boats and sporks, so there's also no need to dress to impress. These days, there are so many pop-ups, you'll trip over a new one every day of the week. But, there are quite a few floating about with food that's so good, you might just turn into groupies and follow them around the city like Dead Heads, or would you call them Pop-up Peeps? Munching Minions? Hungry Hanger-ons?
Great Food Pop-ups in NOLA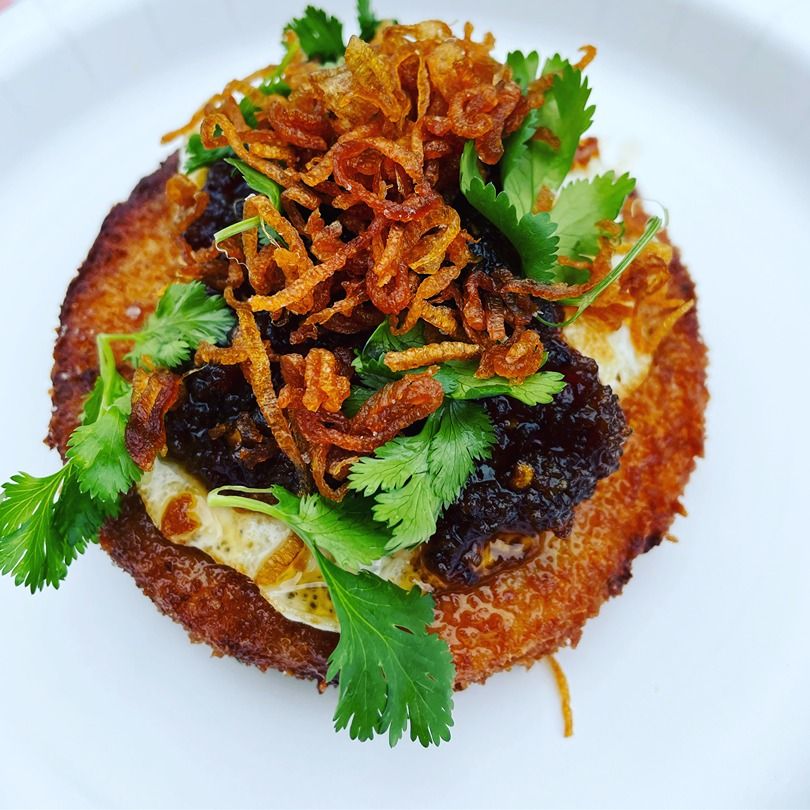 Dipping our hands into the vast pool of current New Orleans pop-ups, one that's sure to come out on top is @thecampfryer. Hailing from Newfoundland, James Robbins is a trained chef who's worked in everything "from the Canadian version of a 'Louisiana BBQ and Crab Shack,' to suburban fine dining," who made his way down here in the midst of shutdowns due to the pandemic. At the time, finding work as a chef was untenable, but with help from the folks at Courtyard and Miel Breweries, Robbins launched a unique style of pop-up all his own. "I think what has made the pop-up successful is having menu items that are unlike anything else on offer in the city," mused Robbins. "I try to put my own spin on local ingredients available in SE Louisiana, while respecting the traditions and context of the amazing food culture here."
Follow @thecampfryer and bring your partner to Robbins' next pop-up at Miel Brewery or Wetlands Sake to enjoy dishes like Louisiana lump crab cake with a soft egg and Thai chili jam, boneless chicken wings stuffed with spicy turmeric sausage and drizzled in fish sauce caramel, or the stunning "Hasselback" potatoes draped in a smoked brown butter emulsion and topped with local crab meat. We promise, it's unlike any camp grub you've ever had.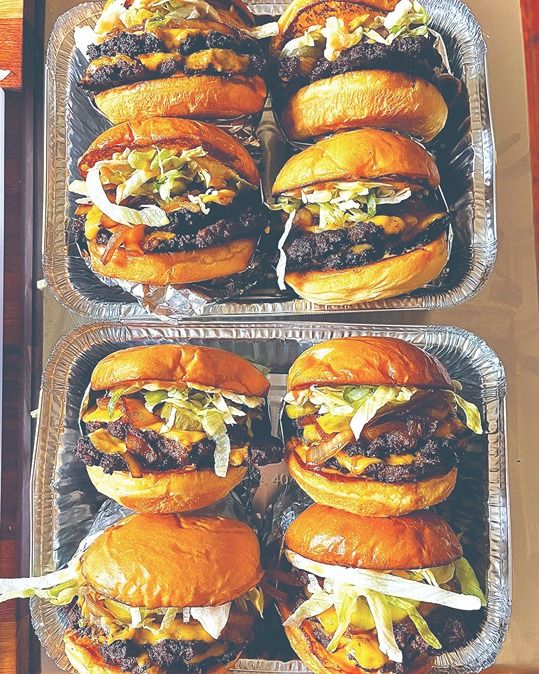 While it seems like everyone and their brother's uncle are serving burgers, relative newcomer @degenerateburger is something quite different. After a long career as a Navy air traffic controller, North Carolina-native Scott Hedge stepped away from the control room to grill burgers. "I've always had a passion for cooking, and during Covid, I obsessed over burgers," says Hedge. "I would cook burgers several times a week for my friends." In July 2022, Irish Channel bar Pete's Out in the Cold offered Hedge his first pop-up opportunity and it's been gangbusters ever since. A self-proclaimed "burger corrupter," the patties you get @degenerateburger feature everything from poached pears and chevre to his Oktoberfest special with dark lager beer cheese on a pretzel bun. @degenerateburger has appeared all over town in spots including Carrollton Station, Miel Brewery, Henry's Uptown Bar, and Parleaux Beer Lab, but, more often than not, you'll find Hedge grilling his heart out at Pete's.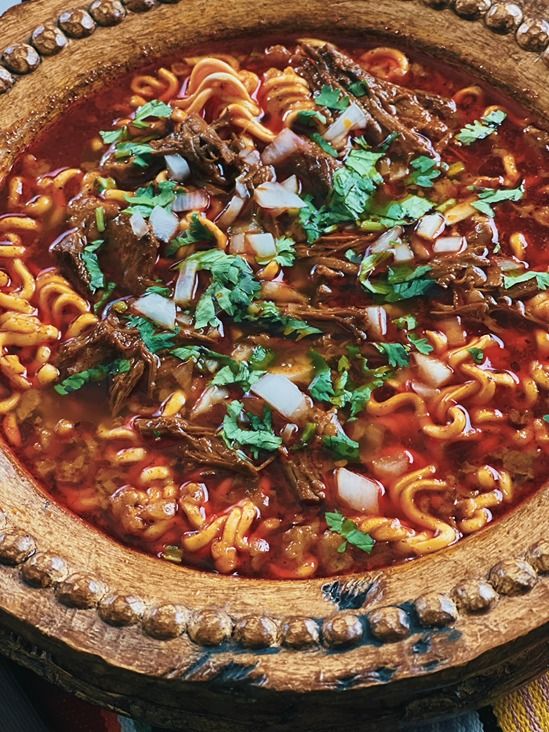 Cross over the Mississippi and discover Mexican street food from @eli_skitchen. Though she was born in California, Elizabeth Martinez grew up in Mexico watching her mother, grandmother, and aunts cook and sell food from home. Later on, her family moved back to the states and opened a restaurant here in Louisiana. Though their restaurant has since closed, Martinez couldn't escape the pull of the industry and like many other recent start-up stories, launched her own business during the pandemic. "I cooked birria and posted it on my Facebook [page and] everyone kept telling me they wanted some and that it looked so good," says Martinez. "I built up the courage and said, 'Okay. I'll sell plates.' I never thought I was going to get such a huge response."
For the past year, @eli_skitchen has been offering the fan favorite quesabirria tacos, burritos, noodles, and more at Stained Glass Wine House in Gretna but just recently began offering her birria bounty every Tuesday, Saturday, and Sunday at Beside "the" Point on General Meyer Avenue.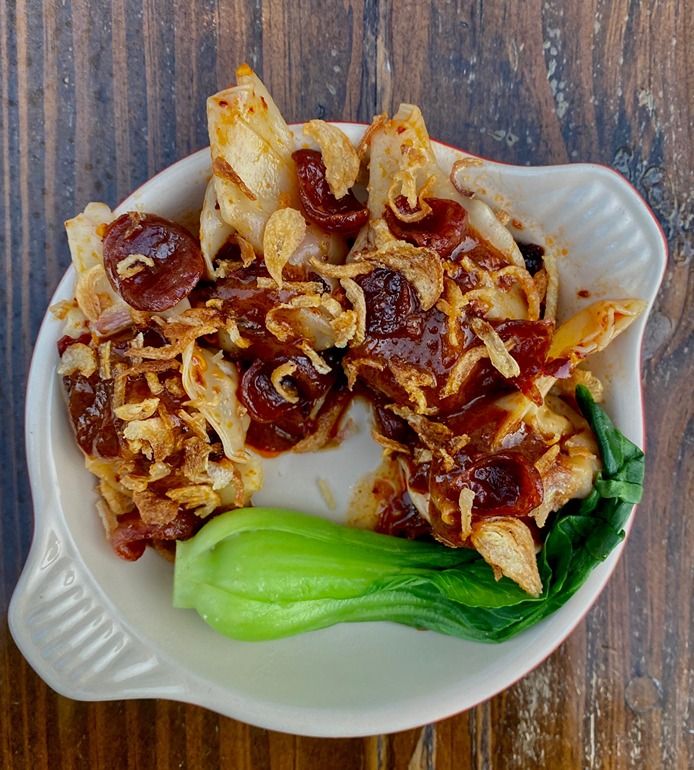 For the ultimate in public displays of affection, you can feed your loved one bite-sized morsels @geturdimsum (a.k.a. Get Your Mom & Dim Sum), a pop-up led by Andrew Lu. Born and raised in Lafayette, this skilled young chef (whose father was also a chef) graduated from the Louisiana Culinary Institute in Baton Rouge and honed his skills in local restaurants such as Gianna and Cavan. His idea for the pop-up was born, like so many others, during the height of the pandemic. "I found myself out of a job," says Lu. "Things were hard, but I knew that I still had so much that I wanted this town to experience with my food." With help from veteran chef Cristina Quackenbush of Milkfish, Lu was able to get his pop-up off the ground. Now @geturdimsom can be found everywhere from Skeeta Hawk Brewing and NOLA Nite Market to Stained Glass Winehouse and Mid-City Art Studios serving dishes including crispy crab rangoons with sweet chili sauce, kung pao noodles, and strawberry cheesecake dumplings with red velvet cake crumbles and white chocolate glaze.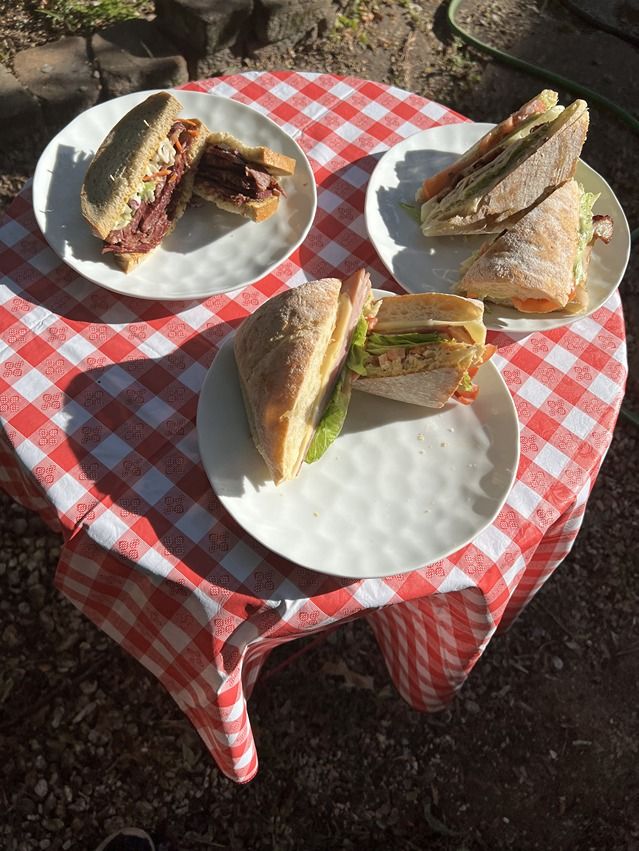 Lastly, though, we're still just scraping the surface. Grab a blanket and enjoy a picnic-style feast of sandwiches @hungrybard.nola. Charlottesville, Virginia-natives Penn Camp and Jeremy Potter have been playing it somewhat under-the-radar (socially-media-speaking) with their sandwich-driven installments at Broadside Theater and Zony Mash Beer Project. The @hungrybard.nola pop-up launched with the intention of "filling a hole" they saw in the local 'wich market. Put your ears to the ground and you'll be rewarded with between-the-bread offerings including a beef bourguignon-like beauty with chive mash and a wine reduction on rye or their "cowboy pastrami" with pimento cheese and candied jalapenos. Aren't adventures deliciously romantic?