Christmas and the winter season in general have a myriad of icons that are immediately recognizable worldwide, from Santa Claus to Frosty the Snowman. However, one of the most enduring traditions is also arguably the most iconic symbol of Christmastime: the Christmas tree. Versatile for people of all or no religions, the Christmas tree can be decorated however anyone might wish, with ornaments and baubles significant to them and their loved ones. So, with such diverse usage, it is no surprise that many of the world's hotspots have massive and ornate Christmas trees. DIYs.comhas put together a top-10 ranking of the most popular Christmas trees across the world. These trees were ranked using multiple metrics, such as popularity in search engines as well as numbers of baubles needed to properly adorn (DIYs.com reports that it'd take 16,400 ornaments to deck the world's largest tree).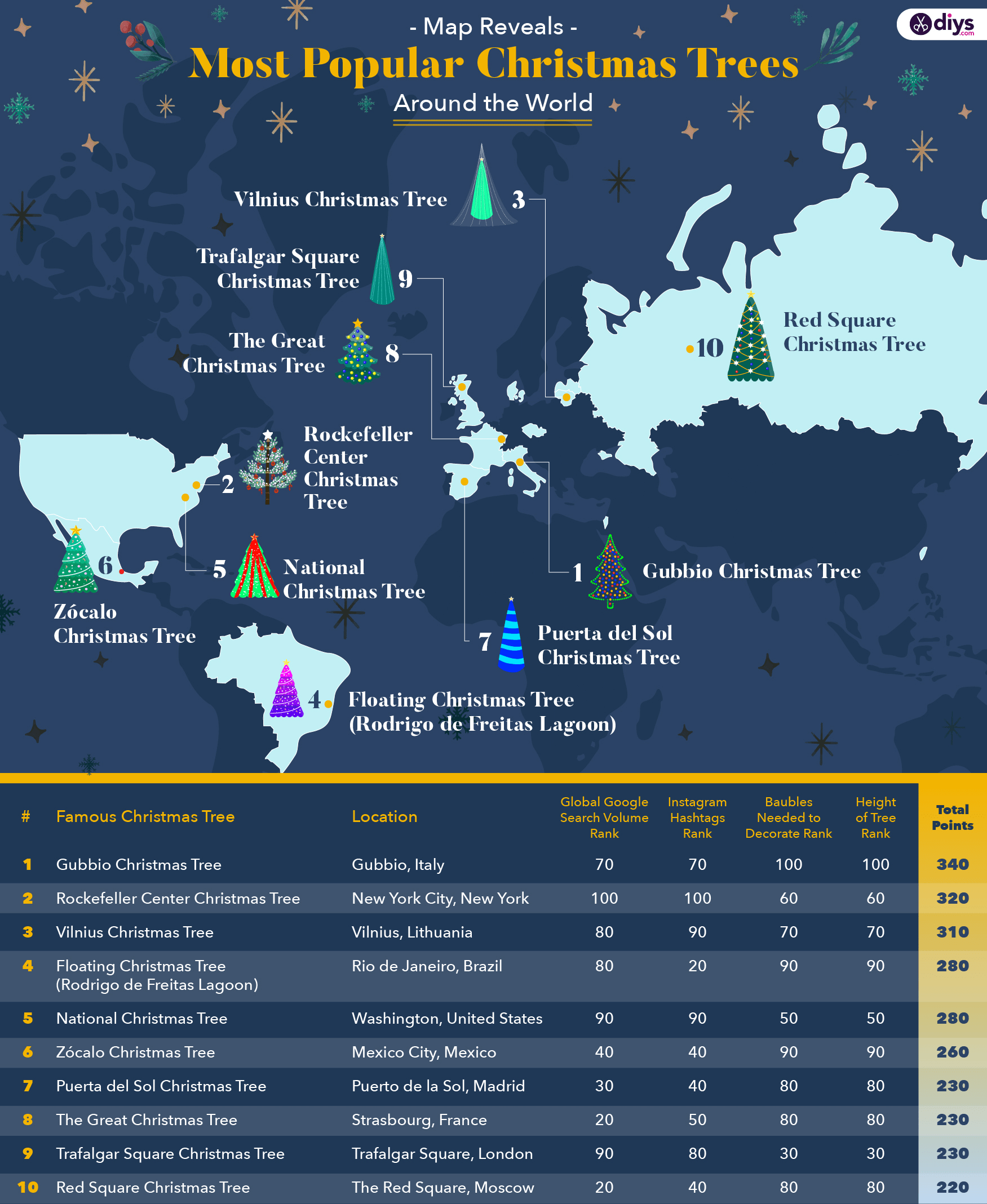 In 10th place is Moscow's Red Square Christmas tree, which is fabulously situated among a sea of lights in the Red Square. Closely following this in ninth place is the Trafalgar Square Christmas Tree, which is not situated among as many surrounding lights but is nonetheless impressive in its scope and coloration. Eighth place is occupied by The Great Christmas Tree in Strasbourg, France, which is lit by proportionally large bulbs and looms colossally over its home in Place Kléber. Seventh place belongs to Madrid's Puerta del Sol Christmas Tree, located in the eponymous city square and towering in a radiant blue conical shape. The tree in sixth place is Mexico City's Zócalo, reminiscent in design of the toys that many trees of its ilk harbor beneath them. Fifth place goes to Washington's own National Christmas Tree, which has a lustrous green and red glow to complement the shining star that it culminates in.
While all the aforementioned trees are gorgeous in their own right, the final four truly have to be seen to be believed. They each have an incredible trait or set of traits that make them truly extraordinary. The holder of fourth place finds its distinction in the fact that it is a massive fixture that floats upon a platform in Rio De Janeiro's Lagoa Rodrigo de Freitas as it shines like the lodestar. Third place goes to the eco-friendly Vilnius Christmas Tree of Lithuanian origin; it has a uniquely attractive design reminiscent of the queen piece in chess. Second place goes to the tree that has actually garnered the most popularity when looking strictly at internet searches: New York's simply iconic Rockefeller Center Christmas Tree. A staggeringly titanic tree with innumerable lights and ornaments graces an equally iconic pedestal set among statues and an icy ground. The first-place holder and overall most popular tree in the world by DIYs.com's metrics is the stunning Gubbio Christmas Tree in Gubbio, Italy. It is not a traditional tree, but rather a massive string of lighting installations that line the slopes of a nearby mountain that all light up together to create an unmatched experience as well as the world's largest Christmas tree.