When you know, you know. And Kloé Donley, New Orleans's newest up and coming artist, knew art was her passion. But accepting the road less traveled was a challenge.

Donley is a 22-year-old self-taught New Orleans native artist specializing in pop-art portraits. Some of her most popular creations include paintings of Saints player Alvin Kamara, singer Billie Eilish, and actress Audrey Hepburn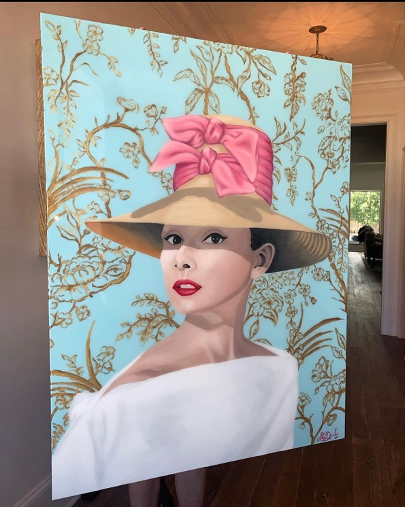 Donley uses acrylic paint for her portraits. She makes sure to carry her painting onto the side of the canvas and resins the painting to give the creations a finished look.
Donley wasn't surprised she could produce art, always inclined for creativity, but accepting it as her full-time career choice stunned her. With support from friends and family and the process of elimination, she knew this was the route to take.
Accepting a career in art has been a hard battle for her.
"No other career path excited me in the slightest in comparison to becoming a full-time artist. Being a full-time artist isn't conventional or a safe move, but I was never interested in settling into a career that I wasn't passionate about."
Donley remembers receiving creativity awards in kindergarten. She grew close to her art teacher in high school, who also encouraged her to pursue art. But, in 2020, when the pandemic hit, she painted her sports-loving boyfriend, Saints running back Alvin Kamara— and that's when she realized her actual potential.
She threw her heart and soul into painting this first portrait. Working hours on end without noticing to make sure every detail was correct. Donley finds the stringent feeling of creating something beautiful therapeutic despite this sounding exhausting.
"I was so completely invested in the painting that almost everything I did to it wasn't right," Donley said. "It took me a ton of trial and error to get Kamara to his final form. But I couldn't deny the passion that I had for the highs and lows of painting. I would work hours on end without even looking at the time."
Passion is what fuels her desire to create. The message she hopes to deliver through her pieces is to inspire others to "live vibrantly." No one's life should be dull and spiritless. Her bold color pallete brings art to life and allows her work to shine anywhere.
Many of the backgrounds of the portraits are full of detail. Donley makes sure to go the extra mile in her paintings to allow her personality to shine through her work.
"The background of my Amy portrait is filled with doodles of her tattoos, and on the sides of the canvas, I included some of my favorite lyrics from her songs," Donley said. "This was my more personal piece, and I enjoyed learning more about Amy during the process."
Her art made its first public appearance in 2021 at a local restaurant in Lakeview, New Orleans. The "free Britney" painting of Britney Spears sold in just three weeks. However, her portrait of Dolly Parton sold in under three hours of being posted, and Billie Elish sold before she finished painting it. But it was her being asked to paint for Sutton Galleries, one of New Orleans' oldest art galleries, made her dream of becoming a well-known artist real.
"My work being displayed in a gallery on Royal Street in New Orleans was a big moment of affirmation for me, which helped give me the confidence to pursue art full time," Donley said.
At the age of just 21, Donley achieved a dream of being not only featured in a gallery but also becoming one of the gallery's youngest artists.
The young artist's inspiration is the talented, outspoken Ashley Longshore. Longshore's energetic, sometimes vulgar art inspired Donley to create her own animated creations. But her parents are her ultimate inspiration. Her parents, both teachers, taught her the most important lesson— hard work.
"My parents taught me that you might not be the best in the room, but you can always be the hardest worker," Donley said.
The hard work mentality played into her gymnastic career in high school. Being dedicated to such a rigorous sport taught her a lot about resilience and perseverance. This carried over into her career as an artist and reminds her "to push through the difficult times to become better on the other side."
Donley's hard work has paid off. Her goal is to simply "make my life more beautiful" with her art and doing so "is a way for me to create joy for myself and others."