New Orleans burlesque dancer and cultural ambassador, Trixie Minx who graced Where Y'at's 2017 Mardi Gras cover returns for our 25th Anniversary issue cover. She is the city's most popular Burlesque dancer, and she's here to set the record straight on the art of the tease!
Minx's Burlesque Boutique
Minx is dazzling, clad in a green sequined bodysuit, topped with yellow, green, and gold head feathers, as she sits in front of the lilac-colored walls of Trixie's Burlesque Boutique. The shop is filled with sparkly pasties, colorful tulle robes, face glitter, and vintage costumes.
Minx and her business partner, Emily Conelly, opened the store during the pandemic when shows slowed down. "We were looking initially for office space," Minx confesses, "and we always had it in our mind to get a studio. We thought that wouldn't happen until later, but when this came up, we were like, 'Oh! this is now. We're doing this.'"
It's more than a store though. Connelly says, "One of the things we wanted was for our performers to make things for the store."
Minx adds, "It was a way for us to get more money for our performers since they weren't doing a lot of shows due to Covid. I'm really proud of how Emily came up with the idea that rather than pay the performers on consignment for the products they created, we'd buy everything from them outright."
The store is a welcoming space for performers or burlesque-curious people. She says, "We really wanted the shop to be sparkly and glamorous and inclusive."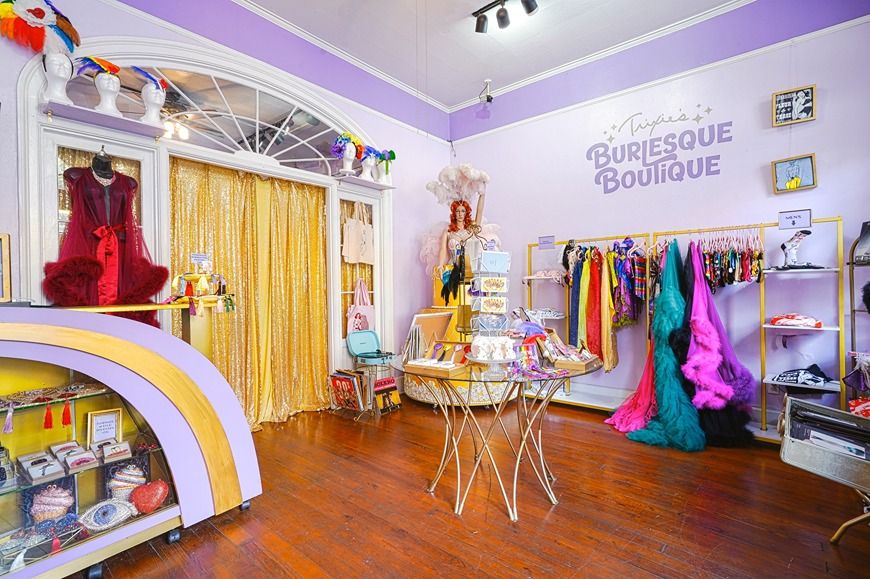 Community and Inclusivity
Community and inclusivity matter. Minx likes local performers to teach a lot of their classes. She says, "While I teach the workshops and intensives, it's important that everyone gets a chance to learn New Orleans' burlesque from a range of teachers."
Minx explains the classes, "In the workshops, we hold your hand and guide you from wherever you're starting to the final performance. The open division classes are drop-in, every other Monday. Then there are party classes, where people can bring a group. Classes and workshops are open to everyone—every gender, age, and experience level is welcome. Burlesque is the art of the tease—going down to pasties and a thong or just taking off a glove. Everyone can interpret burlesque however they'd like."
She would love for more people to experience burlesque. Minx says, "When you remove garments and perform for a crowd, cheering and supporting you showcasing who you really are, it's this give and get. You give yourself to the audience, and they give energy to you. It creates a health positivity celebrating the human form—bodies are good."
NOLA's Unique Burlesque
For Minx, "New Orleans' burlesque is different because we have a unique magic here, and everyone works together. There's a lot more camaraderie than elsewhere and we have such a rich burlesque history. Plus, it's too hot—you have to take your clothes off here."
New Orleans has a deep connection to the art of burlesque and their are several different types of performaces that you can watch here in New Orleans!